QUAKERTOWN
Since William Penn obtained the first land grant for the area of Quakertown in 1701, this workingman's settlement has thrived for hundreds of years and continues to give visitors the charming impression of a small town set in the quaint countryside.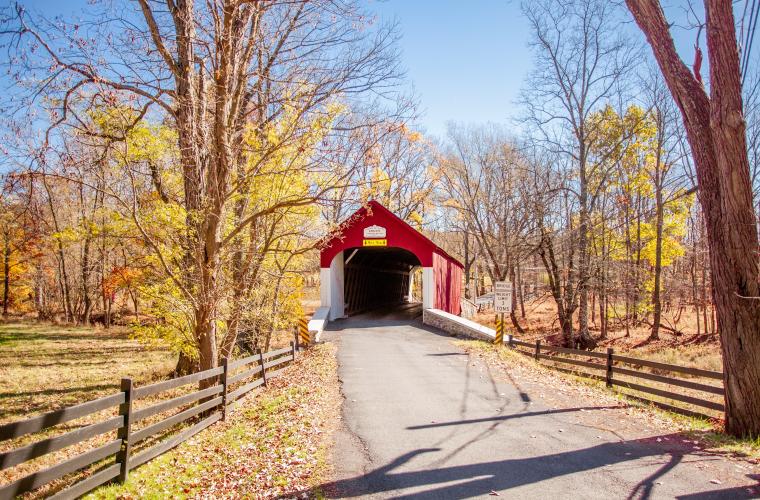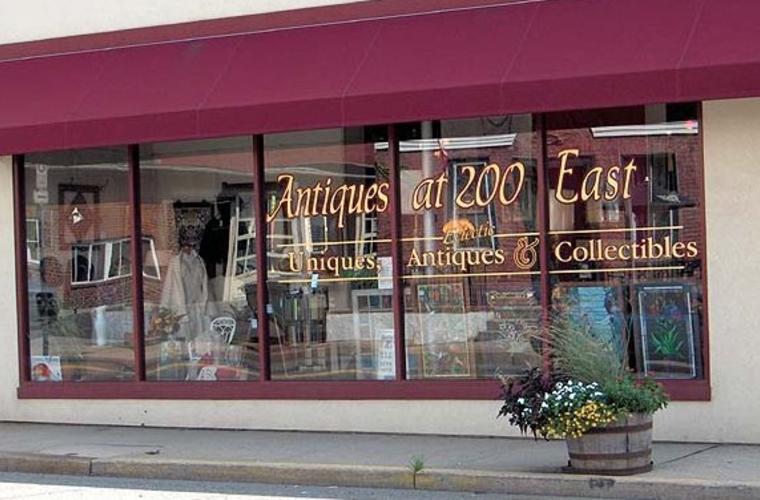 Antiques at 200 East in Quakertown
HISTORY
Originally settled by the Religious Society of Friends known as Quakers, Quakertown has been the hub of social activity in the Upper Bucks County area throughout the course of its history. In 1777, the Liberty Bell was hidden from the British here on its way to Allentown. The house of Richard Moore was an important Underground Railroad stop. Head to the downtown historic district of Quakertown and see it come to life through community events that bolster town morale and give visitors a look at the area's cultural and historical significance. Continue your tour through history with a stop by Knecht's Covered Bridge. Also known as a "kissing bridge," Knecht's has been standing since 1873. Steal a kiss from a loved one inside this staple of America's history, which gives visitors a glance into a simpler time in Bucks County's past. Make a wish before walking beneath the Hemlock roof that crosses over Durham Creek. If you're feeling thirsty during your trek, stop by Sine's 5 & 10 Cent Store, complete with an old-fashioned soda fountain. Step back in time into this family-operated store that has been a staple of the community since opening its doors in 1912. Quakertown Alive! is a non-profit organization dedicated to preserving the rich history and bustling small-town feel that makes the area so pleasant.
ANTIQUING
With its rich history, it seems only natural that Quakertown is full of unique antique shops offering visitors an eclectic selection of items. Antiques at 200 East features multiple dealers, offering a wide range of collectables, including Victorian Glassware, pottery, prints, costume and jewelry, antique toy trains and more.East Broad Antiques is located just footsteps away and also features an assortment of vintage clothing, ceramics, china, toys and more. Make sure to visit the more than 12,000-square-foot Quakertown Antique Mall to truly satisfy your antiquing desire. Located in an old hosiery mill, the Antique Mall is family-owned and operated and holds a variety of antiquities ranging from furniture and old prints to greeting cards and sheet music.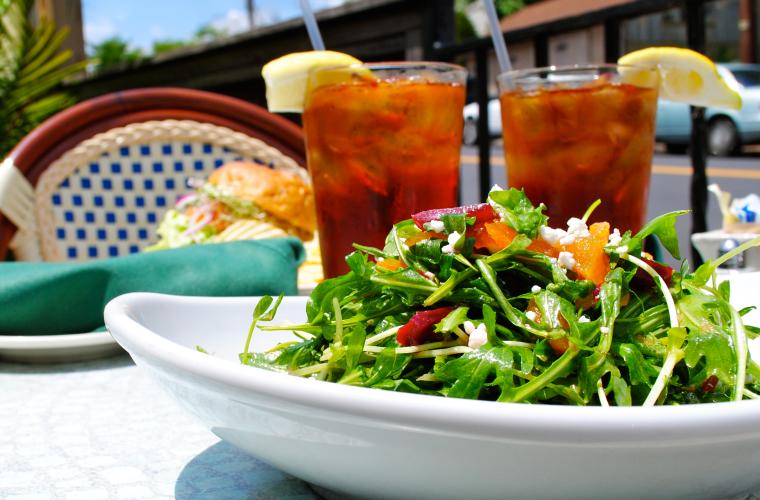 Meal at Sellersville Theater
People at Proper Brewing Company
DINING
The past meets the present at the McCoole's at the Historic Red Lion Inn. When the Liberty Bell was whisked away from Philadelphia and stored at Liberty Hall, the group hiding the bell stayed here overnight. Now, you can stop by and enjoy a fine-dining experience on a casual-dining budget. Stop by The Brick Tavern Inn for a delicious take on American Cuisine. Since 1818, this Inn has remained nestled in the countryside, delivering an extraordinary dining experience to all of its guests. Enjoy their specialties including the chicken tuscany, blackened salmon florentine or even a unique tortilla pizza made with fresh ingredients.  Indulge in an eclectic menu, inspired by simple farmhouse fare at Spinnerstown Hotel Restaurant & Tap Room.  Or, if the pub atmosphere is not for you, head over to the Washington House Restaurant in nearby Sellersville, for dinner before catching a show at the Sellersville Theater. This restored Victorian restaurant offers delicious and unique seasonal menus to satisfy any foodie. Try authentic Mexican cuisine, without leaving the city limits at Fiesta Habanero. "Taco Tuesday" is every day at this fast restaurant. Order at the window and mix and match meats to create your own feast. Want a place that offers craft beer, "comfort classics," "late night" good eats and entertainment? Then The Perk in nearby Perkasie, is just the place for you! Check out this great local hang out that is great for the whole family.
If you need some locally-cultivated spirits to go with your meal, look no further than Unami Ridge Winery. This small, family-run winery specializes in delectable, European-style white wines as well as expertly-crafted reds. Quench your thirst at Proper Brewing Company by sampling one of their craft beers on tap. The popular spot located in the heart of Quakertown also offers local wine, ciders and fresh food. Stop by Free Will Brewing Company, located in nearby Perkasie, to taste their seasonal beers on tap.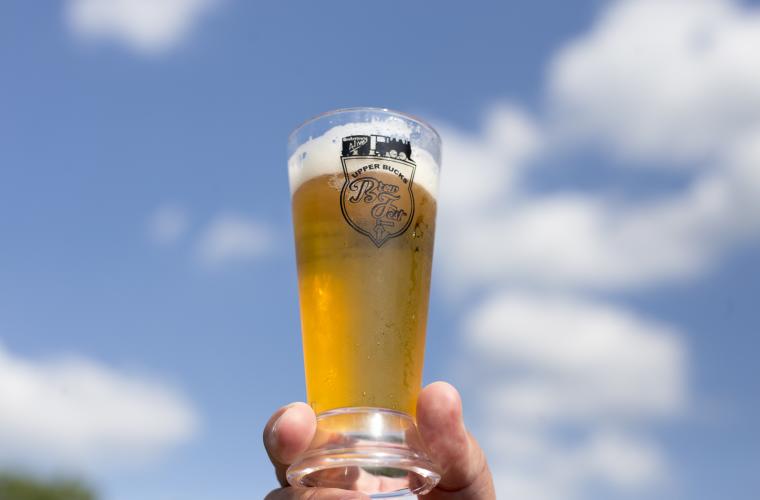 Beer at Upper Bucks Brew Fest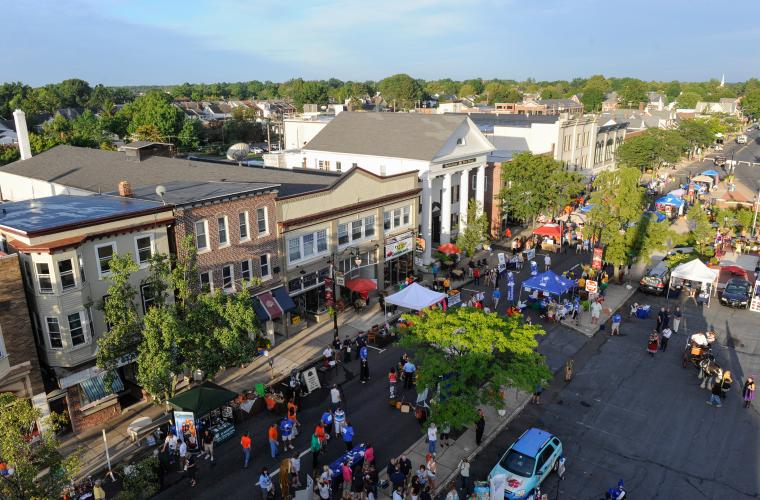 Crowd shot of Fox29 Quakertown event
EVENTS
With an active local community, Quakertown always has a fun festival or exciting event going on. In June, experience the area's beautiful outdoor spaces during Garden Affaires which gives visitors the chance to browse a variety of gardens, plants and water features. In August, the fun is "on tap" during the Upper Bucks Brew Fest which offers more than 50 samplings of beer and tastings from local wineries. Autumn comes to life in Quakertown each October during the annual Autumn Alive! event which features music, games, crafts, a cupcake contest and more. No one will want to miss the Christmas Tree Lighting Festival which kicks off the holiday season with an ice sculpting display, strolling Victorian carolers and Santa riding into town on a fire truck!
The borough of Quakertown also hosted FOX29's Good Day Philadelphia 2013 and 2014. Visit Bucks County, Quakertown Borough, Quakertown Alive! and the Upper Bucks County Chamber of Commerce teamed up for a LIVE block party. In 2014, they welcomed new anchor Alex Holley. FOX29 favorites like Mike Jerrick and Sue Serio reported live from Bucks County, highlighting some of the area's local businesses and everything else Quakertown has to offer.
CAMPING
Bring your tent along and grab a spot at one of the more than 200 campsites available at Tohickon Family Campground. Stay for a weekend in summer and take part in group activities including arts and crafts, clambakes, pig roasts and more. Head to the wooded area near Nockamixon State Park and pitch your tent at Little Red Barn Campground. This family-owned site offers places for RV's, trailers, pop-up campers and, of course, tents. With a variety of activities for people of all ages, an on-site playground and quick access to local attractions, there will never be a dull moment. Choose a site among the sprawling acres at Quakerwoods Campground and get ready to participate in the fun activities offered at this campsite. With themes all season-long, pools and game rooms, mini golf and special discounts to the family-friendly amusement park Sesame Place, there is no better place to spend the weekend.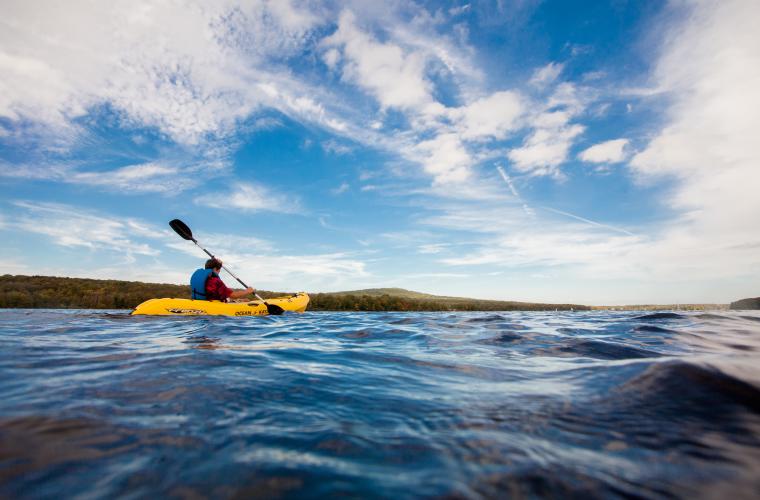 PLACES TO STAY 
Take time to truly experience all the history Quakertown has to offer by staying in one of the area's best hotels.Quality Inn & Suites Quakertown offers guests spacious rooms and suites with business center, laundry facility and a free hot buffet breakfast. Enjoy the quality customer service at the Holiday Inn Express Hotel & Suites Quakertown and take advantage of the on-site Fitness Center and complimentary Express Start Breakfast Bar. Stay at the newly-constructed Springhill Suites Quakertown and enjoy comfortable oversized rooms as well as an indoor heated pool to relax in after a long day of exploring.