COVID-19 Recovery Resources
We continue to gather resources that will help our tourism and hospitality partners move forward and assist in the recovery. We plan to continually update this page as we receive additional information and resources.
*Some resources, webinars and articles are accessible based on a membership structure of the hosting organization.
Financial Assistance & Funding Programs
This list is meant to provide a basic overview of financial resources Visit Bucks County has compiled for the tourism and hospitality business in Bucks County. For additional information and specifics on who can apply, please consult the original source and terms and regulation of each individual application.
Summarized By: U.S. Travel Association

About: The CARES Act, the largest economic relief package in our nation's history, was signed into law on March 27, 2020 and includes major provisions U.S. Travel fought for to deliver economic support to travel businesses, travel workers and their families.

Eligibility: The U.S. Travel Association has created a guide to eligibility on their website.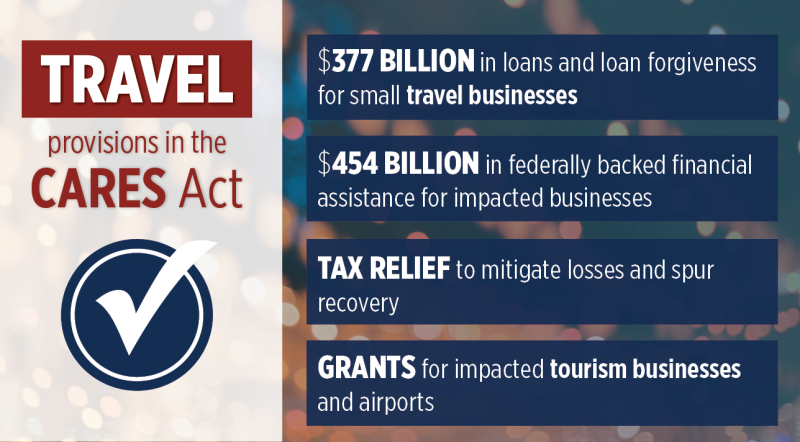 Provided By: Redevelopment Authority of the County of Bucks

About: A one-time emergency grant-to-loan program with a maximum amount of $8,000 and a zero percent interest rate for private for-profit companies in the tourism and hospitality industry with a physical business facility located in the municipalities that the Municipal Grant Program (MGP) services.
Provided By: Bucks County Economic Development Corporation (BCEDC) along with the Commonwealth Financing Authority (CFA) and Pennsylvania Industrial Development Authority (PIDA)

About: There is $61 million in total available across the Commonwealth of Pennsylvania as of March 23, 2020. The maximum loan size per company is $100,000 and any for-profit businesses located in PA and with 100 or fewer employees worldwide are eligible to apply for disaster relief loans.
Provided By: U.S. Small Business Administration (SBA)

About: Low-interest, working capital loans (of up to $2 million) for physical damage or economic injury for businesses, renters, and homeowners located in regions affected by declared disasters
Provided By: Facebook

About: Facebook is offering $100M in cash grants and ad credits for up to 30,000 small businesses.
Provided By: Internal Revenue Service (IRS)

About: The federal tax return filing and payment deadlines are now extended to from April 15, 2020 to July 15, 2020 for both individuals and businesses.
Provided By: U.S. Small Business Administration (SBA)

About: A free online referral tool that connects small businesses with participating SBA-approved lenders (over 800 approved lenders). Interested businesses will describe their needs, get matched, talk to lenders and then apply for a loan.
Provided By: Congressional Research Service for the U.S. Senate
Provided By: GoFundMe, Yelp & Intuit QuickBooks

About: GoFundMe.org will provide grants to small businesses across the United States, starting with the hardest hit areas. The Small Business Relief Fund will issue $500 matching grants to qualifying businesses that raise at least $500 on GoFundMe. Your business needs must have been negatively impacted by a government mandate in response to COVID-19; independently owned and operated; and must not be nationally dominant in its field of operation
Provided By: Bucks County Industrial Development Authority

About: Provides direct low interest, micro-loan financing program with no minimum and a maximum loan amount of $35,000.  Loan funds are available for operating costs associated with an existing or newly formed agricultural, hospitality, or tourism business-related entity. Financing is limited to for- or not-for-profit proprietorships and residents of Bucks County.
Provided By: The James Beard Foundation

About: Micro-grant disbursement for independent food and beverage businesses in need.
Extended Deadline: May 1, 2020

About: Visit Bucks County (VBC) will designate a portion of the proceeds of the County's tax on lodging, agreed upon by the County Commissioners and Visit Bucks County, towards funding a tourism grant program. The program will look to fund eligible participants in Capital Projects related to tourism promotion, marketing, historic preservation and enhancement of attractions and the staging of special events designed to attract visitors to the county.
Provided By: Yelp

About: $25 million relief program primarily focused on supporting independent, local restaurant and nightlife businesses, in the form of waived advertising fees and free advertising, products, and services during this period for small, independently owned restaurant and nightlife businesses and franchisees in the U.S., Canada, the U.S. Virgin Islands, and Puerto Rico with fewer than five locations and that purchased their Yelp products directly through Yelp.
Guidance for Employers
Any company that believes they should be considered a life-sustaining-business can apply for a waiver at this email address: RA-dcexemption@pa.gov. Business owners can address questions about whether they need to close by emailing ra-dcedcs@pa.gov.
Employee Resources
About BCWDB: The Bucks County Workforce Development Board (BCWDB) works to ensure that the Bucks County workforce system, covering numerous agencies and multiple disciplines, meets both employers' needs for skilled workers and workers' career and economic advancement.

Contact: The PA CareerLink® Bucks County has launched a remote service call center dedicated to two distinct groups: (1) individuals who have been displaced and who are looking for work and (2) employers who need additional resources and assistance.  The call center number is 347-308-5002 and is supported Monday thru Friday, 8AM – 4:30PM EST.
If you are employed in Pennsylvania and are unable to work because of Coronavirus disease (COVID-19), you may be eligible for Unemployment or Workers' Compensation benefits. The Department of Labor & Industry will continue to provide important employment benefit updates as the situation evolves.
If you need assistance with basic needs due to COVID-19, the United Way of Pennsylvania has a database of local resources. You can also text your zip code to 898-211 for assistance.
Call to Action & Advocacy
About: PRLA is working with federal, state, and local leaders on economic relief for businesses and employees who are affected by this unprecedented situation. As this situation unfolds, it is crucial for legislators to hear about these impacts from their constituents as relief measures for businesses and workers are planned for the coming weeks and months.

PRLA's Call to Action: Through PRLA's website, customize your message to our legislators about how COVID-19 has impacted your business.
Crisis & Risk Management, Planning & Communication
IMPORTANT DEFINITIONS FROM UNWTO:
Crisis Management* – "The strategies, processes and measures which are planned and put into force to prevent and cope with crisis."

Crisis Communications* – "The process, once a crisis has started, of minimizing its negative consequences for the organization and the stakeholder[s] the organization is responsible for. It requires immediate decisions and countermeasures using all the communication tools at its disposal in order to influence and steer its development in as positive a direction as possible."
RESOURCES
Data & Statistics
About COVID-19
Additional Industry Resources