COVID-19 Recovery Resources
We continue to gather resources that will help our tourism and hospitality partners move forward and assist in the recovery. We plan to continually update this page as we receive additional information and resources.
*Some resources, webinars and articles are accessible based on a membership structure of the hosting organization.
Financial Assistance & Funding Programs
This list is meant to provide a basic overview of financial resources Visit Bucks County has compiled for the tourism and hospitality business in Bucks County. For additional information and specifics on who can apply, please consult the original source and terms and regulation of each individual application.
Summarized by: U.S. Travel Association

About: The CARES Act, the largest economic relief package in our nation's history, was signed into law on March 27, 2020 and includes major provisions U.S. Travel fought for to deliver economic support to travel businesses, travel workers and their families.

Eligibility: The U.S. Travel Association has created a guide to eligibility on their website.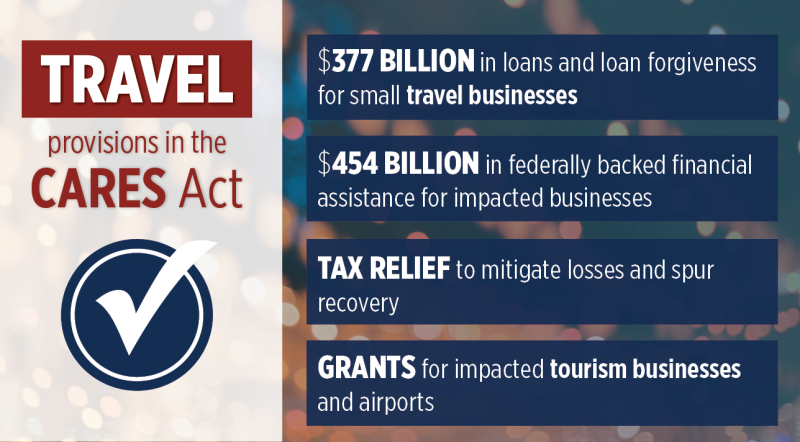 Provided by:  State of Pennsylvania Department of Community & Economic Development
About: The COVID-19 Hospitality Industry Recovery Program (CHIRP) will allocate $145 million in funding assistance to the hospitality industry businesses adversely affected by the COVID-19 pandemic. The program requires counties to establish grant programs for eligible businesses. More information on how to apply coming soon.
Provided by: The State of Pennsylvania via the CARES Act funding.  The Department of Community and Economic Development (DCED) will distribute the funds to the Community Development Financial Institutions (CDFIs), which will then administer the funding in the form of grants.

About:  The COVID-19 Relief Pennsylvania Statewide Small Business Assistance program will provide grants ranging from $5,000 to $50,000 to small businesses that have been economically impacted by COVID-19. This is not a first-come, first-served program. There will be multiple rounds of application windows.  Application window for the first round of funding is expected to open on June 30th and remain open for 10 business days. Applications will continue to be accepted after 10 business days but will be considered for future rounds of funding. An additional round will being August 10. 

Eligibility: The program will prioritize small businesses that are: Owned and operated by low and moderate-income people; or located in areas of need including areas with a population having incomes significantly below the median income level, high levels of poverty, higher than average unemployment rates, or significant population loss. Types of businesses that were most impacted by the economic shutdown and experienced the greatest revenue losses.
Provided By: U.S. Small Business Administration (SBA)

About: Low-interest, working capital loans (of up to $2 million) for physical damage or economic injury for businesses, renters, and homeowners located in regions affected by declared disasters
Provided By: Facebook

About: Facebook is offering $100M in cash grants and ad credits for up to 30,000 small businesses.
Provided by: U.S. Small Business Administration (SBA)

About: A free online referral tool that connects small businesses with participating SBA-approved lenders (over 800 approved lenders). Interested businesses will describe their needs, get matched, talk to lenders and then apply for a loan.
Provided by: Philadelphia Foundation and United Way of Greater Philadelphia and Southern New Jersey
About: The PHL COVID-19 Fund will provide grants to Greater Philadelphia organizations with a successful track record of serving at-risk populations such as the seniors, people with disabilities, and those who are experiencing homeless or are economically disadvantaged, in order to continue community safety nets such as food pantries and health services, and help with preparedness and protection such as hygiene supplies, access to accurate current information, and available services. Grants will be made on a rolling basis to address the most immediate needs first, keeping in mind that some needs likely will emerge over time. The first round application deadline for the first series of grants is Midnight Friday, April 10.

Eligibility: Eligible 501(c)(3) nonprofits in Bucks, Chester, Delaware, Montgomery and Philadelphia counties in Pennsylvania and Atlantic, Burlington, Camden, Cape May, Cumberland counties in New Jersey can apply.
Provided by: Congressional Research Service for the U.S. Senate
Provided by: GoFundMe, Yelp & Intuit QuickBooks

About: GoFundMe.org will provide grants to small businesses across the United States, starting with the hardest hit areas. The Small Business Relief Fund will issue $500 matching grants to qualifying businesses that raise at least $500 on GoFundMe. Your business needs must have been negatively impacted by a government mandate in response to COVID-19; independently owned and operated; and must not be nationally dominant in its field of operation
Provide by:  SBA Office of Disaster Assistance
About:  The Shuttered Venue Operators (SVO) Grant program was established by the Economic Aid to Hard-Hit Small Businesses, Nonprofits, and Venues Act, signed into law on December 27, 2020. The program includes $15 billion in grants to shuttered venues. Eligible applicants may qualify for SVO Grants equal to 45% of their gross earned revenue, with the maximum amount available for a single grant award of $10 million. $2 billion is reserved for eligible applications with up to 50 full-time employees.  The SBA is not yet accepting applications.  Sign up for email alerts about this program.
Provided by: Bucks County Industrial Development Authority

About: Provides direct low interest, micro-loan financing program with no minimum and a maximum loan amount of $35,000.  Loan funds are available for operating costs associated with an existing or newly formed agricultural, hospitality, or tourism business-related entity. Financing is limited to for- or not-for-profit proprietorships and residents of Bucks County.
Provided by: Yelp

About: $25 million relief program primarily focused on supporting independent, local restaurant and nightlife businesses, in the form of waived advertising fees and free advertising, products, and services during this period for small, independently owned restaurant and nightlife businesses and franchisees in the U.S., Canada, the U.S. Virgin Islands, and Puerto Rico with fewer than five locations and that purchased their Yelp products directly through Yelp.
Guidance for Employers
Employee Resources
About BCWDB: The Bucks County Workforce Development Board (BCWDB) works to ensure that the Bucks County workforce system, covering numerous agencies and multiple disciplines, meets both employers' needs for skilled workers and workers' career and economic advancement.

Contact: The PA CareerLink® Bucks County has launched a remote service call center dedicated to two distinct groups: (1) individuals who have been displaced and who are looking for work and (2) employers who need additional resources and assistance.  The call center number is 347-308-5002 and is supported Monday thru Friday, 8AM – 4:30PM EST.
Provided by: Pennsylvania Restaurant & Lodging Association Educational Foundation

About: Funded by private, community, and individual donations, HARP will distribute one-time individual grants to our front-line industry employees during times of unforeseen hardship. Grants will be awarded on a first-come, first-served basis and subject to the availability of funds at the time. Industry employees are experiencing significant hardships due to the abrupt closure of their restaurants and hotels in an effort to slow the spread of the novel coronavirus (COVID-19). HARP's purpose is to provide swift financial assistance to the front-line employees of Pennsylvania hospitality businesses.
If you are employed in Pennsylvania and are unable to work because of Coronavirus disease (COVID-19), you may be eligible for Unemployment or Workers' Compensation benefits. The Department of Labor & Industry will continue to provide important employment benefit updates as the situation evolves.
Provided by: National Restaurant Association

About: The "fund" was created to help restaurant industry employees experiencing extraordinary hardship in the wake of COVID-19. Grants will be awarded as soon as possible to those individuals who meet the prescribed eligibility criteria, as reviewed and verified by the National Restaurant Association Educational Foundation (NRAEF).
Provided by: CARES Act
 
About:  Pandemic Unemployment Assistance (PUA) is a program that temporarily expands unemployment insurance (UI) eligibility to self-employed workers, freelancers, independent contractors, and part-time workers impacted by the coronavirus pandemic. PUA is one of the programs established by the Coronavirus Aid, Relief, and Economic Security Act (CARES), that expands states' ability to provide unemployment insurance to many workers affected by COVID-19, including people who aren't ordinarily eligible for unemployment benefits.
If you need assistance with basic needs due to COVID-19, the United Way of Pennsylvania has a database of local resources. You can also text your zip code to 898-211 for assistance.
Call to Action & Advocacy
About: PRLA is working with federal, state, and local leaders on economic relief for businesses and employees who are affected by this unprecedented situation. As this situation unfolds, it is crucial for legislators to hear about these impacts from their constituents as relief measures for businesses and workers are planned for the coming weeks and months.

PRLA's Call to Action: Through PRLA's website, customize your message to our legislators about how COVID-19 has impacted your business.
Resources
Data & Statistics
About COVID-19
Additional Industry Resources