COVID-19 Recovery Resources
We continue to gather resources that will help our tourism and hospitality partners move forward and assist in the recovery. We plan to continually update this page as we receive additional information and resources.
*Some resources, webinars and articles are accessible based on a membership structure of the hosting organization.
Financial Assistance & Funding Programs
This list is meant to provide a basic overview of financial resources Visit Bucks County has compiled for the tourism and hospitality business in Bucks County. For additional information and specifics on who can apply, please consult the original source and terms and regulation of each individual application.
Summarized by: U.S. Travel Association

About: The CARES Act, the largest economic relief package in our nation's history, was signed into law on March 27, 2020 and includes major provisions U.S. Travel fought for to deliver economic support to travel businesses, travel workers and their families.

Eligibility: The U.S. Travel Association has created a guide to eligibility on their website.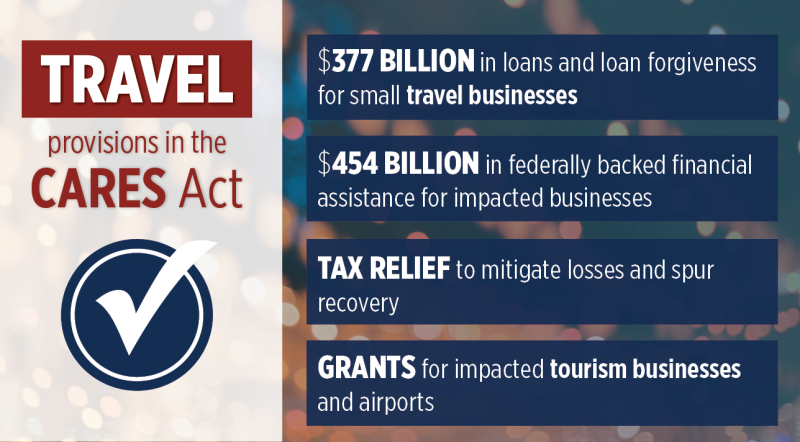 Provided by: State of Pennsylvania Department of Community & Economic Development
About: The Bucks County Economic Development Corporation and the County of Bucks are facilitating the COVID-19 Hospitality Industry Recovery Program (CHIRP), a state funded grant program, for businesses in the NAICS sectors of accommodation, food service and drinking places. The application window will open on Monday, March 15 and will remain available until Friday, April 12 at 11:59 pm. Applications will only be accepted through the online portal available on the Bucks County Redevelopment Authority website. Questions regarding this program can be emailed to Deanna Giorno, Bucks County, Economic Development Program Manager.
Provided by: U.S. Small Business Administration (SBA)

About: In response to COVID-19, small business owners, including agricultural businesses, and nonprofit organizations in all U.S. states, Washington D.C., and territories can apply for the COVID-19 Economic Injury Disaster Loan (EIDL) to meet financial obligations and operating expenses that could have been met had the disaster not occurred. 
Provided by: U.S. Small Business Administration (SBA)

About: A free online referral tool that connects small businesses with participating SBA-approved lenders (over 800 approved lenders). Interested businesses will describe their needs, get matched, talk to lenders and then apply for a loan.
Provided by: U.S. Small Business Administration (SBA)
 
About: About: The RRF will offer $28.6 billion in grants to hard-hit restaurants and bars, with restaurants able to apply for grants based on lost revenue. Additionally, $5 billion of that total will be set aside expressly for businesses with 2019 gross receipts of less than $500,000. The Small Business Administration (SBA) is expected to open the RRF application window sometime in April 2021. To get started, create a login.gov account, which helps you interact with the SBA.
Provided by: GoFundMe, Yelp & Intuit QuickBooks

About: GoFundMe.org will provide grants to small businesses across the United States, starting with the hardest hit areas. The Small Business Relief Fund will issue $500 matching grants to qualifying businesses that raise at least $500 on GoFundMe. Your business needs must have been negatively impacted by a government mandate in response to COVID-19; independently owned and operated; and must not be nationally dominant in its field of operation
Provide by:  SBA Office of Disaster Assistance
About:  The Shuttered Venue Operators (SVO) Grant program was established by the Economic Aid to Hard-Hit Small Businesses, Nonprofits, and Venues Act, signed into law on December 27, 2020. The program includes $15 billion in grants to shuttered venues. Eligible applicants may qualify for SVO Grants equal to 45% of their gross earned revenue, with the maximum amount available for a single grant award of $10 million. $2 billion is reserved for eligible applications with up to 50 full-time employees. The application portal will open on April 8, 2021.  Sign up for email alerts about this program.
Provided by: Bucks County Industrial Development Authority

About: Provides direct low interest, micro-loan financing program with no minimum and a maximum loan amount of $35,000.  Loan funds are available for operating costs associated with an existing or newly formed agricultural, hospitality, or tourism business-related entity. Financing is limited to for- or not-for-profit proprietorships and residents of Bucks County.
Employer Assistance
Tourism & Hospitality Industry Employee Resources 
Whether you are looking for your first job, re-employment, or advance your career the Pennsylvania CareerLink® of Bucks County is here to help. Pennsylvania CareerLink® of Bucks County is a free, one-stop with highly trained staff ready to assist with your job search. They work with community partners to offer a wide range of resources; which include workshops, career and training assessments and employment opportunities and training and education options. For more information contact Stephanie Foster or call 215 781 1073 ext. 2260
Provided by: Pennsylvania Restaurant & Lodging Association Educational Foundation

About: Funded by private, community, and individual donations, HARP will distribute one-time individual grants to our front-line industry employees during times of unforeseen hardship. Grants will be awarded on a first-come, first-served basis and subject to the availability of funds at the time. Industry employees are experiencing significant hardships due to the abrupt closure of their restaurants and hotels in an effort to slow the spread of the novel coronavirus (COVID-19). HARP's purpose is to provide swift financial assistance to the front-line employees of Pennsylvania hospitality businesses.
If you are employed in Pennsylvania and are unable to work because of Coronavirus disease (COVID-19), you may be eligible for Unemployment or Workers' Compensation benefits. The Department of Labor & Industry will continue to provide important employment benefit updates as the situation evolves.
Call to Action & Advocacy
About: PRLA is working with federal, state, and local leaders on economic relief for businesses and employees who are affected by this unprecedented situation. As this situation unfolds, it is crucial for legislators to hear about these impacts from their constituents as relief measures for businesses and workers are planned for the coming weeks and months.

PRLA's Call to Action: Through PRLA's website, customize your message to our legislators about how COVID-19 has impacted your business.
Data & Statistics
About COVID-19