Covered Bridges
Embark on a scenic tour of Bucks County's historical and renowned covered bridges. Historically known as "kissing bridges," Bucks County boasts 12 covered bridges situated off the beaten path. Be captivated by the bridges' rich backgrounds, unusual architecture and romantic charm. Grab a picnic and a map and discover the backroads of Bucks County with this self-guided driving tour.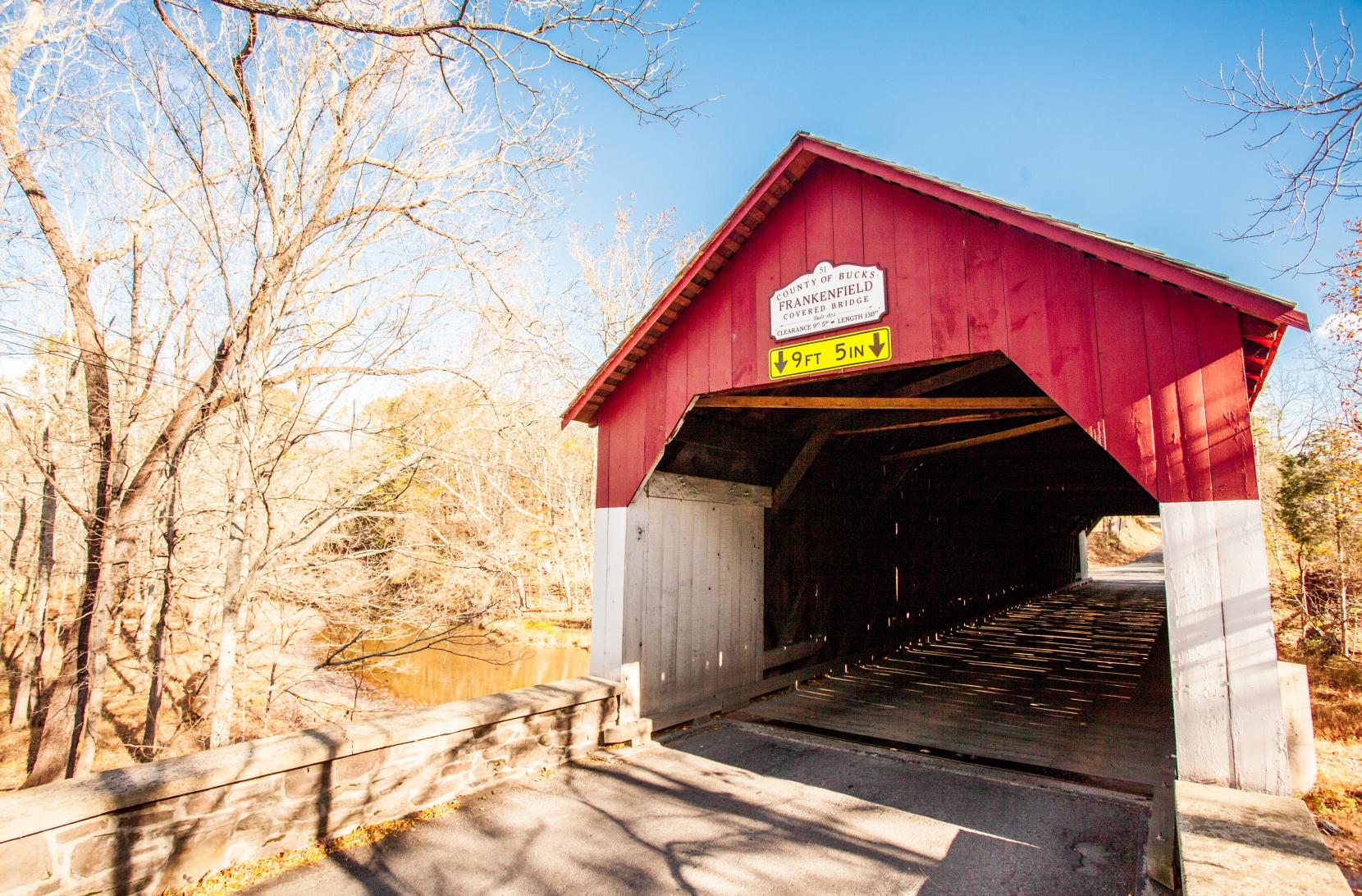 Frankenfield Covered Bridge
Bucks County was home to more than 50 covered bridges at one time. Only 12 bridges remain, 10 of which can still carry vehicles.  Here's a sampling of these unique monuments to time past:
• Bucks County's beautiful Plumstead Township is home to three notable covered bridges. Cabin Run Covered Bridge stretches across Cabin Run Creek, so named for its early concentration of log cabins and small stone houses constructed along its course.

• Three more remarkable covered bridges are tucked away in neighboring Tinicum Township. Erwinna Covered Bridge, the shortest bridge in Bucks County, is noted for its lattice-type construction and stands as part of a tract of 528 acres purchased by Colonel Arthur Erwin in 1769.

• East Rockhill Township houses two of the longest Bucks County Covered Bridges. Built in 1874 and one of two covered bridges in Perkasie, Mood's Covered Bridge crosses one of the principal watersheds in the northwest portion of Bucks County, the Perkiomen Creek.
• Also known as "Slifer's Bridge," Knecht's Covered Bridge is built of hemlock and crosses Durham Creek. The bridge sits in a fertile Bucks County valley where German settlers established homesteads in the early 1700's.
Click Here for Full Turn-By-Turn Driving Directions to all 12 Covered Bridges 
COVERED BRIDGE

YEAR BUILT

LOCATION

GPS COORDINATES

LENGTH

1871

Covered Bridge Road, Plumstead Township

N40° 25' 55.2462"
W75° 6' 45.1866"

82'

1832

Geigel Hill Road, Tinicum Township

N40° 30' 9.1152"
W75° 4' 28.149"

56'

1872

Hollow Horn Road and Cafferty Road, Tinicum Township

N40° 28' 32.898"
W75° 5' 57.8832"

130'

1873

Knecht's Bridge Road, Springtown Township

N40° 32' 17.0622"
W75° 16' 40.0794"

110'

1874

Wismer Road, Plumstead Township

N40° 25' 22.7562"
W75° 7' 39.7122"

60'

1874

Blooming Glen Road, East Rockhill Township

N40° 22' 52.2798"
W75° 16' 17.9106"

120'

1842

Old Iron Hill Road, New Britain Township

N40° 18' 19.2816"
W75° 11' 14.3802"

81'

1873

Tyler State Park, Newtown Township

N40° 14' 40.2216"
W74° 58' 50.7792"

164'

1873

Covered Bridge Road between Haycock and East Rockhill Townships

N40° 27' 17.2398"
W75° 16' 41.3358"

130'

1832

Lenape Park, Perkasie Township

N40° 22' 2.8452"
W75° 17' 41.8806"

93'

1832

Ulerstown Road, TInicum Township

N40° 31' 31.5006"
W75° 4' 23.5446"

101'

Van Sandt (also known as Van Sant)

1875

Covered Bridge Road, Solebury Township

N40° 19' 37.5018"
W74° 57' 28.2204"

86'