COVERED BRIDGES
Bucks County is one of the birthplaces of covered bridge building in America. The County is known for its unique collection of these cherished timber structures. During the 19th century, more than 50 covered bridges were connected across Bucks County, not only crossing the Delaware River, but linking towns across the county so they could trade goods produced by local mills. The last original one was built in 1875.
The constructional purpose was simple: protect the wooden structure from poor weather, ensuring it lasted longer. Today, only 12 remain in Bucks County and all are examples of the style pioneered by the legendary architect, Ithiel Town. His "Town Lattice" patent made it easier for carpenters to build covered bridges at much lower costs without sacrificing safety and functionality.
The remaining Bucks County bridges, filled with historical backgrounds and their special architecture, are preserved by the Bucks County Commissioners, the Commonwealth of Pennsylvania, and local historical societies. Take the self-guided driving tour to marvel at them all!
NOTE: The majority of the bridges do not have areas to pull off and take photographs. For the most picturesque spots, head to Perkasie and Tyler State Park's covered bridges!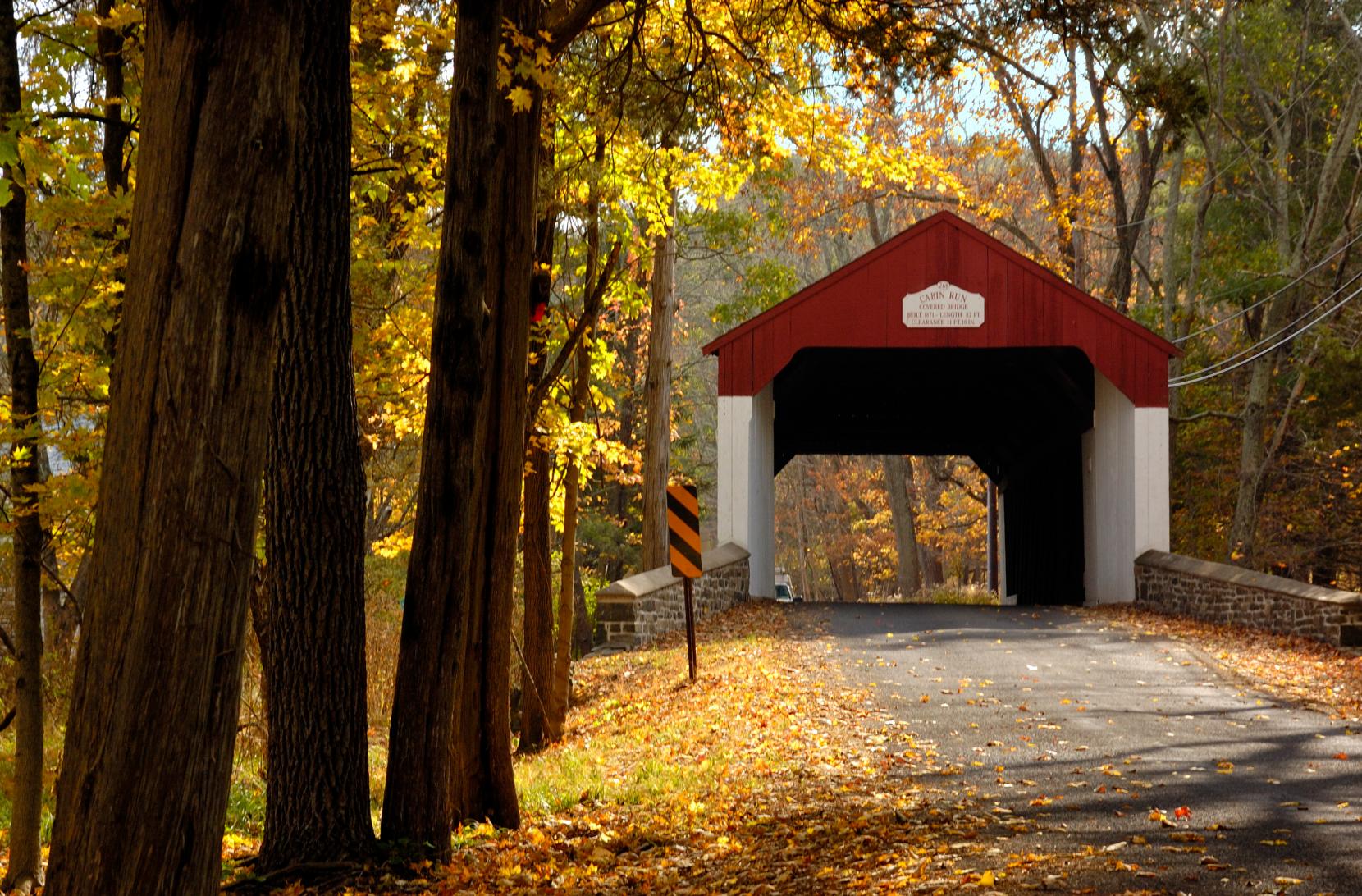 Side of Cabin Run Covered Bridge
Cabin Run Covered Bridge in Plumstead Township stretches across Cabin Run Creek, so named for its early concentration of log cabins and small stone houses constructed along its course. During the Revolutionary War, it was rumored this area was frequented by the Doan Boys, a gang of notorious brothers who were Loyalists. This bridge has a height limit of 11 feet 10 inches, width of 15 feet and a weight limit of three tons.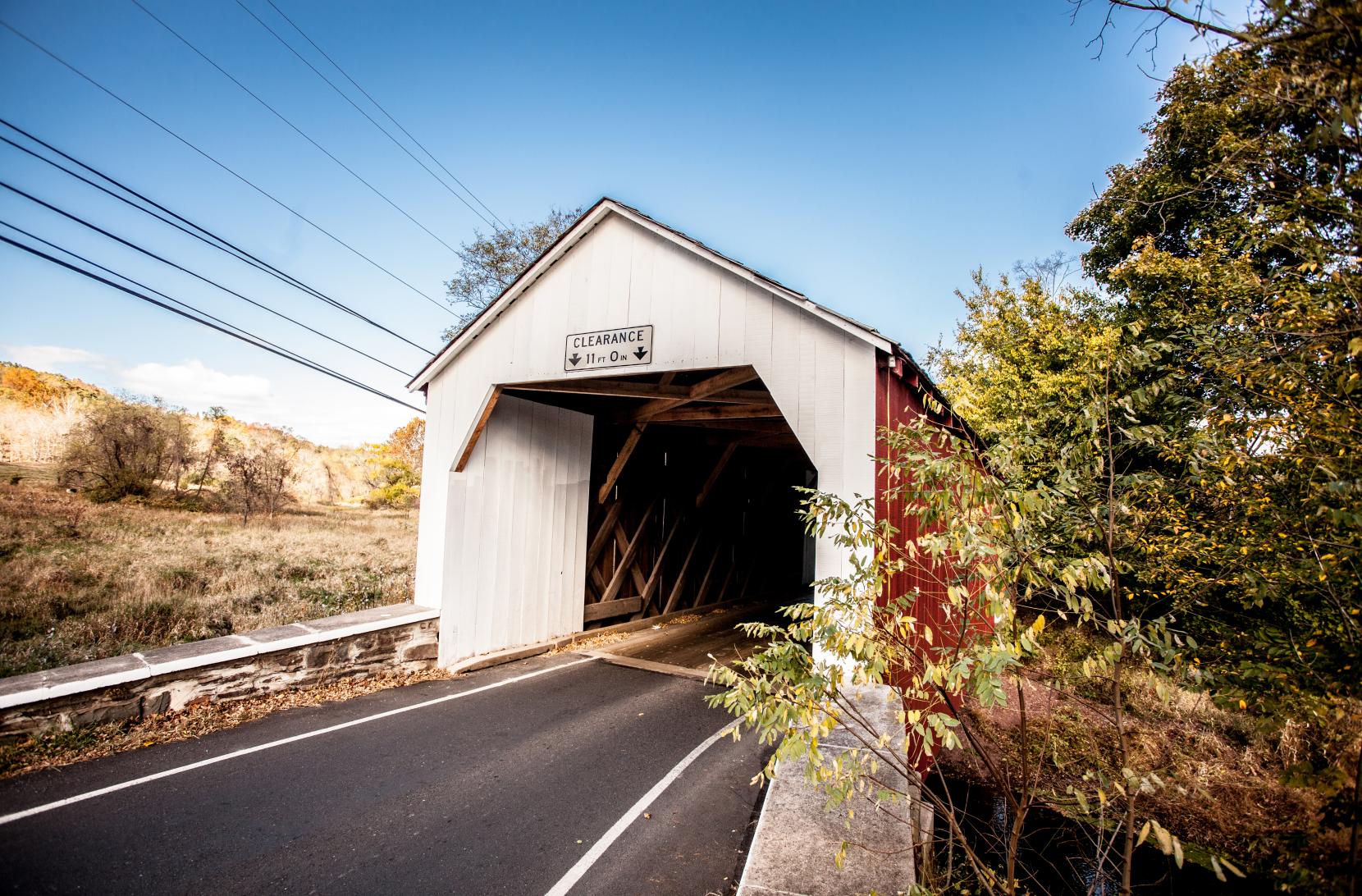 The County's shortest covered bridge at only 56-feet long, the Erwinna Covered Bridge is noted for its lattice-type construction and stands as part of a tract of 528 acres purchased by Colonel Arthur Erwin in 1769. Erwin served in the Bucks County militia and was asked by George Washington to rally his militia to take part in the 1776 Delaware River crossing. It was built in the mid-1850s and crosses the Lodi Creek (also known as Swamp Creek). This bridge has a height limit of 11 feet.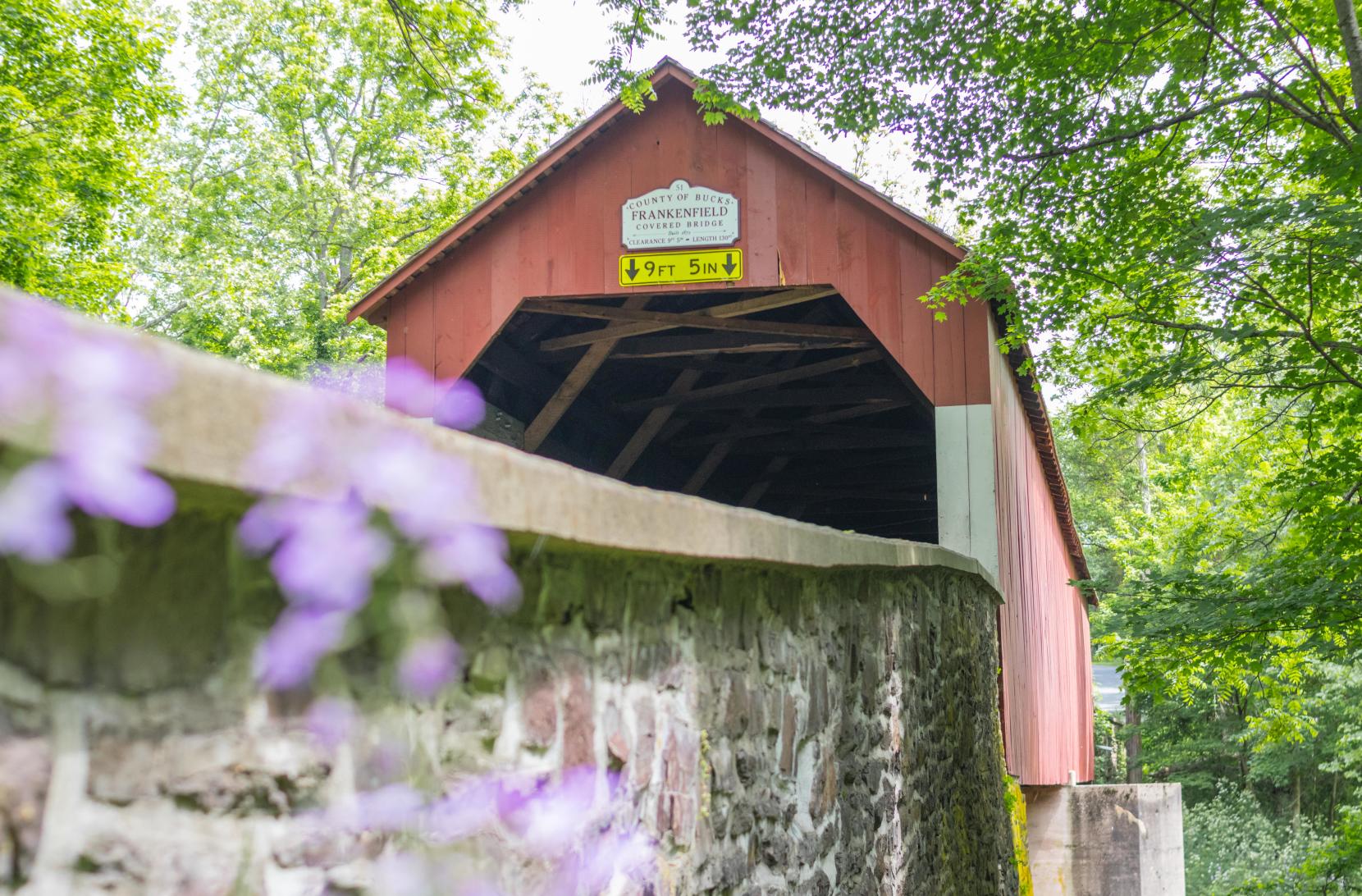 Frankenfield Covered Bridge
Built in 1872, the Frankenfield Covered Bridge in Tinicum Towmship crosses Tinicum Creek only two miles upstream from where the creek flows into the Delaware River. This bridge is one of the longest covered bridges in the County, standing a total of 130 feet. Henry Frankenfield, a well-known contractor who lived in the village of Sundale near the bridge.
Also known as "Slifer's Bridge," Knecht's Covered Bridge was built in 1873 of hemlock and crosses Durham Creek. The 110-foot long bridge sits in what used to be known as Slifer Valley, a fertile region of land where German settlers established homesteads in the early 1700's.  The location of Knecht's Bridge is on the reported path of the 1737 Walking Purchase.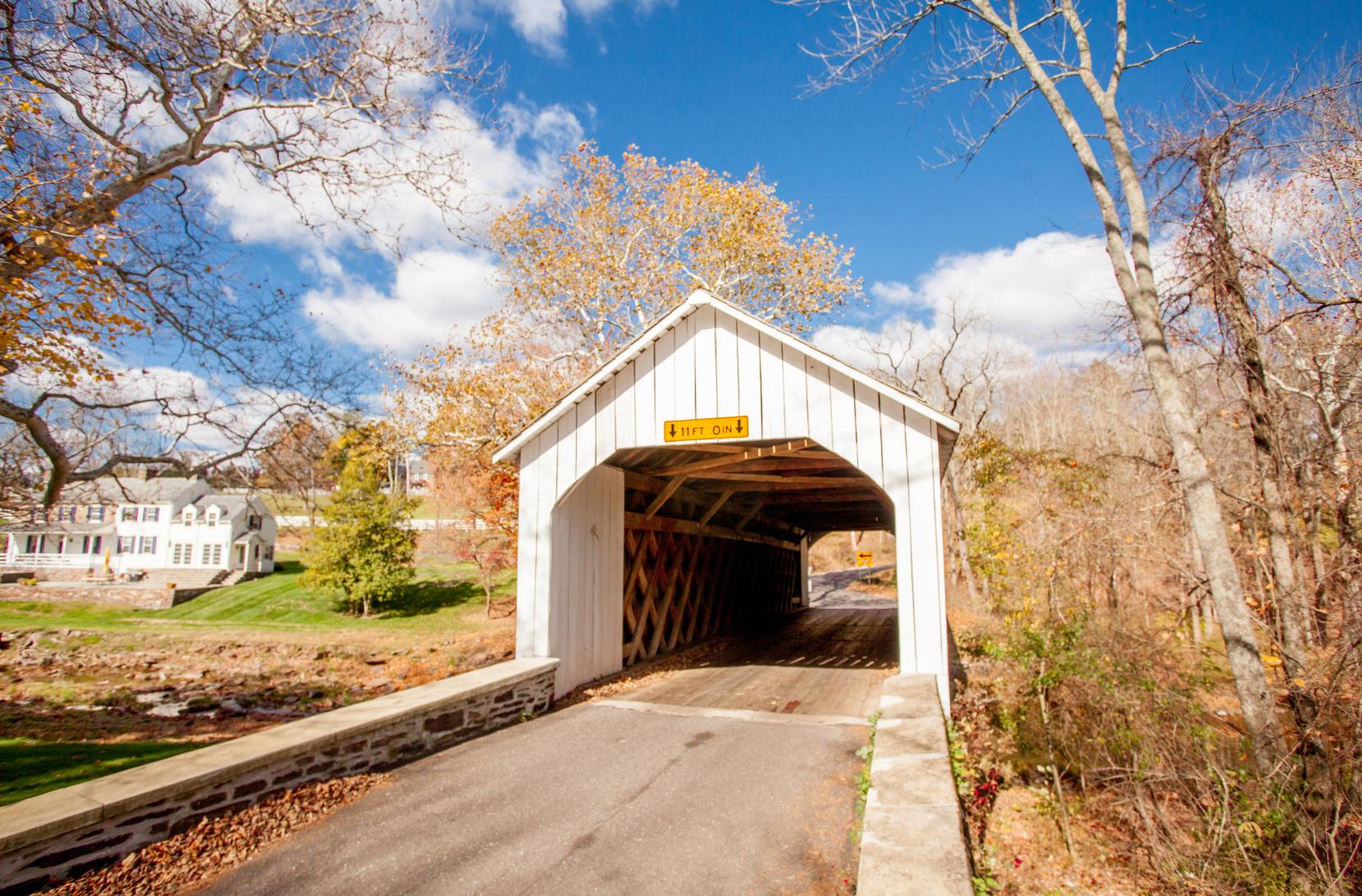 Though there is a stone marker near it that identifies it as "Cabin Run Bridge," it is not. Both the Cabin Run Covered Bridge and the Loux Covered Bridge cross Cabin Run Creek. It was built by Bucks County in 1874. John A. Loux was the longest-tenured justice of the peace in Bucks County. It is owned by the state of Pennsylvania.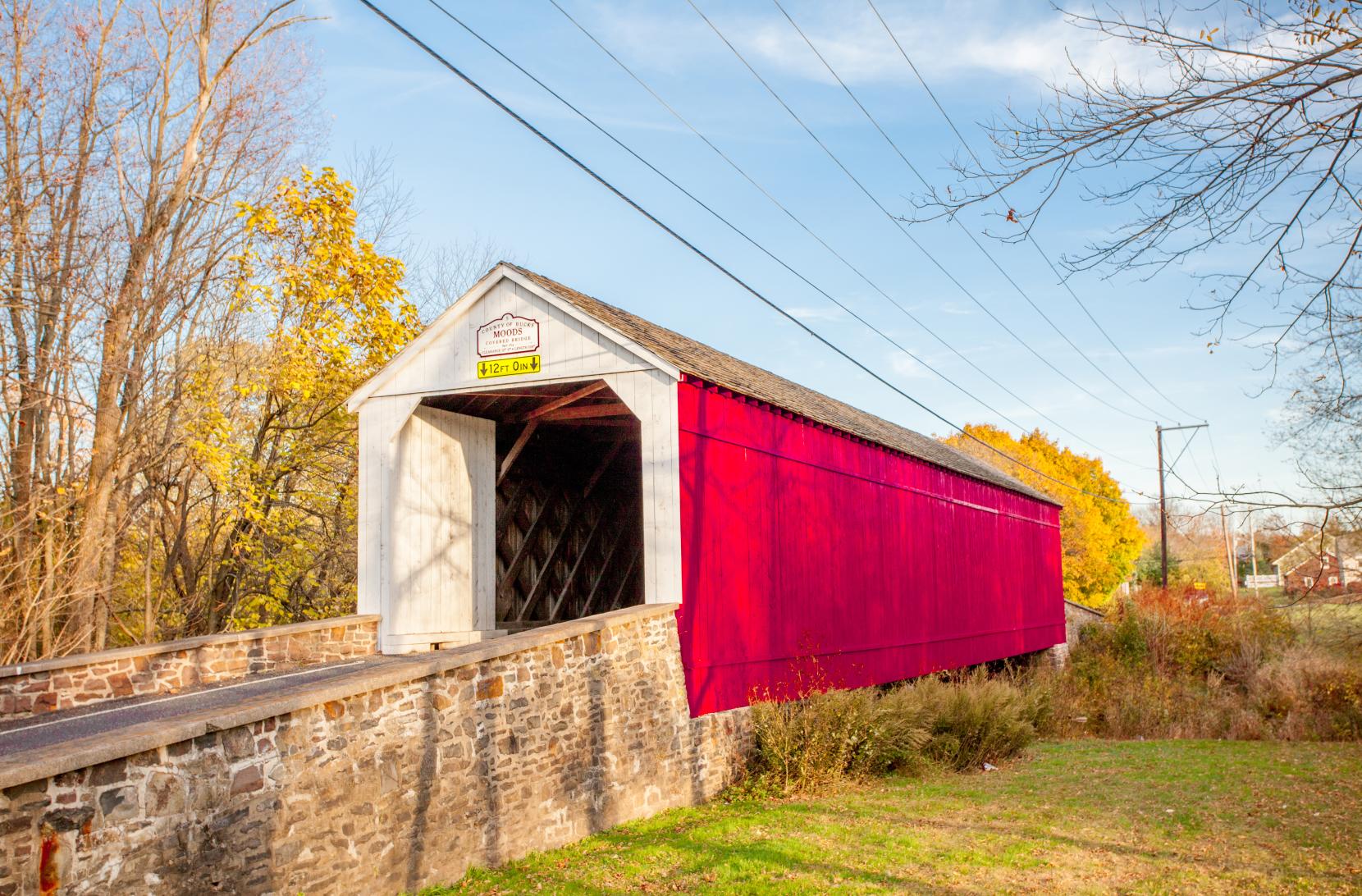 Mood's Covered Bridge in East Rockhill Township crosses one of the principal watersheds in the northwest portion of Bucks County, the East Branch of the Perkiomen Creek. It is one of the most heavily used covered bridges, receiving an average of 2,000 vehicle crossings per day. The first version of the bridge was a victim of arson in June 2004 and a replacement bridge was built. The height limit is 12 feet.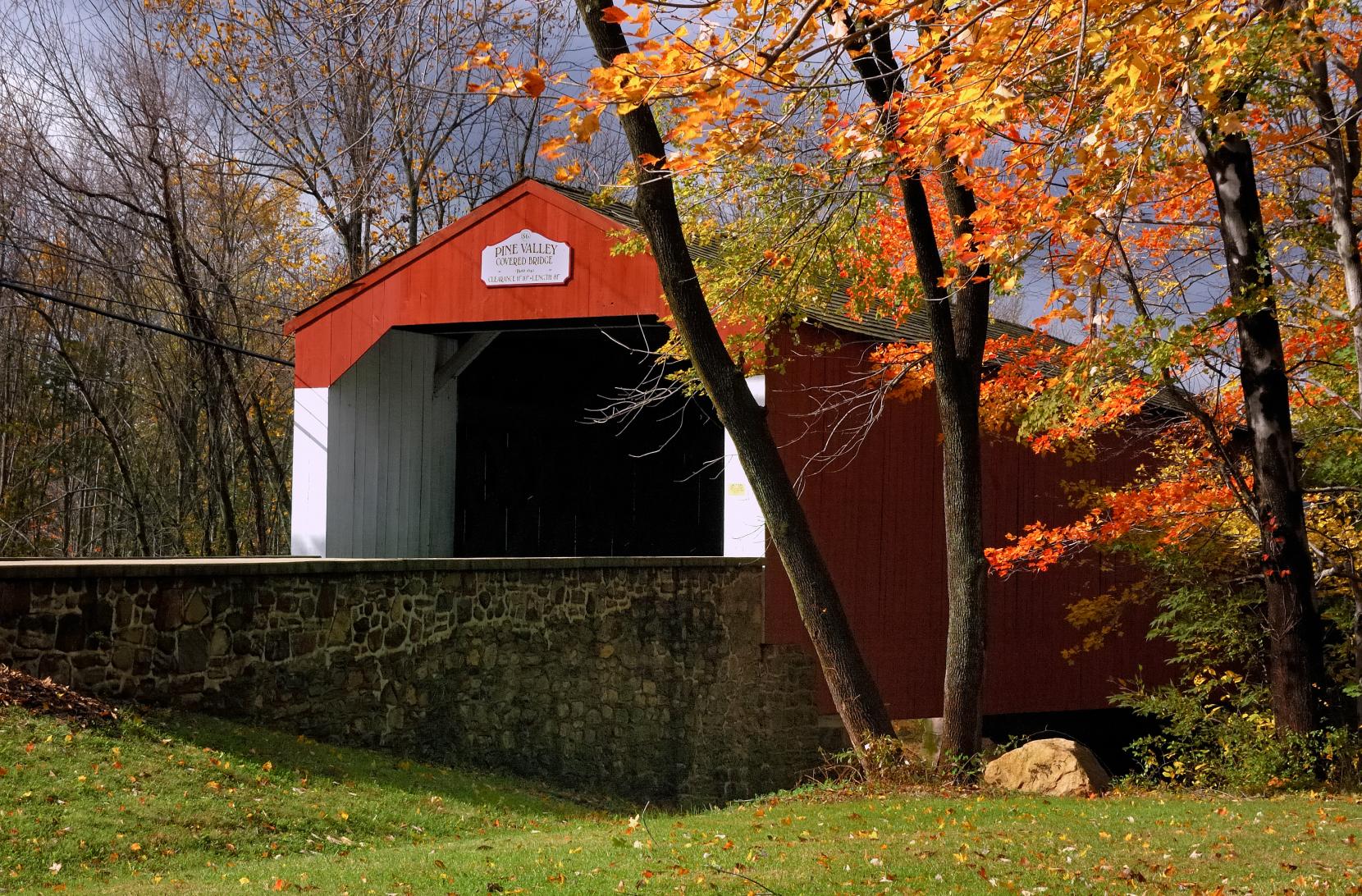 Pine Valley Covered Bridge
The Pine Valley Covered Bridge was completed in 1842 and is the second-oldest covered bridge in Bucks County. It crosses Pine Creek Run in New Britain Township.  A nearby park, called Covered Bridge Park, is a popular recreation area. The bridge itself is the county's most used covered bridge by cars. Stick around for dusk – this bridge is often lit up at night!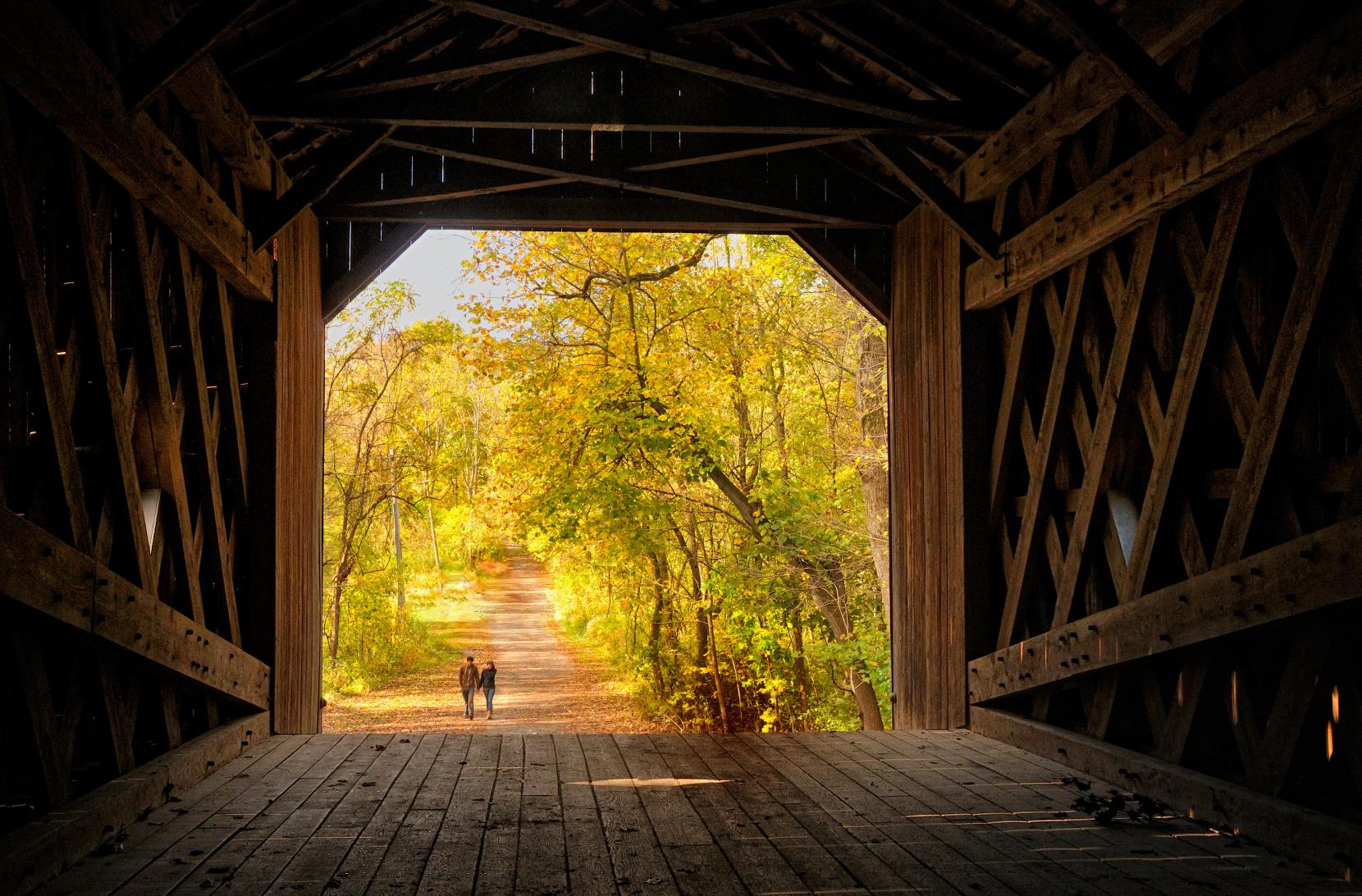 Couple through Schofield Covered Bridge
The current covered bridge at Schofield Ford (or "Twining Ford") in Tyler State Park is the second at that location. Arsonists destroyed the original bridge in 1991. That bridge had remained in road service until after World War I, when it was part of property of George F. and Stella Elkins Tyler later acquired by the state to create the Park. The new bridge opened in 1997. Volunteer framers helped to complete the project. Today, the 170-foot-long bridge is accessible by foot or trails and it is the only Bucks County Covered Bridge that is not painted.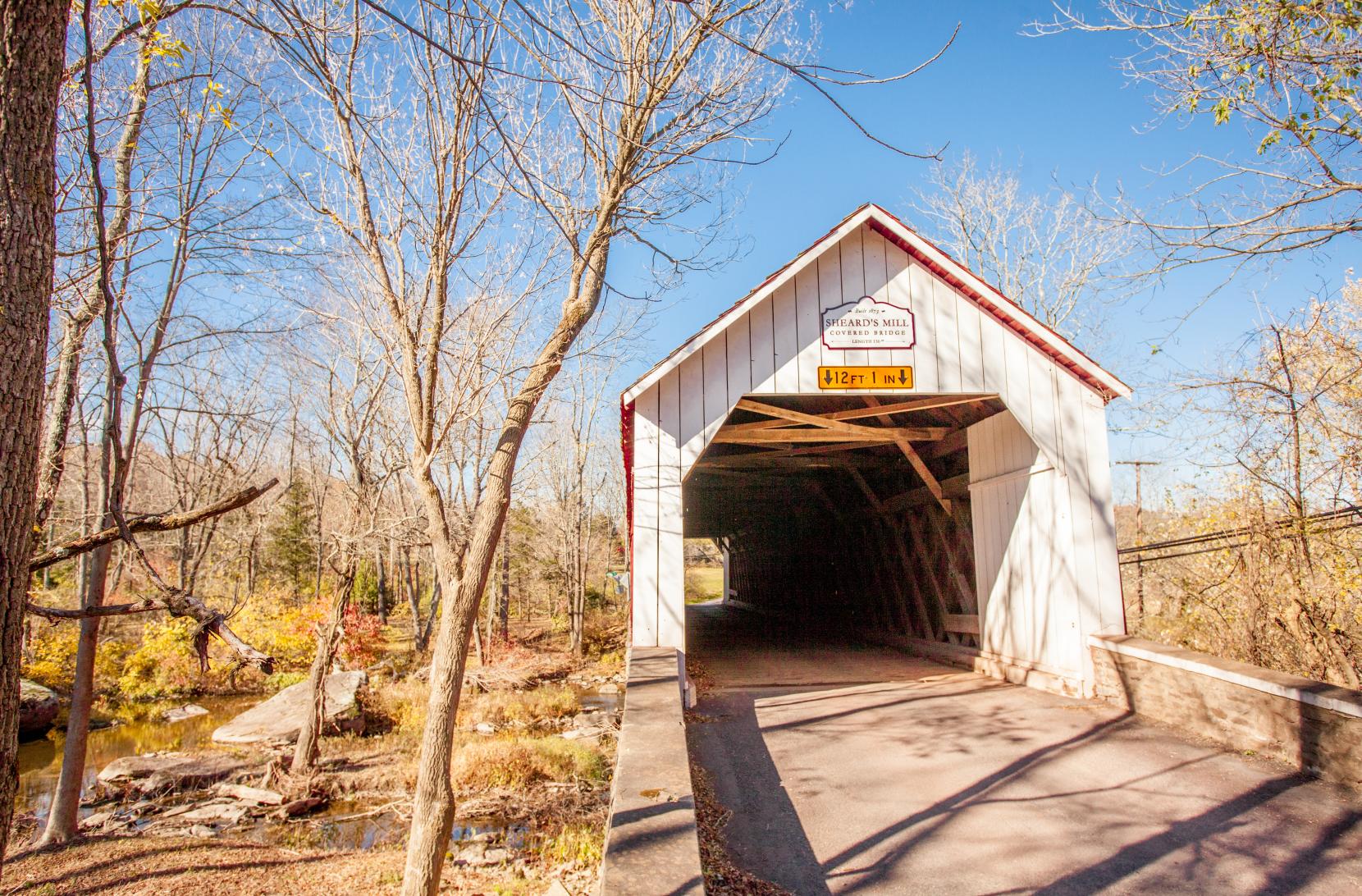 Sheard's Mill Covered Bridge
Built in 1873, Sheard's Mill Covered Bridge spans the Tohickon Creek near Lake Nockamixon in East Rockhill and Haycock Townships. Out of convenience for farmers, many covered bridges were originally built near mills. The nearby mill was owned by John Clymer and it continued to grind grain for feed and apples for cider into the 1980s. It is owned by the state of Pennsylvania.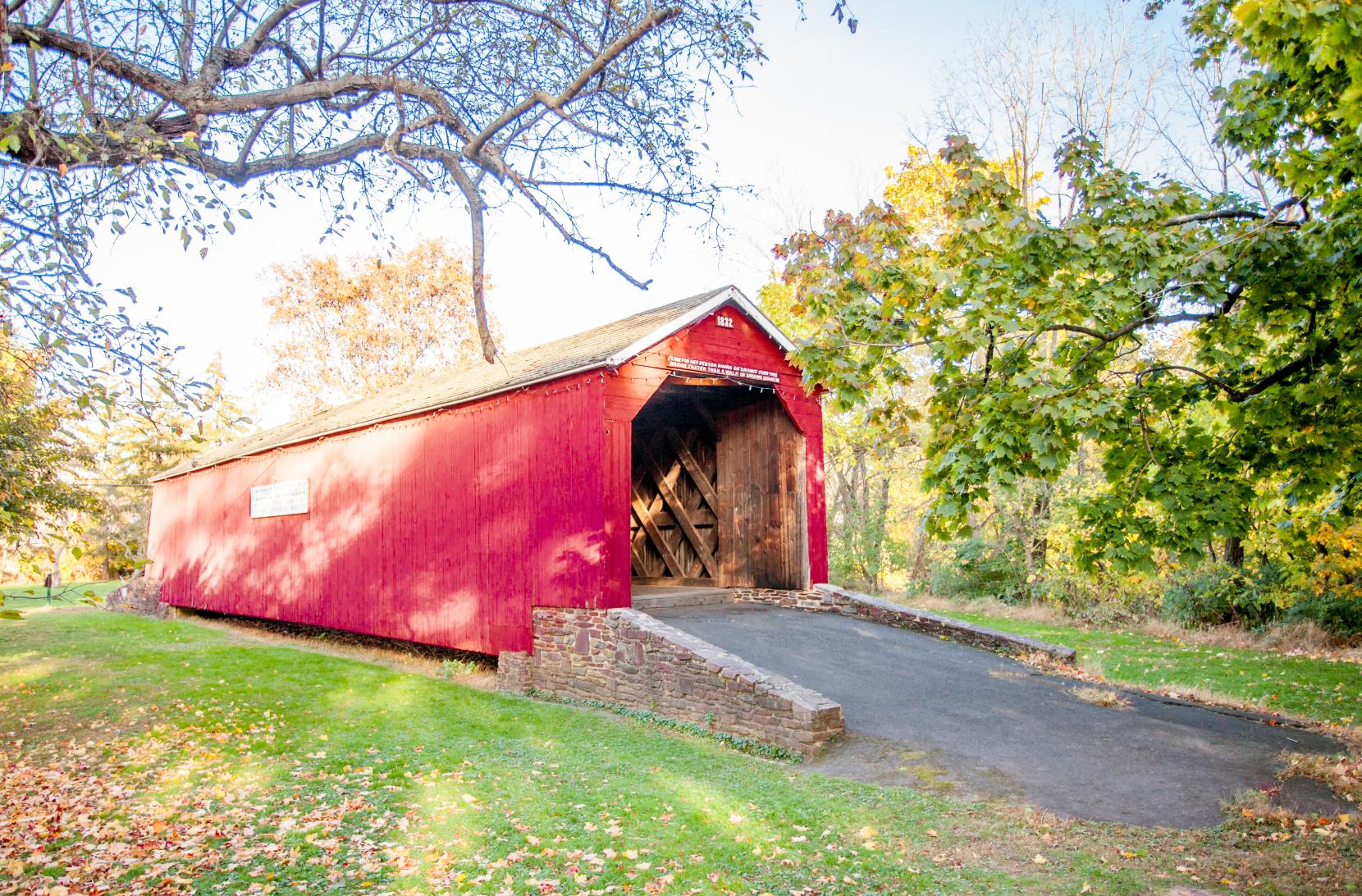 South Perkasie Covered Bridge
One of America's most historic covered bridges, the South Perkasie Covered Bridge is the third-oldest Town Lattice bridge in the country. Another foot traffic bridge, the South Perkasie Covered Bridge was built in 1832 out of pine, hemlock and oak. It originally crossed Pleasant Spring Creek but was relocated to Lenape Park in 1958 thanks to the Perkasie Historical Society, which saved it from demolition. It is rare example of a mostly intact early covered bridge, since it was rarely repaired by the county when in road service. Perkasie Borough now owns and maintains the bridge. Two historic Roebling walking bridges also reside in the Park.
NOTE: Due to a bad storm in 2021, this bridge was damaged and is still undergoing construction to fix. It is recommended to only view this bridge from afar and not get too close to the damage.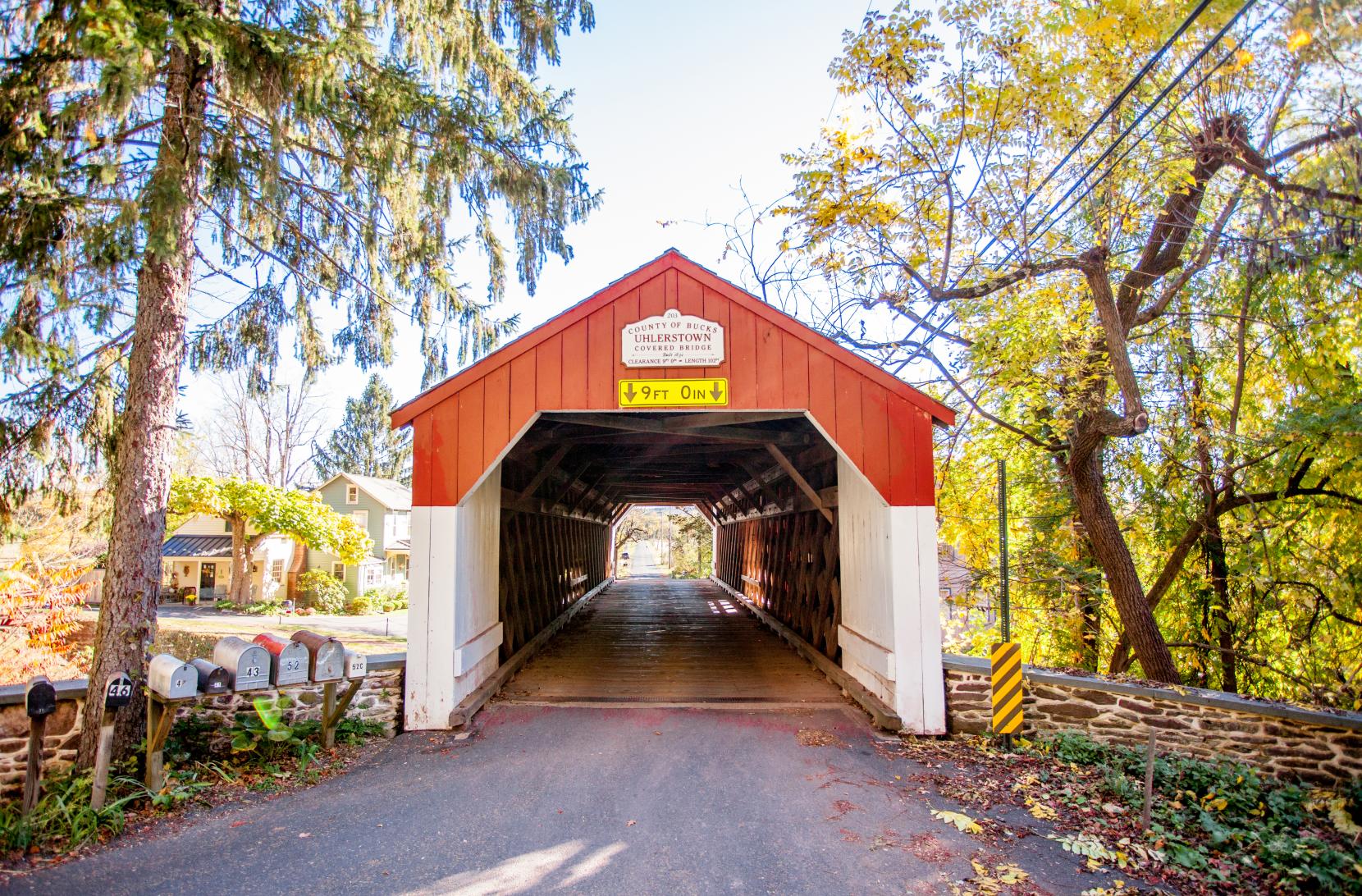 Uhlerstown Covered Bridge
Constructed of oak in 1855, the Uhlerstown Covered Bridge has windows on both sides and is the only covered bridge in Bucks County that crosses the Delaware Canal. It is named for Michael Uhler, a canal boat builder and the first postmaster who founded Uhlerstown. Uhler's businesses in the village included lime kilns, a grist mill, a hay press, and stores. In 1887, Uhler's businesses employed an estimated 100 people and they were linked to the canal system.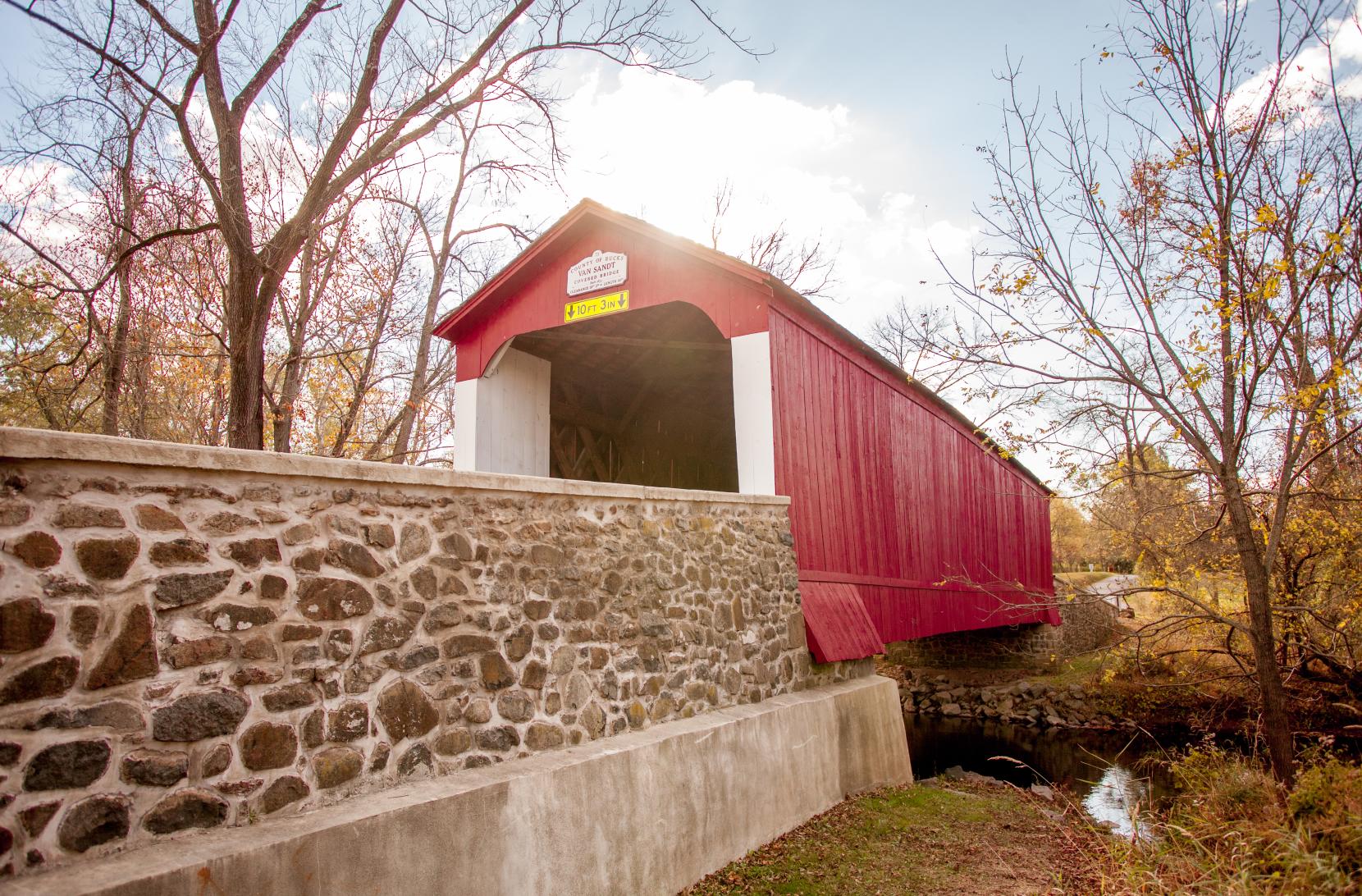 The Van Sandt Covered Bridge (sometimes spelled Van Sant) was built in 1875 and crosses the Pidcock Creek. The bridge is south of New Hope, near Washington Crossing Historic Park. For years, there have been rumors that Van Sant's bridge could be haunted. The bridge is allegedly a "cry baby bridge" where a young woman killed her child and then herself. Her cries, the story goes, still can be heard at night.