Top Holiday Happenings
From festive furry friends to holiday light shows, Bucks County offers the perfect events and activities to celebrate the holiday season. Welcome winter and spread the yuletide joy with the whole family.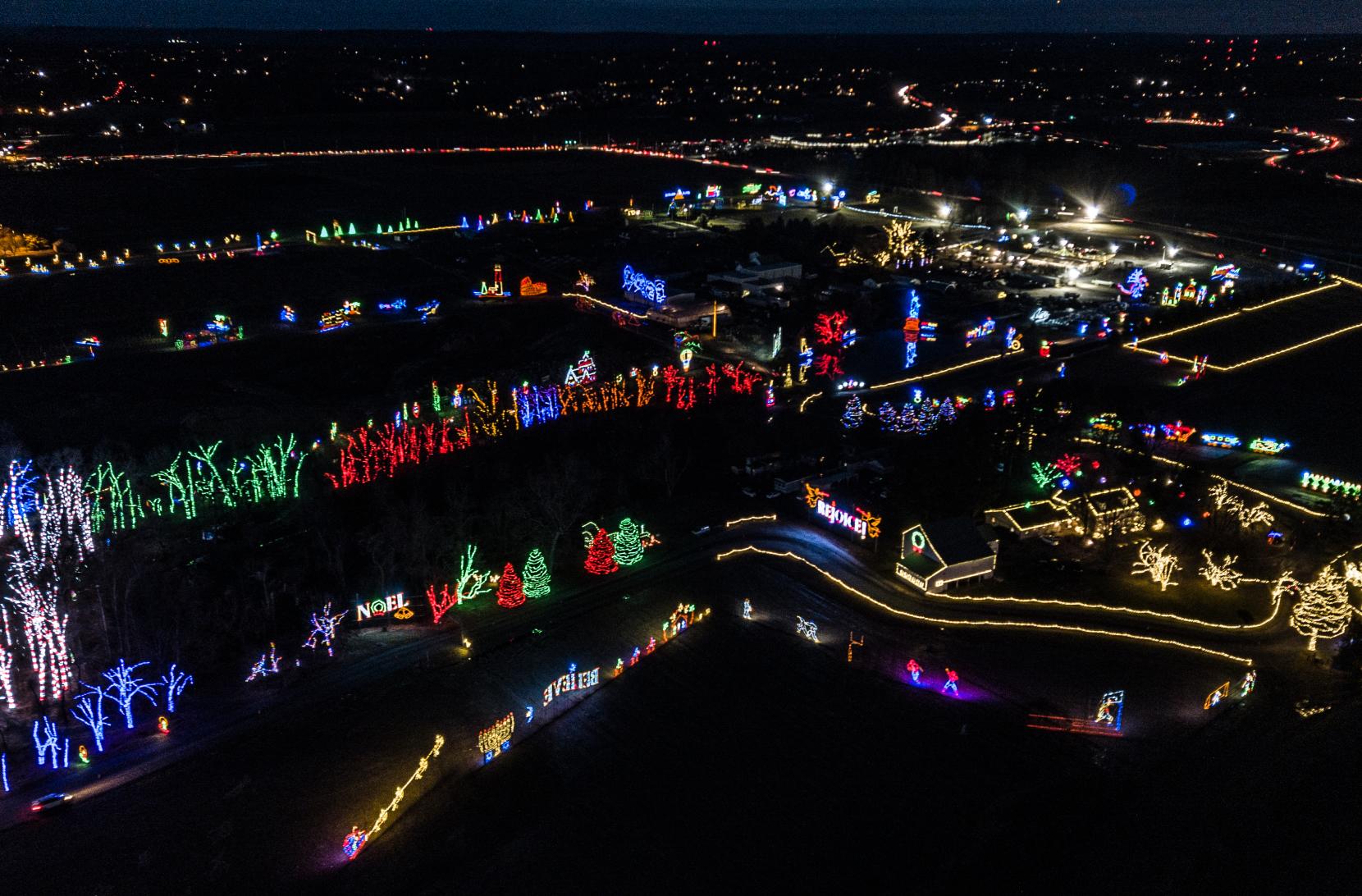 Shady Brook Farm Christmas Lights
ALL IS BRIGHT
25th Annual Holiday Light Show
Shady Brook Farm
November 23 – January 5
Visit and have your picture taken with Santa! Don't miss your chance to shake his hand and grab a candy cane before he sets up at the Farm Market to take photos and listen to all of your Christmas wishes! Don't leave without a car or wagon ride through the Holiday Light Show. With more than 3 million lights illuminating the vast farm, this 2-mile ride around is something to behold on a chilly wintry night.
41st Annual Holiday Festival of the Trees
Pearl S. Buck House
November 12 – December 30
Each year, the rooms of the Pearl S. Buck House in Perkasie come to life with the incredible glow of holiday decor. Tickets are required for the tours, which showcase trees and vignettes designed by local artists, decorators and community groups. This National Historic Landmark is the perfect setting to ring in the holiday season.
Holiday Fun at the Market at Del Val
Market at Del Val
November 30 – December 22
Work off Thanksgiving dinner during the Jingle Bell Turkey Trot on November 30. Choose a 10K, 5K, or ½ mile run. Non-trotters can have their fun with inflatable attractions and lawn games. At 12 p.m., Santa will arrive by helicopter! Starting December 7, use your creativity for Gingerbread House Decorating, and have Brunch with Santa starting December 8.
Christmas at Aldie
Aldie Masion
December 8
Christmas at Aldie is a favorite holiday tradition. Historic Aldie Mansion's Halls have been decked and are ready for the holiday season. Join in at 5 p.m. to delight in holiday-themed cocktails and a delicious dinner from Jeffrey A. Miller Catering. This event benefits Heritage Conservancy's mission of preserving and protecting the natural and historic heritage.
Holiday Open House
Michener Art Museum
December 10
Stop by the Michener for an evening of holiday festivities that include performances inspired by the holiday season. The event is free and will take place between 7-9 p.m. Don't forget to stop by the Museum Shop for a great selection of gifts for the holidays after!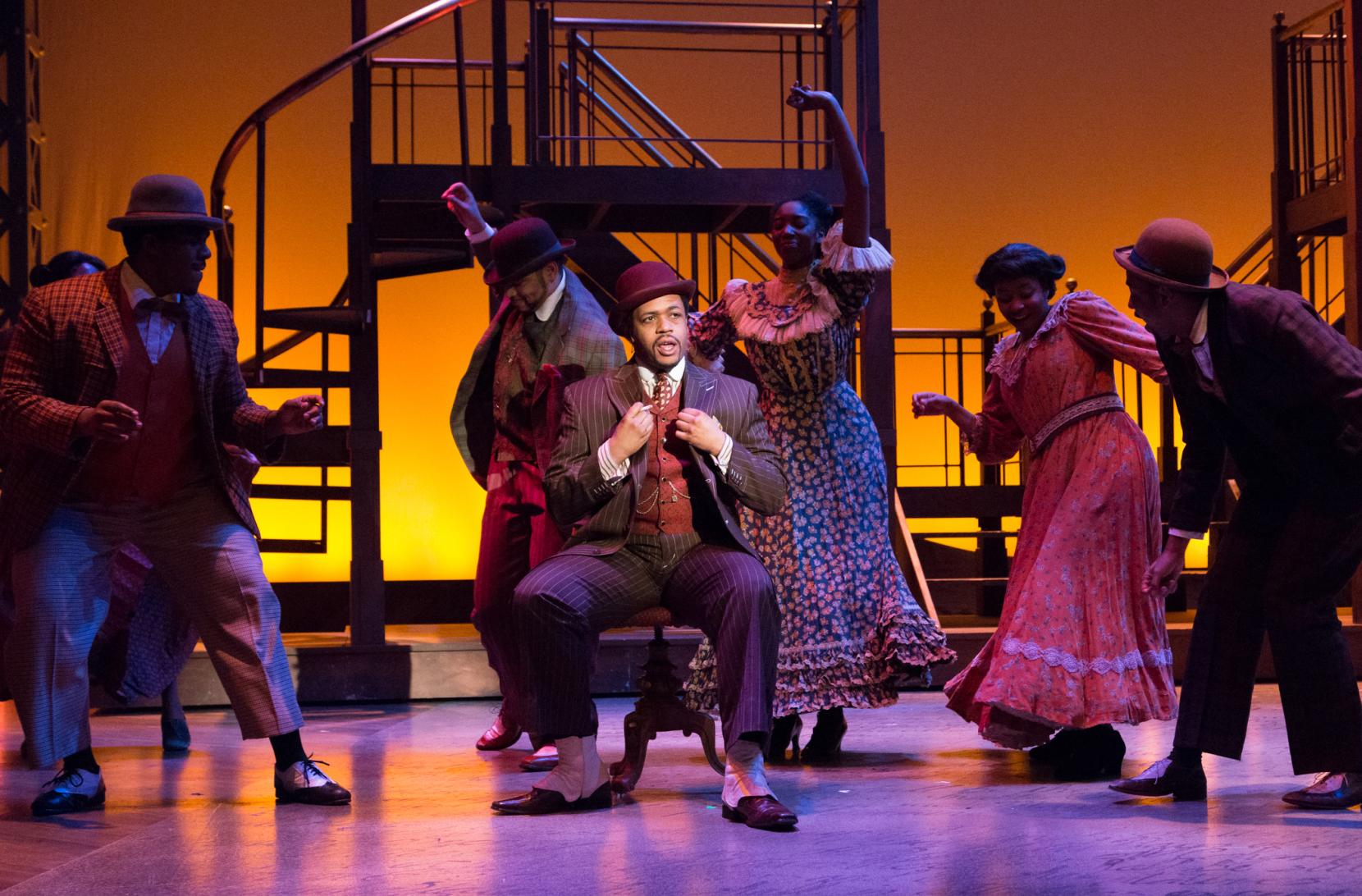 Bristol Riverside Theatre
JINGLE BELL ROCK
An American Christmas Songbook
Bristol Riverside Theatre
December 12 – 22
Talented entertainers bring joy to your world when they perform your favorite carols and classic holiday songs on stage at the Bristol Riverside Theatre.
Miracle on 34th Street
Acting Naturally Theatre
December 12 - 20
Enjoy the holiday tale Miracle on 34th Street this season, based upon the Twentieth Century Fox motion picture and adapted by Mountain Community Theatre from the novel by Valentine Davies. Specific show dates and run times are posted on the theatre's website.
Ebenezer Scrooge's Big Playhouse Christmas Show
Bucks County Playhouse
December 6 – 29
Back by popular demand, Bucks County Playhouse will perform Ebenezer Scrooge's Big Playhouse Christmas Show for the 2019 holiday season. Based on Charles Dickens' A Christmas Carol, the show features only five actors playing the roles of dozens of characters.
Gerald Dickens' A Christmas Carol
Byers' Choice
December 13 - 14
Byers' Choice in Chalfont has been handcrafting Caroler® figurines for more than 40 years. Stop in the factory to see how they are made, tour their Christmas Museum, and catch the Gerald Dickens' A Christmas Carol on December 13 or 14.
Holiday Concerts
Sellersville Theatre
November & December
Sing and dance your way into the holiday spirit at the Sellersville Theater with a variety of holiday concerts throughout the season, including Rat Pack Christmas, Christmas With the Celts and more!
Holiday Murder Mystery Dinners
Without a Cue Productions
November 8 – January 11
If you're in the mood for a murder mystery that'll also make you laugh, book your tickets for one of Without a Cue's several scandalous productions, including 'What the Deadly Dickens' and their new show 'How Rudolph Got His Glow Back.' Catch dinner and a show this winter in Peddler's Village and Fisher's Tudor House.
The Town and Country Players Holiday Show
Michener Art Museum
December 13 – 15
Listen to the Town & Country Players sing holiday songs and celebrate the music and joy of the holiday season. This event is for one weekend only, so make sure to get tickets for the whole family early from the Michener's box office! The Dec. 13th show is at 8:00 p.m.; Dec. 14th will have a 2:00 p.m. and 8:00 p.m. show; and Dec. 15th will have a 2:00 p.m. show.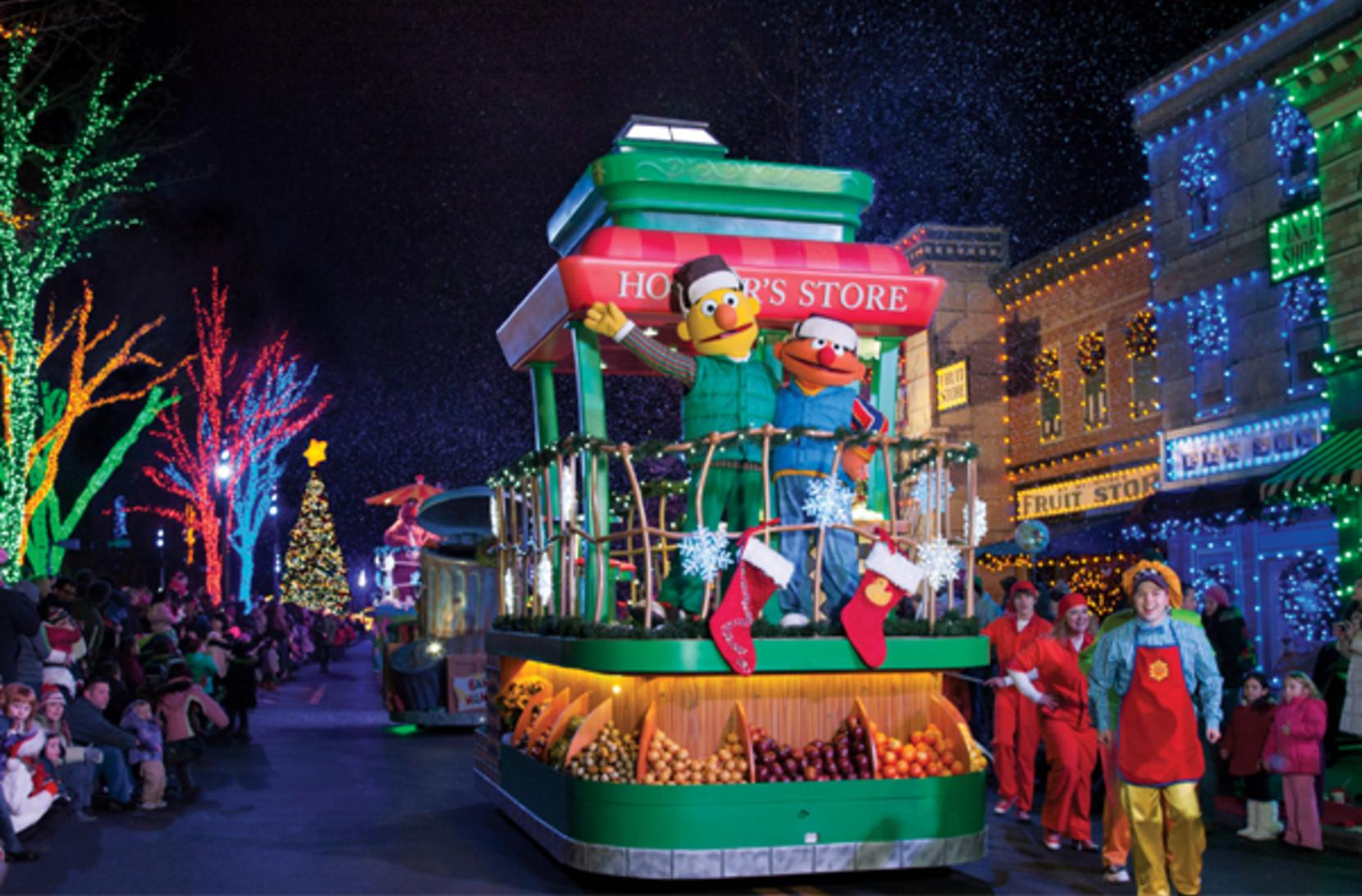 Christmas Parade at Sesame Place
YULETIDE CHEER
A Very Furry Christmas at Sesame Place®
Sesame Place®
November 23 – January 1
Head to Sesame Place® in Langhorne for a special holiday performance from everyone's favorite furry friends. The fun music and dance specials are a festive way for the family to enjoy some fun holiday spirit while singing along! Don't miss the daily Neighborhood Street Party Christmas Parade, train ride tour through the Twiddlebugs' Gingerbread Cookie Factory on the Sesame Place Furry Express, or the chance to meet Lightning the Reindeer! On opening day, join Santa Claus himself as he illuminates the park. Returning this year is the Merry Marketplace and 1-2-3 Christmas Tree Show!
Christmas Festival & Gingerbread House Competition and Display
Peddler's Village
November 30 – December 1
Peddler's Village in Lahaska is full of holiday spirit during the wintertime, offering many different experiences throughout this festive season. Stop by the Christmas Festival November 30 – December 1 to warm yourself with cider and enjoy the picturesque decorations. Then, be sure to explore all of the holiday shopping in the Village during the Gingerbread House Competition & Display that begins November 15 and ends January 4! The Village is illuminated all season long!
Holly Nights
Pennsbury Manor
December 5 – 6
Enjoy a night of crackling fires, singing carolers, hot cider and dancing shows at William Penn's former summer home! Enjoy the beauty of Pennsbury by candlelight from 6 p.m. - 9 p.m. both evenings. Toss a sprig on their Yule Log Bonfire and make a wish for the New Year!
The North Pole Express & Santa's Steam Spectacular
New Hope Railroad
November 9 – December 24
Sip hot chocolate and enjoy a freshly baked cookie while singing along with the railroad's roaming musicians as they play Christmas carols on these two rides. Meet with Santa on the steam locomotive pulling Santa's Steam Spectacular and share your Christmas wishes with him. The North Pole Express offers similar amenities, but is pulled by a vintage diesel locomotive instead. Gear up in pajamas and enjoy the relaxing holiday ride in either first class or coach through historic Bucks County. See website for full schedules and pricing.
Holiday Table Settings & Dining in the Victorian Era
Grundy Library
December 12
Spend an evening learning about festive table settings and lavish dining customs from the Victorian Era with a holiday flair at 6:00 pm on Thursday, December 12 at the Grundy Library. See collections from the Margaret R. Grundy Memorial Museum on display and hear a presentation given by curator Geoffrey Webster. Guests will enjoy a selection of Victorian style refreshments.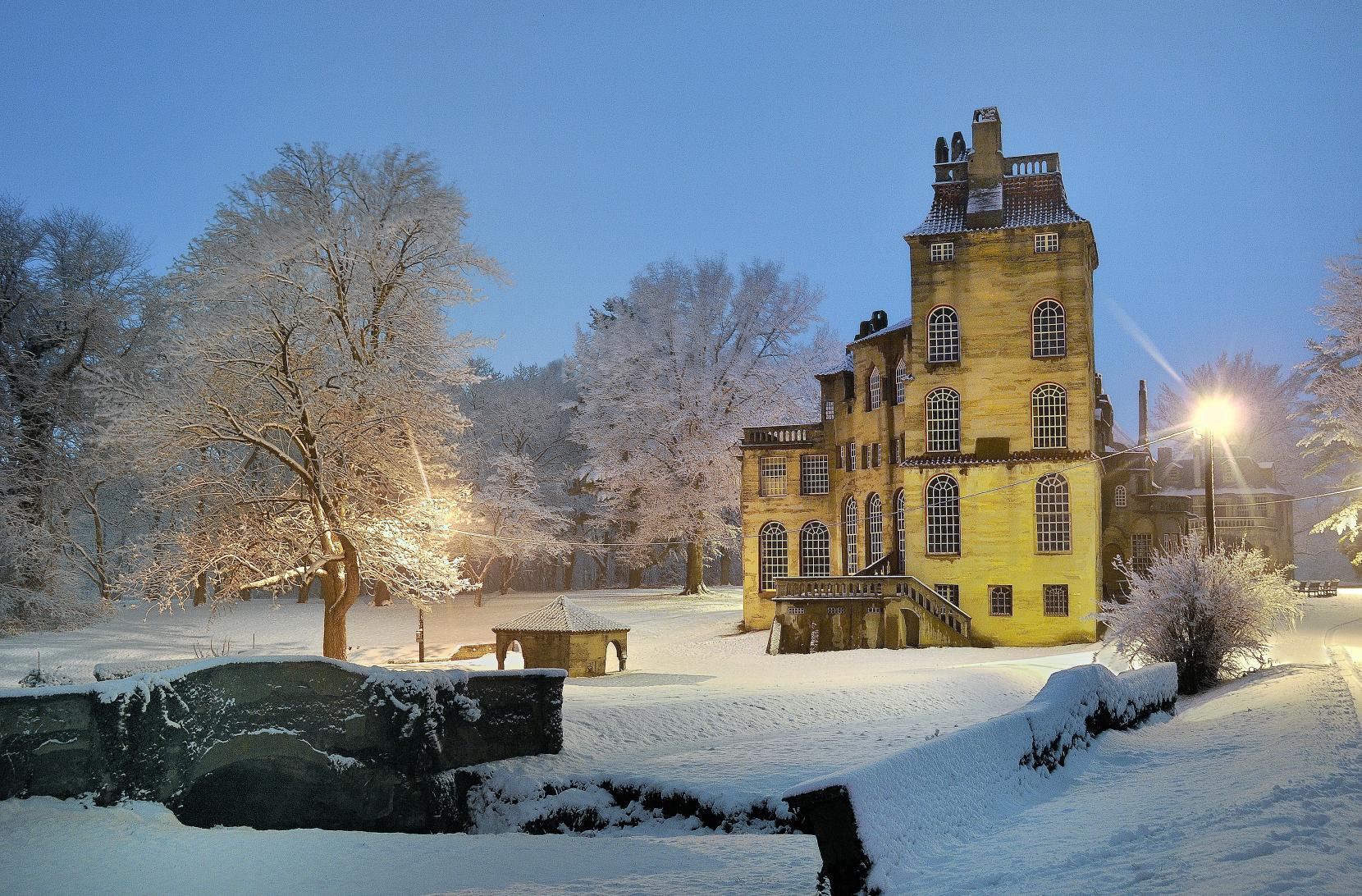 DECK THE HALLS
Christmas in the Castle
Glencairn Museum
November 29 – January 5
Tour this beautiful 20th-century castle, which shows the famous Pitcairn family's Christmas traditions from the 1940's to the 1970's. This 45-minute tour gives a glimpse into the elegant way that the Glencairn castle would have been decorated. The tour has a $12 participation fee and takes place between 12:30 p.m. and 2:30 p.m. on weekdays and at 1:00 p.m., 1:30 p.m. and 2:30 p.m. on weekends. View a series of 3D World Nativities on display at the end.
Farmhouse Christmas Craft Show
Moland House
November 29 – December 7
Take a step back into history at the beautiful Moland House in Warminster and admire the talent of more than 50 local crafters. Search for the perfect handcrafted gift for your loved ones, like pottery, floral arrangements, wreaths, wall decor, bags, jewelry, candy and more! The craft show is restocked daily and is open 10 a.m. – 5 p.m., except Fridays where they are open until 8 p.m.
Holiday Festivities & Tours
Mercer Museum and Fonthill Castle
December
These two historic Doylestown locations are offering a plethora of holiday activities, including Winter Wonderland Tours of Fonthill Castle December 1-31; Fonthill Castle Community Holiday Open House on December 8 with a Menorah-lighting by Temple Judea's Youth Group, followed by the lighting of the Yule Log; Mercer Museum Holiday Open House on December 10; plus, the Fonthill Castle Lights Meander on December 21, 22, 28 and 29!
Holiday Festivities & Tours
Moravian Pottery and Tile Works
December
Moravian Pottery & Tile Works offers plenty of holiday festivities for the family. At the Holiday Open House on December 8, drink hot chocolate, sing along to holiday music and visit with Santa. Walk next door to Fonthill Castle to tour Henry Mercer's home, which will be decorated throughout December. It's the perfect way to spend a wintry weekend!
Bucks County Visitor Center
November 20 – January 4
Make the Visitor Center your first stop when celebrating the Holidays in Bucks County. Don't miss Holiday Trees at the Visitor Center, a beautifully decorated display of trees and pick up the exclusive Bucks County Holiday Experience Book on must-see holiday attractions and events! Also, on display will be beautiful stained-glass Menorah Lights by Bucks County artist, Jill Tarabar, and Behold! The Ed Bennett Exhibition, art from Galvanized America Inn & Art Gallery owner, Ed Bennett. 
Victorian Christmas
Parry Mansion
December 7 – 8
Celebrate Christmas like they did in the 1800's at the Parry Mansion. Come by between 1 p.m. - 4 p.m. to take a tour through the home of Benjamin Parry, the Father of New Hope. Learn about the Christmas traditions from the Victorian era, sing carols, and try some authentic food.
Covered Bridge Tour
This holiday season is the perfect time to travel the Covered Bridge Tour! Grab a cup of coffee, put your favorite holiday tunes on the radio and hit the road to visit Bucks County's remaining covered bridges.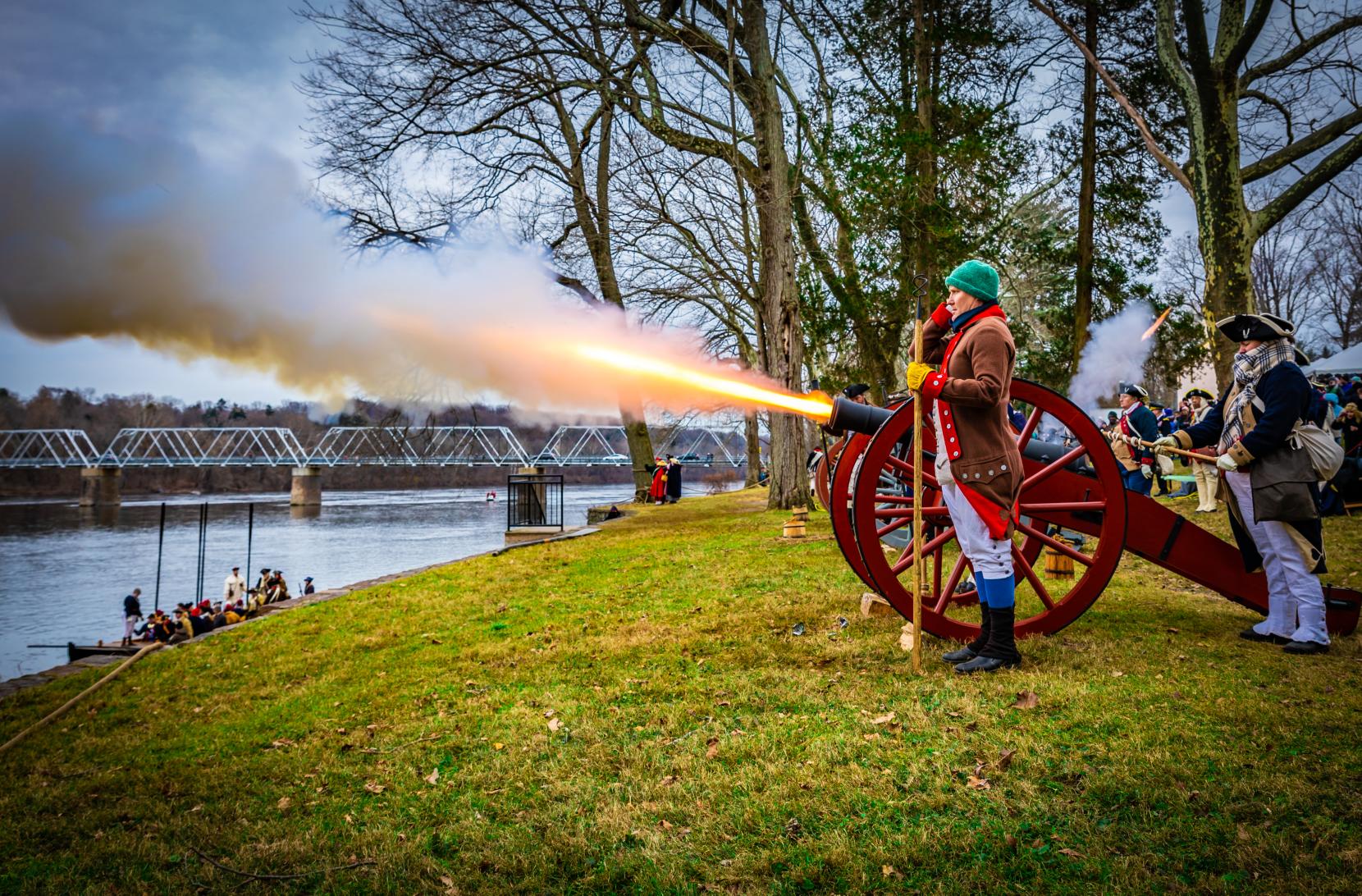 Washington Crossing Re-enactment
JOY TO THE WORLD
Annual Crossing Reenactments
Washington Crossing Historic Park
December 8 & 25
Held every year on Christmas Day at 1 p.m. at the location of Washington's Delaware River crossing is a reenactment of the treacherous crossing itself! If you are unable to make it on Christmas Day, attend the dress rehearsal or the first crossing on December 8. The park will be decked out in period wreaths, candles and holiday trees, too, starting November 23!
Christmas in Fallsington
Historic Fallsington
December 8
Christmas in the quaint old school village is a perfect way to celebrate the holidays with family and friends! Attend the town's tree lighting at the Stagecoach Tavern on December 8 and guided tours throughout the village Tuesdays through Fridays by appointment. The historic Fallsington tree is decorated with handmade ornaments by the children of William Penn Center Preschool and Kindergarten.
Holiday Houses
Bolton Mansion
December
Spend this season at a home away from home! The historic Bolton Mansion's annual Holiday House events include a Tree Lighting on December 6, Heath Cooking and Carolers event on December 7, Basketeers on December 8 and more. The Mansion features a decorated 9-foot tree, musical visitors, baked goods, hearth cooking, hot cider, candy and Santa in the blue room.
Newtown Annual Holiday Open House Tour
Newtown Historic Association
December 7
Enjoy a night of crackling fires, singing carolers, hot cider and dancing shows at William Penn's former summer home! Enjoy the beauty of Pennsbury by candlelight from 10 a.m. – 4 p.m. Toss a sprig on their Yule Log Bonfire and make a wish for the New Year!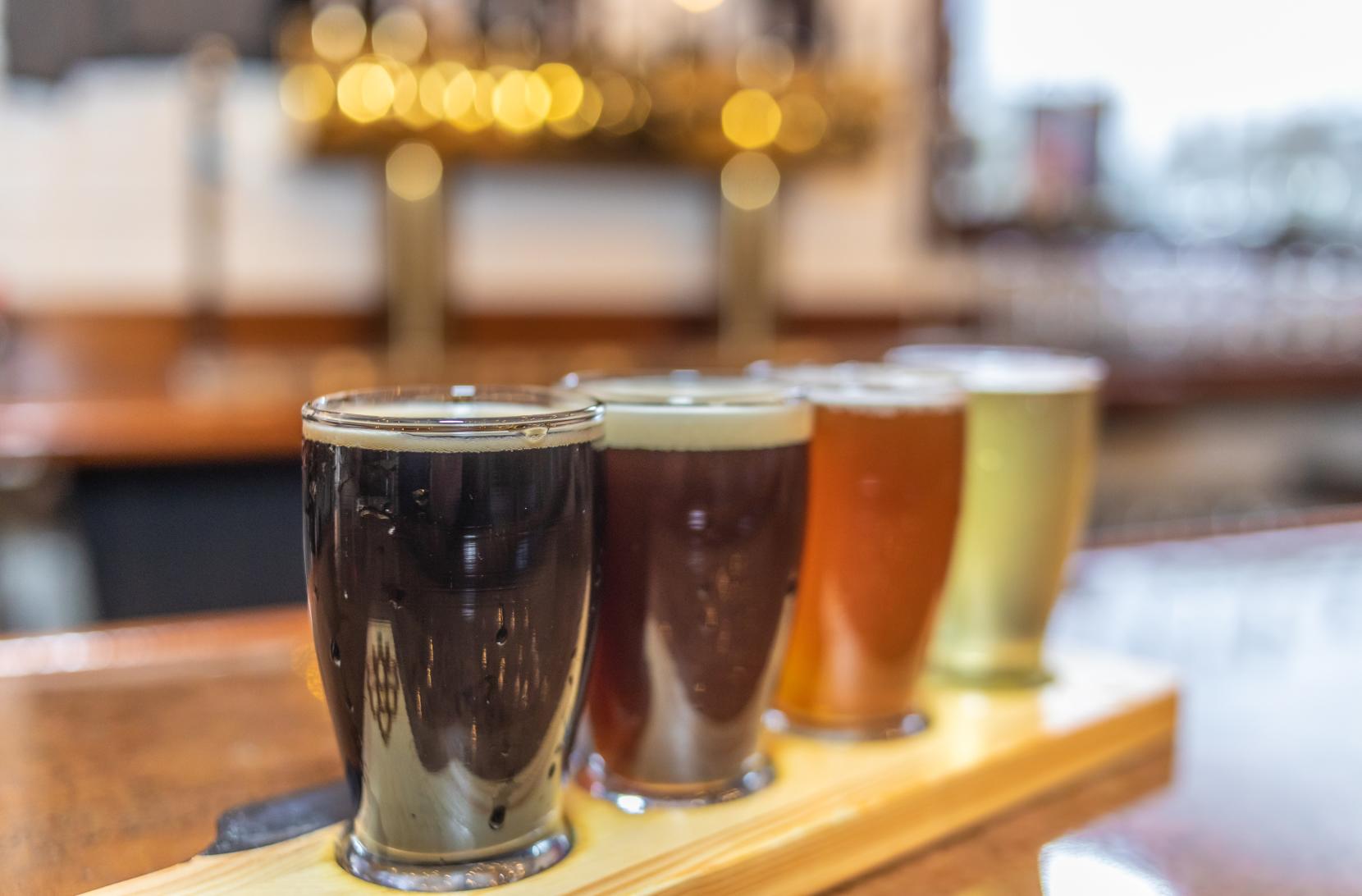 DRINK & BE MERRY
Bucks County Ale Trail
Grab a brew (or two!) at one of the many breweries along the Bucks County's Ale Trail! Relax and kick back with seasonal flavors as you complete your passport to win a limited-edition t-shirt. Be sure to try this season's Bucks County Ale Trail collaboration beer while it lasts, How 'Bout Them Apples, an apple graf produced by Broken Goblet Brewing Co. and Naked Brewing Co!
Bucks County Wine Trail
Sample winter wines at tastings along the Bucks County Wine Trail! Indulge in seasonal hand-crafted wines, like Alpine Spice Wine at Sand Castle Winery or Maple Whiskey Barrel Marquette at Bishop Estate Vineyard & Winery. Each winery offers a selection of samples to taste and tours around their property.
Bucks County Distilleries
Visit Bucks County's distilleries this holiday season for a tour or tasting! Warm up and sip on aged spirits, such as Whiskey with a Port Wine finish at Dad's Hat or Sunday Morning Stout Corn Whiskey at Triple Sun Spirits Co. A bottle of one of their hand-crafted spirits makes the perfect holiday gift!
Save the dates for even more festive fun!