NEWTOWN, YARDLEY & WASHINGTON CROSSING
Founded by Willian Penn in 1684, Newtown has been and continues to be one of the "coolest small towns in the nation" as declared by Yahoo! Travel. With a main street lined with unique shops, taverns and restaurants as well as a bustling festival calendar, there is always something to see and do. From historic inns full of history to classic American film, there's plenty of fun for everyone in Newtown, PA.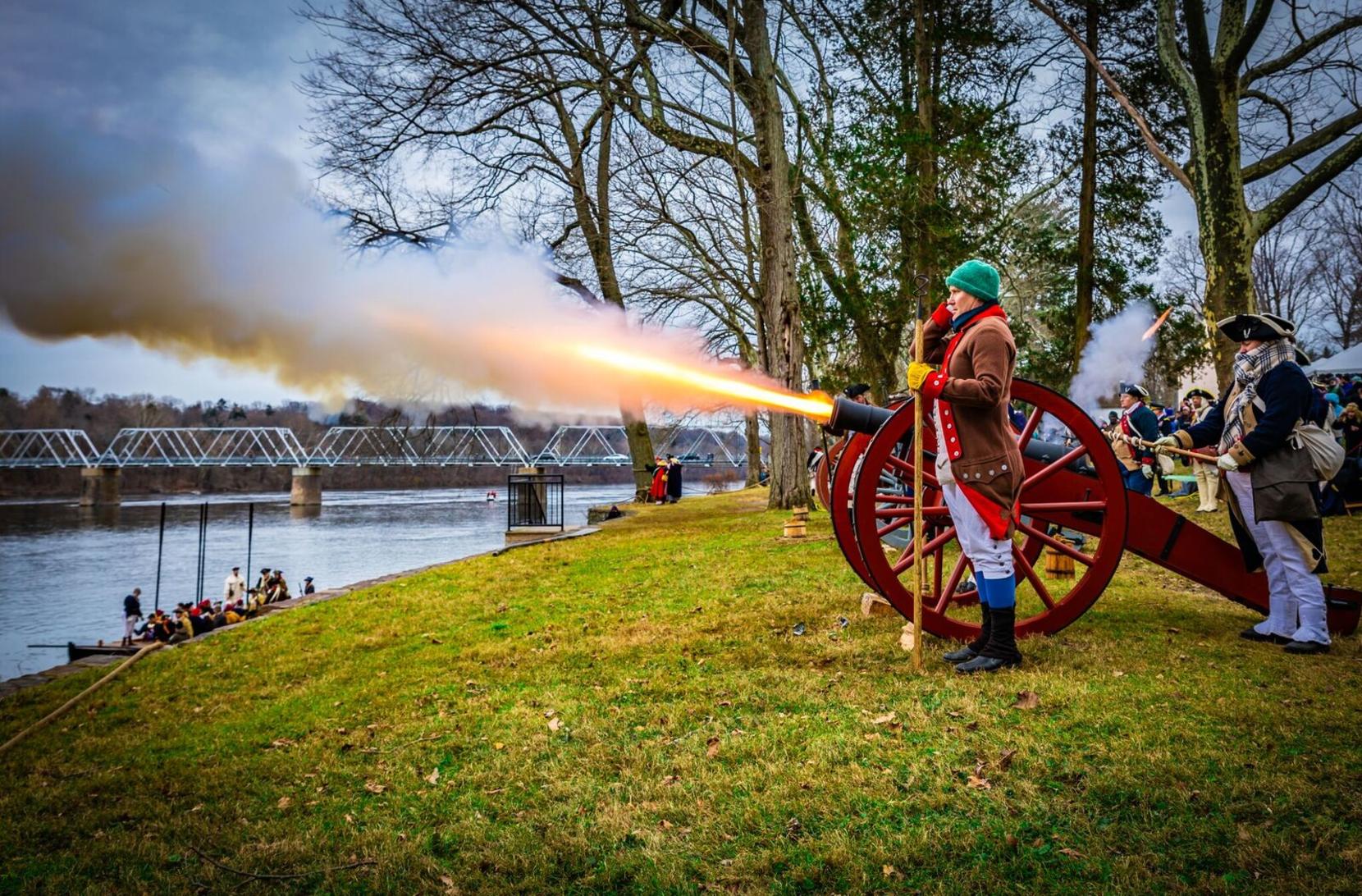 Washington Crossing Canon
HISTORY
Travel to the past when you step through the doors of the Court Inn, headquarters of the Newtown Historic Association. This historic building, known in colonial times as the Half Moon Inn, has been around since the 18th-century. Today it houses a unique collection of diaries, books, photographs, genealogies and other notable documents from the area's past including a special collection of work from early America's foremost folk painter, Edward Hicks. Stop by for a tour of the building and witness the many artifacts from Newtown's and Bucks County's past. Nearby Washington Crossing offers plenty of historic landmarks, some dating back to the birth of this nation. Stand in the footsteps of General George Washington at the site where he crossed the Delaware River on Christmas Night 1776, Washington Crossing Historic Park. Make sure to travel a few miles down the road to Bowman's Hill Tower, a 125-foot-tall monument to Washington and his troops which offers a gorgeous 14-mile view of the surrounding area.
GET OUTDOORS
Fun is always in season at Shady Brook Farm, one of the remaining working farms in Bucks County. With plenty of pick-your-own crops and fun festivals for the whole family happening year-round, there's something for everyone to do. Enjoy a fresh sandwich at the full-service Deli, treat yourself to a cone at Uncle Dave's Homemade Ice Cream or take home fresh produce to create your own family meal. Take time to reflect at the 9-11 Memorial Garden, the official Pennsylvania Memorial to the victims of the September 11 terrorist attacks. Situated in Memorial Park, this beautiful garden takes visitors on a journey of remembrance, symbolizing the memorial's theme, "After Darkness...Light." Continue your outdoor trek through Five Mile Woods, a 285-acre nature preserve. Enjoy a hike through the wooded trails and admire the wonders nature has to offer in this haven for unique plants and animals. Tyler State Park is a haven for outdoors-and nature-enthusiasts! The park is the perfect place for hiking 25 miles of trails, biking, horseback riding, fishing, boating, sledding, cross-country skiing or just taking a break and picnicking with family and friends.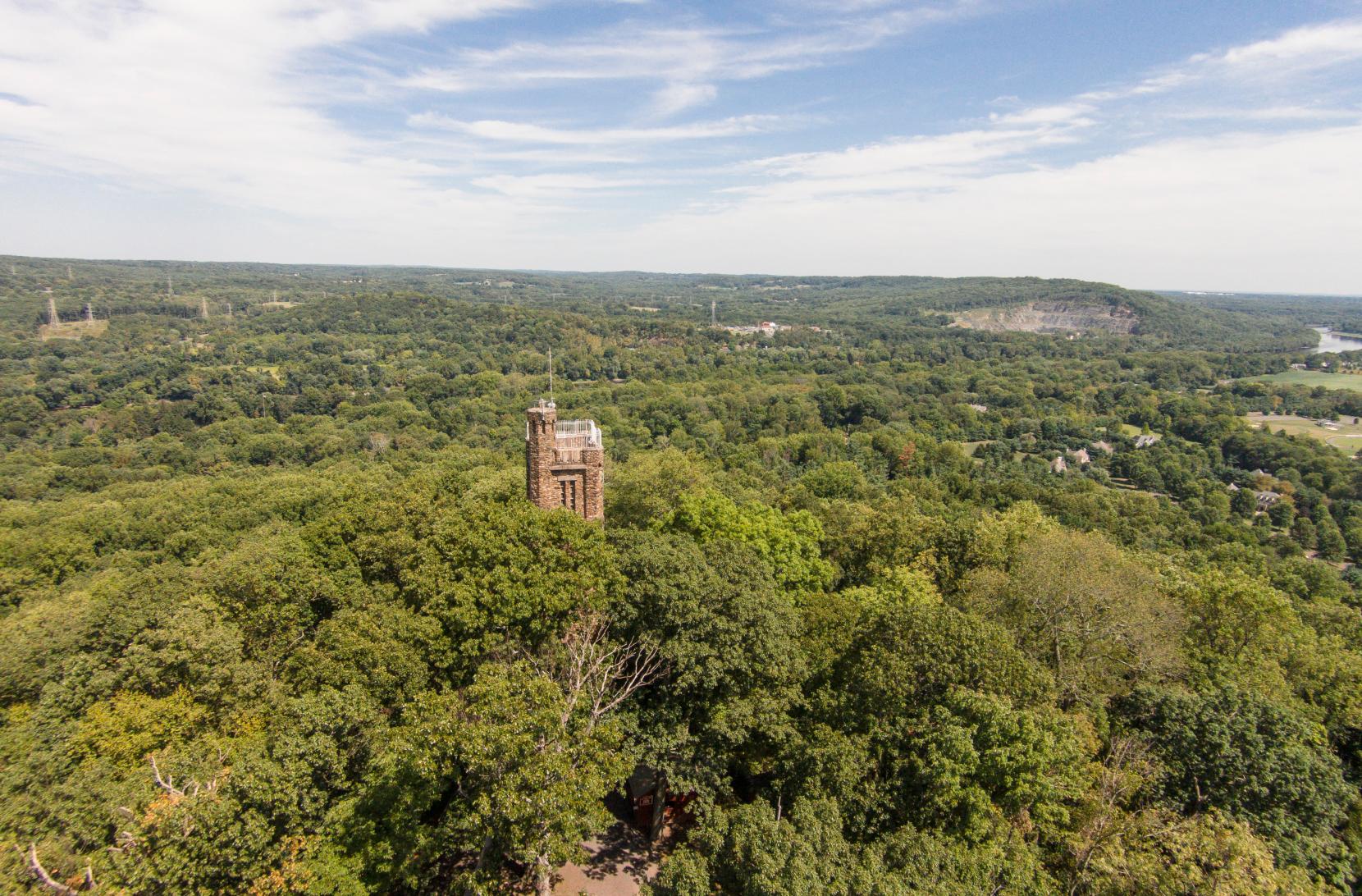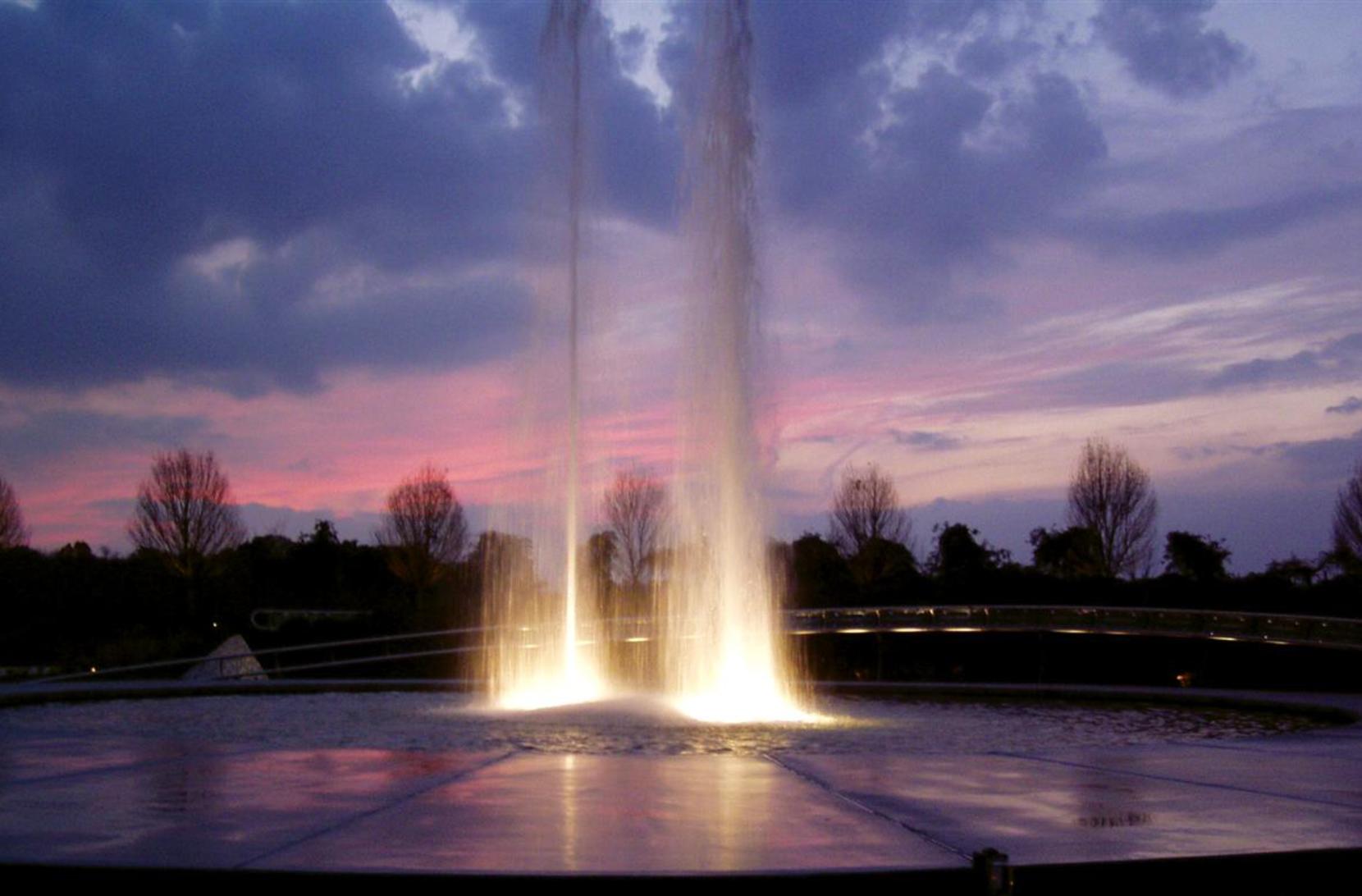 9-11 Memorial Garden of Reflection
ARTS & CULTURE
Take in a moving performance from the Newtown Arts Company, a nonprofit organization that presents a variety of theatrical shows ranging from classic dramas and comedies to contemporary musicals and everything in between. Committed to supporting theatre in Bucks County, this organization presents six family-friendly shows annually and grants annual scholarships directly related to local arts. Put on your best black tie and admire the beauty of classical and contemporary pieces performed by the Newtown Chamber Orchestra. Since its founding in 1990, the Orchestra, made up of a small ensemble of professional musicians, presents a variety of works throughout the year during its regular concert season as well as performs at different sites throughout the Bucks County area for other organizations and private functions. Catch a flick at the oldest movie theater in the United States, the Newtown Theatre. Since opening in 1906 when it projected the film images of the San Francisco earthquake to a full house of viewers, this theater has remained a vital part of the community. Using a 64-year-old 35 mm film projector, the Theatre shows a variety of movies from independent and foreign films to the classic movies of a bygone era whose posters adorn the walls of the beloved cinema.
Catch a show from the Bucks County Performing Arts Center and witness the talent of local musicians and performers. Concerts are held on most Saturday evenings at the Yardley Community Centre and feature a variety of professional artists ranging from hometown bands to traveling acts. Bring out your creative side with the Artists of Yardley, a non-profit organization that provides classes and weekend workshops in all art forms. The Artists of Yardley also offer opportunities throughout the year for local and visiting artists to showcase their work in both juried and non-juried exhibitions. Another great location to view beautiful arts displays is at the Hicks Art Center Gallery at Bucks County Community College in Newtown. A variety of curated art series, art exhibitions and related programming are always on the bill.
SHOPPING
Check out the vintage paperback novels and records at Newtown Book & Record Exchange, a specialty shop that is perfect for book and music lovers. If you're still looking to quench your need for all things vintage, visit Alternative Dimension Toys. The shop specializes in Funko pops of all types. If you have a sweet tooth, make sure to stop by the historic Whitehall Building in the borough and satisfy all your candy needs at Snacks by the LB. Specializing in old-fashioned chocolates and a variety of nostalgic candies, this unique shop is a one-stop shopping destination for sweet gifts for friends, family or just for yourself! Tantalize your taste buds with the gourmet olive oils and balsamic vinegars on tap at The Tubby Olive. Taste a few in-house to find your favorites, try out new recipes which feature the store's best oils or take some home to incorporate into your own cooking.  For some retail-therapy time, be sure to stop by Love Your Jeans for women's wear or Giovanni's Fine Fashion & Custom Tailoring for men's wear.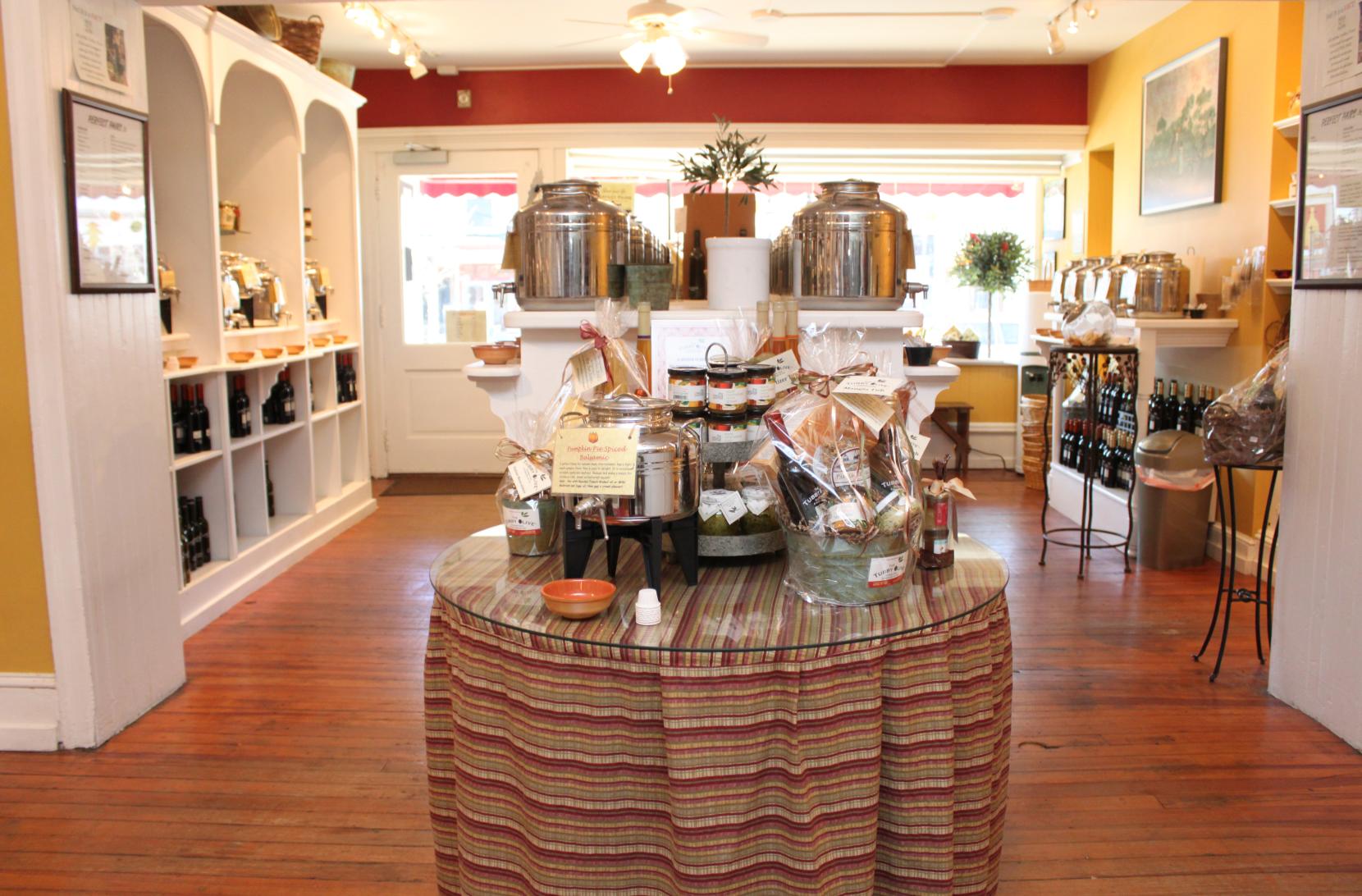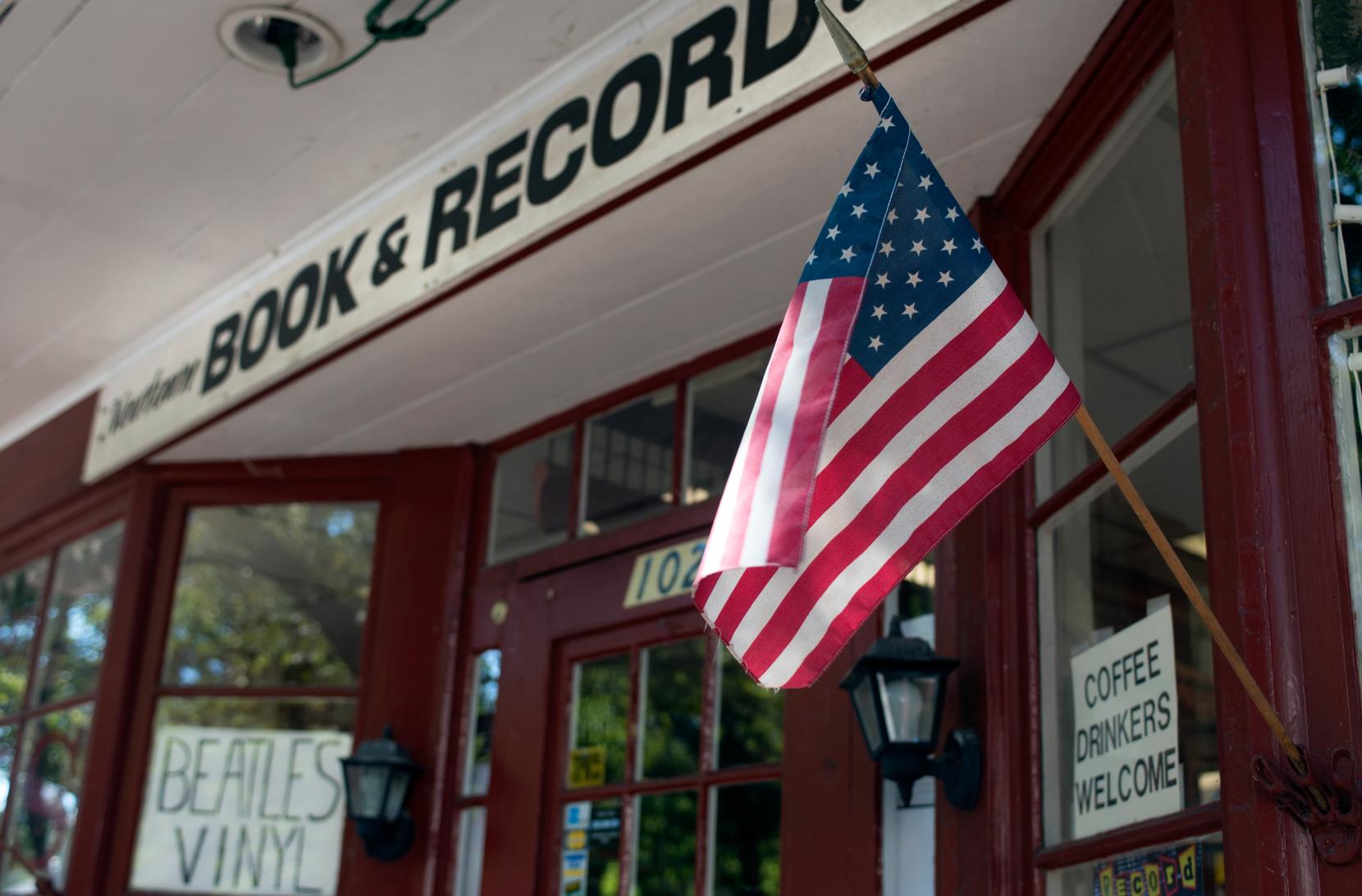 Newtown Book and Record Exchange storefront
DINING
Get ready to tour the world just by walking down the streets of Newtown! Whether you're looking for traditional pub fare or authentic Indian cuisine, there is a restaurant or eatery sure to delight. To satisfy a craving for delectable Asian cuisine, check out Oishi Japanese Thai & Korean or Ko for great vegetarian options and countless sushi rolls. If you're in the mood for Paneer Tikka Masala or sweet Rasmalai, then pull up a chair at Guru's Indian Cuisine.
Let your taste buds set sail for South America and the Mediterranean Sea when you dine at Café Con Leche. Since 1997, Daniel and Silvia Lucci have owed this quaint eatery and crafted innovative and healthy meals. The cuisine is a fusion of American, South American, and Mediterranean favors and styles and offers a large array of meals from burritos, to paninis and even the traditional flan. The restaurant is BYOB and also offers a separate 100% plant-based menu making the selection varied and inclusive.
Next, allow your taste buds to travel north of the Mediterranean and experience the rich spices and sauces of Italy. Nestled in the resorted Lovett Barn is La Stalla, a family style dining. Enjoy a traditional Italian meal, visit the Tuscan antipasto table or upgrade your experience to the chef's table in their intimate Wine Room where your meal is decided by the chefs. If family style isn't your thing,, you may enjoy Vecchia Osteria or Piccolo Trattoria.
Last, but not least, Newtown offers a variety of dining locations featuring classic American bistro, pub and bar fare. Voted 2016's Best Beer Bar & Best Kid Friendly Restaurant by Bucks Happening is Isaac Newton's Food & Drink located on the famous State Street. Enjoy one of the craft beers while you browse through their expansive and diverse menu. For a casual grab-and-go or dining-in, Jule's Thin Crust Pizza is sure to be a place you'll want to visit time and time again. With dozens of toppings and an alternative gluten-free crust option, this contemporary eatery is sure to be a hit!  It's always Happy Hour at the Green Parrot Restaurant and Pub! Stop by the historic inn for a delicious meal made with fresh, local ingredients.. The delectable pub cuisine combined with the historic atmosphere make the Green Parrot a must-visit for lunch or dinner. The nearby Washington Crossing Inn offers fabulous American cuisine in colonial-style atmosphere. Plan your visit during spring or summer and enjoy your meal out on the patio beside the beautiful Secret Garden.  Or stop by the Continental Tavern for a delicious American meal overlooking beautiful Lake Afton.
Save room for dessert and stop by Cramer's Bakery to pick up some of the best-tasting cakes, pies and other pastries in town. All goods are baked in-house from scratch each day to ensure quality and taste. Some other great locations are the Zebra Striped Whale, where you can design your own crepe, OwowCow, where you can sample tons of delicious flavors of locally sourced ice cream, or The Caketeria, offering endless cake and cupcake options!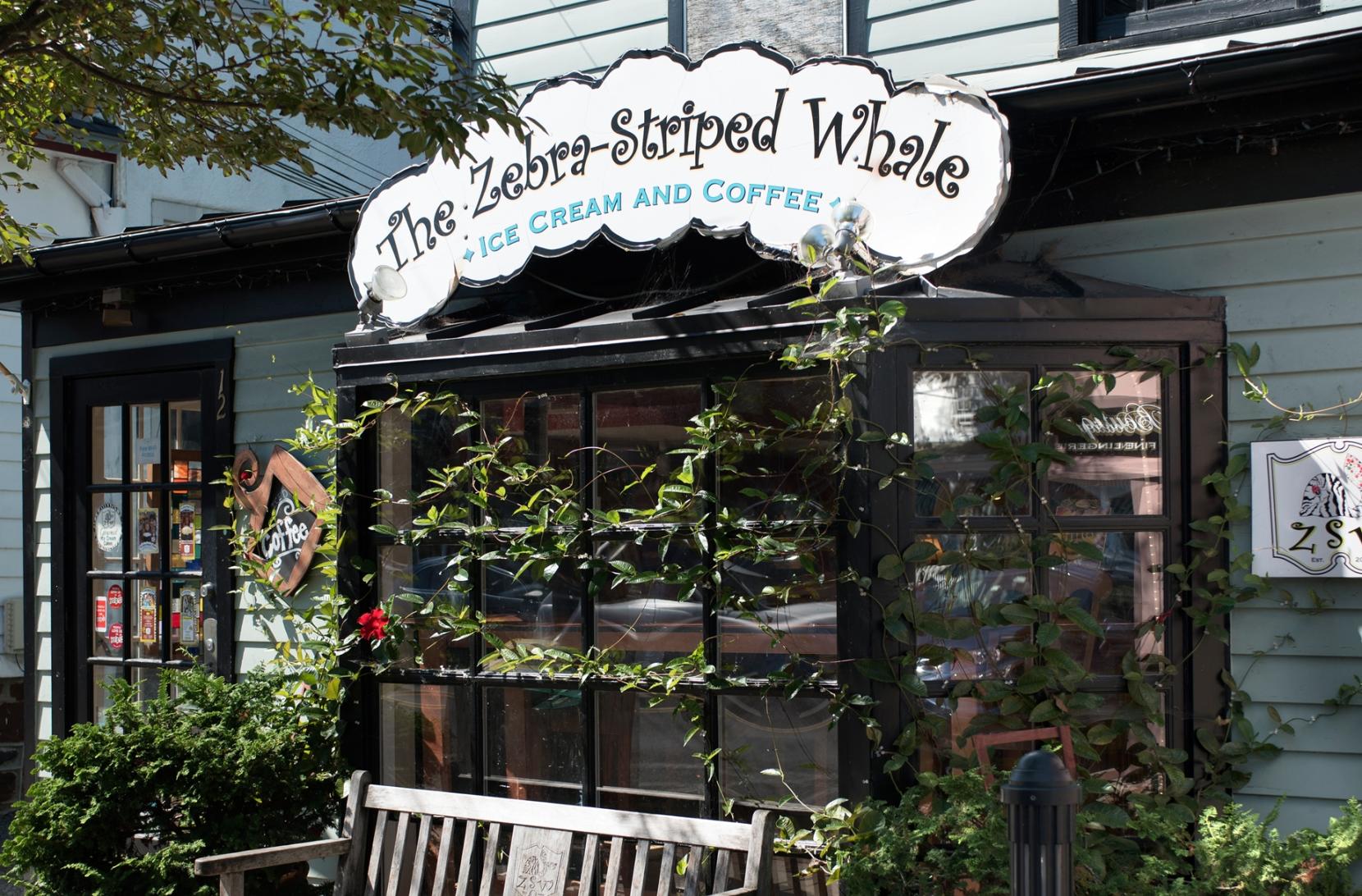 PLACES TO STAY
Take time to enjoy all the incredible things Newtown has to offer and stay overnight at a contemporary suite in Homewood Suites Newtown. Perfect for a short stay or an extended vacation, Homewood Suites is close to local attractions and offers great accommodations including an on-site bar and lounge, complimentary breakfast, and on-site fitness center and more! Enjoy a complimentary evening dinner with drinks, served Monday through Thursday and get a good night's sleep in one of the hotel's comfortable king-sized beds. Take a dip in the outdoor pool in the summer and rest easy in a fresh bed at night in the Hampton Inn & Suites, or for a completely different getaway, book an extended stay with your loved ones and get cozy in the Bucks County Cottage on the Delaware. This Colonial Williamsburg cottage offers all the amenities of home, including a wood-burning fireplace, full eat-in kitchen and more, all in a scenic riverside location. If you're looking for lodging and dining all in one place, then Newtown has a couple places you can't miss! The Brick Hotel & Restaurant was originally built in the mid-1700s and is a charming 15-room inn and restaurant. The expansive menu features seasonal and fresh fair. The Temperance House features 11 rooms and two suites all bathed in their historic Colonia-ear ambiance. Be sure to grab a bite to eat in their dining room or Tavern.
EVENTS
Newtown comes to live each year during its annual festivals and events that are sure to spark the interest of locals and visitors alike. In March, join the Newtown Historic Association for the Annual Tavern Night at the Half Moon Inn for a fun-filled evening. Take in some 18-century ale, dance and play games to the period-style music and enjoy delicious colonial cuisine. Stick around that month for the Annual Newtown Irish Festival which takes place at the Green Parrot Restaurant & Pub. Featuring plenty of Irish food, drinks and music both within the pub and in an event tent next door, this event is the perfect way to celebrate your Irish side! Join the locals for Welcome Day in May, hosted by the Newtown Business Association. Perfect for the whole family, the street fair features artists, crafters, vendors and other fun activities.
Appreciate the creative photography and other crafts from local Artists of Yardley members at the Annual Photography & Skilled Crafts Show, held every February. All artwork featured at the gallery is for sale and pieces include photography, ceramics, sculpture and more. Take part in a spring tradition at the Annual Beer Fest hosted by the Yardley Business Association. Held in May, this fabulous community event gives visitors the opportunity to taste delectable specialty brews including ginger beer, hard ciders, raspberry root beers and much more. 
Events are held annually at Washington Crossing Historic Park including the Washington Crossing Brewfest during which more than 50 local and regional craft brewers offer samplings of their best brews and the Annual Reenactment of Washington's River-Crossing which occurs every year on Christmas Day.