DOYLESTOWN, CHALFONT & WARRINGTON
Welcome to the County seat of Bucks County, a spectacular place that's home to magnificent castles, unique specialty shops, exceptional dining options and one-of-a-kind pieces of American history. The Doylestown Cultural District, which won USA Today 10Best's Small Town Cultural Scene, features the Mercer Mile of museums and James. A Michener Art Museum and is just a short walk away from Main Street.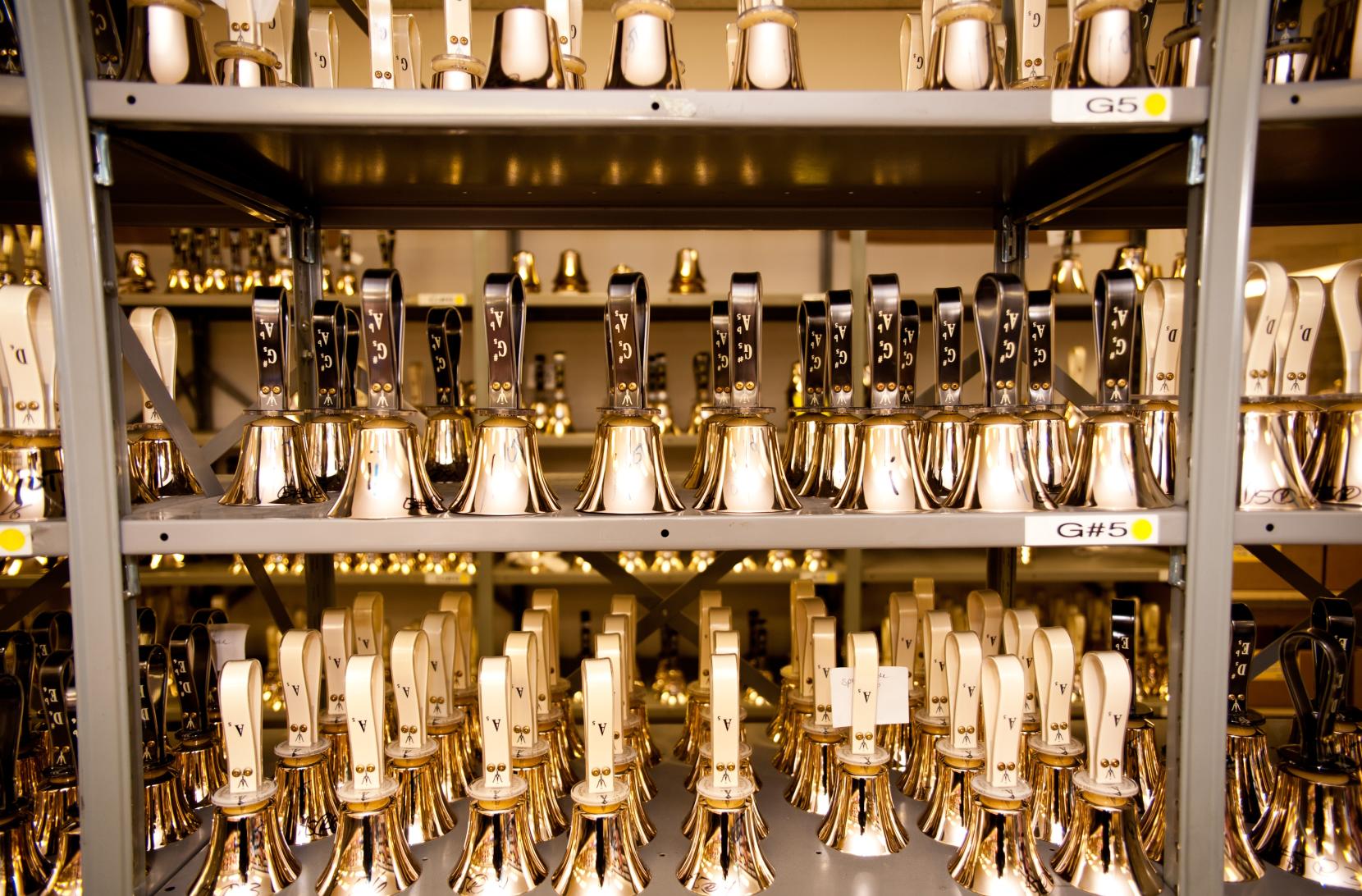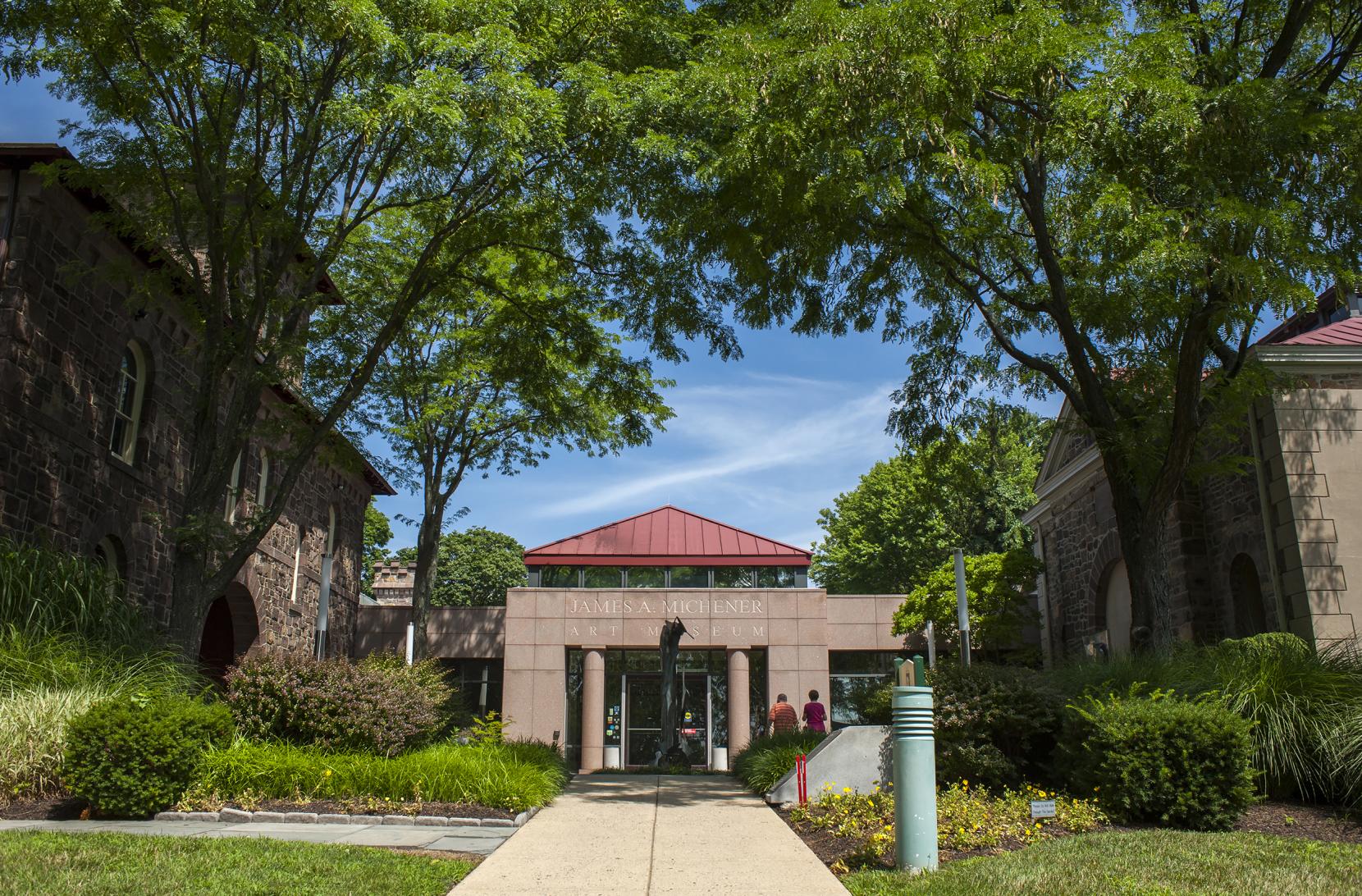 Michener Art Museum outside
ARTS & CULTURE
Browse the masterpieces on display at the James A. Michener Art Museum. Home to an impressive collection of Pennsylvania Impressionist paintings, this museum hosts rotating exhibits as well as permanent displays like the Nakashima Room, dedicated to the work of Bucks County woodworker George Nakashima. Catch a film at the County Theater, a historic art deco movie house that dates back to the 1930s. County Theater specializes in independent, foreign and art films. Just outside Doylestown, see the Bell Capital of America in Malmark Bellcraftsmen, a family-owned working factory where they've been creating handbells for 40 years.
CASTLES
Feel like royalty when you walk through Doylestown's magnificent concrete castles. Built by archeologist and collector Henry Mercer between 1908 and 1912, Fonthill Castle is an eclectic mix of Gothic, Medieval and Byzantine architecture. Each of the 44 rooms that make up this structure is adorned with beautiful handcrafted tiles. Explore the exhibits housed within each room that perfectly preserve the past. Celebrate America's founding at Fonthill's Old-Fashioned Fourth of July, an annual event offering a day of family fun, food, games and crafts. About one mile from Fonthill's front door sits Mercer's other castle, The Mercer Museum. Built to house Mercer's elaborate collection of historical artifacts, the museum now holds more than 50,000 items representing 60 early American trades, displayed exactly as Henry Mercer left them a century ago. The collection includes everything from cigar store statues to a Conestoga wagon, to a collection of chairs suspended from the ceiling!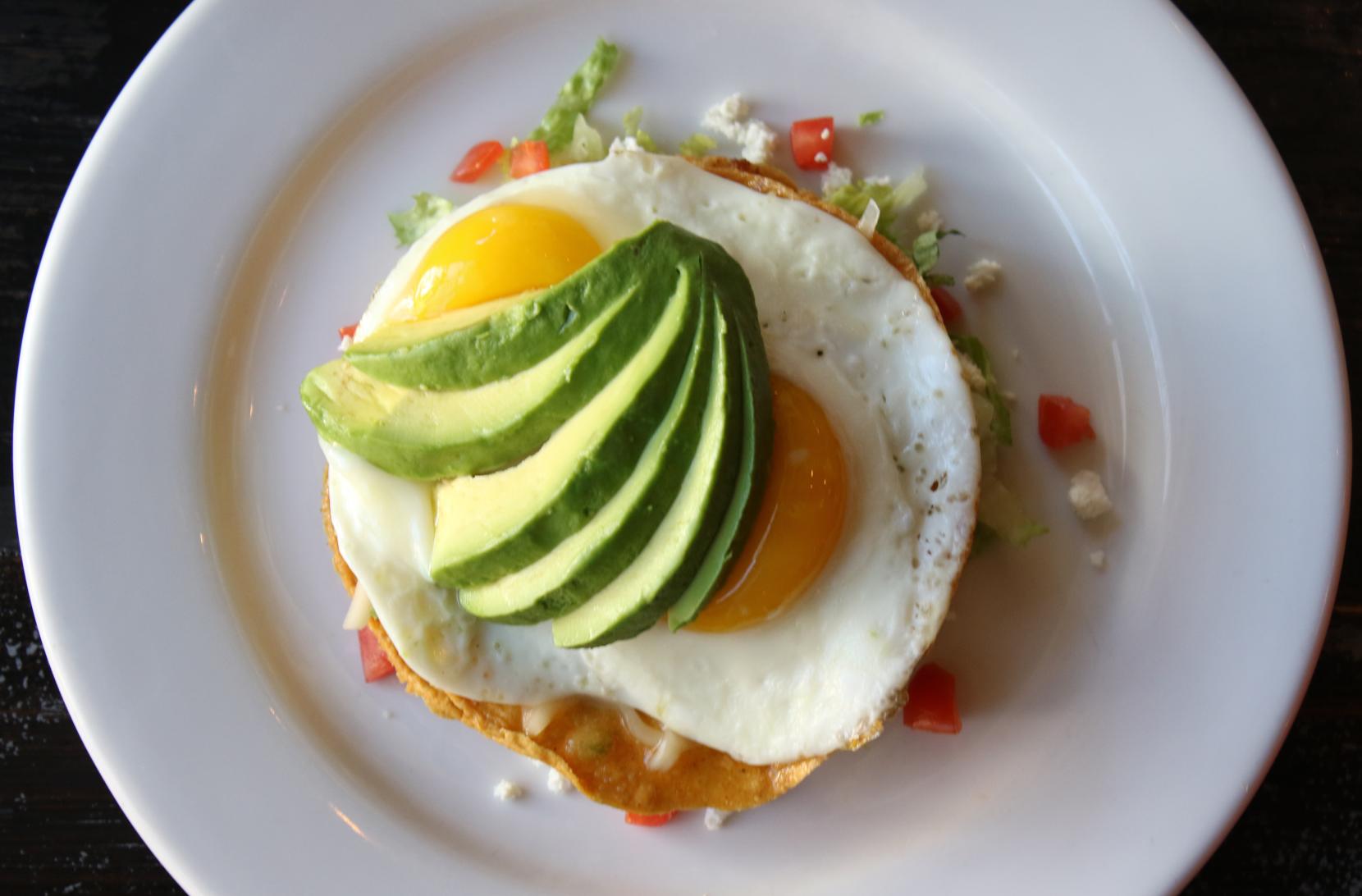 Huevos Rancheros at The Hattery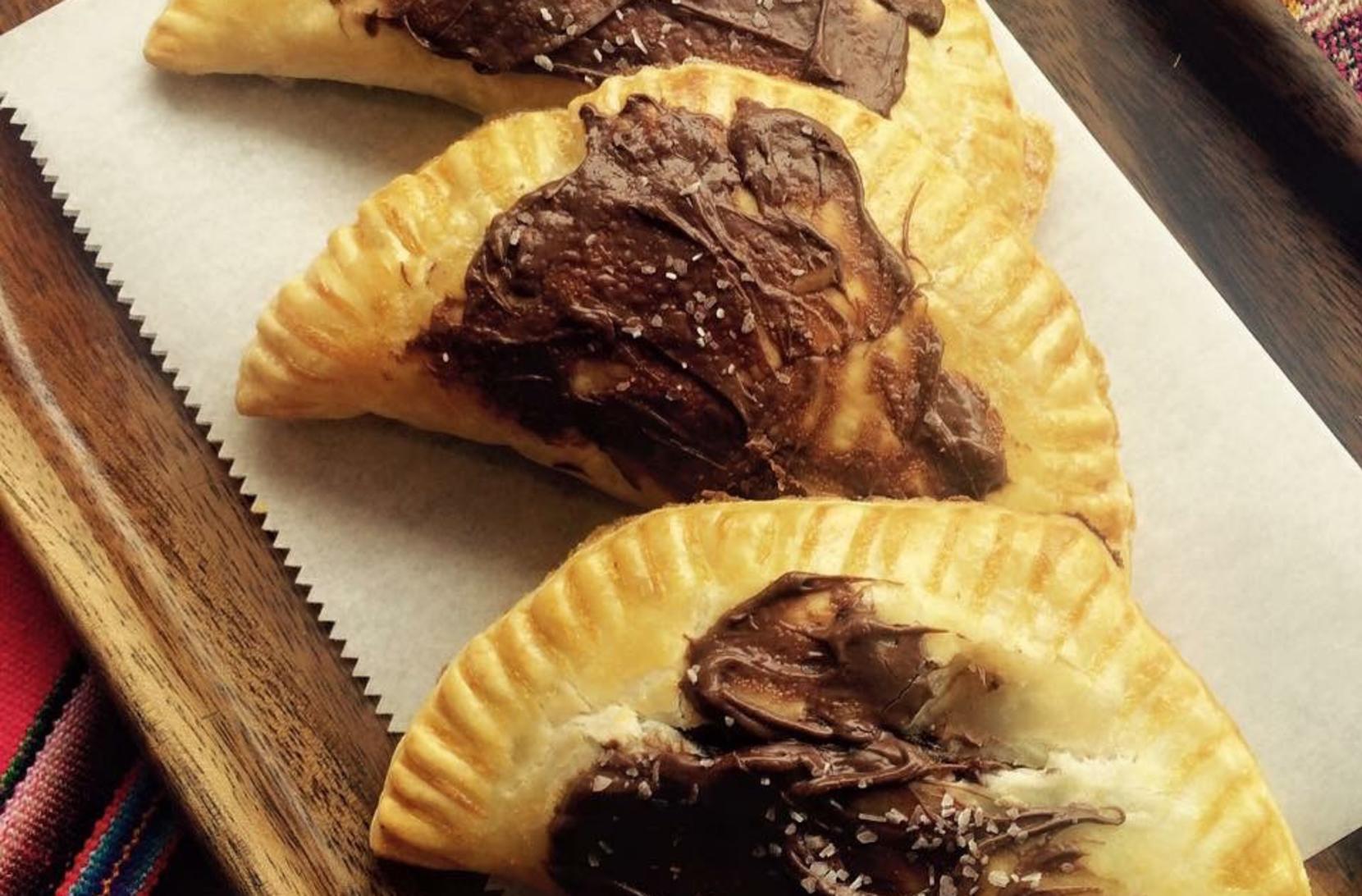 DINING
Start your day with a delicious breakfast at The Hattery Stove & Still. Grab a power lunch at Chambers 19 or enjoy an intimate dinner at Honey. Stop by Empanada Mama for creative and unique flavor combinations all wrapped up in a South American hand-pie! Genevieve's Kitchen strives to create dishes that focus on the quality of ingredients and elaborate preparation. Their meals are all prepared from scratch using local merchants and suppliers whenever possible. The Water Wheel Tavern, just outside of downtown, offers delicious dinners with the American style grill everyone loves. 
Wake up your senses with a delicious gourmet breakfast at the Zen Den. Conveniently located downtown, this café offers rich and savory fare such as their fresh quiche or grilled pound cake in a cozy atmosphere complete with performances from local musicians and monthly rotating art exhibits from local artists. Make sure to stop by their "funky, chic boutique" on-site for some organic-only coffee and tea selections. Speaking of tea, whether you consider yourself a tea aficionado or novice, The Talking Teacup in Chalfont is a can't-miss location. With more than 50 varieties including rooibos, herbal infusions and desserts teas, there is truly a flavor for everyone. Enjoy a cup and browse their gift shop before you go!
For some of the freshest seafood in the region, come to the Lobster Claw Doylestown, a locally-owned seafood market and restaurant that offers tasty fare at great prices. Another great stop for seafood is the Pennsylvania Soup & Seafood House. A meeting of the minds of Keith Blalock, known as the "soup guy," and Craig Riedley resulted in this restaurant featuring 14 creative soups, fresh seafood and a classic Bucks County experience every time.
Enjoy craft beer, live entertainment and American fare with a pinch of the south at M.O.M.'s, Maxwell's on Main, located on Main Street. Let the award-winning bartenders match the perfect drink with everything from burgers to grilled swordfish. If you're looking for more dining options, take a walk along East State Street, also known as "Doylestown's Restaurant Row" for its collection of independently owned restaurants and outdoor cafes, including the popular 86 West. Less than five minutes away is Doylestown Brewing Company, another great stop for a wide variety of locally crafted beers, wines and great food!
Don't forget dessert! Stop by T-swirl Crepe for unique and gluten-free sweet treats, Annie's Water Ice for water ice or gelati's or Nina's Waffles and Sweets for delicious homemade waffles and hand-crafted ice cream!
---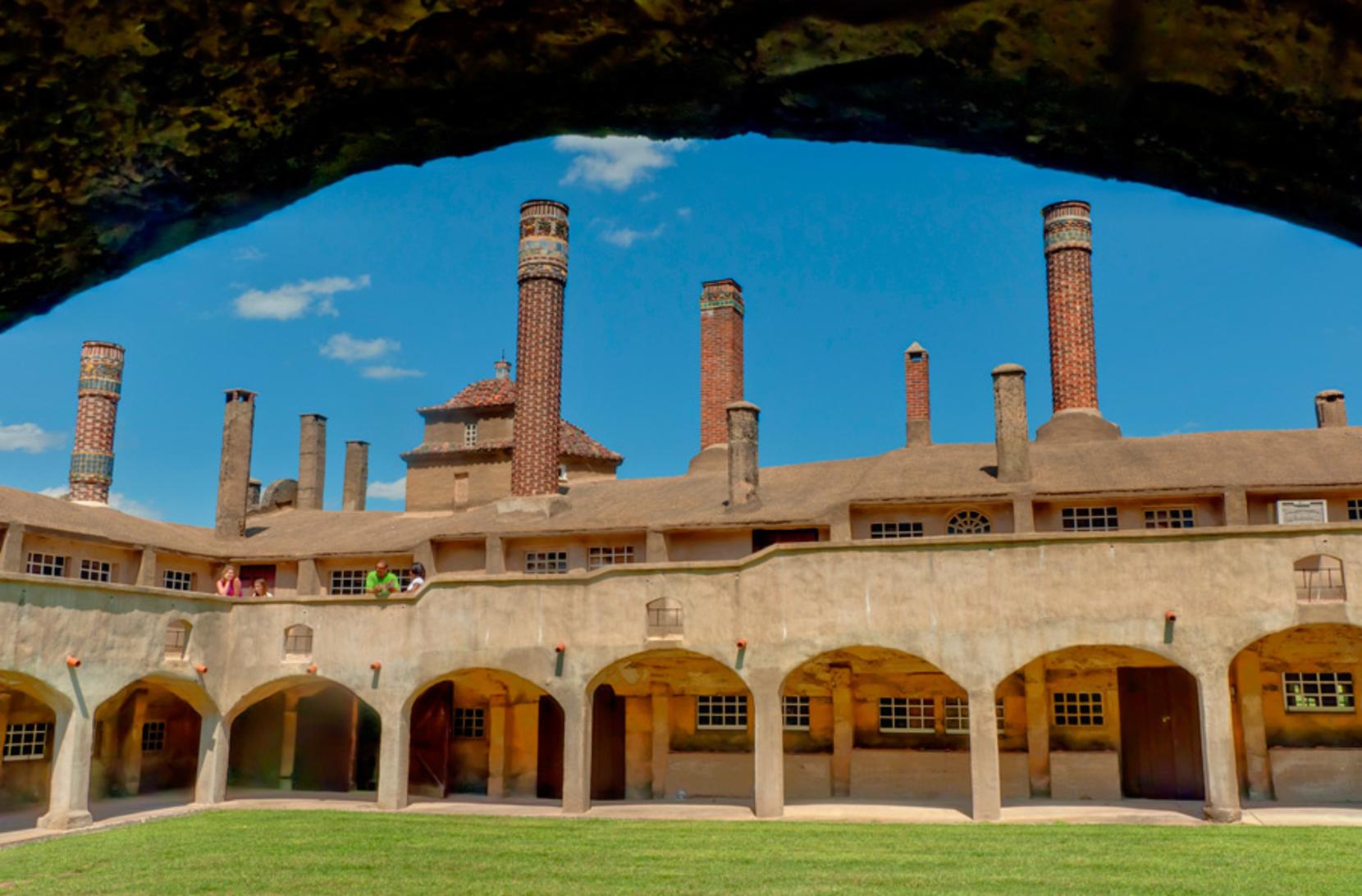 Moravian Pottery & Tile Works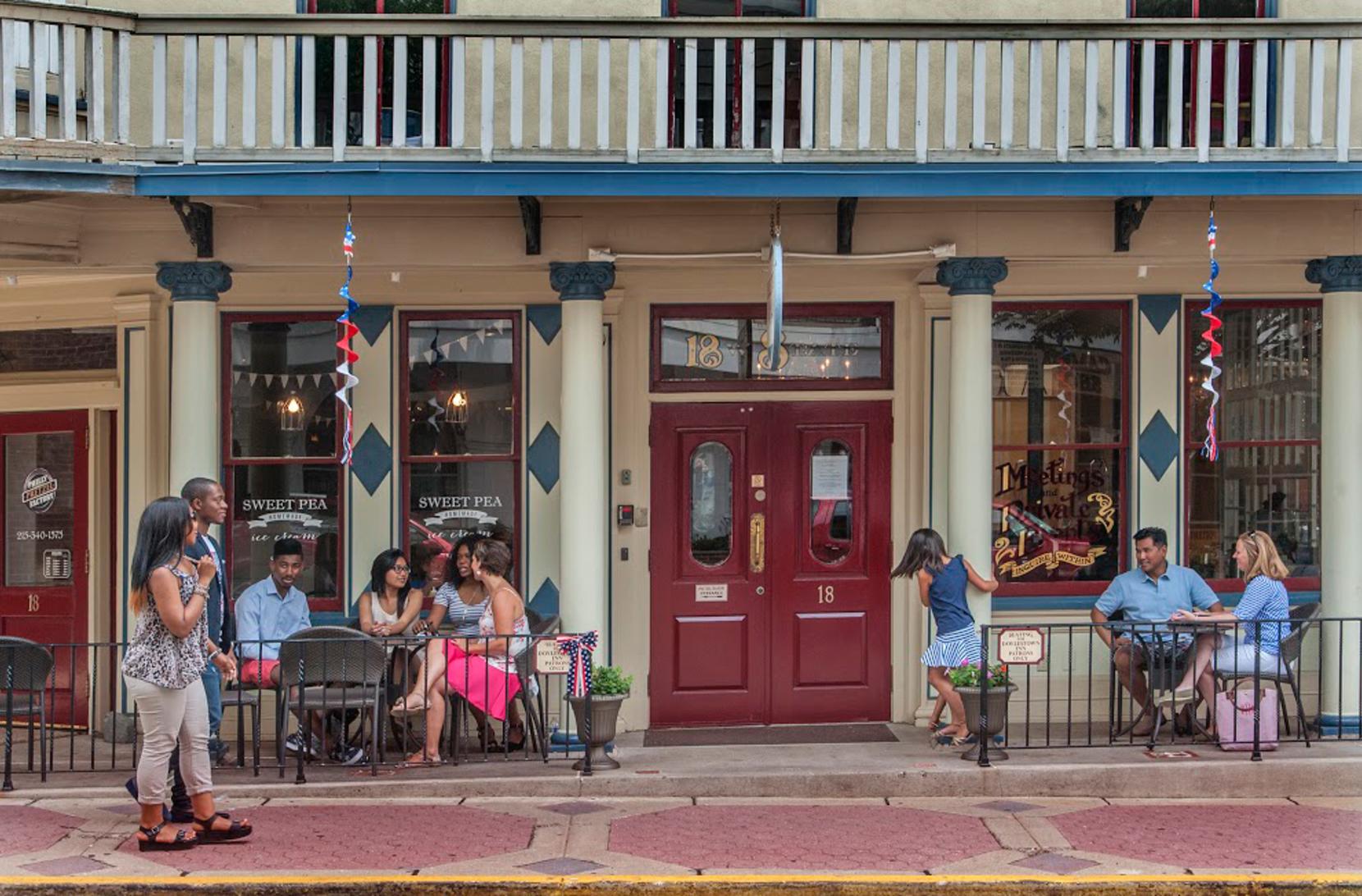 HISTORY
Doylestown's history extends beyond its castles. This bustling town is filled with other pieces of history, including the Moravian Pottery & Tile Works. Built by Henry Mercer to produce handmade tiles, Moravian became one of the most prominent pottery studios in the country. This "working history" museum still produces handmade tiles in the same fashion that Mercer perfected more than 100 years ago. Predating some of those Mercer pottery methods is the Pine Valley Covered Bridge, built in 1842 from native hemlock and pine. Better known as the Iron Hill Bridge, the bridge crosses Pine Run Creek and is a great spot for pulling over to check out a piece of the county's history. Then be sure to head downtown for a brief tour at the Bucks County Civil War Museum. View unique artifacts from the American Civil War, including an authentic Abraham Lincoln life mask. Learn more about Doylestown and the Bucks county history during one of the Doylestown Cemetery Walking Tours. If you're looking for a change of speed, The Heritage Conservancy has created Barn Voyage!, a self-guided driving tour that takes you past more than 15 barns throughout Central and Upper Bucks County.
PLACES TO STAY
After a long day of discovering the treasures Doylestown has to offer, stay awhile at one of the local bed & breakfasts or hotels. The Hargrave House is an excellent place to rest your head. Spend a night or two in one of their seven guest suites which offer all the amenities of home and more to ensure your stay is comfortable and stress-free. The Doylestown Inn is a beautiful boutique hotel with 11 charming guestrooms. Relax in one of the 78 guest rooms offered at Hampton Inn Warrington for the night and don't forget to recharge yourself the next day with their delicious hot breakfast selection, included in your stay.  The extended-stay Homewood Suites Warrington is ideal for guests staying for a longer period of time. Enjoy complimentary evening dinner and drinks Monday through Thursday.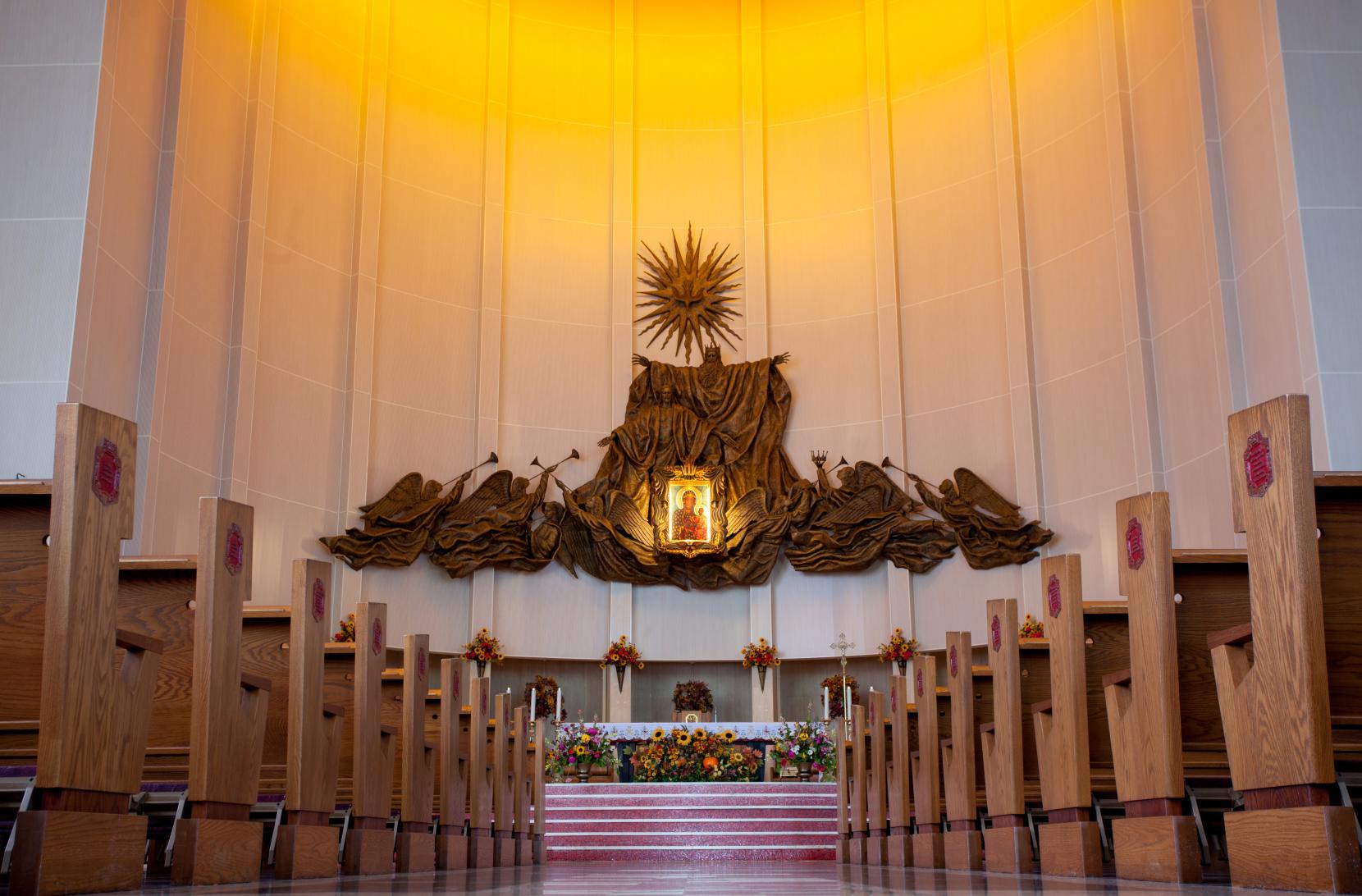 Church at Our Lady of Czestochowa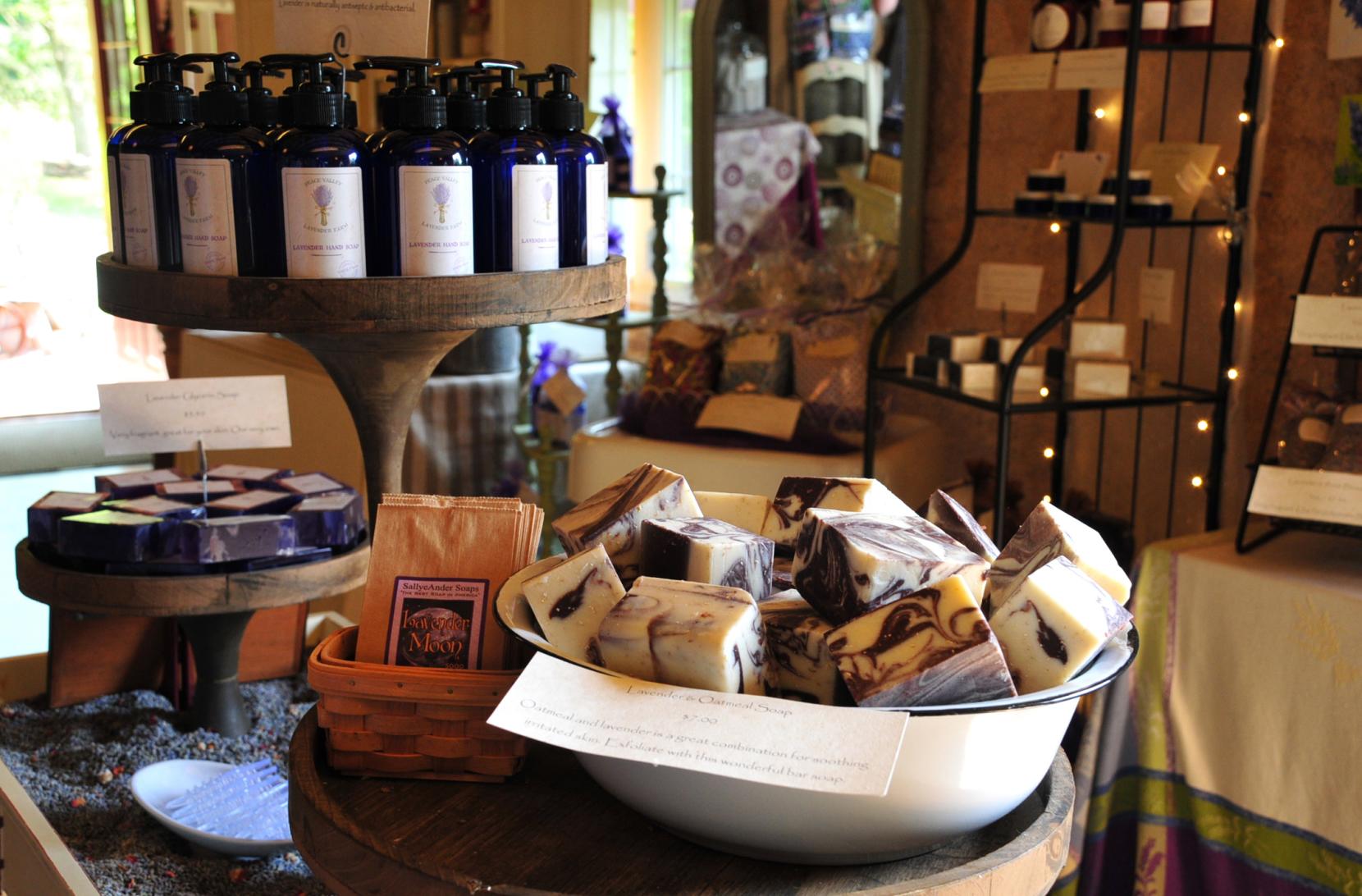 Soaps at Peace Valley Lavender Farm
RELIGION
Make a pilgrimage to the National Shrine of Our Lady of Czestochowa, America's only shrine dedicated to the Polish icon, also known as the Black Madonna. All are welcome to visit and pray at this Catholic shrine and take in the beautiful sculpture of the Trinity and Our Lady's Icon. Each summer, the Shrine hosts its annual Polish-American Festival. Midway games, stage shows, a crafters' village and traditional Polish foods are just a few of the entertainment options offered at this free and enjoyable festival.
SHOPPING
Downtown Doylestown is a bustling collection of independent stores that are sure to provide a unique and memorable shopping experience. Stop by the Doylestown Bookshop, a true independently-owned store. The Bookshop is the perfect place to find one-of-a-kind works and get lost in a day of shopping and reading. While you're downtown, be sure to check out Monkey's Uncle. Outfit the entire family in funky threads, whether retro or vintage inspired t-shirts or rocker wear and accessories, the shop has something for everyone! If you're looking for specific brands such as Free People, Nally & Millie or XCVI, then Bella's Boutique is a funky little clothing store that you won't want to miss. From there, head on into Busy Bee Toys, a locally owned independent toy store specializing in unique toys and gifts that inspire play! 
About five miles away is the unique Peace Valley Lavender Farm. Peace Valley uses its home-grown lavender in all its products, including bath soaps, culinary spices and potpourri. This Doylestown favorite is a great place to visit, especially in June and July when the lavender fields are in bloom! But don't forget about the other great farms, orchards and farmers markets nearby! If you're looking for beautiful flowers, homemade ice cream, fresh produce or local merchandise those products and more can be found at Froehlick's Farm and Garden, The Market at DelVal, Maximuck's Farm Market, Sandy Ridge Farm or Tabora Farm and Orchard.
Celebrate Christmas year-round at Byers' Choice, Ltd. located in nearby Chalfont. Home of the famous Carolers® figurines, Byers' Choice features a life-size London Street you can stroll through as well as the opportunity to watch skilled artisans craft the figurines by hand. Pick up your favorite Caroler at the on-site gift shop! You can also check out the Stone House Antiques Center, nominated for 'Bucks County's Best 2017 Happening List' and named the 'Best Antiques Center' in the region for 2016 by The Intelligencer! This center is a premier destination for quality antiques, furniture, artifacts, art and vintage goods.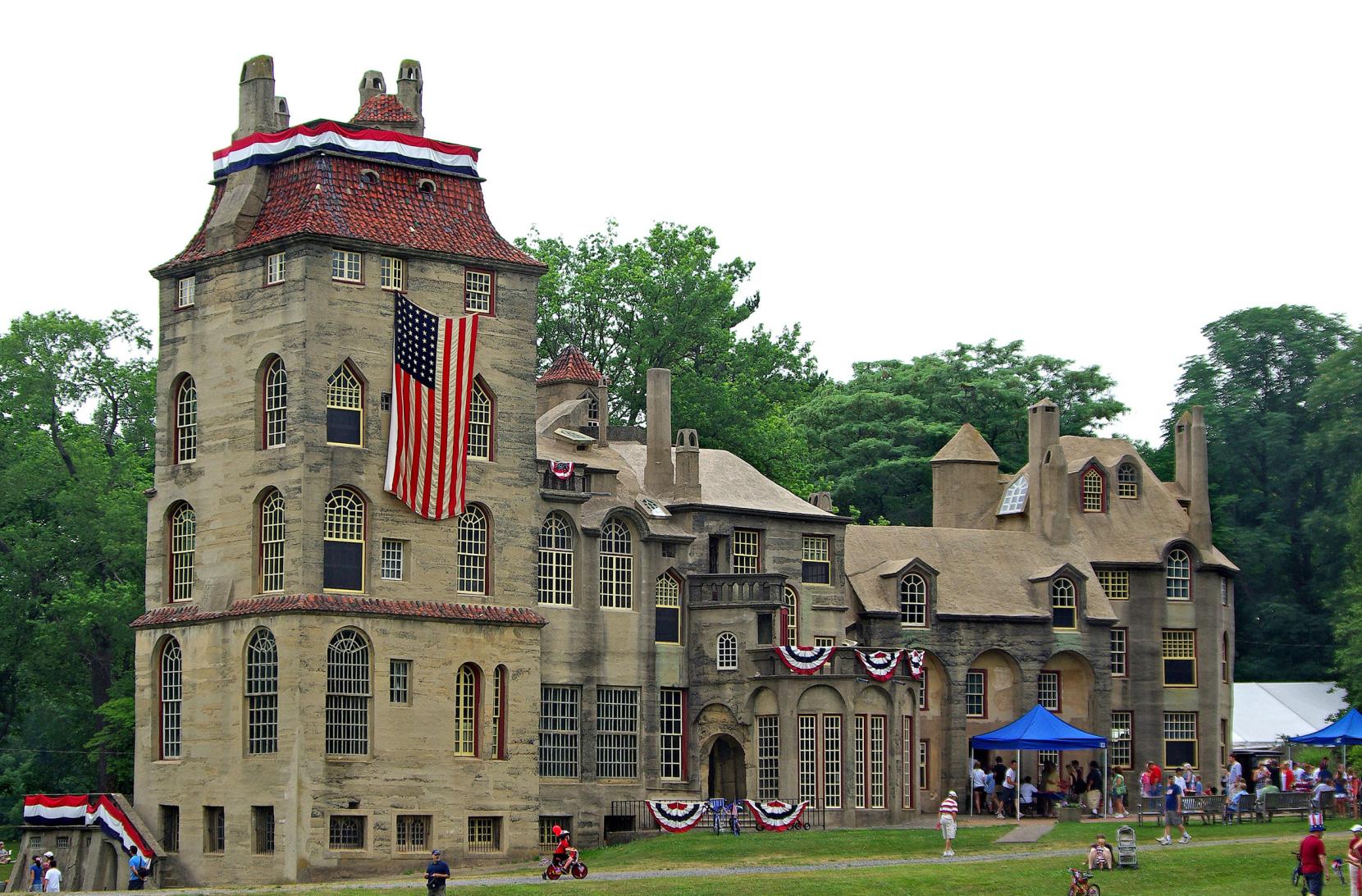 Fourth of July Celebration at Fonthill Castle in Doylestown
EVENTS
Browse historic and contemporary handmade tiles from more than 50 artists, dealers and collectors at the Annual Tile Works Festival at Moravian Pottery & Tile Works happening in May and take advantage of a free tour of the Tile Works. Join in on a community tradition and spend your Fourth of July in an old-fashioned celebration at Fonthill Castle complete with food, games and more fun entertainment.  Eat and drink local at the Annual Beer Event hosted at Fonthill Castle which features local food, beer and spirits. Bring the whole family to Doylestown's largest festival of the year, the Doylestown Arts Festival. Join a variety of artists and artisans who will have their work on display and enjoy the free live music presented at numerous locations throughout the downtown area. Every winter, the Mercer Museum presents Under the Tree: A Century of Holiday Trees and Toys, a tradition that perfectly captures the excitement of Christmastime from a child's point of view. The annual exhibit features decorations and an array of toys and games that once delighted children on Christmas Mornings all amongst the splendor of trees decorated to the tastes of earlier eras! Head to the Kids Castle and watch your children run around the wooden fortress having a blast! For a true experience of art and culture, visit Doylestown during the annual Doylestown Arts Festival. Every September, the downtown area is filled with more than 150 exhibitors, live musical entertainment, kids' crafts, food vendors and more.