Wedding Venues by the Water
With its unique and beautiful landscapes overlooking the Delaware River and accommodations for an intimate gathering of to a grand reception, Bucks County is the perfect place to begin your life together.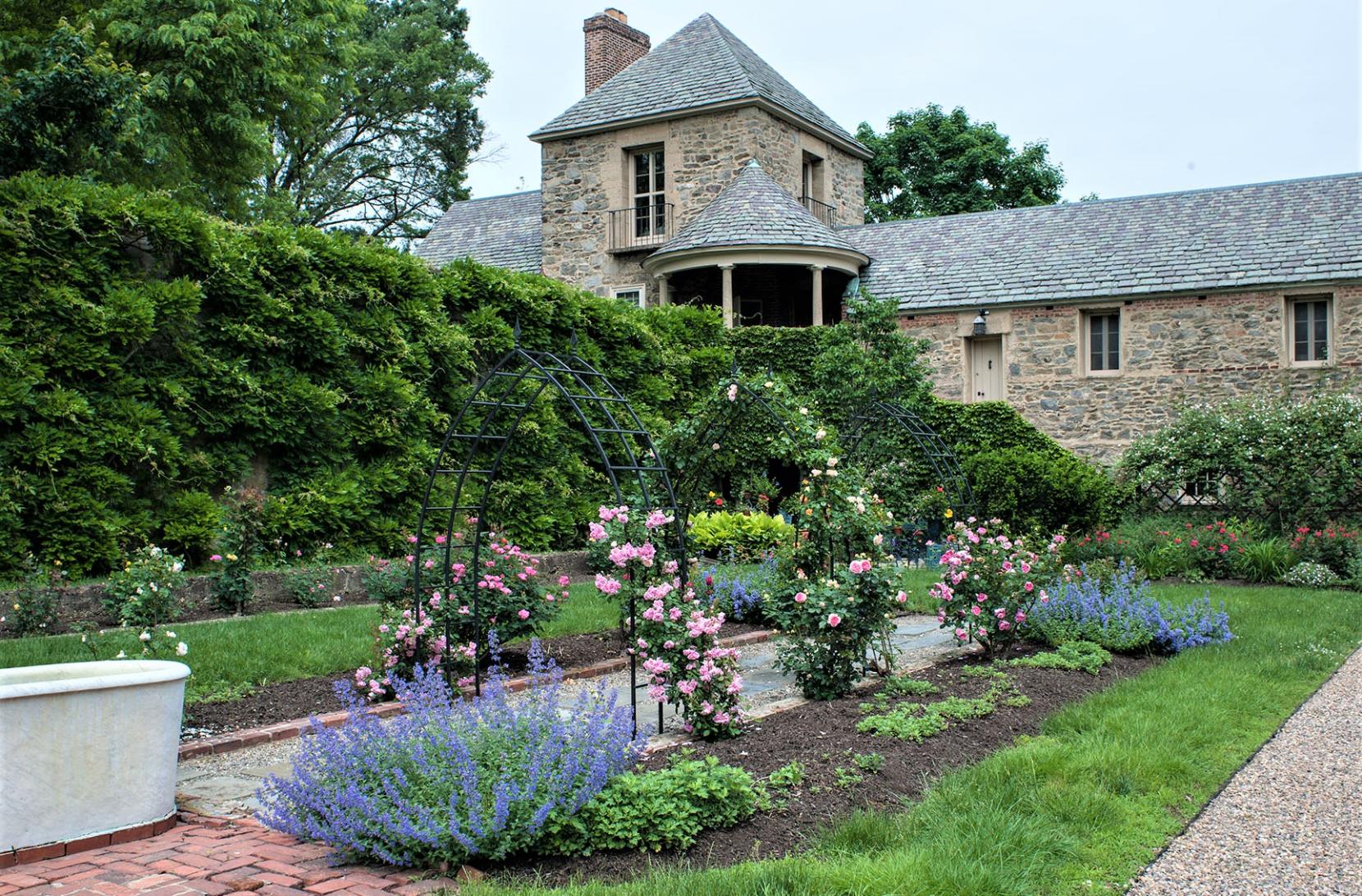 Andalusia Historic House & Gardens
Step back in time into one of the finest examples of Greek Revival architecture in America. With its lush gardens and beautiful landscapes, Andalusia is ideal for grandiose outdoor weddings for up to 300 guests. Enjoy an open seating arrangement on the expansive front lawn area or take in the beauty of Andalusia's walled gardens. The mansion is right on the Delaware River, so will make the perfect backdrop for photographs.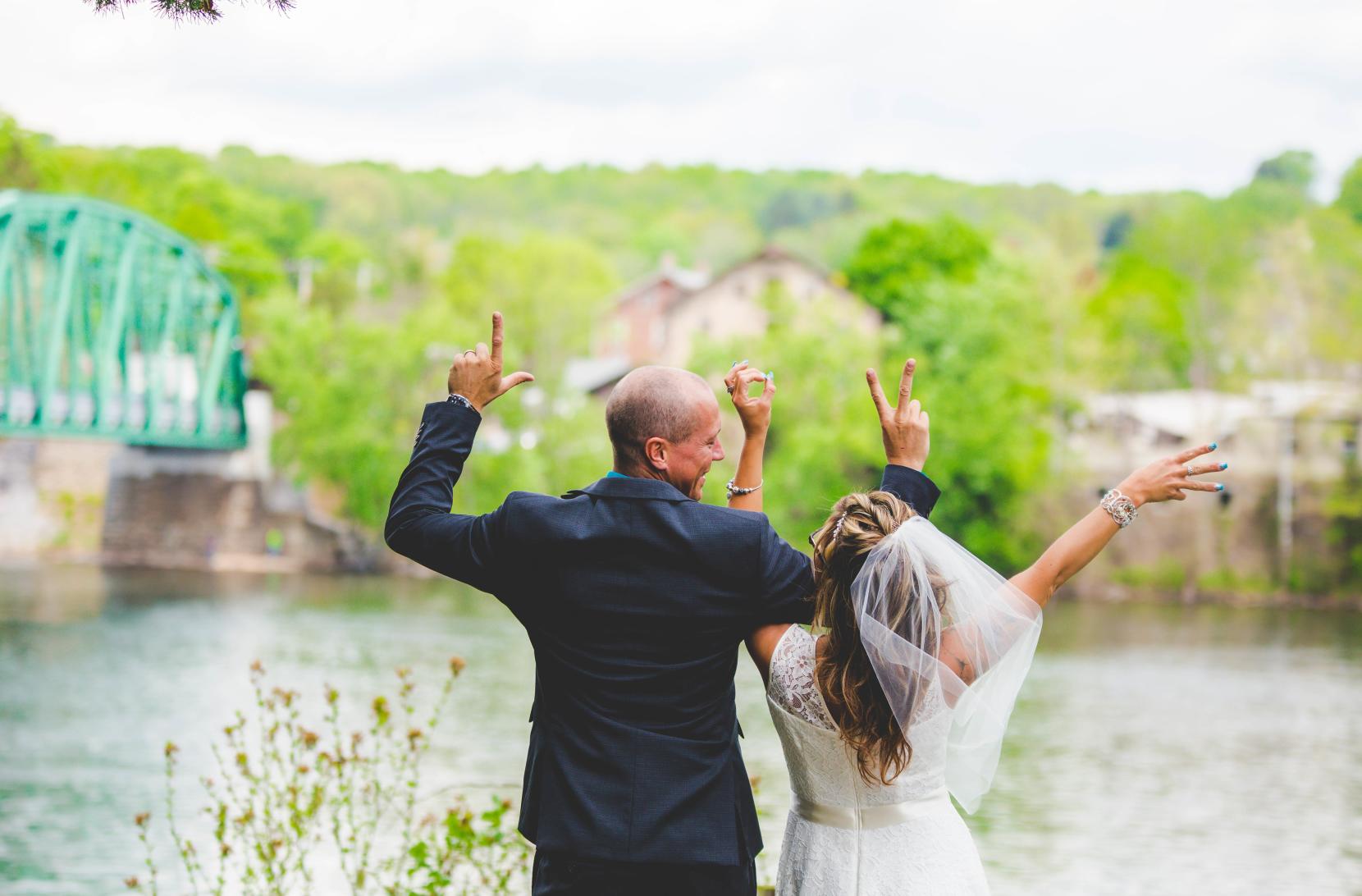 Bridgeton House on the Delaware
If you're looking for a riverside location that offers a wonderful atmosphere for a small affair, look no further than Bridgeton House on the Delaware. Situated on the banks of the expansive and beautiful Delaware River in Upper Black Eddy, this unique B&B offers all of the romance and luxury you could possibly ask for on your special day. This beautiful oasis is the perfect place to enjoy the calming views and sounds of the river as you embark on your journey together.
Black Bass Hotel & Restaurant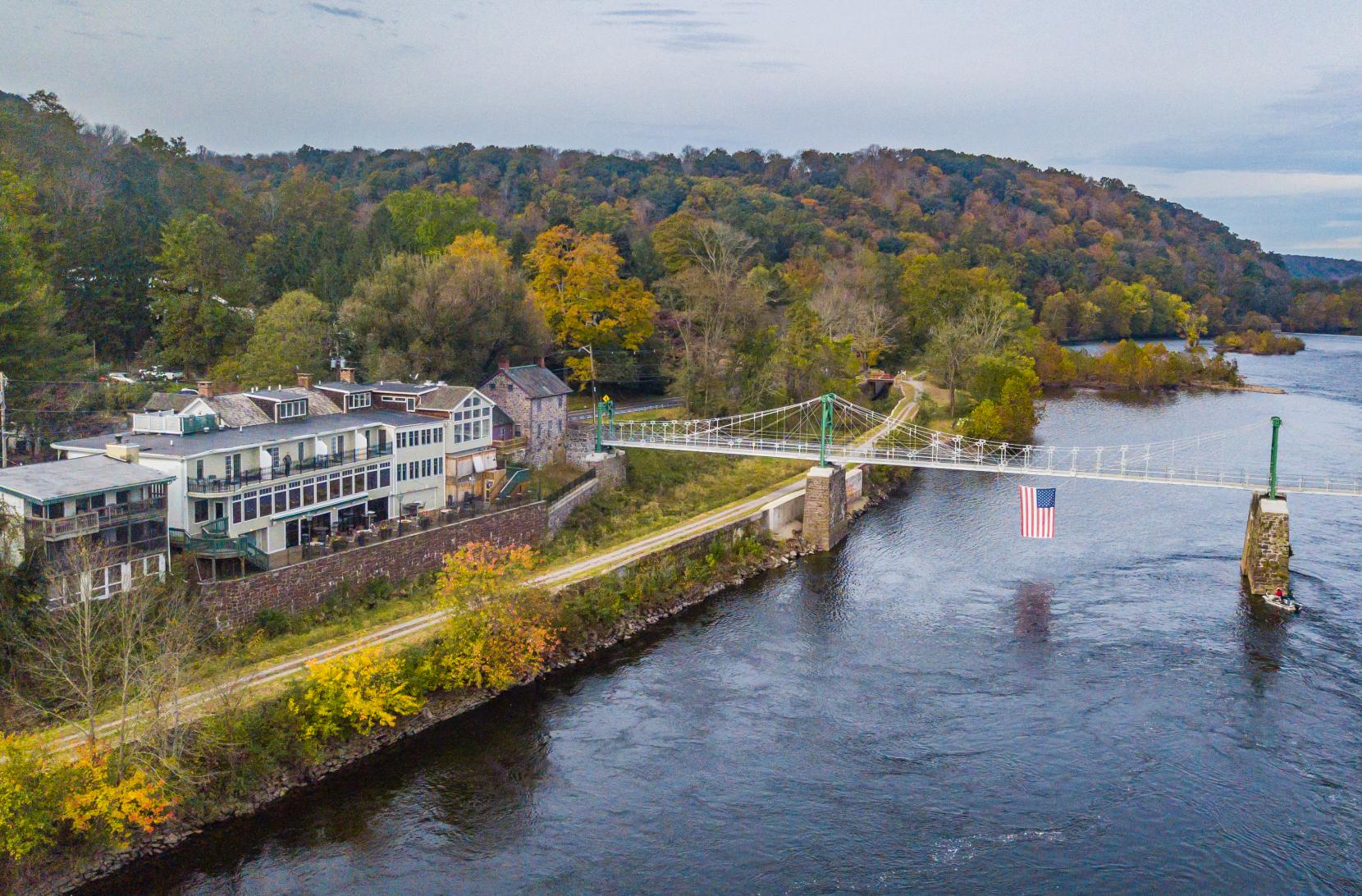 The historic Black Bass Hotel & Restaurant in Lumberville is an intimate venue that can hold up to 100 people at its secluded outdoor ceremony area, and inside its restaurant. If you're looking for a quieter affair to share with friends and family, in a building dating back to the 18th century, this is your wedding spot!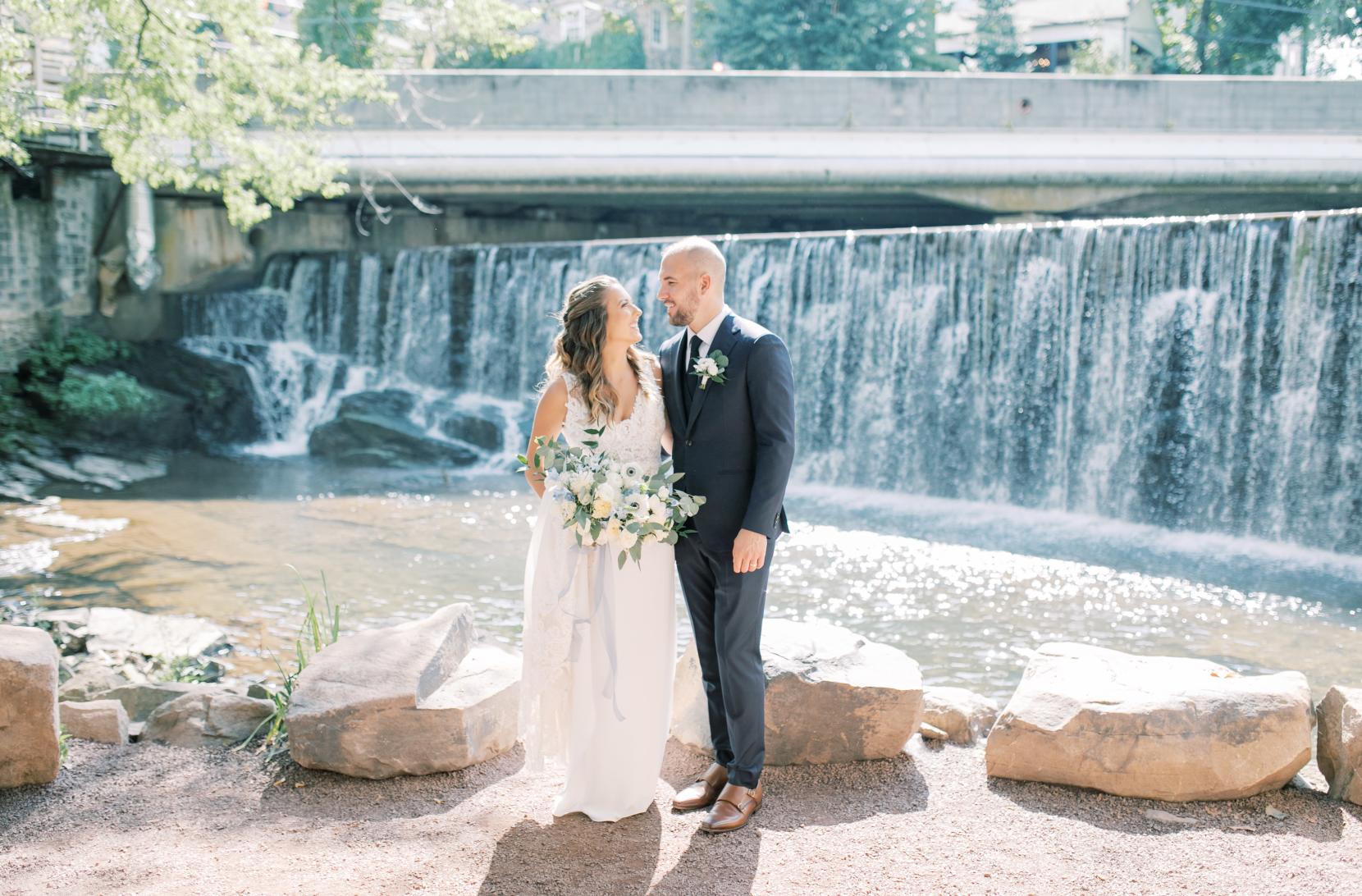 Keirstin of Haley Richter Photography
Host your "Stella"-bration at Stella inside the Ghost Light Inn! A beautiful 150-seat banquet room that offers an exceptional river view backdrop to any wedding, the venue boasts customizable event menus with seemingly unlimited food options. The ballroom overlooks the Delaware River. The ground level space is an open air event space using garage doors that line the promenade and allow the perfect environment for those wishing to move about on the riverfront.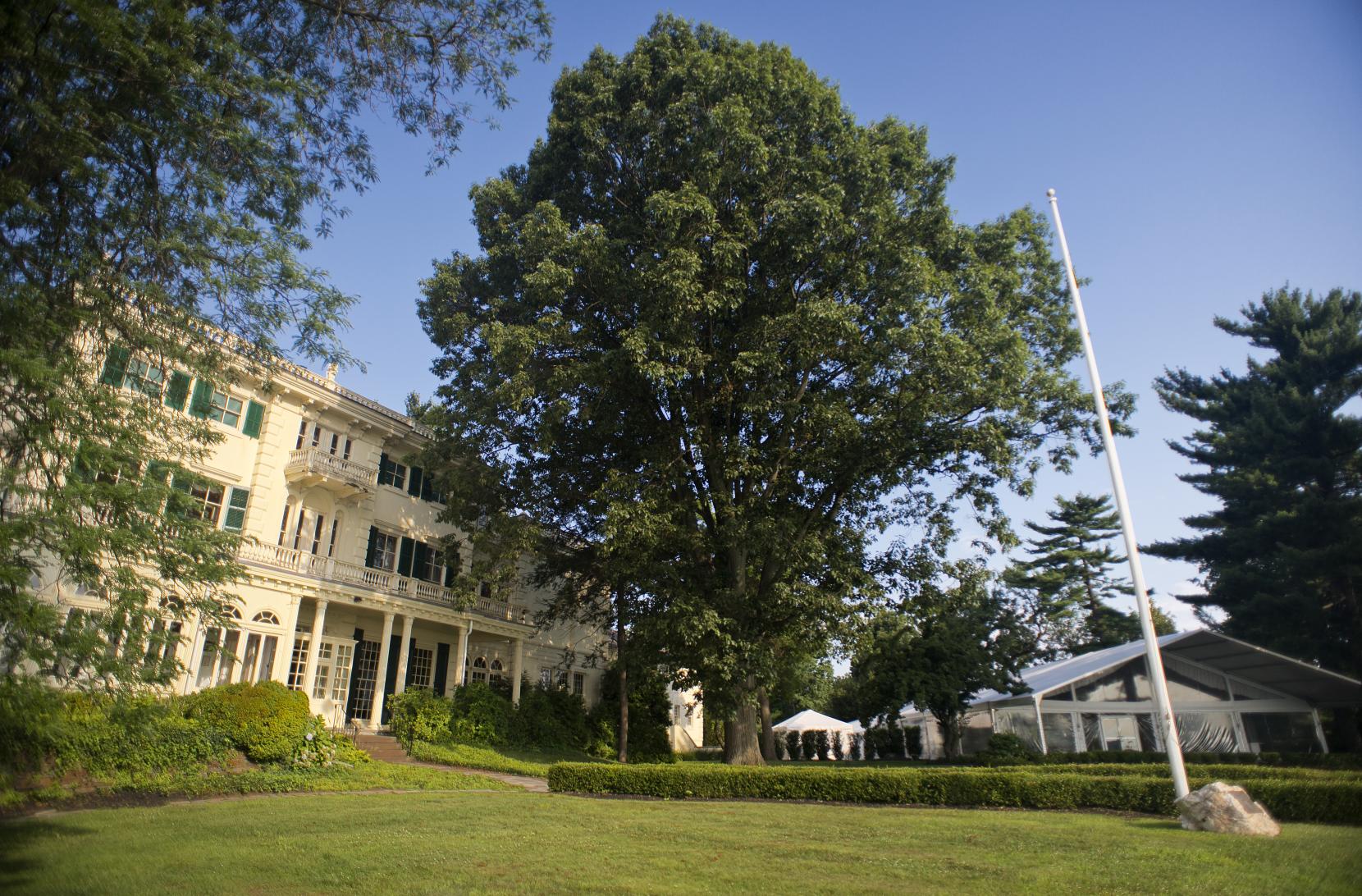 Celebrate your special day in a romantic Victorian Mansion overlooking the Delaware River. Glen Foerd on the Delaware boasts 18-acres of gorgeous landscape with beautiful views of river vistas, a formal rose garden, boathouse and vineyard. Allow your guests to walk through a museum filled with a diverse collection of fine paintings, sculptures, tapestries and more fine decorative art. Set up a catered reception for up to 155 guests and let the fun times flow just like the river beside you.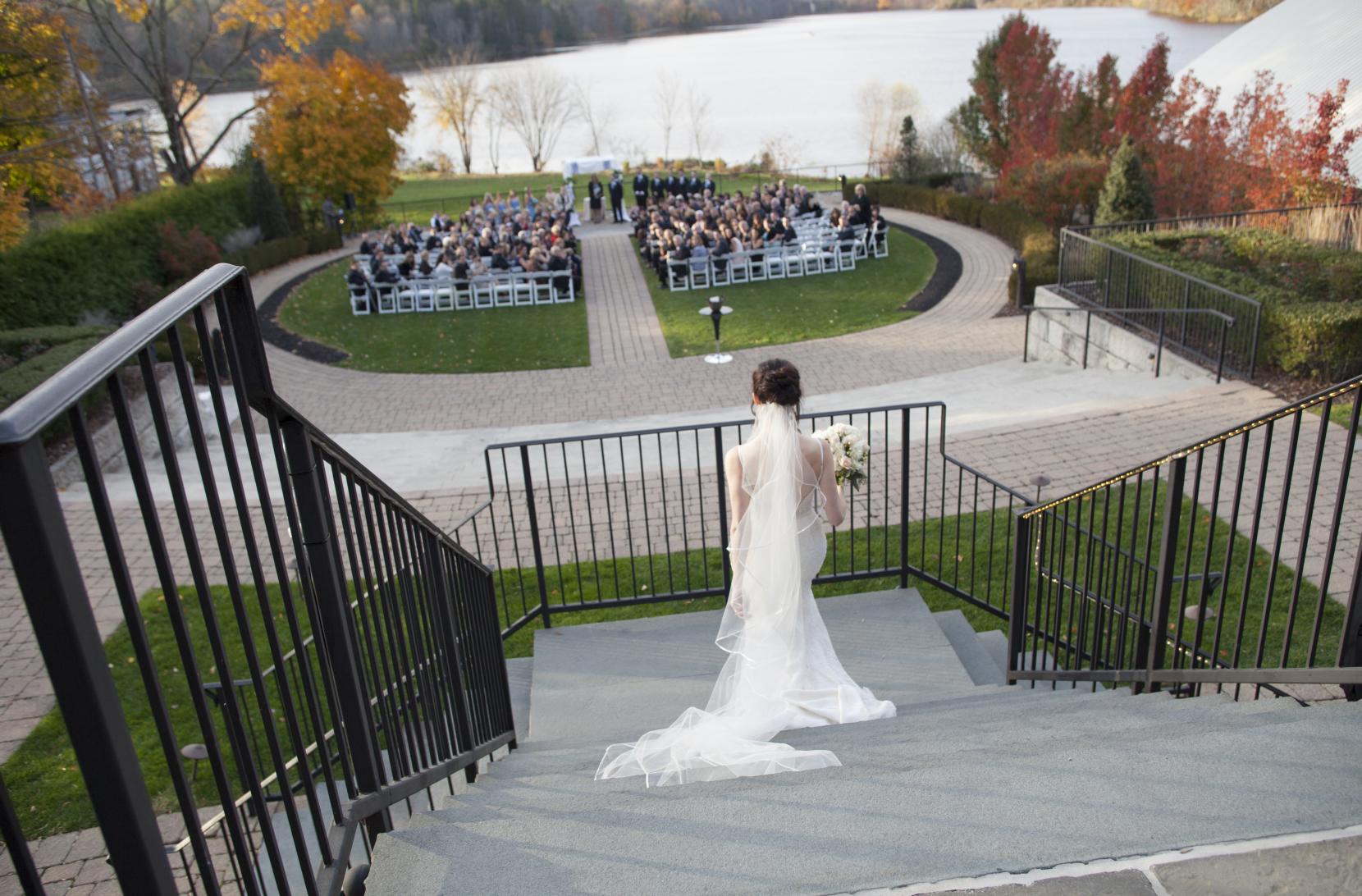 Bridge at the top of Lake House Inn stairs
A 300 capacity ballroom in Perkasie creates the perfect balance between rustic and chic with a breathtaking view of Lake Nockamixon, a stone water wall backdrop, and over-sized chandeliers. As an inn, this venue also has luxurious guestrooms to accommodate up to 40+ guests. Dance and dine the night away leaving your guests in awe. James Murray of Impractical Jokers and former Carson Wentz, Philadelphia Eagles quarterback, were some of the famous faces marries here!
Lambertville Station Inn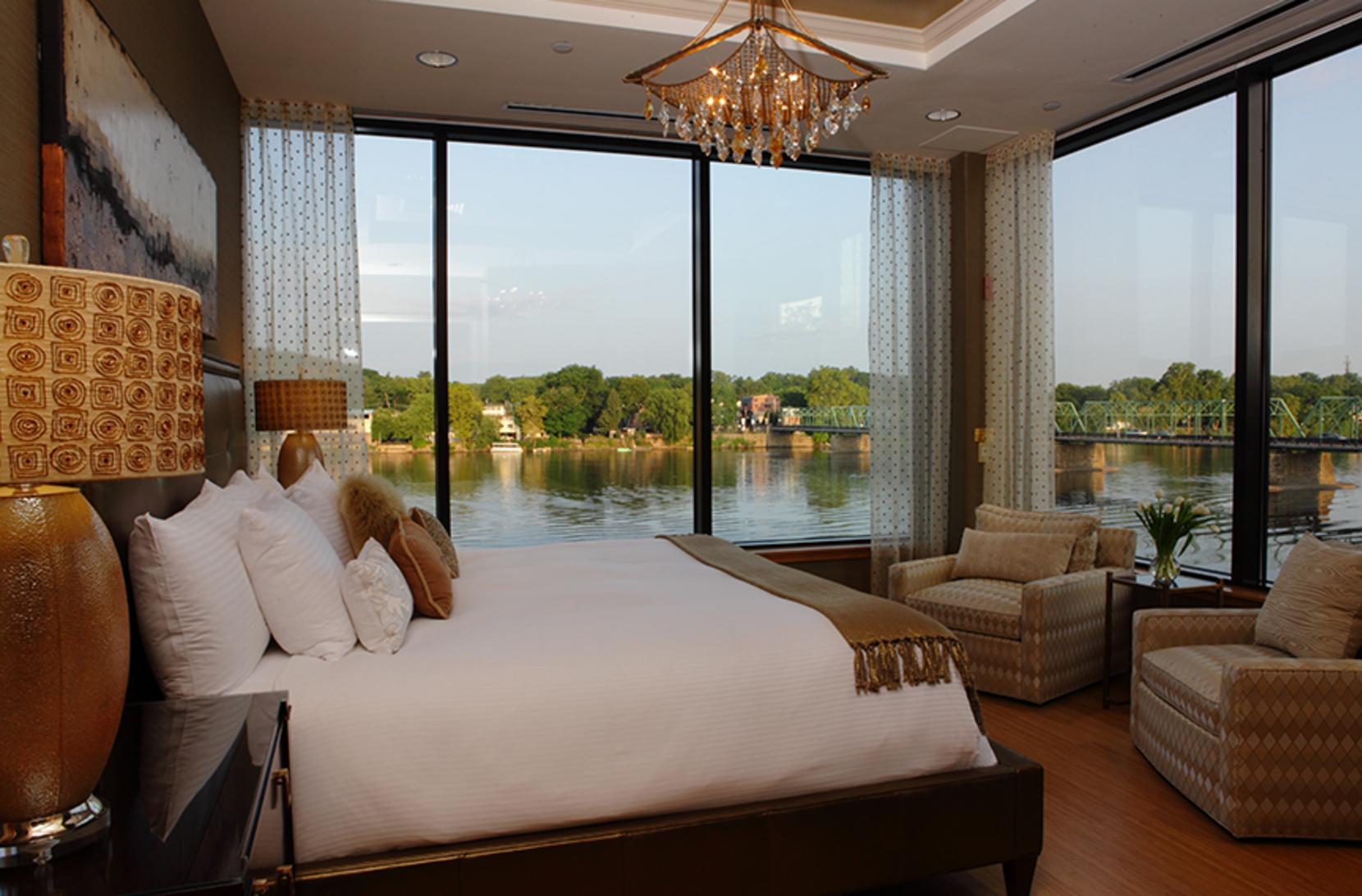 Invite your guests to stay a while in the beautiful countryside and host your wedding across the river from New Hope in Lambertville, NJ. Spend a relaxing night or weekend in one of their 45 rooms and suites, including a honeymoon suite for the happy couple. Choose from a variety of settings like the newly renovated Riverside Ballroom, the only ballroom overlooking the Delaware River with accommodations for more than 200 people, or host a more intimate ceremony in the Lambertville Station Restaurant. The large windows lining the wall facing the river in both rooms will provide you and all your guests with a breathtaking view of the water below.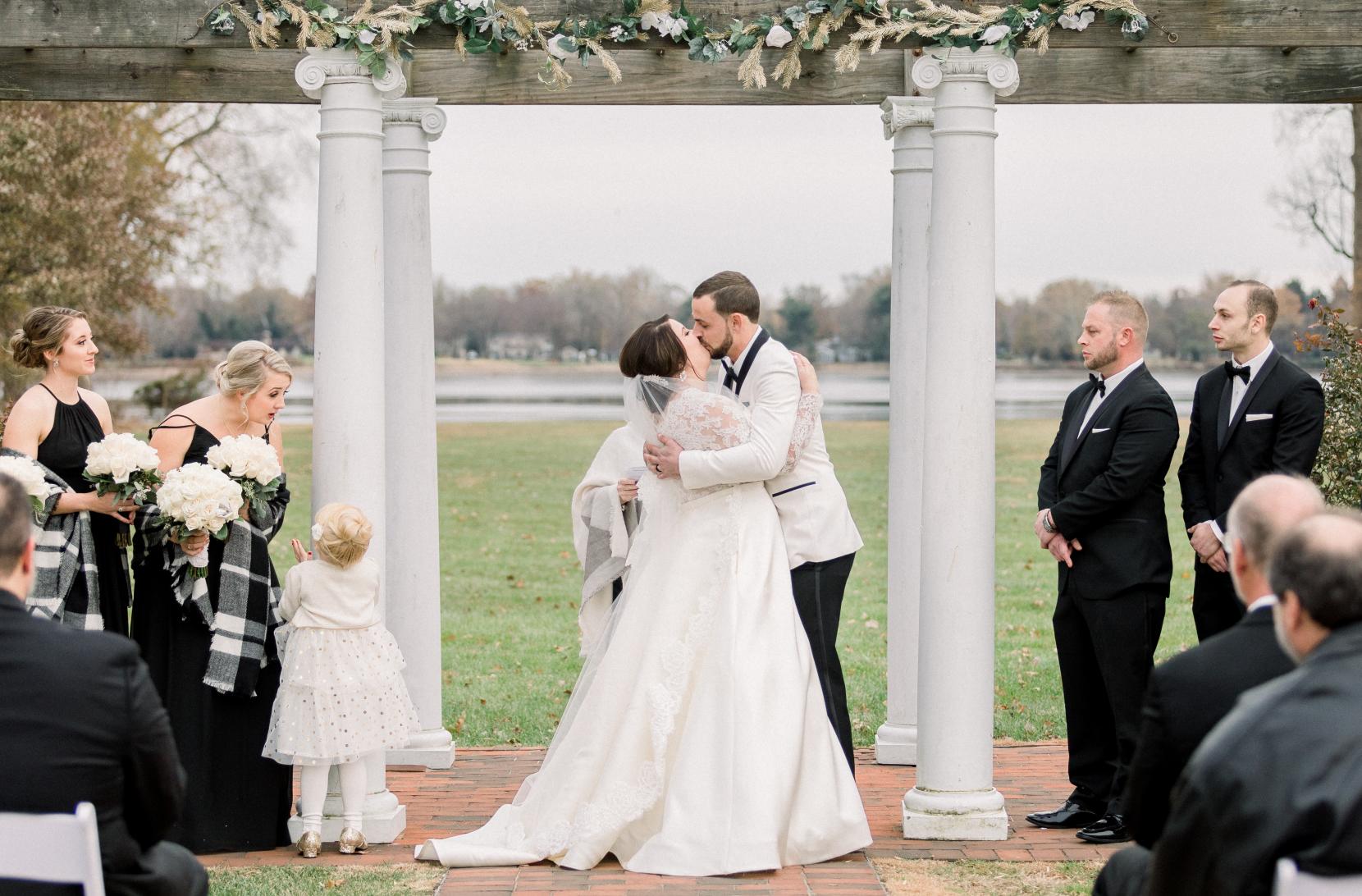 Caroline Morris Photography
Leave a lasting impression on your guests by hosting your wedding at this grand estate. Say 'I do' outdoors beneath the Ceremony Pergola facing the majestic Delaware River in Bensalem, the perfect place for beginning the journey of your life together with your significant other. With exceptional food and white-glove service, the beauty and charm of your reception will be unmatched. Pen Ryn Estate holds three exceptional venue spaces: Belle Voir Manor, Pen Ryn and River's Edge.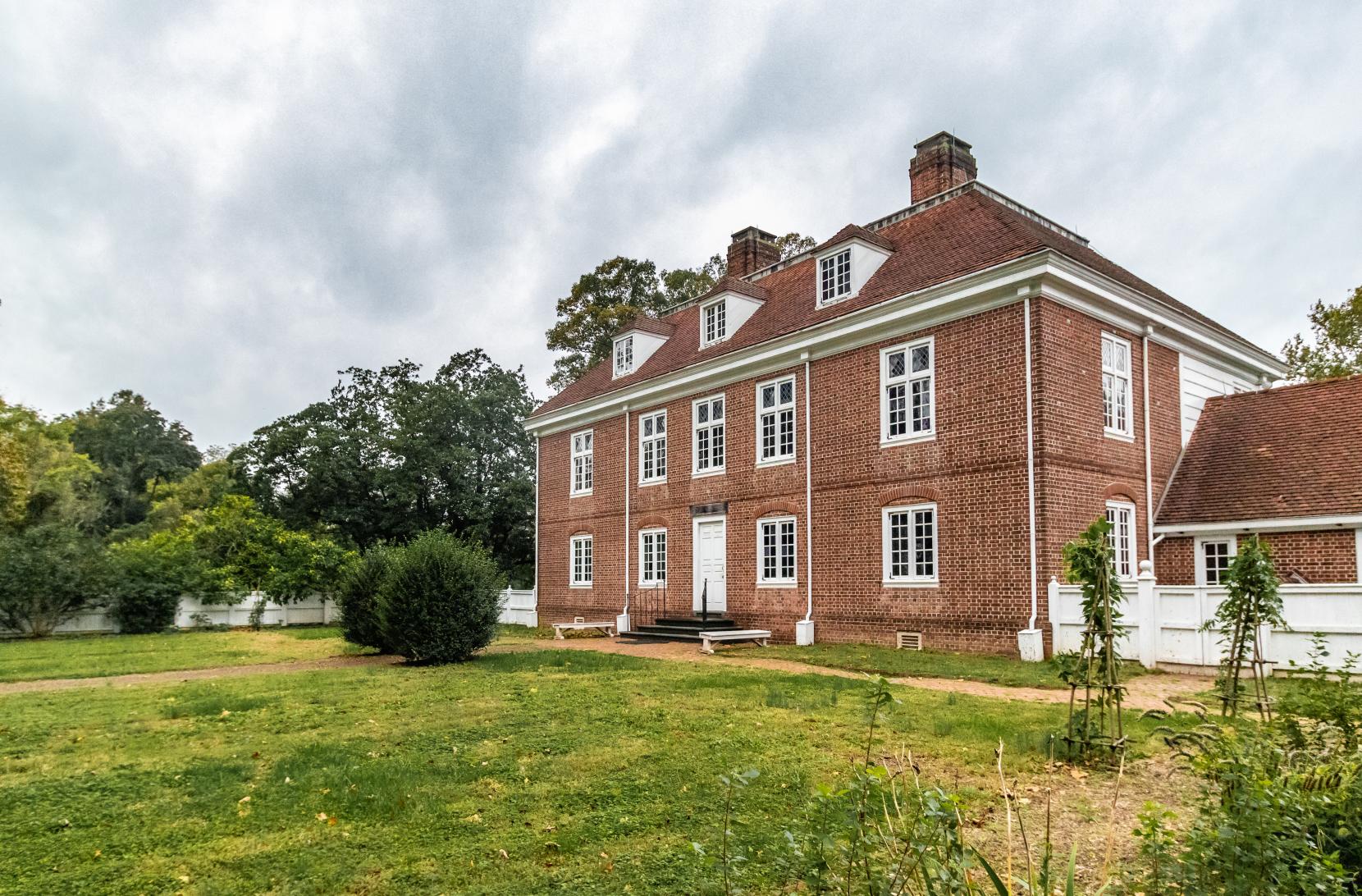 Looking to have a grand ceremony to share your special day with all your loved ones? Pennsbury Manor in Morrisville can accommodate all your needs with an outdoor event space for up to 500 people. Everyone in attendance will appreciate the breathtaking views of the Delaware River while it rushes past the fresh greenery of the gardens, stables and Manor House. This space is perfect for an elegant and historically nostalgic ceremony and reception.
River House at Odette's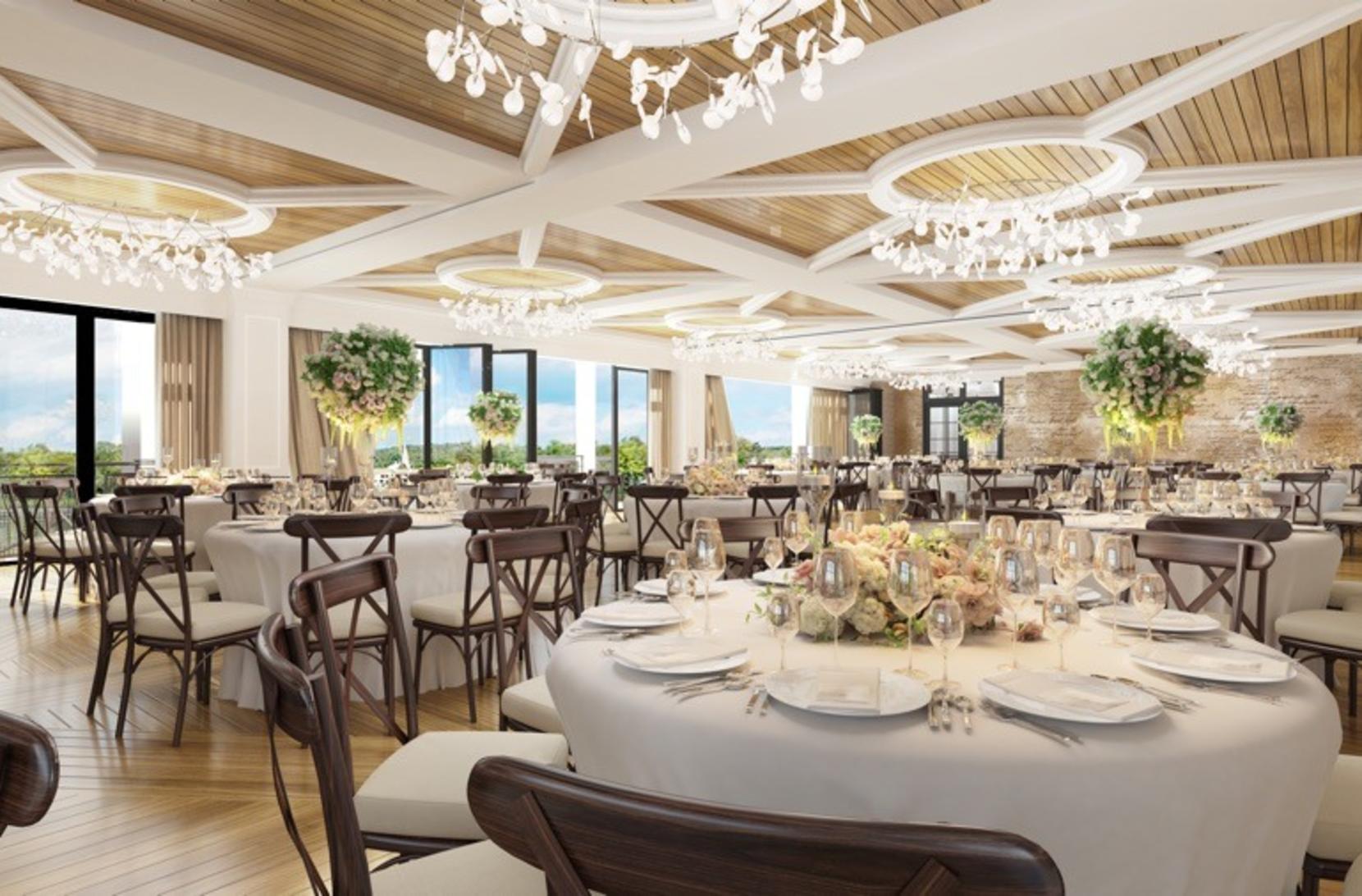 Host your up to 200 guest affair at the River House at Odette's in New Hope. From your romantic riverfront ceremony, immerse guests in a highly stylized cocktail hour with plush, curated furnishings, bold murals, layered antique architectural elements, and full-length glass doors offering breathtaking views. Continue to the open-concept ballroom where Odette's French flair and vintage glamour have inspired dreamlike sophistication & romantic spirit in a minimalistic yet luxurious space complete with whimsical fixtures, flowing fabrics, and elegant custom wall coverings featuring embedded musical scores & love letters from Chez Odette's past.