Unique Wedding Favors
Surprise your guests with unique and specialized favors made right in Bucks County! From customized packaging, sweet treats and locally grown items, attendees will love these charming and remarkable gifts to remember both your big day and Bucks County.    
Your guests will fall in love with the refreshing scent of lavender from Peace Valley Lavender Farm in Doylestown. Peace Valley Lavender Farm sells a bath and body line which features lavender oils, shower gel and more. Treat your family and friends extra special with a lovely, lavender gift basket!
Give the gift of good taste with favors from The Tea Can Company in Pipersville. Choose from an array of specialty teas and herbal blends including the classic Serene Herbal Tea and fresh Mango Amazon blend. Customize a unique tea can label with commemorative pictures and dates or choose from one of many pre-designed templates for bridal showers and wedding showers!
With dozens of wineries located all around Bucks County, pick out a bottle of locally-made wine and create a specialty label! Rose Bank Winery, and Buckingham Valley Vineyards are just a few of the many local wineries that offer customized labels to commemorate your special event. 
Let your guests take home a piece of Bucks County with decorative tiles from  The Tileworks. Now operating as a working history museum, the Tile Works continues to create handcrafted tiles in the style perfected by founder Henry Chapman Mercer more than a century ago. These unique pieces come in a variety of sizes to fit any price range. 
Treat your guests to homemade biscotti baked locally in Bucks County from a small stand at the local Doylestown Farmers Market from Bucks County Biscotti Company. Made fresh from all natural, trans fat and preservative free ingredients, Bucks County Biscotti Company strives to create a scrumptious treat for everyone!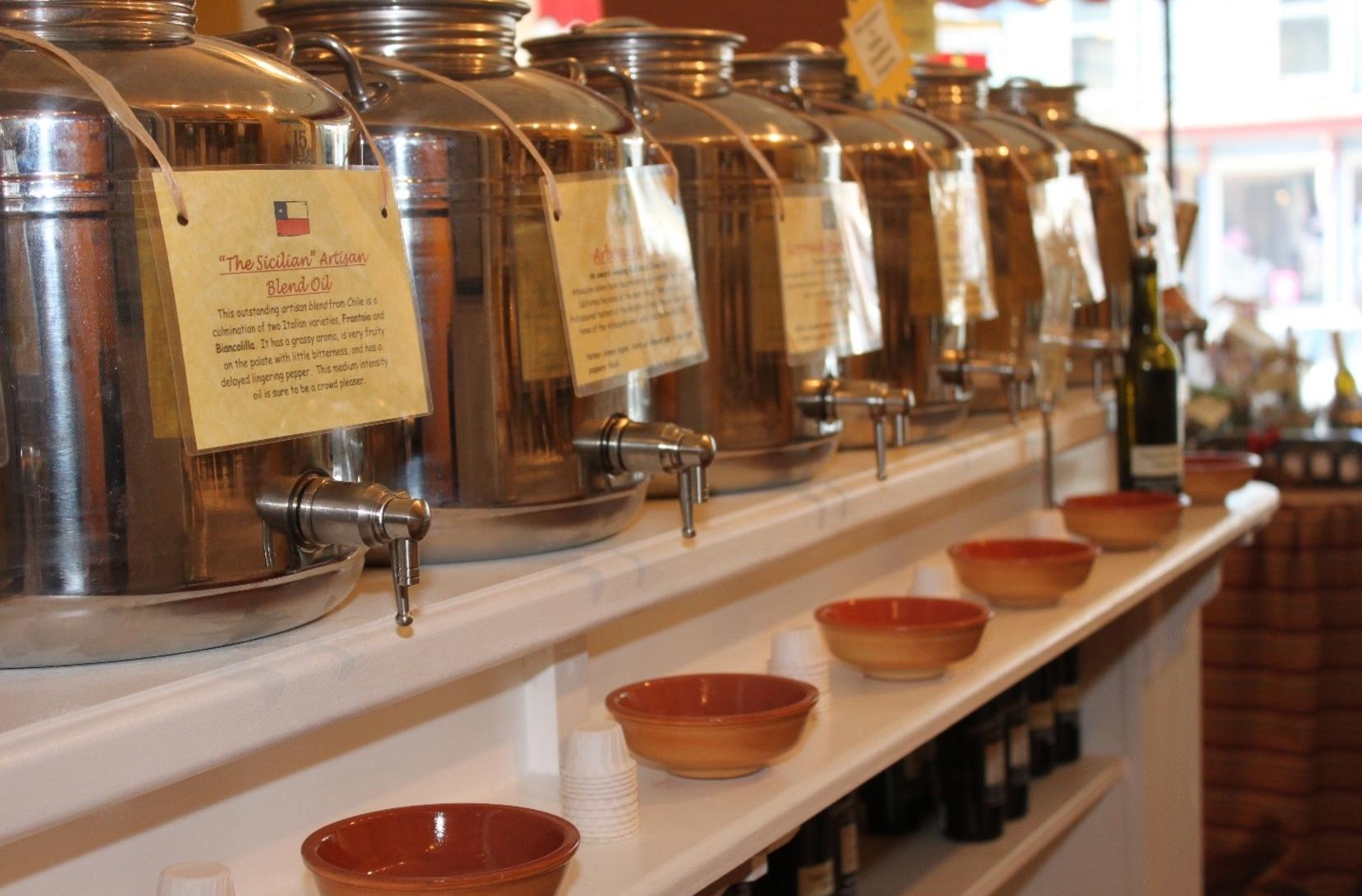 Tasting stations at Tubby Olive
Gift your attendees with mouthwatering olive oils from The Tubby Olive in Newtown! The Tubby Olive offers the "Perfect Pair" which includes your favorite olive oil and balsamic vinegar. With a custom label that you get to choose, and wrapped in a clear gift bag and tied with a bow, these delicious oils are a fabulous favor for your guests!
Select from various sweet honeys and savory syrups from Sticky Situations in Peddler's Village. Taste their samples and pick from your favorites to gift to your guests. With all these delicious honeys and syrups, you will have your attendees leaving with something super sweet!
Farm Fresh Jams from Eat This Yum!
Eat this Yum! has yummy all-natural jams and marmalades for all of your guests to enjoy. Choose from 13 of their flavors and hand-wrap them yourself to your liking. Your guests will be sure to appreciate these sweet treats!
A Batch of Crunch Brittle from Bucks County Brittle
Bucks County Brittle is making batches of tasty brittle for all of your guests to taste. Gift your attendees with their most popular brittles; cashew brittle and peanut brittle!