GETTING HERE
Located only 25 miles from Philadelphia, 75 miles from New York City and 150 miles from Washington D.C., Bucks County is easily accessible from many major highways and rail systems.
BY AUTOMOBILE
Depending on your trip destination in Bucks County, there are many roads to and through the county. Below are general routes from your point of origin.
From points south, I-95 enters the southeastern corner of the county near Bensalem. Routes 1 and 13 also enter southeast Bucks County from Philadelphia. Route 611 (Broad St.) connects Philadelphia with Bucks County, running through Doylestown. 
From points north and New Jersey, I-95 enters just north of Yardley; Route 1 at Morrisville; Route 202 just north of New Hope; Route 611 at Riegelsville through the county or to Route 32 along the eastern border of the county. The Northeast Extension of the Pennsylvania Turnpike crosses the county just northwest of Quakertown with an exit for Route 663. Route 309 runs between Allentown and Philadelphia into Bucks County through Montgomery County. I-78 provides several entries to Bucks County, including Exit 15 (Clinton, N.J.) to Route 513 to Route 32; and I-78 to Route 611 to Route 32.
From points west, the Pennsylvania Turnpike has four exits for Bucks County. At exit 339, Route 309 North enters Upper Bucks County in Sellersville and Quakertown. Pick up Route 611 North at exit 343 for Doylestown and New Hope. Exit 351 brings drivers into Feasterville/Trevose at Route 1 and Street Road. And Exit 359, the last exit in Pennsylvania, brings drivers to the riverside town of Bristol on Route 13.
Find out about the tolling changes at the Turnpike Bridge at the Delaware River.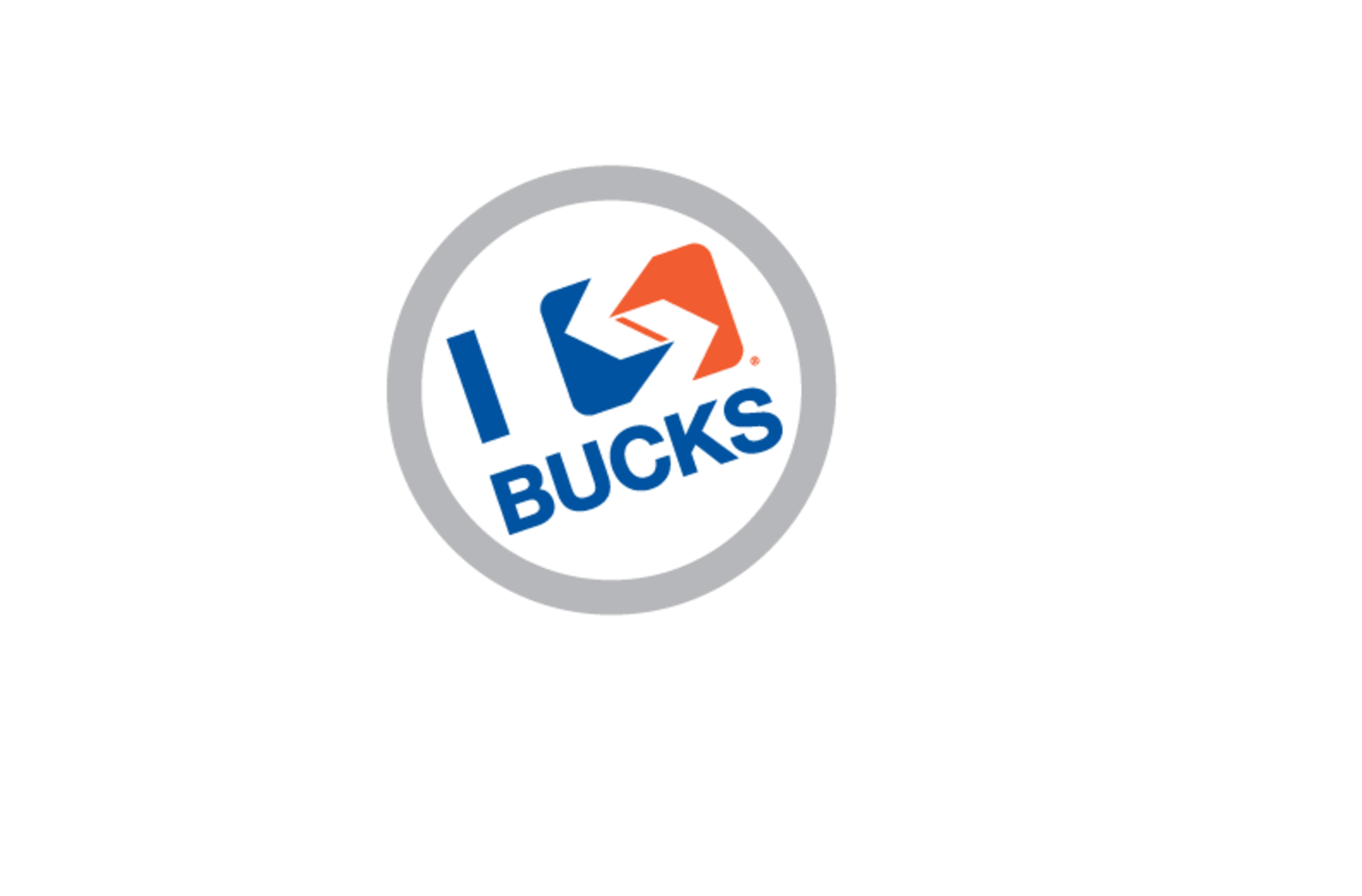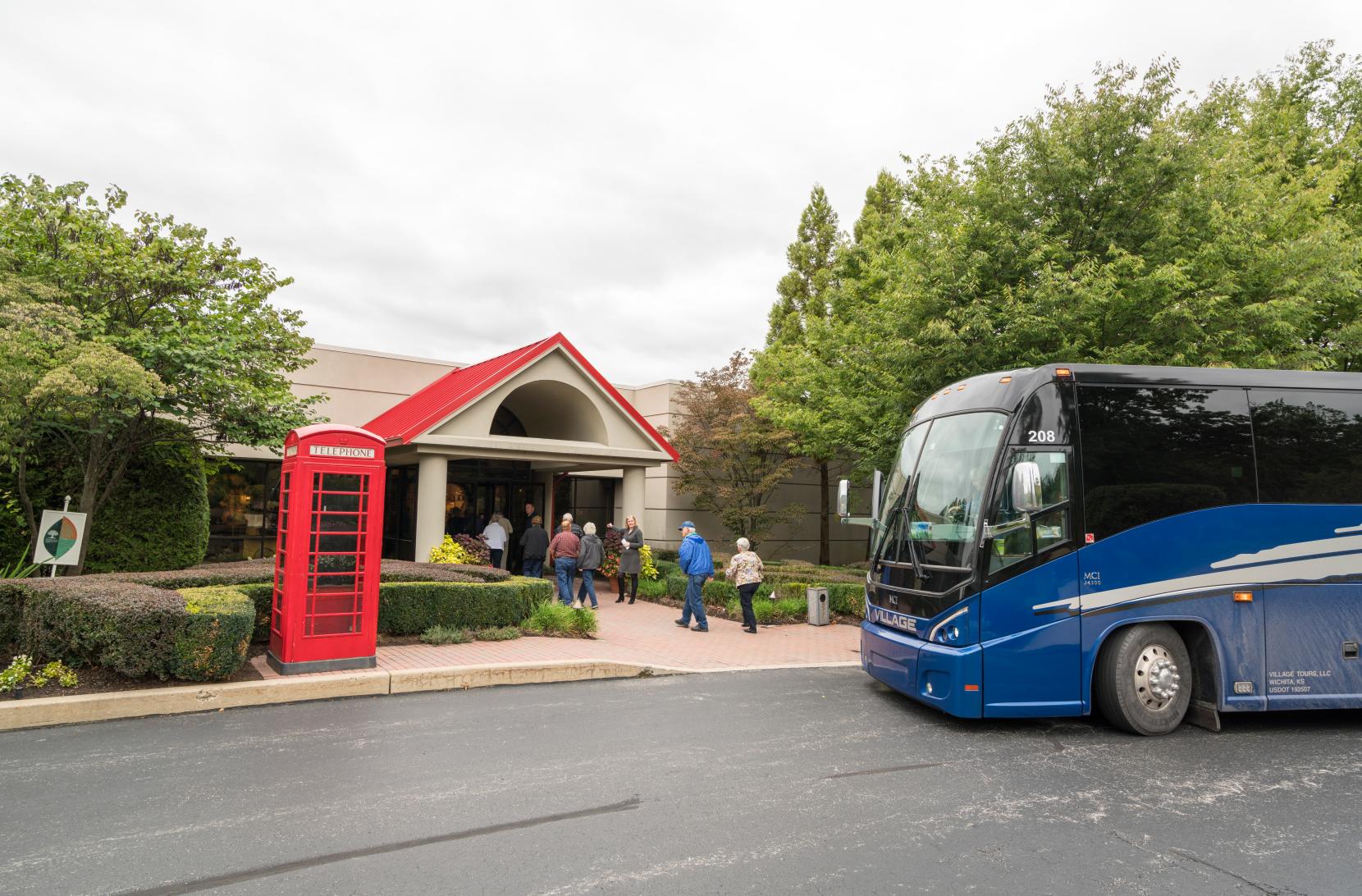 Bus tour at Byers' Choice
BY TRAIN
Amtrak travels through Bucks County and stops in Trenton, N.J.; Philadelphia, Pa.; and other nearby locations. (800) 872-7245; (215) 824-1600
BY PUBLIC TRANSPORTATION
The Southeastern Pennsylvania Transportation Authority (SEPTA) has commuter stations throughout Bucks County with stops in Philadelphia, Pa., and Trenton, N.J. (215) 580-7800. Click here for transit routes in Bucks County. You can also follow #ISEPTABUCKS on Twitter for updates on how to get to various attractions throughout Bucks County. 
Rushbus is public transportation operated by TMA Bucks that provides connections with SEPTA from Bristol Train Station (Bristol Rushbus) and Warminster Train Station (Richboro-Warminster Rushbus). Click here for current schedules and more information please or call 215-244-9084. Rushbus updates are also available on Twitter or at 866-TMA-RIDE.
Trans-Bridge Lines provide bus services from New York City to New Hope, Lahaska, Buckingham, Doylestown and Quakertown. (800) 962-9135
Use Lyft to hop from place to place! New users receive $10 off their first ride within Bucks County when they use the code VISITBUCKS.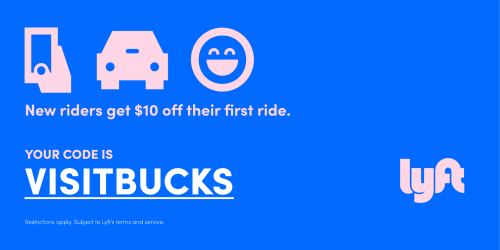 BY MOTORCOACH
Major motorcoach operators travel through Bucks County. Visit the groups section of the website for more information.
BY AIR
Major Airports
Philadelphia International Airport, Philadelphia, Pa. (215) 937-6937
Newark International Airport, Newark, N.J. (973) 961-6000
Lehigh Valley International Airport, Allentown, Pa. (800) 359-5842
Local Airports
Doylestown Airport, Doylestown, Pa. (215) 340-0707
Mercer County Airport, Trenton, N.J. (609) 882-1600
Northeast Philadelphia Airport, Philadelphia, Pa. (215) 685-0333
Pennridge Airport, Perkasie, Pa. (215) 257-0166
Quakertown Airport, Quakertown, Pa. (215) 538-3055
Queen City Airport, Allentown, Pa. (610) 791-5193
Van Sant Airport, Erwinna, Pa. (610) 847-8320