BEAUTIFUL BACKDROPS FOR YOUR WEDDING PHOTOS
Whether you want to pose in the beauty of nature, feel like royalty or step back in time, Bucks County has the perfect venue to capture an unforgettable moment for your wedding photos.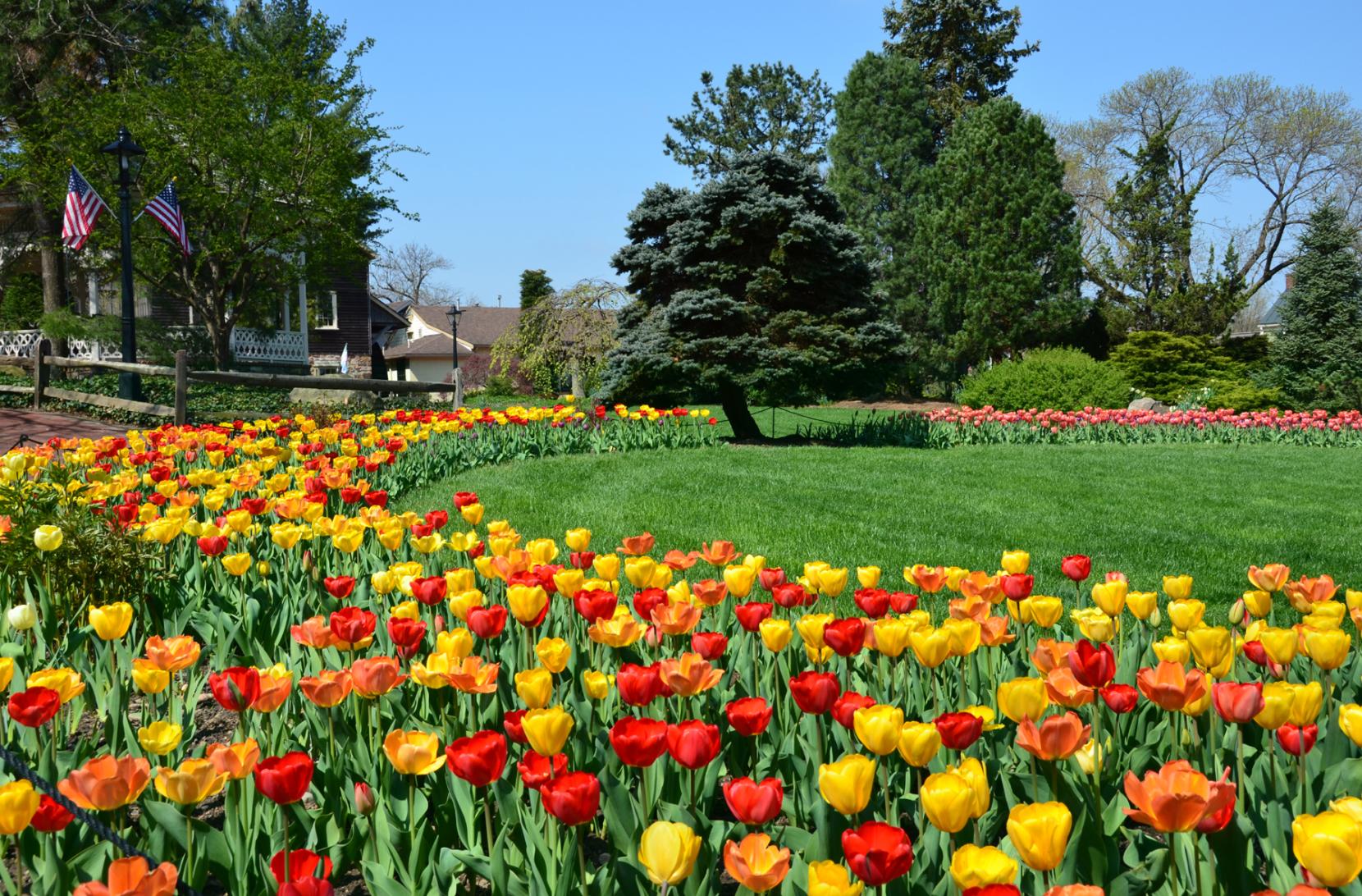 Spring tulips at Peddler's Village
AMONG THE FLOWERS

• Stroll the old-fashioned brick pathways of the 18th-century-inspired Peddler's Village for enchanting photographs before or after your wedding on lush lawns, stunning tulip gardens and a beautiful gazebo. 

• Capture your lasting images among the perennial blooms, blossoming trees and local sculptures in the stunningly-manicured gardens at Byers' Choice. 

• Show off nature with Peace Valley Park. Step out on the shore of Lake Galena or find a quiet spot along the trail.  

• Let Bucks County's native flora be the setting for your pictures at Bowman's Hill Wildflower Preserve. Climb to the top of nearby Bowman's Tower inside Washington Crossing Historic Park for panoramic views of the gorgeous countryside. 
ROYALTY FOR A DAY
• Live out your fairytale dreams of feeling like a king and queen on your big day with rolling green grounds and extravagant winding staircases at the unique Fonthill Castle. 

• Feature your dramatic and elegant side with the six-story Mercer Museum. 

• Bring a touch of sophistication to your wedding photos at Andalusia, a Greek revival mansion that has towering Doric columns, surrounded by spectacular landscapes.

• Capture moments for your scrapbook with country-vintage chic style in one of the ballrooms at Rose Bank Winery.
HISTORIC BEAUTY
• Revisit a time forgotten at one of Bucks County's remaining 12 historic Covered Bridges for rustic woods and serene waterways. 

• Step back in time to Colonial America at Pennsbury Manor, William Penn's grand estate along the banks of the Delaware River. 

• Capture the peaceful simplicity of an 18th-century log cabin, historic homes and churches in the 300-year-old village of Historic Fallsington. 

• Experience two historic buildings in one place with Bryn Athyn Cathedral and Cairnwood Estate in Bryn Athyn Historic District.

• Allow the historic and rustic charm of Durham Hill Farm to be part of this celebratory time.

•Use the beautiful stone work of the Moland House grounds, the first place where the Betsey Ross flag ever flew, for your pretty pictures.
•The ideal setting of history, art, and timeless beauty, the Michener Art Museum is the perfect backdrop for your big day.