FACTS & FIGURES
FAST FACTS:
Bucks County is the 4th most populous county in Pennsylvania with a population of 628,341 as of the 2017 census
The county has a total area of 622 square miles.
Bucks County has 31 townships, 23 boroughs, 18 census-designated places and five unincorporated communities.
Bucks County is home to five colleges, 15 public school districts and eight private schools.
There are 16 county and state parks in Bucks totaling 7,500 acres.
Hikers can enjoy 475 miles of trails in the county.
Bucks County is a golfer's haven with 28 public and private courses.
There's always room for you at Bucks County's more than 4,300 hotel rooms.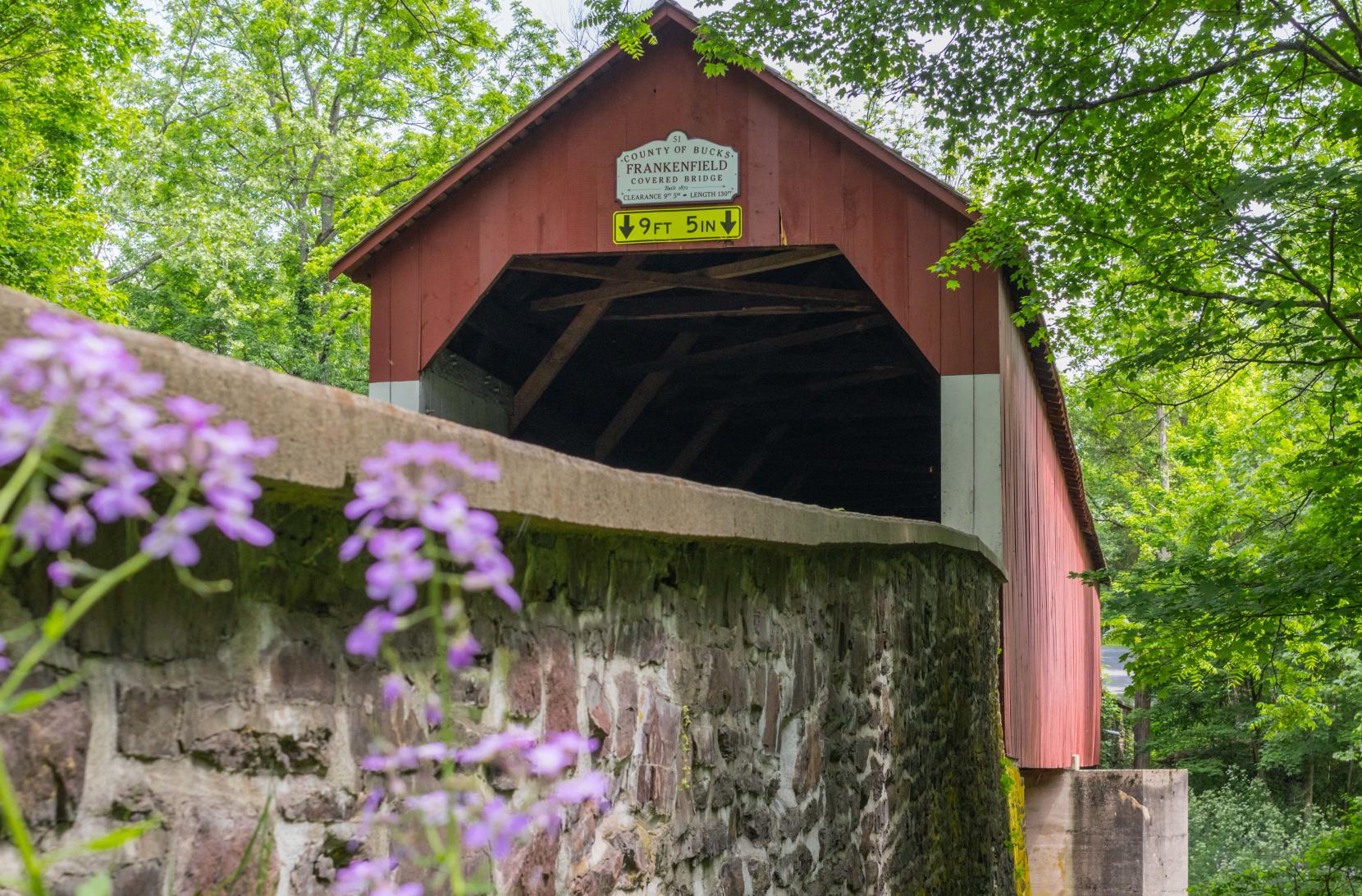 Frankenfield Covered Bridge
BUCKS COUNTY'S OFFICIAL SYMBOLS:
Flower: Violet
Bird: Cardinal
Mammal: Cotton Tail Rabbit
Tree: Dogwood
Fish: Catfish
Rock: Diabase
VISITOR SPENDING IN BUCKS COUNTY MEANS*:
$986 million in local economic impact

Tourism supports 25,300 jobs locally

7.58 million total visitors 
For more information on the economic impact Bucks County's travel and hospitality industry, visit the Research & Reports page. 
BUCKS COUNTY HISTORY:
Bucks County was founded in 1682 by William Penn, the founder of Pennsylvania. He named the County after Buckinghamshire, his hometown in England. Pennsbury Manor, Penn's Colonial summer home from the 17th century, has been rebuilt on the original estate and is available year-round for group tours. The Durham Iron Company was formed here in 1727, making Bucks County's first major industry was the extraction of iron from ore and the production of cast iron.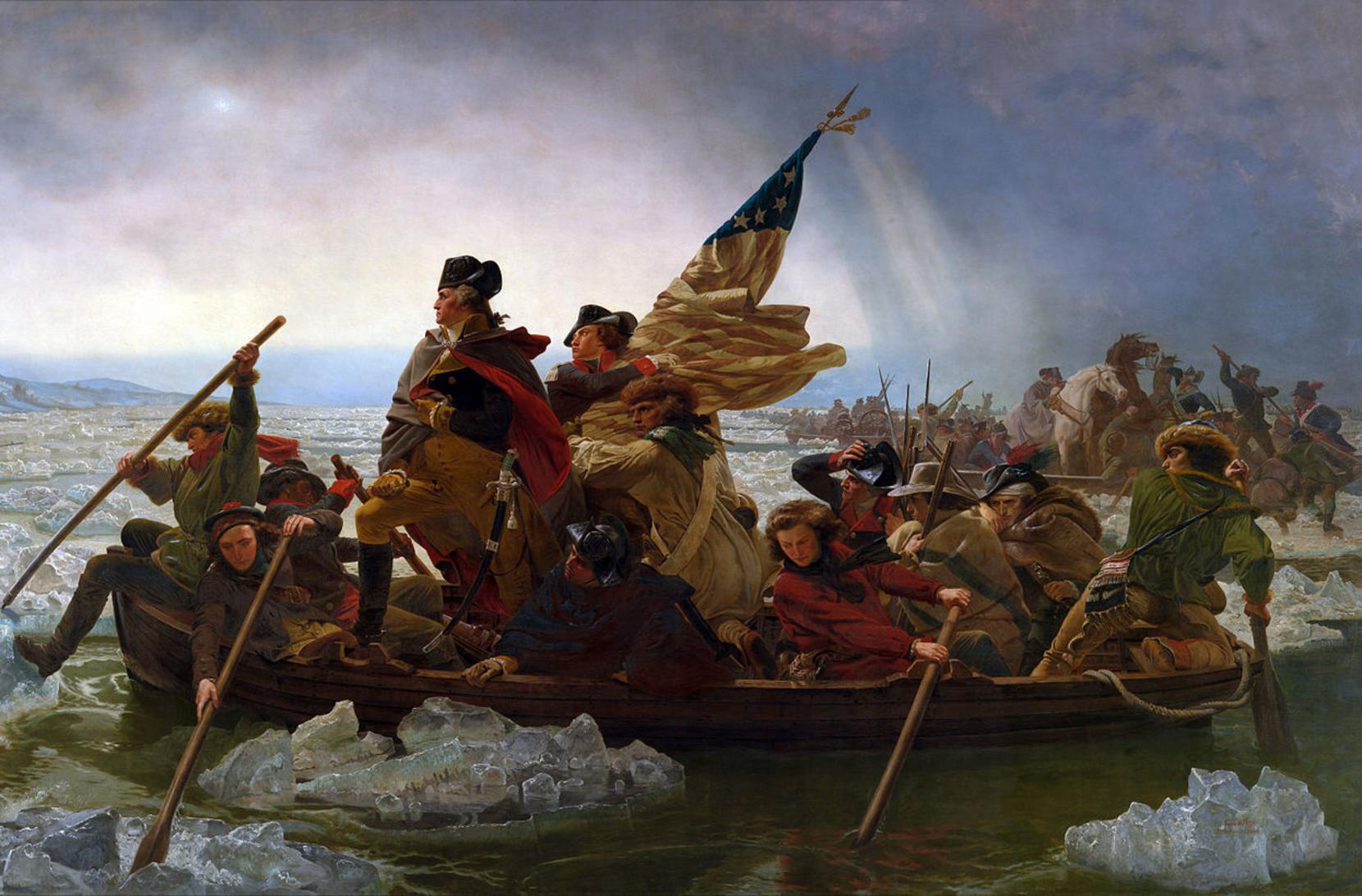 Washington Crossing the Delaware by Emanuel Leutze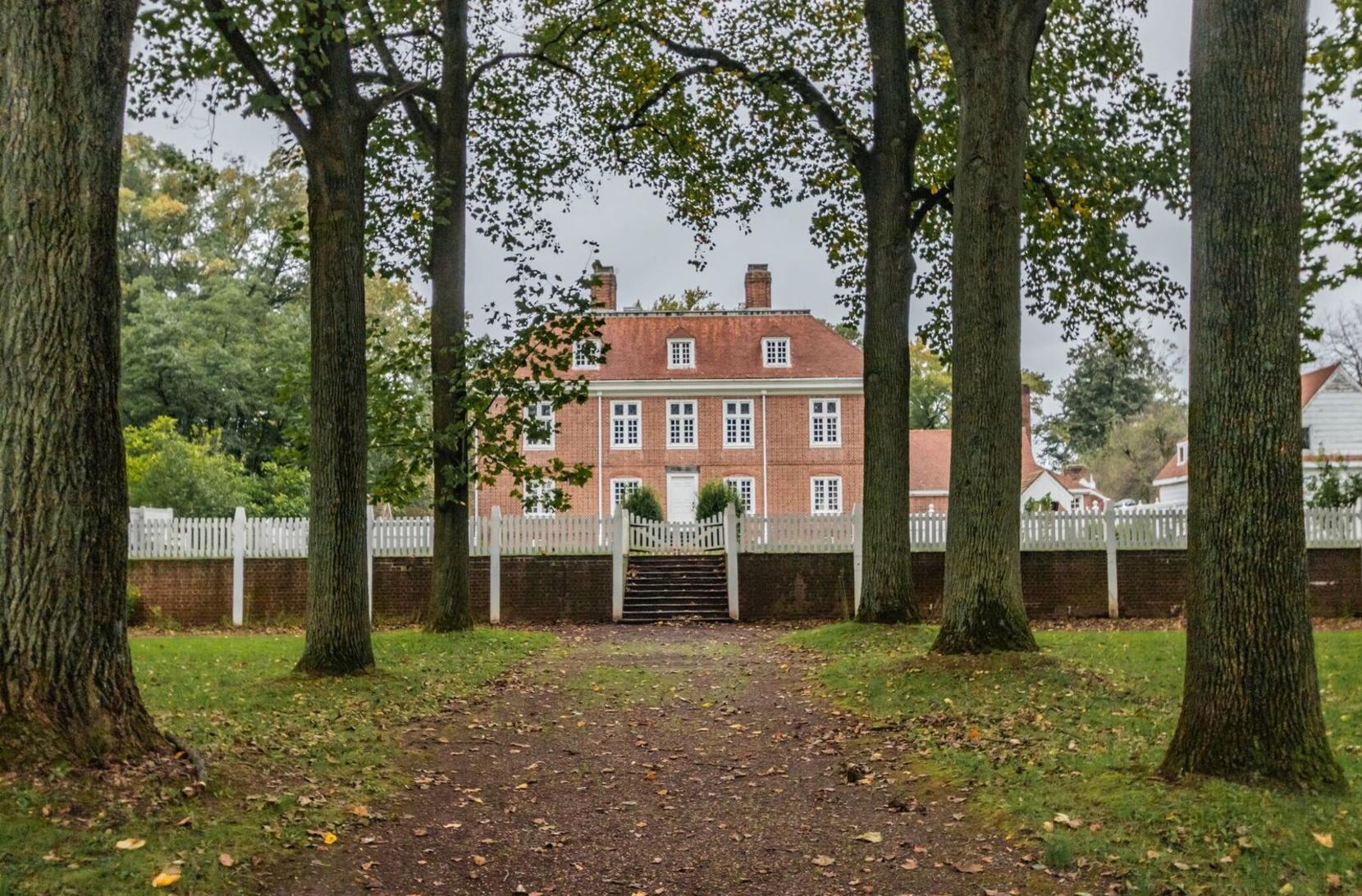 George Washington plays a significant role in Bucks County's history. On December 25, 1776, Washington lead his army across the Delaware River to make a surprise assault on the Hessian garrison in Trenton, New Jersey. A pivotal battle in the Revolutionary War, the famous painting by Emanuel Leutze depicts the fleet on their journey from Bucks County, and landmark spot of the launch can be toured today at Washington Crossing Historic Park. Washington's army of 11,000 men encamped in Warwick Township and Washington made his headquarters at the home of Hannah Moland, today's Moland House in Hartsville, where it is also believed that the "Betsy Ross" flag was first flown. Guided tours of The Moland House are available on the second Sunday of every month. Washington is said to have slept at several inns, including the Wedgwood Inn B&B of New Hope. Believe it or not, he was turned away from the Black Bass Inn in Lumberville by the Tory innkeeper!
On May 12, 1810, Doylestown is selected as the location of the County Seat and three years later the courthouse was completed (previously, it was in Newtown). Twenty years later, the Bucks County portion of the Delaware Canal water route that runs from Bristol to Easton opens up. The first railway is not built until 1833 between Morrisville and Bristol, and trolley lines linking communities are not built until 1896 with the first one being less than two miles long in Langhorne.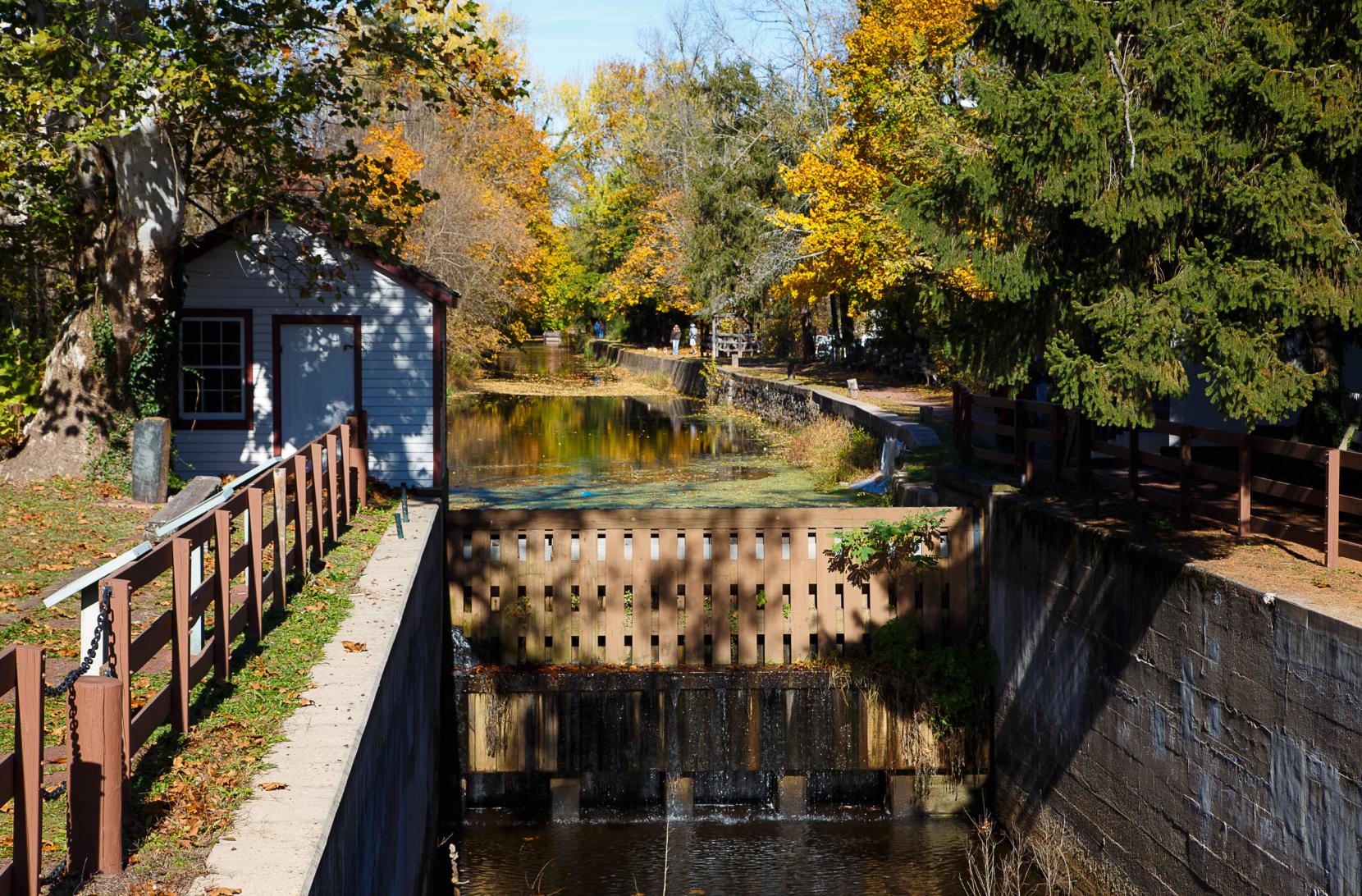 Delaware Canal in New Hope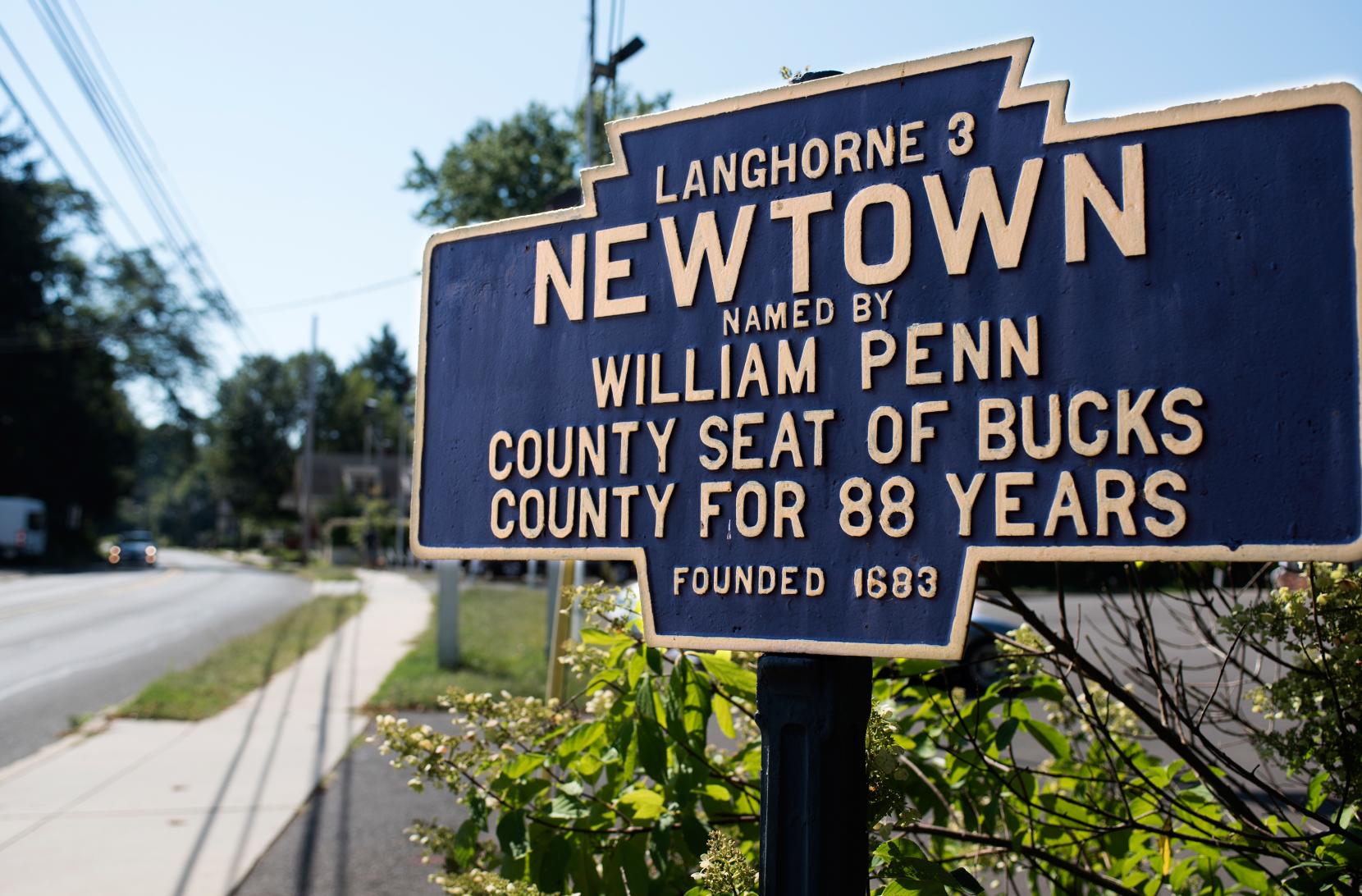 In the late 19th century the main industry in Bucks County is still primarily agricultural, however, the area known as Bristol begins to boom with textile and iron factories. New workers begin to flock to the town and build up a small community. In Upper Bucks, cigar manufacturing takes over, making Bucks County the third largest producer of "stogies" in Pennsylvania.
The beginning of the 20th century brings the "Pennsylvania Impressionism" movement in New Hope Borough and Solebury Township. Artists paint the bucolic Bucks County countryside, creating a niche in the art community. The majority of the artwork in the Michener Art Museum in Doylestown reflects Pennsylvania Impressionism. Bucks County earns its reputation as a respite for playwrights, actors, songwriters, artists and the Bucks County Playhouse opens on July 1, 1939. Some begin to refer to Bucks County as the "Genius Belt," a place where New Yorkers tired of the big city life escape to find tranquil landscapes at an inexpensive price. This was also the time when Henry Chapman Mercer designed and constructed Fonthill Castle and was asked to design his career-launching "carpet of history" for the Pennsylvania State Capitol in Harrisburg. Mercer's more than 40,000 artifacts from the Industrial Revolution can be seen today at the Mercer Museum in Doylestown, as well as his original (and still in use) tile making building, The Tileworks. All three structures are available for tours.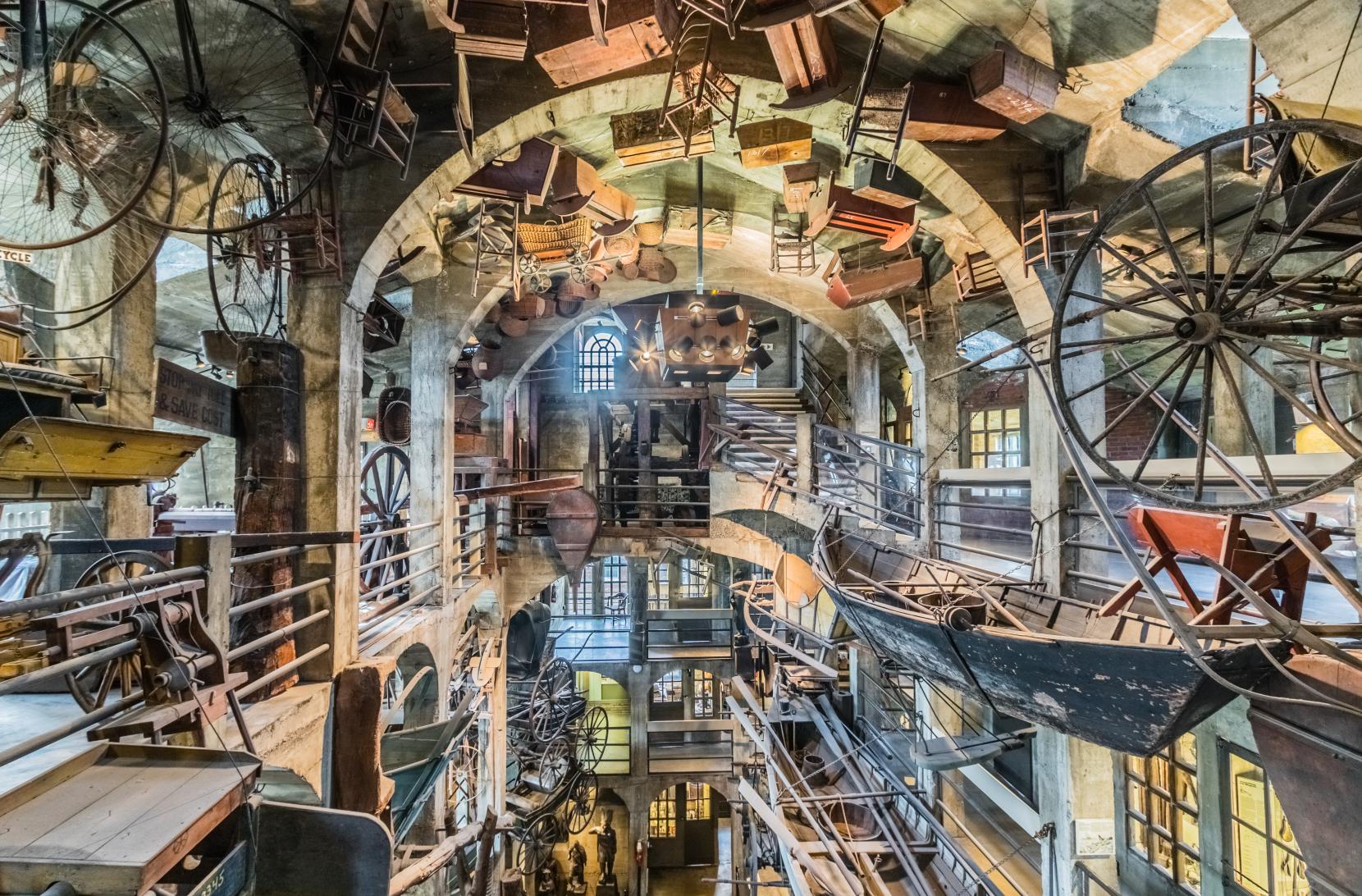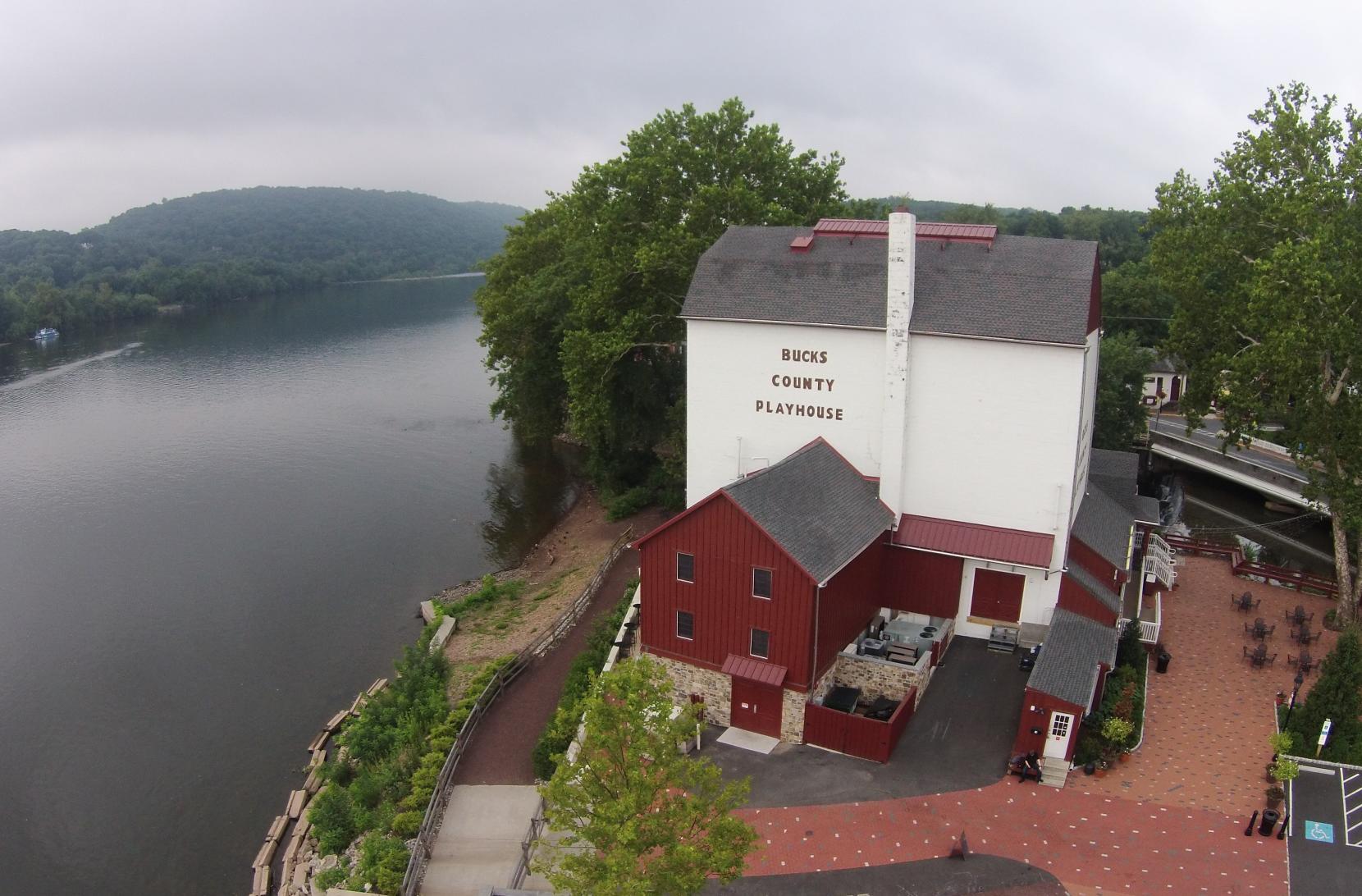 Aerial of Bucks County Playhouse
Suburban paradise hits Bucks County in 1951 with the birth of the second "Levittown" (the company founded by William Levitt; the first was built in Long Island) in lower Bucks County. The largest suburban planned community in the nation, it attracted many first-time home buyers thanks to its community amenities like schools, pools, churches and a movie theater.
Today, Bucks County is the fourth most populous County in the state of Pennsylvania. Tourists flock to towns like New Hope, Doylestown, Bristol, Perkasie, Newtown, Yardley and more for its rich history, scenic countryside, and abundance of food & beverage places, accommodations and attractions.
For an in depth timeline of Bucks County's history, visit this page from the Mercer Museum.
DID YOU KNOW?:
The Logan Inn in New Hope is the oldest continuously running inn in Bucks County and the 5th oldest in America. Established in 1727, it offered its services to George Washington and his men and is said to be home to at least four ghosts.

Sesame Place® Philadelphia in Langhorne is the only amusement park in America solely themed after the popular children's television show, Sesame Street. The park has more than 25 rides and is open from late-April through December.

John Fitch built the first steam-powered boat in the U.S. in Warminster in 1785. It traveled nearly 3,000 miles in 1790, transporting passengers and freight between Philadelphia and Trenton. A six-foot long, steam operated model of the first steamboat can now be seen at the John Fitch Steamboat Museum in Warminster.

The movie Signs, directed by M. Night Shyamalan and starring Mel Gibson, was filmed and takes place in Bucks County. The scenes in the bookstore and pizza shop were filmed in Newtown and the scenes of the house and cornfield were shot on 40 acres of land belonging to Delaware Valley University in Doylestown. The pharmacy scene was shot in Morrisville.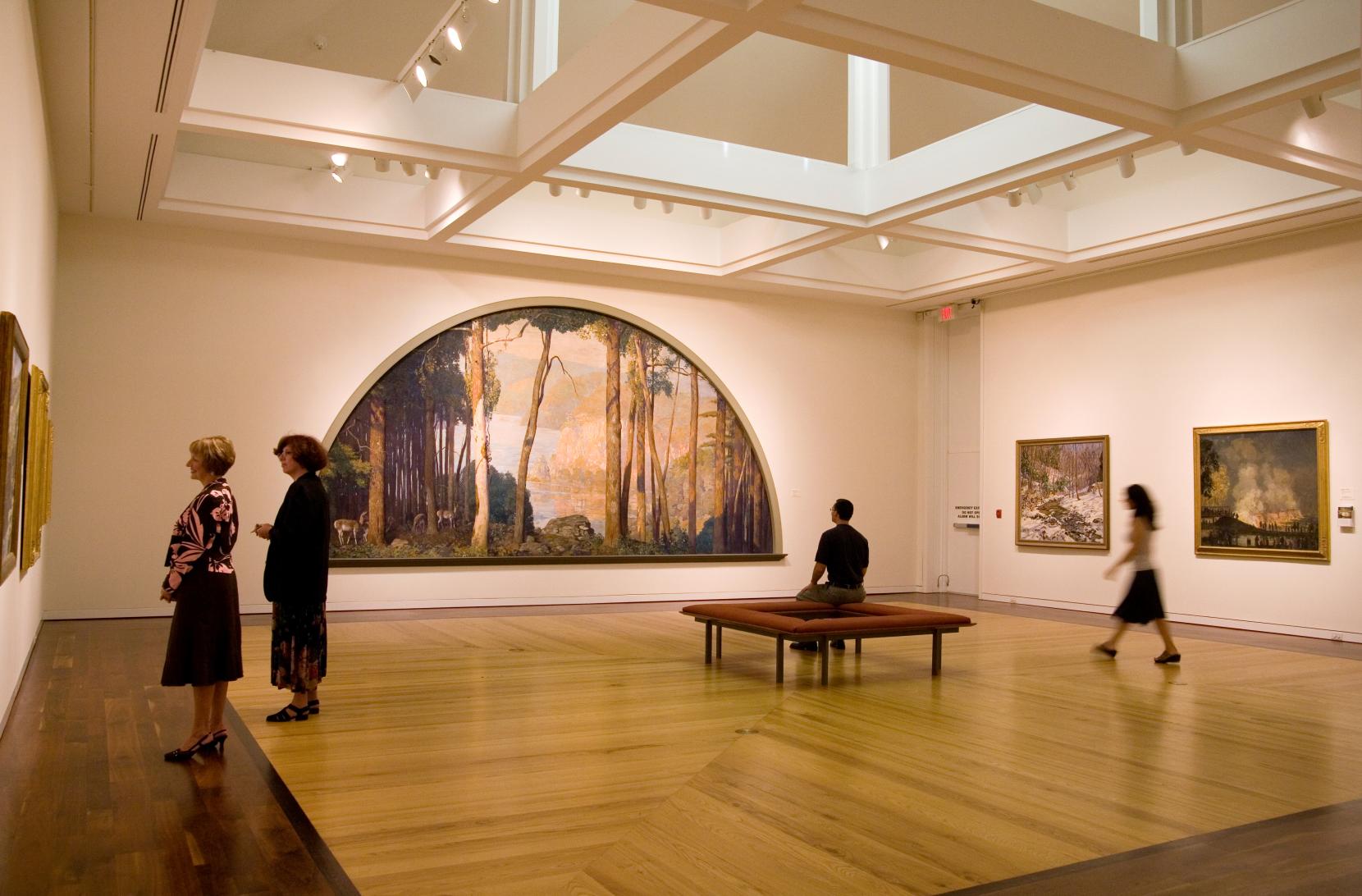 Putnam Gallery at the Michener Museum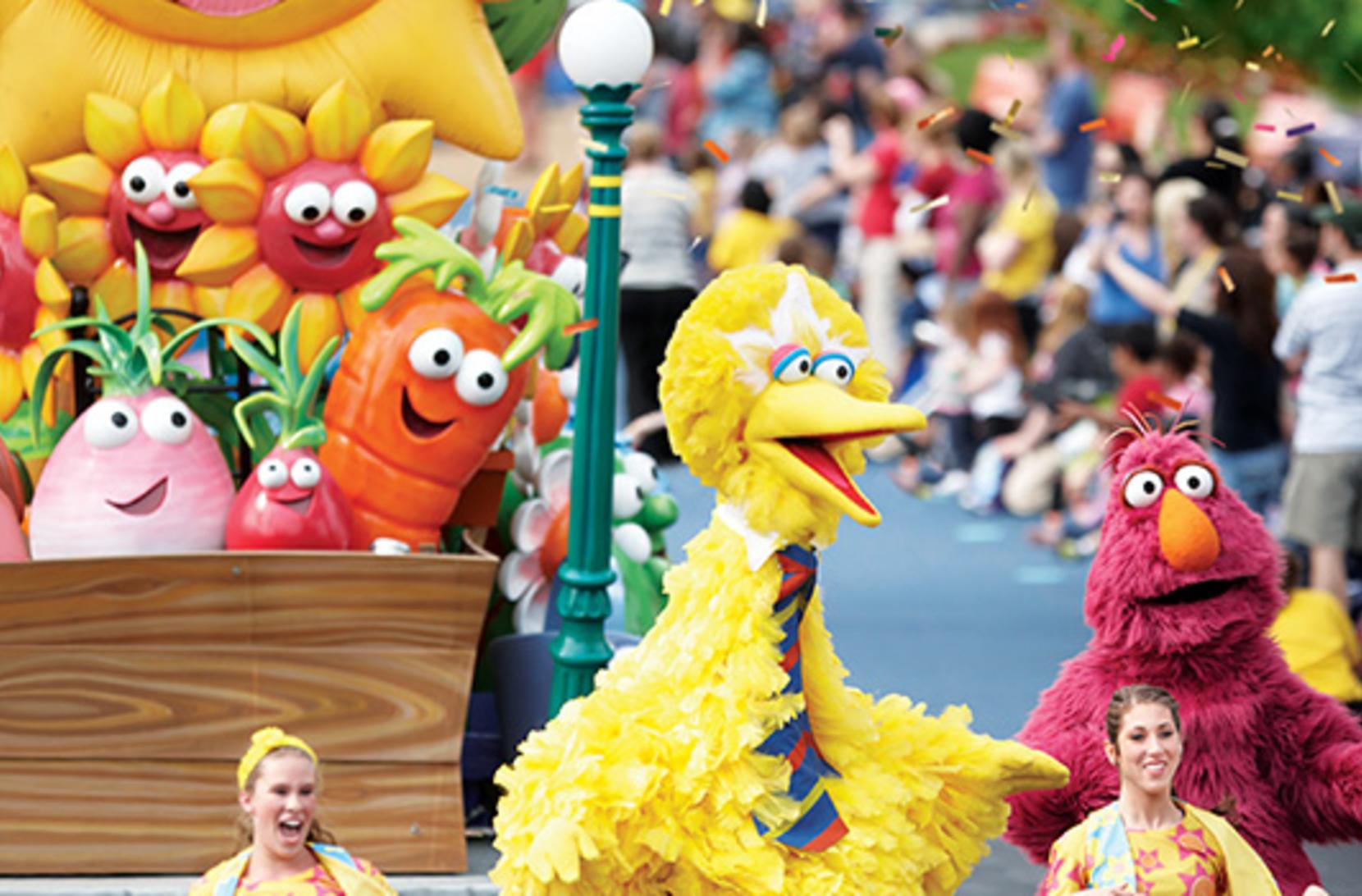 *Source ESI (data through December 2021)