Travel the Bucks County 'Genius Belt'
Between 1930 and 1950, many renowned artists, playwrights, craftsmen, authors and thinkers seeking affordable real estate, proximity to New York City and the lure of country living moved to Bucks County. The area became such a well-known haven for creativity that the New York media began to call it "the genius belt." Today, Bucks County has many sites where visitors can be inspired by this rich cultural and artistic tradition.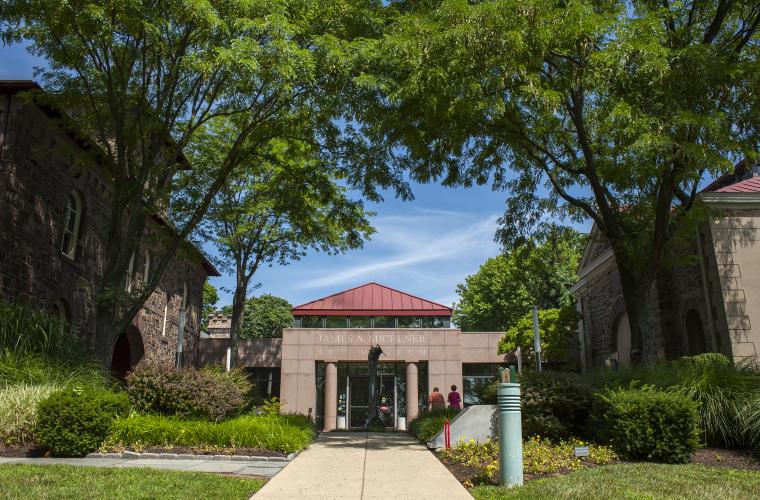 Michener Art Museum outside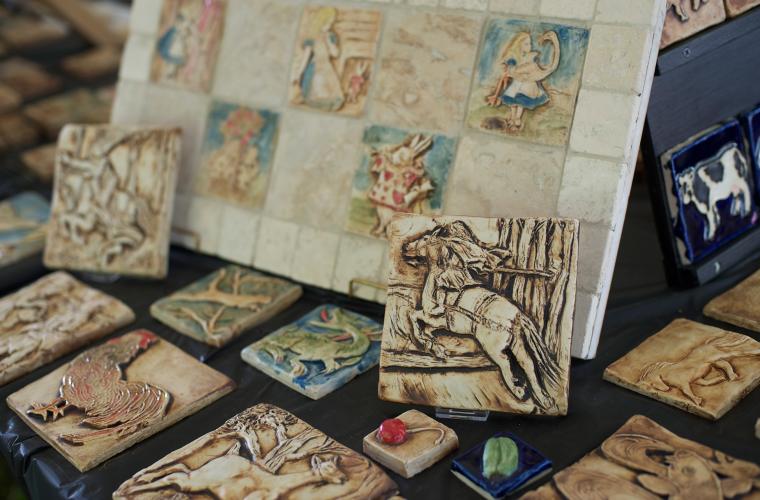 Tiles at the Moravian Pottery & Tile Works Tile Festival
Doylestown
Michener Art Museum
Experience the unique history and art of Bucks County at the Michener Art Museum in Doylestown. Established by Pulitzer Prize winning author and long-term Bucks County resident James A. Michener, this museum focuses on art from Bucks County residents. Make sure to see masterpieces of Pennsylvania Impressionism and the George Nakashima Reading Room, which features furniture by the internationally renowned craftsman.
The Mercer Mile
The Mercer Mile consists of three buildings formerly owned by innovative ceramist and pioneer of the Arts & Crafts movement Henry Mercer. Fonthill Castle is the 1900s home of Henry Mercer. The Mercer Museum is another castle housing more than 50,000 artifacts giving insight into everyday life in early America. The Moravian Pottery and Tile Works, a National Historic Landmark, is a working history museum where visitors can see the pottery-making process and buy unique works.
Highland Farm
Stay at Highland Farm for a unique personal experience of artistic history. This bed & breakfast is the former home of playwright Oscar Hammerstein II. One half of the famous duo Rodgers & Hammerstein, he wrote such works as The King and I, Oklahoma! and The Sound of Music while on the grounds of Highland Farm.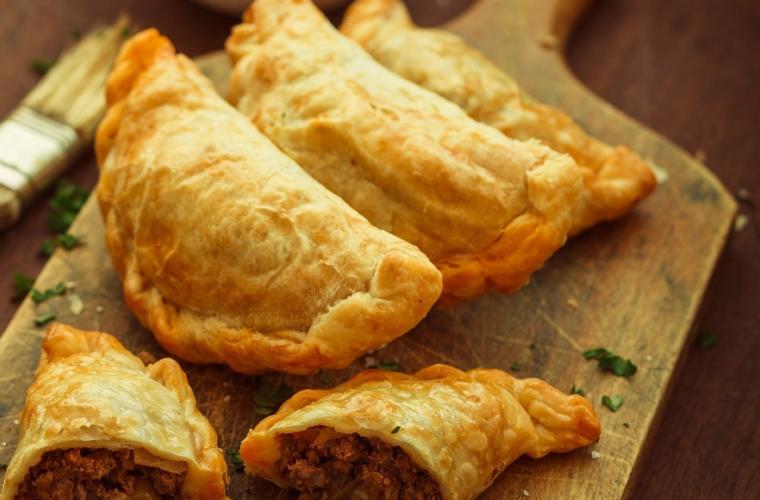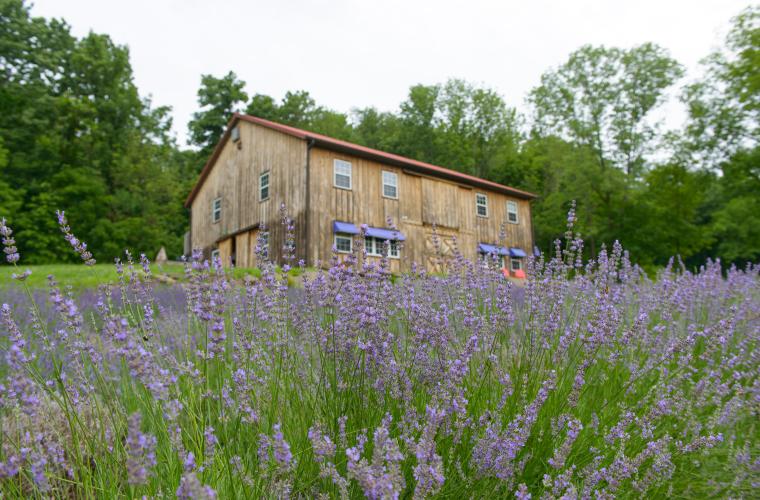 Peace Valley Lavender Farm
Travel Tips
Where to Stay:
The historic Highland Farm is the former home of playwright Oscar Hammerstein II.
Located in the Doylestown Borough Historical District, the Hargrave House offers luxurious guest suites with all of the comforts of home, including a delicious breakfast.
Where to Eat:
What Else To Do: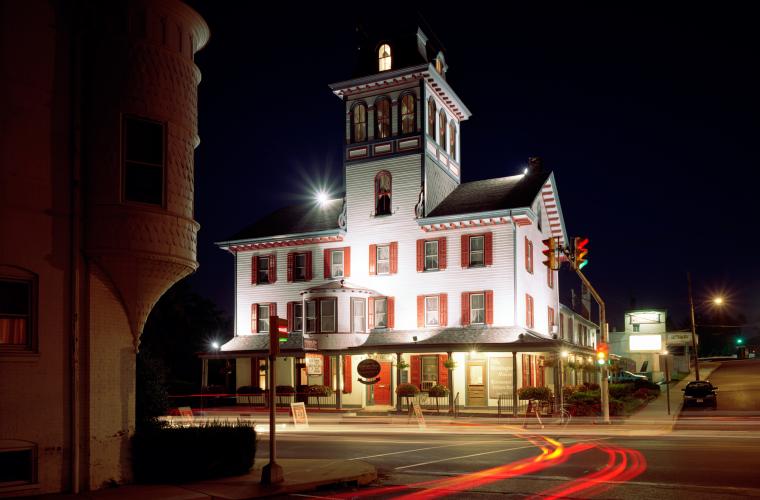 Night at Washington House
Perkasie and Sellersville
Pearl S. Buck House
For a more personal experience of Bucks County history, visit the historic house of Pulitzer Prize winning novelist and humanitarian Pearl S. Buck. Walk the grounds in a guided tour, visit the international gift shop and learn about culture and history at the exhibit gallery.
Travel Tips
Where to Stay:
Where to Eat:
The Washington House Restaurant, a restored Victorian restaurant, offers warm hospitality and award-winning cuisine.
For a more casual feel, head down to The Perk for anything from steak and seafood to a classic Philly cheesesteak.
What Else To Do:
Check out Bucks County's covered bridges dating back to the 1800s. Two are within the town, and more can be discovered in a covered bridge tour.
Enjoy a show at the Sellersville Theater, which features a variety of local performers.
Sample craft beers at Free Will Brewing Company and enjoy delicious bites on the weekend from a variety of food trucks.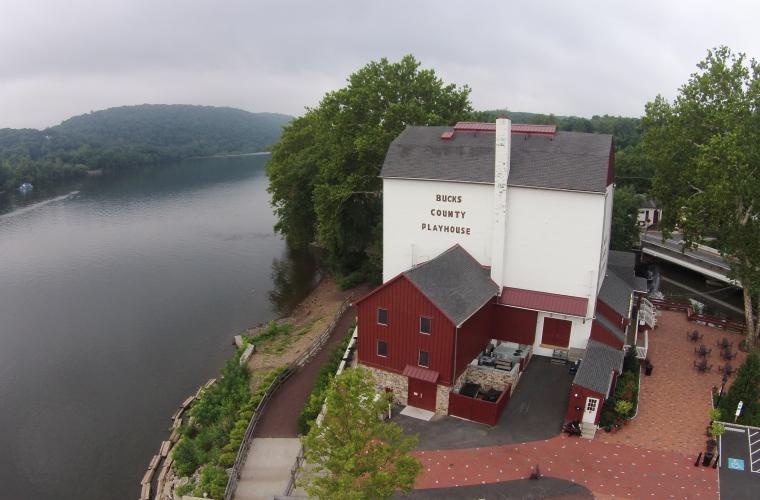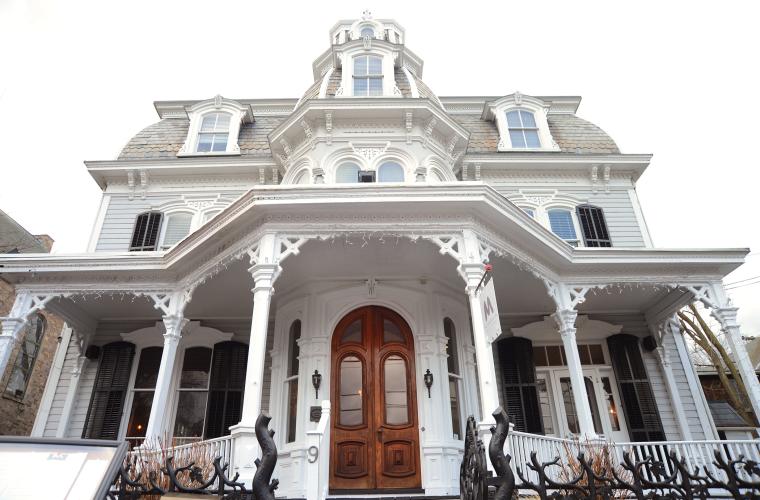 New Hope
Bucks County Playhouse
Enjoy a live show and experience history at the historic Bucks County Playhouse. Originally built in 1790, the playhouse building is on the National Registry of Historic Places. After its restoration in 1939, the playhouse quickly became known as "America's Most Famous Summer Theatre." The playhouse cemented its role as an influential part of American culture by featuring world-class performers such as Grace Kelly, Dick Van Dyke, Liza Minnelli, Angela Lansbury and James Earl Jones.
George Nakashima Woodworking Complex and Estate
Wander the estate of internationally renowned craftsman George Nakashima. A pioneer of the 20th century American crafts movement, Nakashima focused on finding and bringing out the preexisting beauty in natural materials. The breathtaking twelve-acre estate and unique pieces by Nakashima reflect this theme in beautiful ways.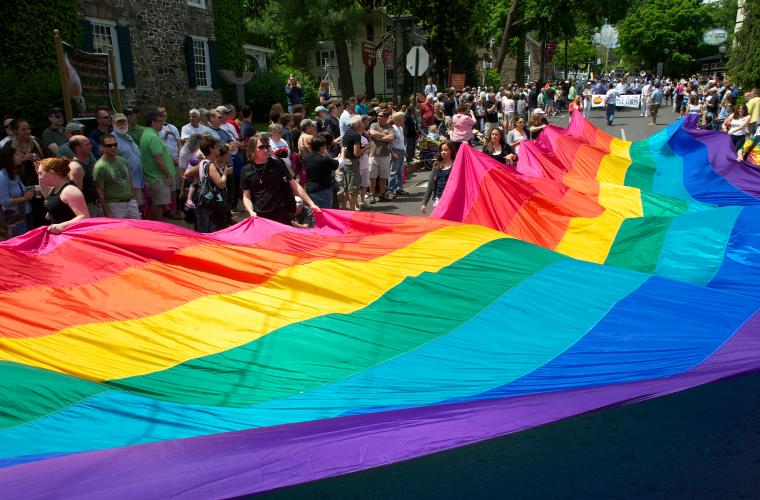 New Hope Pride Week Parade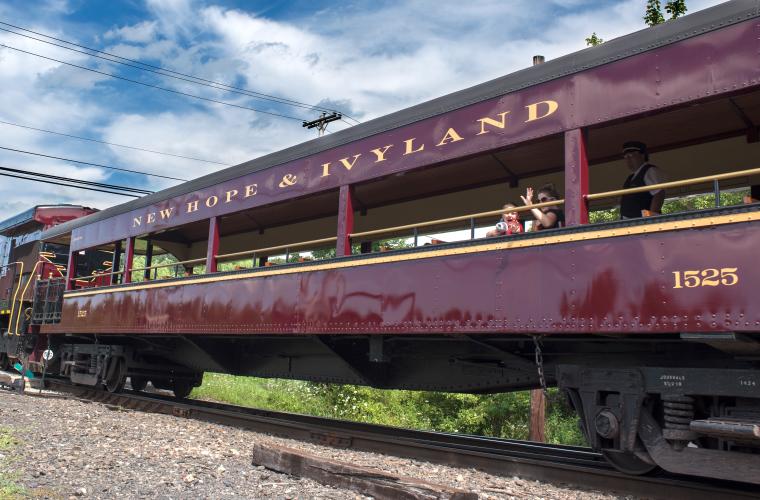 New Hope Ivyland Railroad train passengers
Travel Tips
Where To Stay:
Established in 1727, the Logan Inn offers historic accommodations with modern amenities.
Located in an 1865 Victorian manor home, the Mansion Inn provides luxurious suites and fine dining. 
Where To Eat:
An authentic creole kitchen in a 125-year-old church, the Marsha Brown Restaurant offers a one-of-a-kind dining experience.
For more suggestions, visit our New Hope restaurant page.
What Else To Do:
Explore a variety of local shops and boutiques and enjoy the river view.
Attend one of the frequent annual festivals in downtown New Hope. The week-long New Hope Celebrates Pride festival attracts 13,000 visitors every May.
Bring the kids to the Bucks County Children's Museum for interactive and educational exhibits that will be fun for the whole family. 
Enjoy a train ride through scenic Bucks County with the New Hope & Ivyland Railroad. With something to please everybody, the railroad offers tours with food and wine as well as themed tours for the whole family.