TOP WAYS TO EXPERIENCE OUTDOOR ADVENTURE
Get out and get active in Bucks County!  The expansive countryside of Bucks County is home to many parks, trails and nature centers perfect for a day of biking, hiking or running.  Click through the Google Maps below to rotate for a panoramic view of the parks. Trek through all of Bucks County's parks - and more - here. 
Bike through the trees and dense forest of Tyler State Park
Follow the winding contour of Neshaminy Creek through 1,711 acres of farm and woodland here in Newtown. Pack a picnic lunch to enjoy in one of the many pavilions along the trail.
Run along the Delaware Canal on Bucks County's longest trail, the 60-mile Delaware Canal State Park. Spot spectacular fall foliage along a piece of Pennsylvania history from the mid-19th century. The canal contains many miles of river shoreline and 11 islands. Book a bike tour with Encore Ride and check out the most recent map of trails of the Delaware Canal Loop on Bike Bucks County.
Bike along the blacktop trail around Lake Galena at Peace Valley Park
Spy one of 250 bird species in 14 miles of trails, woods and meadows that are bursting with wildlife and wildflowers here in Doylestown. Stop by for some boating and fishing fun. Head across the street to Peace Valley Lavender Farm to pick lavender and lavender-based products while they're in bloom June - August.
A scientific mystery, this vast boulder field in Upper Black Eddy is filled with rocks that ring like a bell when struck with a hammer. Discover a small waterfall in the park's 128-acres.
Hike the scenic 5,000-acre Nockamixon State Park in Quakertown. Pass through wooden forests, explore the remnants of a long-forgotten summer camp or see migrating waterfowl, boaters and fishers on the lake. Or, if you prefer to get your feet wet, start your own kayaking adventure in the water.
Run along safe and well-mapped paths at this Langhorne park. Take a side trip along Lake Luxembourg. You can also enjoy ball fields, tennis and horseback riding!
Hop off your bike for a jog here in Bensalem where the creek joins the Delaware River. The park offers picnic areas, grills, a playground, boat launch ramps and pool. Craving more than water? Quench your thirst after at Neshaminy Creek Brewing Company.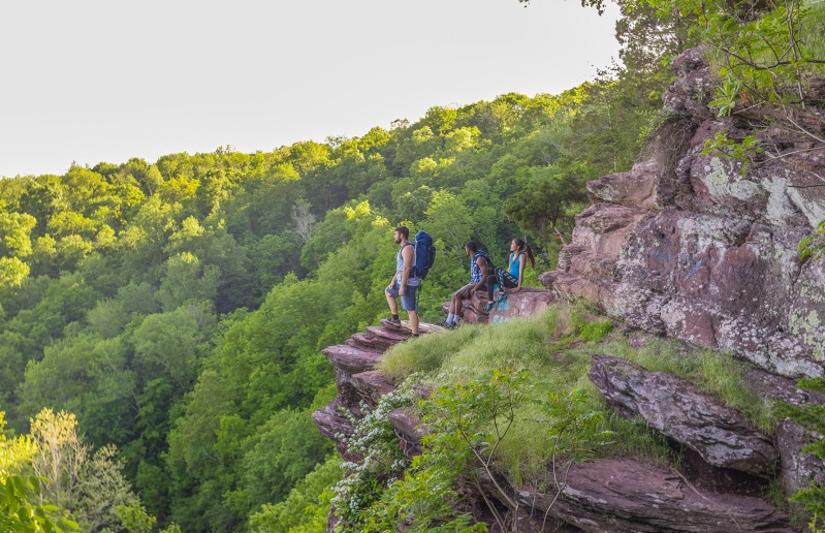 The winding trail connecting these two parks offers some of the best views in all of Bucks County! Take in the breathtaking perspective hiking alongside the cliffs on High Rocks Vista, a 200-foot sheer rock formation that also offers the opportunity to rock climb if starting down at the base. 
Start Planning Your Adventure: