Central Bucks Barn Tour 
Take a cruise on picturesque back roads through central Bucks County to see more than 15 historic barns. The Heritage Conservancy's Barn Voyage! Central Bucks Self-guided Driving Tour will help you find hidden gems nestled in the rustic countryside.
Use these driving directions and read up on Why a Barn Tour is important and a lesson in Barns 101. 
Note: Please be aware that most of the barns included on this tour are private residences; we encourage you to admire the beautiful structures from afar.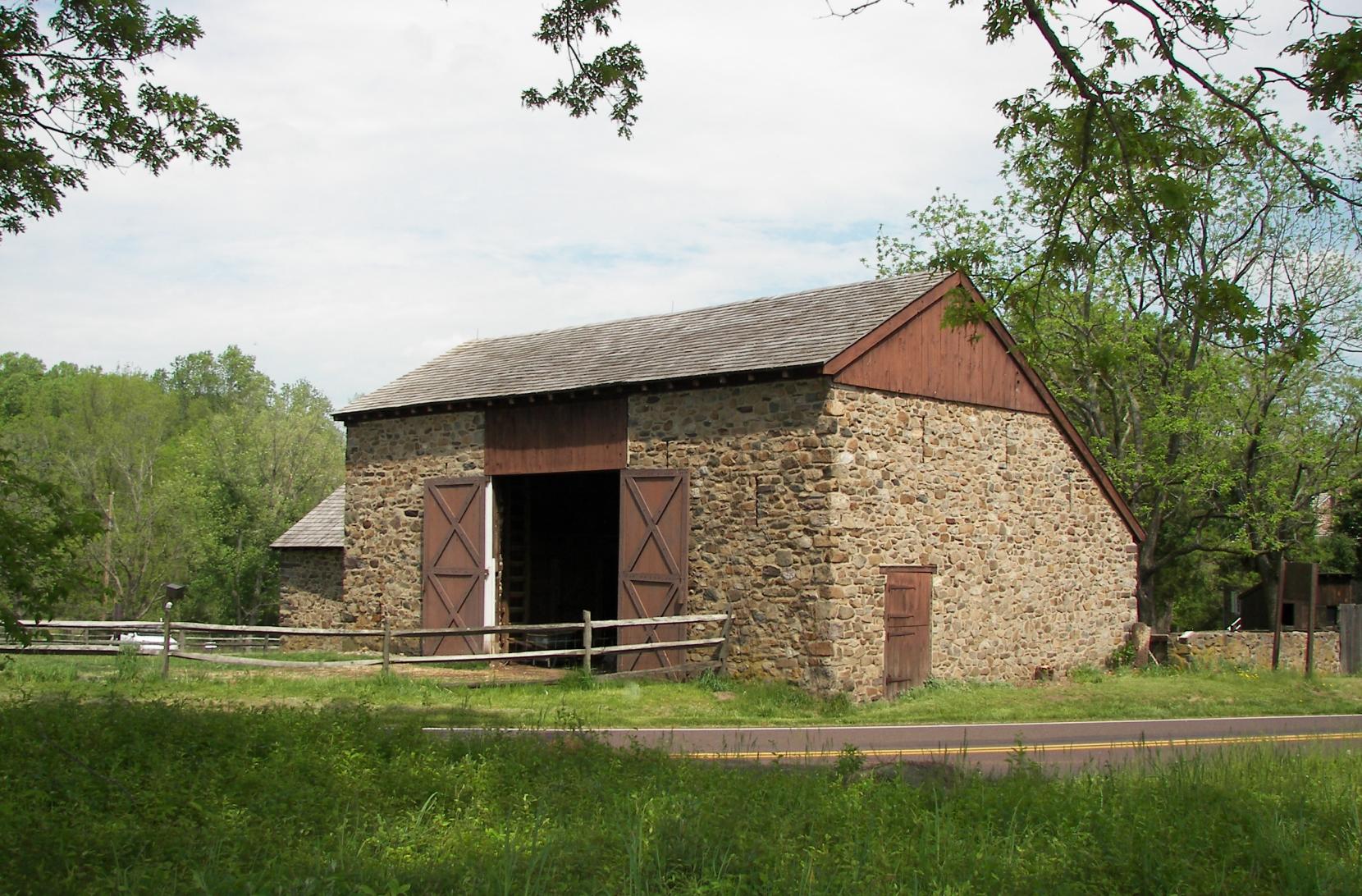 Thompson-Neely Barn
1632 River Road
Washington Crossing, PA 18977
Built in the early 1700s, this barn presents a unique look into colonial architecture. Unlike most barns at the time, it was built two stories tall on the rear side but only one story tall on the barnyard side. The Thompson-Neely House next to the barn was previously used as a hospital for sick and wounded soldiers during the Revolutionary War.
250 Lurgan Road
New Hope, PA 18938
Though its original date of construction is unknown, family accounts say that this barn's roof was converted to a gambrel roof in 1917, two additional wings were added in the 1950s and a concrete silo was built on in 1955.
390 Pineville Road
Newtown, PA 18940
Built in the early 19th-century style, this traditional bank barn is made of stone with several frame additions which give it a saltbox appearance. A smaller hay barn is attached to one end.
359 Pineville Road
Newtown, PA 18940
This stone bank barn was built in two sections; the first was completed in 1807 and is a three-level structure with red sandstone quoins on all four corners. The larger section was added in 1835 and gives the barn an uneven appearance in the gable roof.
1085 Durham Road
Newtown, PA 18940
This simple structure is a frame ground barn with small shed additions. Following a fire in 1914 which destroyed the original barn as well as much of the additional buildings on the property, owner George L. Eastburn contracted out the construction of the barn that still stands today.
5801 Ridge Road
New Hope, PA 18938
Ridge Road in New Hope boasts one of the largest collections of preserved farms in all of Bucks County, many of which are still in use today. This particular barn is the most dramatic, with its yellow and green walls and accompanying red roof. Known as the Standard Pennsylvania barn style, this kind of architecture came to be in the mid-19th century.
1418 Street Road
New Hope, PA 18938
Both sides of this road are home to historic barns. The Fredericks Barn on the left side is a typical 19th century bank barn that is still actively used today for agricultural purposes. The barn on the opposite side is a residential conversion of an English Barn.  
1301 Street Road
New Hope, PA 18938
A hay bale's throw from the barn at 1418 Street Road, you will find the barn at 1301 Street Road. This barn shows just how much these structures can evolve and grow over time. The core of this complex barn is a standard stone barn with frame gables. There are also sheds on the bank side. A more modern stable area has been added to the side away from the road.
5441 Ash Road
Doylestown, PA 18902
The structure of this large stone barn mirrors the style found most commonly in the English Lake District, branching away from the traditional Pennsylvania German style common in the region at the time. Though the exact date of construction is unknown, it is estimated that this barn was built in the early 19th century.
2855 Ash Mill Road
Doylestown, PA 18902
Constructed in a style generally used in the last quarter of the 18th century, this barn is unique as it has been converted into a private residence.
3171 Ash Mill Road
Doylestown, PA 18902
Though this barn appears to have been built in the early-19th century, it features many additions which came later. The original barn is a three bay bank barn however, due to the additions, it no longer has a bank, instead featuring a large perpendicular wing projecting from the barn's corner.
3447-3451 Street Road
Doylestown, PA 18902
A large stone barn constructed in 1796 is the largest building on this property with several stone and frame additions. Between this barn and the old house on the property sits a one-story stone building that was most likely a smith shop. A springhouse can also be seen on the far north side of the property and documentation suggests that this particular structure was once part of an even earlier farmstead. 
6066 Sawmill Road
Doylestown, PA 18902
While cruising past, you may notice that this 19th century barn is currently separated from the farmhouse by a road. This is common among many Bucks County farms because, as many people believe, early roads were extensions of farm lanes. 
3465 Aquetong Road
Doylestown, PA 18902
This English-style barn rests all on one level, separating it from the more traditional Pennsylvania German two-level bank barn that is typical in the area. This historic structure most likely dates back to the end of the 18th century or beginning of the 19th century.
6370 Greenhill Road
New Hope, PA 18938
This property houses a collection of three unique barns built in the early 19th-century style. In accordance with a stone carving, the main barn dates back to 1811 when it was built by the Balderston family. The second barn has an unusual long and narrow shape and is the first of its kind in all of Bucks County. Historic documents indicate that this building was a "cow house" rather than a typical barn. The third barn is also unique in that it was originally built elsewhere and moved onto the property to rest on the foundation of another barn.
3361 North Sugan Road
New Hope, PA 18938
A classic example of a single-story English barn, this structure has three bays with a set of doors accessing a horse stable and dates back to 1786.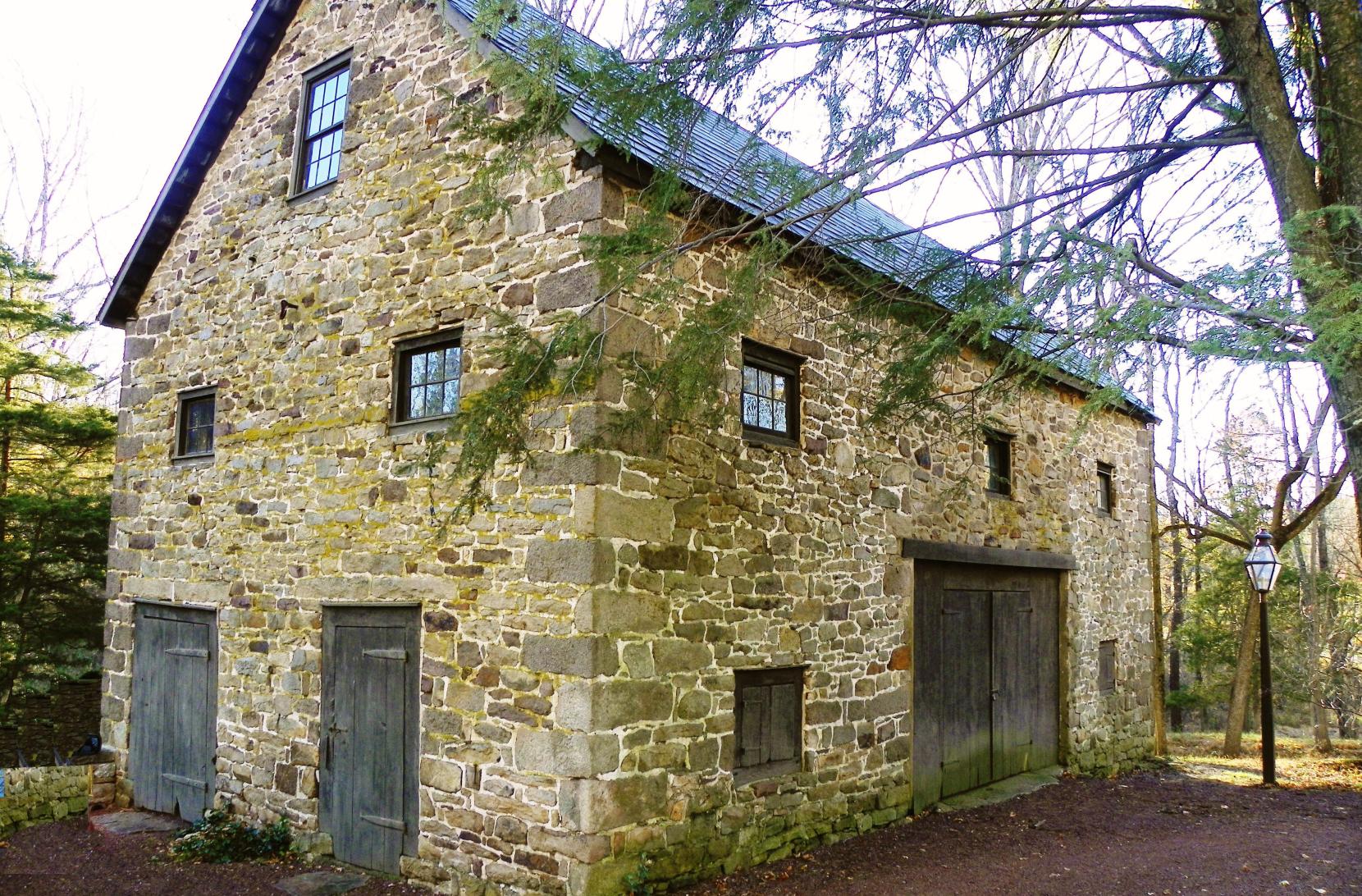 Originally designed by renowned architect R. Brognard Okie, known for his restoration of the Betsy Ross House and Pennsbury Manor, this barn was built in 1934. It was acquired by the Bucks County Audubon Society in 1994 who began the restoration process to preserve the barn's original characteristics including four out sheds, oversized doors and the interior space. Feel free to go inside this barn to take a look around the interior space as it is open to the public during regular business hours.
2725 Aquetong Road
New Hope, PA 18938
Drive past this barn for a great example of mid 18th century architecture. Previously an encampment site for General Charles Lee's army during the Revolutionary War, the original barn dates back to 1748 making it one of the oldest barns in the county. 
New Hope Winery
6123 Lower York Road
New Hope, PA 18938
Built in the mid-19th century, this barn is unique due to its bank on the southerly side of the barn, rather than the back. It has been converted into a winery and is currently open for tastings and tours during the winery's operational hours.