Visit Bucks County Celebrates National Travel & Tourism Week, Recognizes Hospitality Staff and Distributes More than $200,000 to Local Non-profits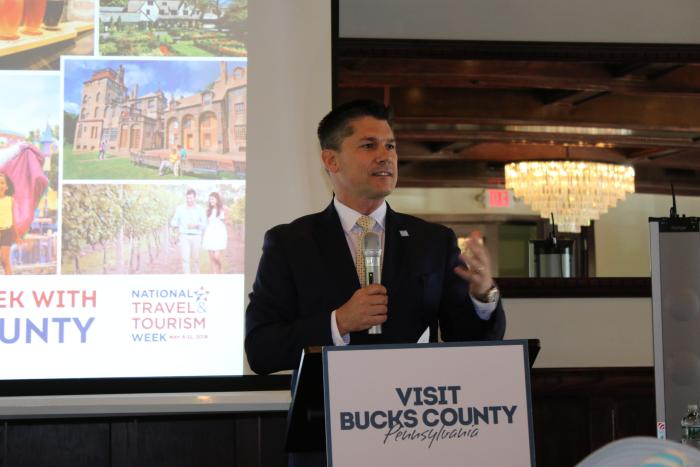 (County Commissioner Robert G. Loughery speaks at VBC's National Travel & Tourism Week breakfast)
BUCKS COUNTY, PA (May 8, 2018) – As part of Visit Bucks County (VBC's) weeklong celebration of National Travel & Tourism Week, the tourism office hosted a breakfast with Bucks County Commissioner Robert G. Loughery and tourism industry partners at Hotel du Village on Tuesday morning.
VBC President Jerry Lepping opened the program by sharing key tourism statistics. As reported by the U.S. Travel Association, travel generated $2.4 trillion for the U.S. economy and supported 15.6 million jobs in 2017. According to the ESI, visitor spending in Bucks County generates nearly $1 billion in economic impact, $256 million in hospitality workforce earnings and supports more than 12,000 jobs locally.
"Both visitors and locals alike benefit from the development of the County's thriving tourism industry," says Jerry Lepping. "Direct visitor spending in Bucks County generated $599 million in 2016 alone, while leisure and hospitality employment has grown by more than 4,000 jobs over the past 10 years."
Commissioner Loughery shared initiatives impacting local tourism that are spearheaded by the County of Bucks, including hospitality workforce development, infrastructure maintenance of visitor traveled-roads and bridges and the preservation of open space and farms.
"Fostering the growth of Bucks County's tourism and hospitality industry relies on the continued conservation and maintenance of the area's beautiful countryside and infrastructure," says Robert Loughery.
The tourism office also recognized four individuals and an organization for the National Travel & Tourism Week Awards. Winners were nominated by their peers in the local travel industry to win the Hospitality Leadership Award, Guest Excellence Award, Rising Star Award, Community Service Award and Dedicated Tourism Partner Award.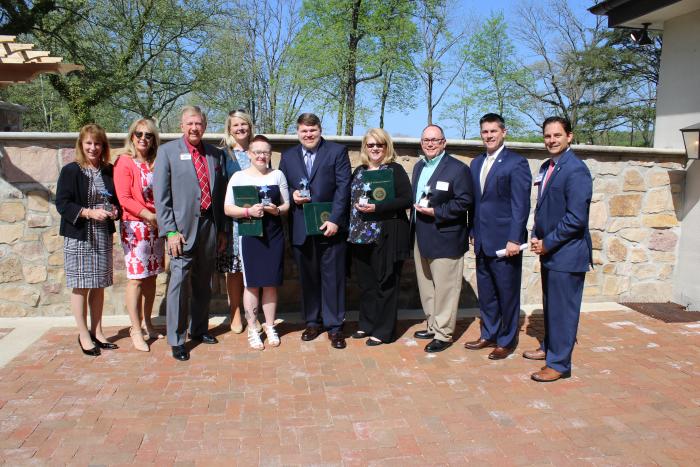 (Tourism Week award winners)
The 2018 'Visit Bucks County Travel & Tourism Week' award winners:
Community Service Award: Parx Casino
Guest Excellence Award: Greg Hartley, Bristol Riverside Theatre
Hospitality Leadership Award: Marie Toner, Pearl S. Buck House
Rising Star Award: Kevin Kelly, Sheraton Bucks County
Dedicated Tourism Partner Award: Ann Lipcsey, Peddler's Village
Visit Bucks County closed the breakfast by distributing more than $200,000 in tourism grants. The tourism grant program was instituted ten years ago to assist in the development and enhancement of not-for-profit tourism product and marketing in Bucks County. The grant is supported from a portion earned from the Bucks County lodging tax. In total, Visit Bucks County has distributed nearly $3.9 million in tourism grant funds since 2008.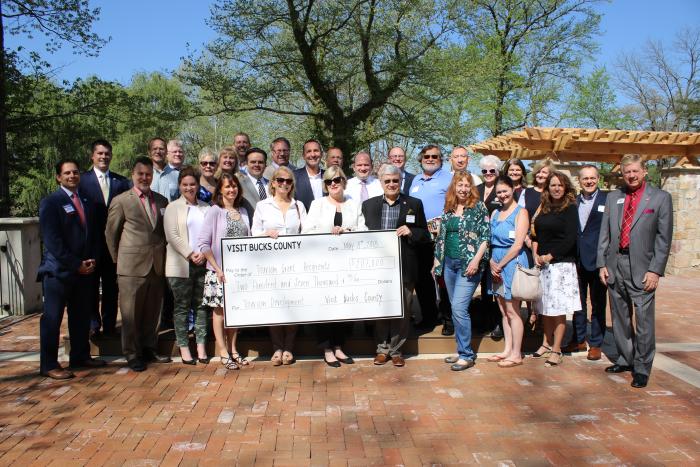 (2018 spring grant recipients)
The spring grant 2018 recipients are as follows:
Artists of Yardley
Arts & Cultural Council of Bucks County
Bike Bucks County & B & B Association
Bristol Cultural & Historic Foundation
Bristol Riverside Theatre
Bucks Beautiful
Bucks County Children's Museum
Bucks County Choral Society
Bucks County Playhouse
Bucks County Tour of Honor
Cantus Novus
CB Cares Educational Foundation
Concordia Chamber Players
D & L National Heritage Corridor
Delaware River Towns Chamber of Commerce
Discover Doylestown
Experience Yardley
Friends of Washington Crossing - Marketing            
Friends of Washington Crossing - Mill Restoration
Greater New Hope Chamber of Commerce                 
Haycock Historical Society
Heritage Conservancy
Historic Fallsington
Historical Society of Hilltown Township
James A. Michener Art Museum
Lenape Chamber Ensemble
Mercer Museum
Middletown Grange Fair
New Hope Celebrates
Newtown Historic Associaton
Pearl S. Buck International
Pennsbury Society - Pennsbury Manor
Quakertown Alive!
Quakertown Historical Society
Snipes Farm & Education Center
TMA Bucks Foundation
Upper Bucks Chamber of Commerce
Download all high-res imagery here: https://www.dropbox.com/sh/bdzka3nssg0j4fq/AABv8AWCtmfQlCi2N6TDc6oNa?dl=0
Contact: Daniel Lopez, Communications Coordinator
                Visit Bucks County
                215-639-0300 ext. 224
                Danl@visitbuckscounty.com
About Visit Bucks County
Visit Bucks County (VBC) is the official tourism promotion agency for Bucks County. The tourism office, with more than 450 tourism/hospitality partners throughout Bucks County, promotes all there is to see and do to potential visitors and residents. In addition to consumer travel, Visit Bucks County targets sports tournaments, motor coach groups, meetings, special events and weddings. For more information on VBC activities call 215-639-0300, visit VisitBucksCounty.com or stop by the Bucks County Visitor Center located at 3207 Street Road in Bensalem (adjacent to the entrance to PARX Casino).