BUCKS COUNTY, PA (October 17, 2018) – Visit Bucks County (VBC), the official tourism promotion agency for Bucks County, Pennsylvania held its Annual Meeting & Luncheon on Wednesday, October 17 at Parx East in Bensalem, PA. VBC shared newly developed content, including Ice Cream, Ale and Underground Railroad Trails, footage from an in-market event in New York City, the 2018 edition of the Well Seasoned food and beverage magazine and results from the first-ever, county-wide Restaurant Week.
The tourism office also unveiled a new YouTube series, "Check In," profiling the area's hidden lodging gems and a brand-new marketing campaign focused on celebrating the "Holidays in Bucks County." There was a sneak peek into 2019 and the new product developments happening in Bucks County. Visit Bucks County closed the event by distributing "Visit Bucks County Awards" to local leaders who have influenced and supported tourism and hospitality in the region.
"The team continues to develop marketing content that gives potential visitors a taste of the history, food and overnight accommodation gems that define Bucks County's character," said Bill Haas, Board Chairperson of Visit Bucks County. "We engage online website and social visitors to step inside the Bucks County experience with photography and video and see what we as locals love about our home."
ECONOMIC IMPACT NUMBERS
According to ESI, visitor spending resulted in $995 million in economic impact to the local Bucks County economy. In 2017, leisure & hospitality employment was 27,904, 11.6% of the total Bucks County workforce. 8.0 million total visitors (up 2.7% from 2016) explored Bucks County's countryside, enjoying area attractions, experiencing outdoor adventure and shopping, dining and indulging in the local flavor.
Calendar year-to-date (January – August 2018) hotel occupancy is up 4.1% versus 2017. And room night demand is up 6.7% YTD.
MAPPING LOCAL TRAILS  
This year, VBC developed new ways for tourists to explore Bucks County through the creation of three self-guided tours: Bucks County Ale Trail, Bucks County Ice Cream Trail and Path to Freedom in Bucks County.
As they travel along the Ale and Ice Cream Trails, visitors are encouraged to taste delicious craft brews and indulge in homemade ice cream flavors. These mapped routes take visitors on a tour of the area's best breweries and creameries, spanning Upper, Central and Lower Bucks County.
Bucks County is home to many important stops on the Underground Railroad from taverns and churches to privately owned farms, many of which can still be visited today. VBC organized these locations into the Path to Freedom in Bucks County, allowing visitors to trace the journey that many took as they escaped to freedom.
To reach consumers within the target markets of Washington D.C. and New York City, VBC organized consumer activations that promoted Bucks County as a premiere getaway destination bringing thousands of ice cream samples from the Bucks County Ice Cream Trail to potential visitors.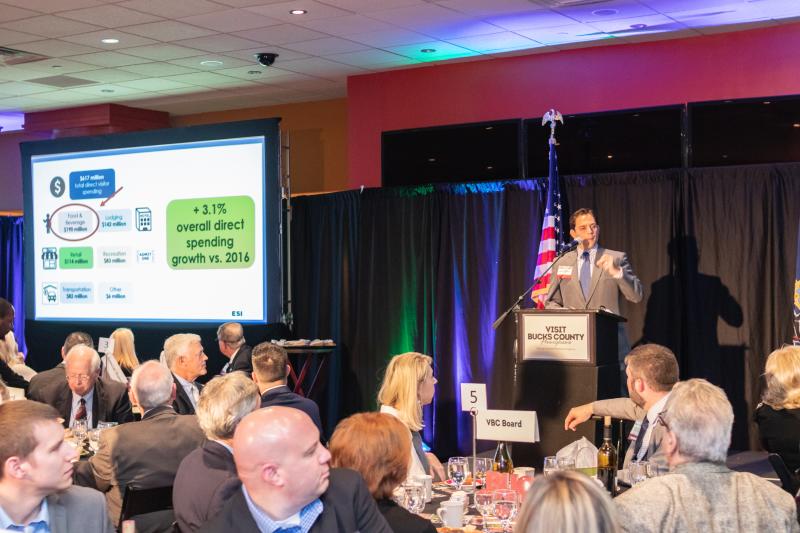 ADDING LOCAL PHOTOGRAPHY & EDITORIAL TO WELL SEASONED
VBC's food and beverage magazine, Well Seasoned, has become an integral part of the destination marketing organizations print marketing strategy. The bi-annual publication offers readers the inside scoop on local favorite eateries, as well as interesting articles, interviews, recipes, itineraries and more. The latest Fall/Winter issue incorporated more interview and feature content in a magazine-style layout.
Well Seasoned is distributed at tourism hot spots throughout the County, including hotels, B&B's, attractions, restaurants and throughout downtown areas. The magazine is also available digitally at VisitBucksCounty.com/WellSeasoned.
BUCKS COUNTY RESTAURANT WEEK RESULTS
As the popularity of foodie tourism continues to rise, VBC created the first-ever, countywide Restaurant Week in order to capitalize on the growing trend. Nearly 70 restaurants spanning more than 20 different towns throughout the County participated, allowing locals and visitors to explore a wide variety of the area's best culinary experiences at special discounted rates.
"Given the continued trend of food travel, we wanted to provide locals and visitors an opportunity to explore the area's diverse dining scene," said Paul Bencivengo, Vice President of Visit Bucks County. "Offering delicious cuisine at a special Restaurant Week price point helped many restaurants raise their level of awareness to new patrons."      
Bucks County Restaurant Week reached more than 260,000 people on Facebook and is the top viewed page on VisitBucksCounty.com year-to-date with more than 46,000 views.
'CHECK IN' SERIES
To highlight Bucks County's countryside lodging properties, VBC unveiled a brand-new YouTube video series, 'Check In.' In each video, Bucks County innkeepers give visitors a tour and inside peek into the character, details and décor that make each property unique. 
HOLIDAYS IN BUCKS COUNTY
VBC is celebrating the Holidays in Bucks County this year with a brand-new marketing campaign featuring large visuals of local holiday attractions on billboards, New Jersey transit, Uber & Lyft vehicles and in digital ads.
Visitors are encouraged to make the Visitor Center in Bensalem their first stop when celebrating the Holidays in Bucks County.  There, they can see Holiday Trees at the Visitor Center, a beautifully decorated display of trees designed by former White House decorator, Coleen Christian Burke and pick up an exclusive Holidays Coupon book with discounts and special offers for the area's must-see holiday attractions and events.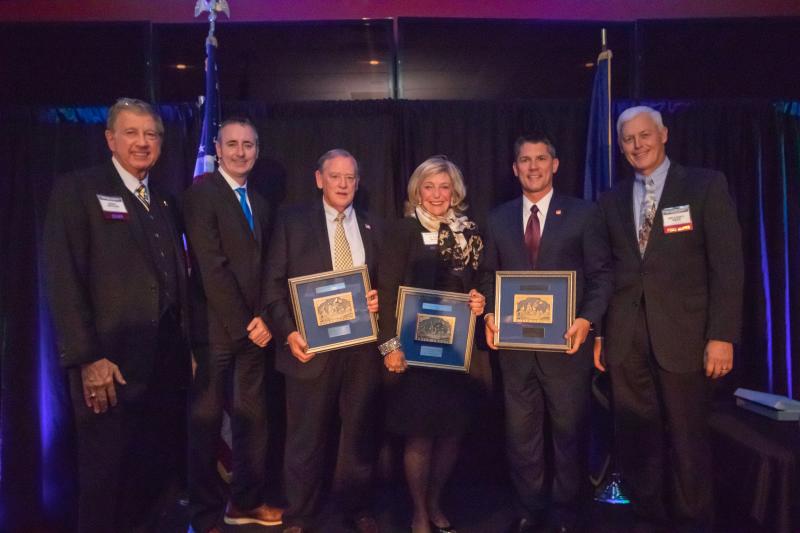 2018 VISIT BUCKS COUNTY AWARD RECIPIENTS
Each year, Visit Bucks County recognizes individuals in hospitality who have significantly impacted Bucks County. The 2018 recipients are:
Dr. Vail P. Garvin, President & CEO, Central Bucks Chamber of Commerce
Robert G. Loughery, Chairman, County Commissioners
Frank Lyons, Proprietor, Continental Tavern; VP, Friends of Washington Crossing Board
ANNUAL MEETING PRESENTATION, PHOTOS & VIDEO:
About Visit Bucks County
Visit Bucks County (VBC) is the official tourism promotion agency for Bucks County. The tourism office promotes all there is to see and do to potential visitors and residents. In addition to consumer travel, Visit Bucks County targets sports tournaments, motorcoach groups, meetings, special events and weddings. For more information on VBC activities call 1-800-836-BUCKS, visit VisitBucksCounty.com or stop by the Bucks County Visitor Center located at 3207 Street Road in Bensalem (adjacent to the entrance to PARX Casino). The Visitor Center is open seven days a week from 9 a.m. until 5 p.m. It is easily accessible from the Pennsylvania Turnpike, Route 1 and Interstate 95.