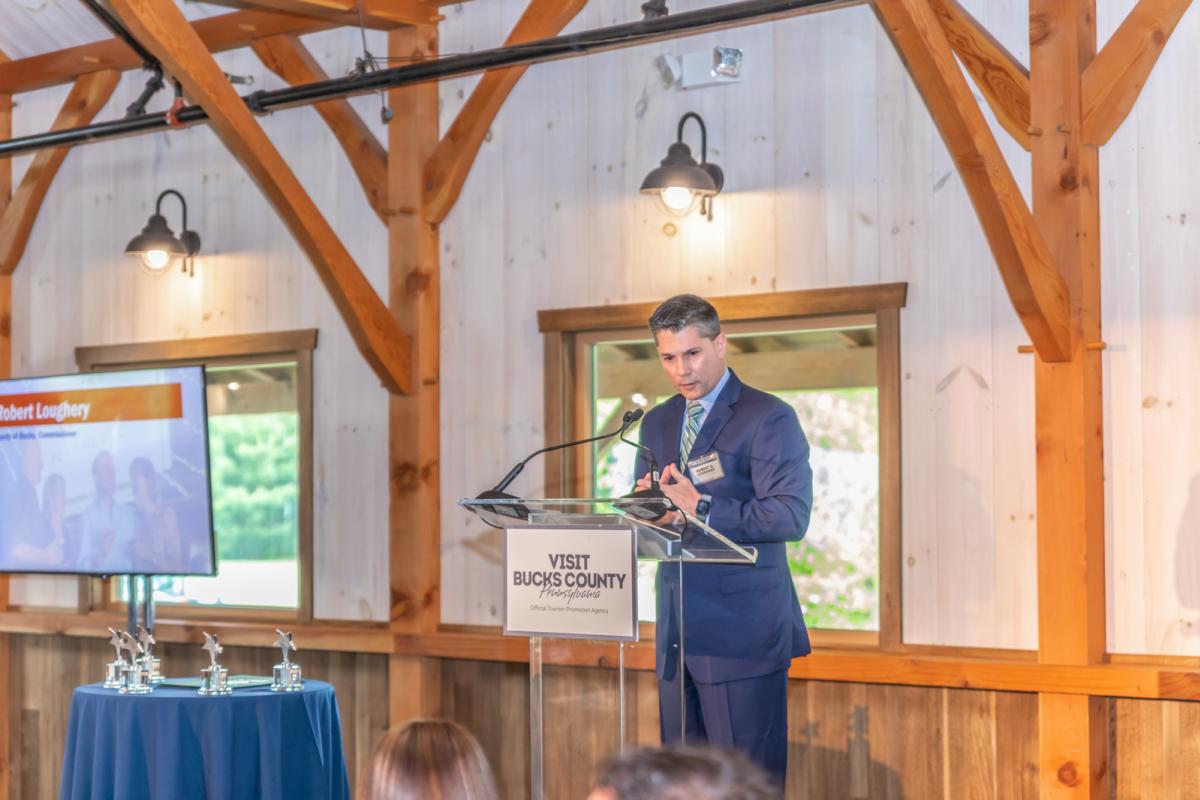 (County Commissioner Robert G. Loughery)
BUCKS COUNTY, PA (May 7, 2019) – As part of Visit Bucks County (VBC's) week-long celebration of National Travel & Tourism Week, the tourism office hosted a breakfast with the Bucks County Commissioners and many tourism industry partners at Rose Bank Winery on Tuesday.
VBC President & COO Jerry Lepping opened the program by sharing key tourism statistics. As reported by the U.S. Travel Association, travel generated $2.5 trillion for the U.S. economy and supported 15.7 million jobs in 2018 with one out of every 10 national jobs being dependent on tourism.
"Nearly $1 billion in economic impact is generated from 8 million annual visitors to Bucks County" said Lepping. "Local retail like the antique shops that line Bristol Borough's Mill Street and major attractions such as Sesame Place strengthen every facet of our community."
Commissioner Robert G. Loughery shared a new Tourism and Hospitality Product Development Assessment initiative that is being conducted in partnership with the Bucks County Industrial Development Authority, the Bucks County Workforce Development Board and Visit Bucks County. The assessment will provide future recommendations for development that will enhance Bucks County's tourism product and generate greater economic impact and job growth.
"Tourism is an important part of our local economy," said Loughery, "The County is proud of the 28,000 hospitality employees welcoming visitors and locals alike. Great service is a critical component to ensure repeat business to our area restaurants, lodging properties and attractions."
The tourism office also recognized individuals and organizations for the National Travel & Tourism Week Awards. Honorees were nominated by their peers in the local hospitality industry.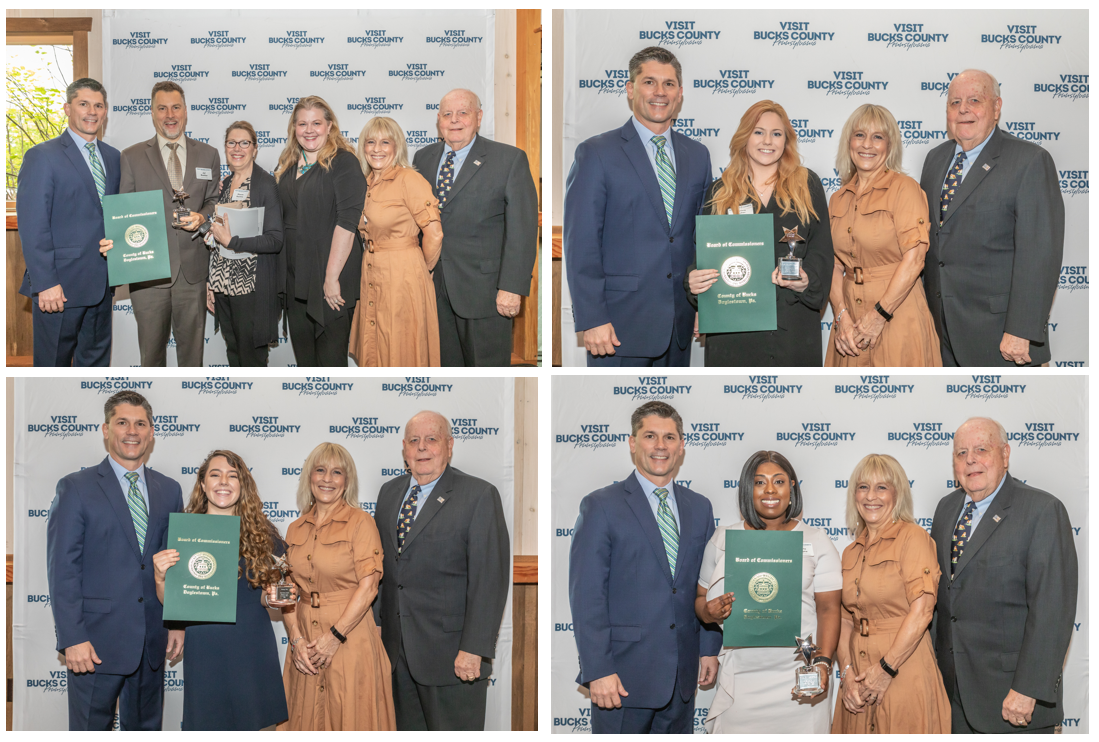 (Top Left: Experience Yardley; Top Right: Jessica Siedler of Homewood Suites Doylestown; Bottom Left: Nicole Joie of Bucks County Historical Society; Bottom Right: Shante Annigew of Candlewood Suites Bensalem-Philadelphia​)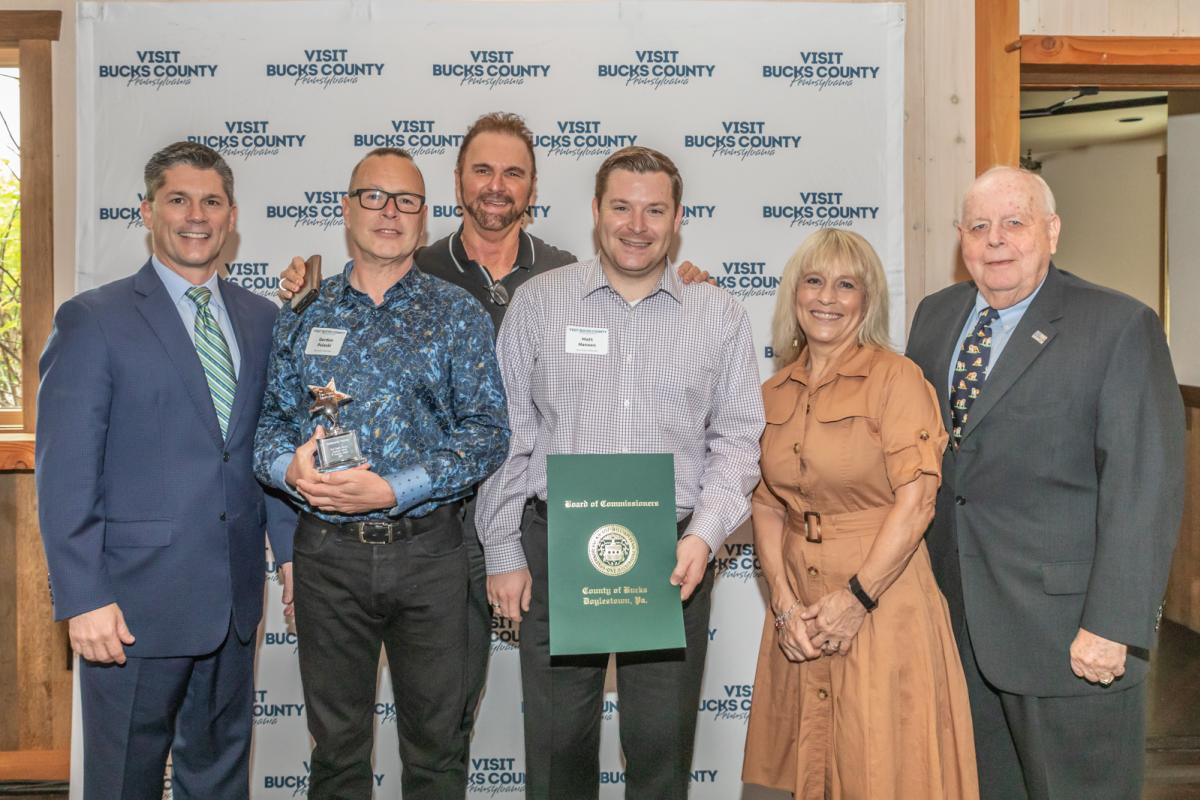 (New Hope Celebrates)
The 2019 Visit Bucks County Travel & Tourism Week Award honorees:
Community Service Award: Experience Yardley
Guest Service Excellence Award: Jessica Siedler, General Manager of Homewood Suites Doylestown
Hospitality Leadership Award: Shante Annigew, Director of Sales, Candlewood Suites Bensalem-Philadelphia
Rising Star Award: Nicole Joie, PR & Marketing Coordinator of Bucks County Historical Society
Dedicated Partner Award: New Hope Celebrates
Visit Bucks County closed the breakfast by distributing $181,000 in tourism grants. The tourism grant program was instituted in 2008 to assist in the development and enhancement of not-for-profit tourism product and marketing in Bucks County. The grant is supported from a portion earned from the Bucks County lodging tax and given out bi-annually. In total, Visit Bucks County has distributed more than $4 million in tourism grant funds since initiated.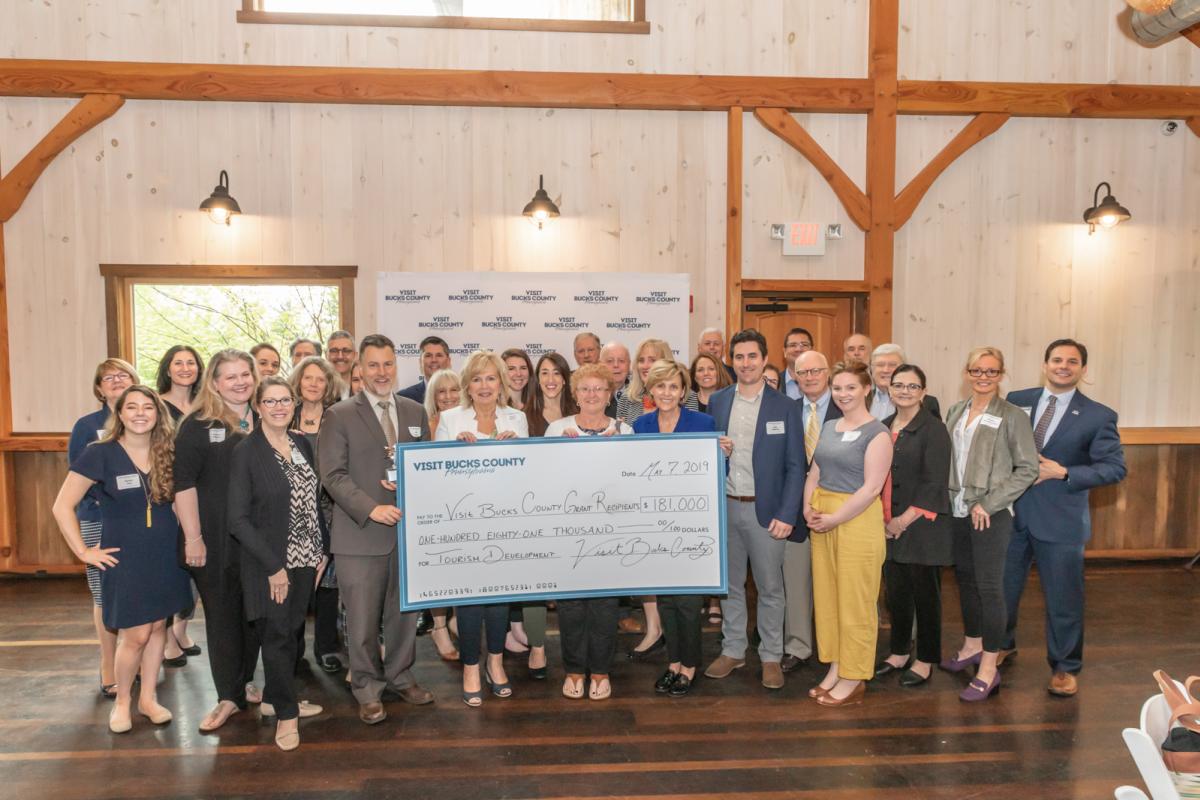 (Spring 2019 Grant Recipients)
The spring 2019 grant recipients are as follows:
ActorsNET of Bucks County
The African American Museum of Bucks County
Artists of Yardley
Arts & Cultural Council of Bucks County
Bucks County Children's Museum
Bucks County Choral Society
Bucks County Tour of Honor
Bucks County Wine Trail
Cantus Novus
Concordia Chamber Players
County Theater
Delaware Canal 21
Doylestown Business & Community Alliance
Experience Yardley
Friends of Washington Crossing Park
Haycock Historical Society
Heritage Conservancy
Historic Fallsington
James A. Michener Art Museum
Johnsville Centrifuge & Science Museum
Mercer Museum
Middletown Grange Fair
New Hope Arts
New Hope Celebrates
Newtown Historic Association
Newtown Theatre
Pearl S. Buck International
Pennsbury Society
Quakertown Alive!
Quakertown Historical Society
Raising the Bar
TMA Bucks Foundation
Trinity Union Reformed Church
Warrington Cares
Download all high-res imagery here: https://www.dropbox.com/sh/t4wdq0yrfb1h837/AADmVCf0FmRy2zHI3kGtc3Fsa?dl=0 
Contact: Emily Cummins, Public Relations Manager
                Visit Bucks County
                215-639-0300 ext. 232
                EmilyC@visitbuckscounty.com
About Visit Bucks County
Visit Bucks County (VBC) is the official tourism promotion agency for Bucks County. The tourism office, with more than 1,450 tourism/hospitality partners throughout Bucks County, promotes all there is to see and do to potential visitors and residents. In addition to consumer travel, Visit Bucks County targets sports tournaments, motor coach groups, meetings, special events and weddings. For more information on VBC activities call 215-639-0300, visit VisitBucksCounty.com or stop by the Bucks County Visitor Center located at 3207 Street Road in Bensalem (adjacent to the entrance to PARX Casino).