Celebrate the season with inventive holiday cocktails! The following drinks can be found at restaurants and bars in Bucks County. They are fun, festive and full of flair. Try them out and tag us with #DrinkinBucksCo for a chance to be featured on Visit Bucks County's social media!

This vodka and whiskey distillery has a slew of holiday spirits to get you, well, in the holiday spirit! Try their Spiked Hot Chocolate, Toasted Hazelnut Old Fashioned or the delectable Peppermint Martini.
For me, nothing says cold-weather season more than a chai tea latte. The Spiced Chai Martini is a twist on this seasonal favorite, with Boardroom Vodka, chai tea, organic agave, almond milk, ground cardamom, nutmeg and cinnamon.
The perfect drink for a fireside gathering? Spiked Eggnog. Enjoy you' nog the way it's meant to be.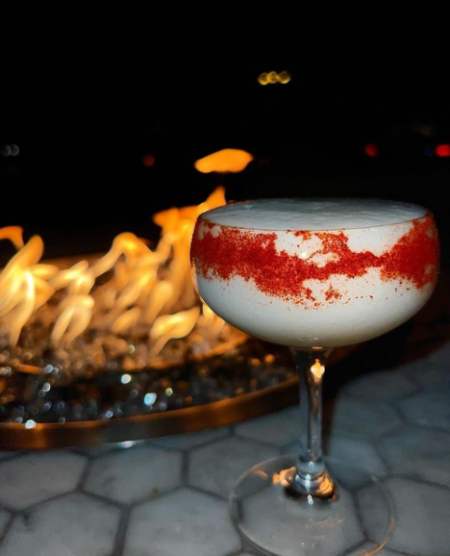 Pomegranates are generally at their best in the winter months. With the Spiked Pomegranate Margarita, you'll get Pama Liquor (pomegranate flavored liquor) paired with Sauza Tequila, cinnamon simple syrup and the house sour mix.
A quintessential holiday classic (thanks, Russia!) is the Moscow Mule. Featuring vodka, spicy ginger beer and fresh lime, and served in a copper mug. Cheers!

This Doylestown hideaway is ringing in the holiday season with several festive cocktails, including the Not My Gumdrop Buttons cocktail, made with gingerbread syrup, spiced rum and cream.
'Tis the season to indulge in a holiday classic. The Candy Cane Martini features a fantastic combination of vanilla vodka, white crème de cacao, peppermint schnapps and half & half.
A new twist on an old classic, the Salted Caramel White Russian creates a sweet and fun flavor sensation that'll keep you in the holiday spirit all season long. This cocktail is made of Dorada Salted Caramel Liqueur, vodka and Half & Half.
For a cocktail on the lighter side, a Coquito is a perfect drink for you. This delicious seasonal favorite contains milk, evaporated milk, coconut milk, rum, and assorted spices and is ideal for a dessert.

This cocktail is meant for the kids at heart. Milk n' Cookies uses a combination of cookie dough vodka, dark chocolate liqueur and hazelnut syrup as the base, then is topped with whipped cream, chocolate syrup, and a whole chocolate chip cookie. Santa certainly shouldn't have too many of these on Christmas Eve!
Speaking of Santa, the Father Christmas cocktail is made with local Dad's Hat Pennsylvania Rye Whiskey, orange cognac, cherry liqueur, cherry bitters and fresh-squeezed lemon and orange. The drink is served over an ice sphere. Cool!
Merry Christmas, Ya Filthy Animal is one of the most iconic quotes from the holiday movie Home Alone. It's also a signature holiday drink at Steam! Vodka, peach liqueur, Red Bull and grenadine is served in a Steam Pub Home Alone pouch.
Get cozy by the fire with Frosty Nights, a cocktail including vodka, white cranberry, vanilla, peppermint and citrus, or the Winter Warmer, rye, rosemary smoked honey and bitters.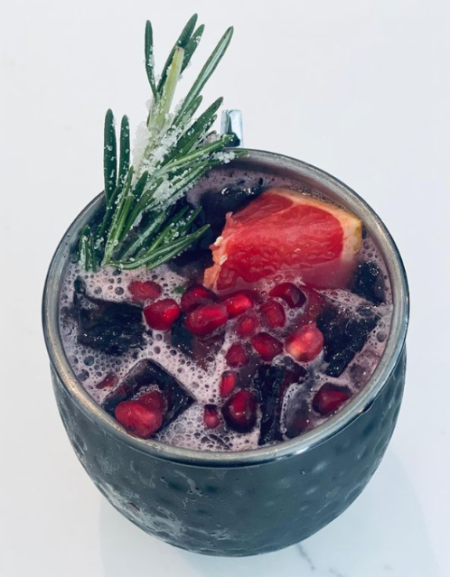 This recently opened modern restaurant and bar featuring Meditteranean delights is pouring glasses of Pomegranate Champagne Mules all December long!
Vanilla Spice, Spice, Baby is a cocktail made with vanilla vodka, Licor 43, and their vanilla spice house mix.
Get a little taste of Philly with the Jolly Jawn, a mix of coconut rum, raspberry vodka, melon liqueur, pineapple juice and just a splash of cranberry juice.