Hello, my name's Lauren and I'm a homebody! I'm not your typical homebody, though. I enjoy going out, but I tend to keep my "going out habits" very local. Fortunately, there are a ton of spots in Bucks County where I can find great food, drink, and entertainment. 
Today, let's talk brunch. It has become a favorite weekend activity amongst Bucks County natives. Whether you're looking to try something new or simply don't want to head in the city, check out some of the best brunches right here in Bucks County.

This BYOB brunch spot is a favorite amongst Doylestown locals. Chef Joey Mcalinden is on a mission to serve food that is pure, simple, and straight-up good. Genevieve's offerings are sourced from local merchants with a focus on organic. They've certainly achieved that (and more) with their delectable brunch menu! Whether you want breakfast, lunch, or a bit of both, there's something for everyone.
From Steak and Egg Tacos to Yogurt Shooters, Genevieve's takes classic brunch items and elevates them. I never thought I'd be taking shots of Greek yogurt swirled with fresh berries and raw honey, but there I was one sunny Saturday doing just that! Check out Genevieve's brunch menu and make plans to get there ASAP.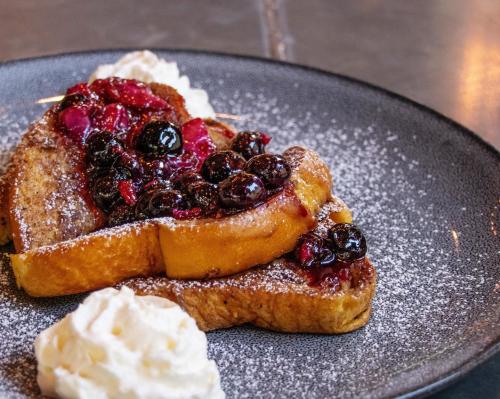 Vault is a brewpub that captures the speak-easy vibe of decades past. Enter through an old-timey vault and enjoy the open atmosphere, eclectic drink menu, and warm service. Vault's brunch menu is bountiful and includes everything from Bennies to Skillets and Indulgences. I enjoyed a Beermosa and an Irish Coffee for this investigative journalism piece and I'm happy to recommend both to you, dear reader.
All of their offerings are made in-house, which means everything is delicious. I enjoyed the Blueberry French Toast and split the Philly Skillet - a kaleidoscope of pork roll, sausage, AND candied bacon - with my husband. The skillet was topped with a hot honey that was so good, I asked the server if they sold bottles of it. 10/10, would recommend.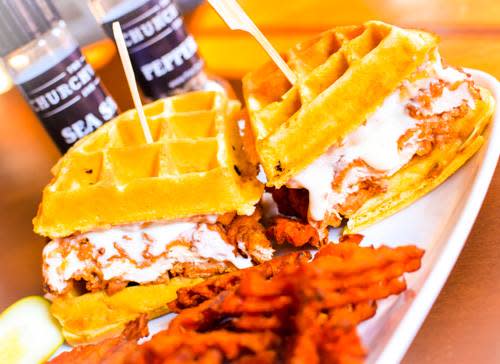 The people have spoken - The Churchville has "the best brunch in Bucks County." The Churchville Inn's brunch menu is stacked with delicious eats, like Chicken and Waffle Benedict and a Churchville Quiche, which comes stuffed with pulled pork and bacon. There are traditional Eggs Benedict and classic Omelets, then there are plates for the more adventurous appetite.
Their drink menu has a taste for every palette, too. You can't go wrong with a Breakfast Margarita. Personally? I come for the food but I stay for the Bloody Mary Bar.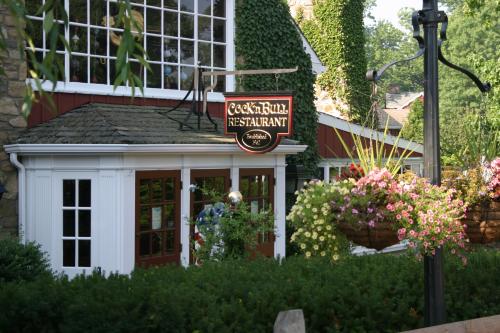 The Cock 'n Bull, located in Peddler's Village, is a restaurant that's been serving up American classics for the last 50 years. It's a great place to enjoy a holiday meal, but their brunch is what keeps people heading back to the Colonial-style restaurant all year long. The Cock 'n Bull serves up brunch buffet style. That means all the Cheese Blintz, Bruschetta Pasta Salad, and Maple Glazed Ham from the carving station that you want. Check the Cock 'n Bull's brunch menu for a complete list of their buffet offerings.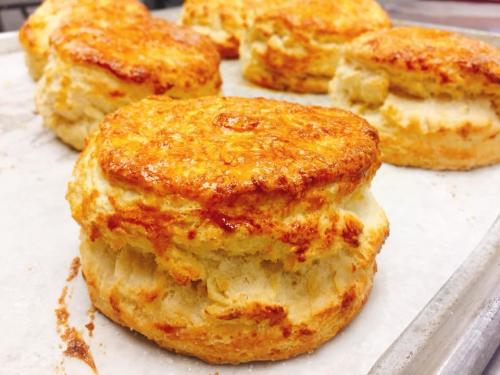 Four-course brunch, anyone? If you're looking to take your weekend brunching experience to the next level, head to the Black Bass for their Sunday Champagne Brunch. Enjoy a spectacular view of the Delaware River as you partake in a four-course meal complete with champagne and classics like Eggs Benedict and Chicken Waldorf Salad.
Come hungry because this pre-fixe menu will leave you stuffed to the "gills!"! Check out the Sunday pre-fixe brunch menu here.
Where do you like to brunch in Bucks? Share your favorite spots in the comments!