Pennsylvania is home to many excellent trail systems for mountain bikers, with natural terrain that offers challenges for all experience levels. More PA areas are improving and building new trail systems to attract the economic growth that comes from riders looking for excellent singletrack rides and who are willing to travel to ride new trails. Fortunately, we have some great opportunities right here in Bucks County for mountain biking.  
Affectionately called "Nox" the 10 miles of groomed trails were built in 2012 by Valley Mountain Bikers with International Mountain Biking Association (IMBA) and DCNR support. The trails are continually improved by a dedicated group of RideNox volunteers. The Hammer Loop starts at the Tower Road parking lot and features beginner-friendly singletrack. The trails generally become more challenging as you link to loops farther from the parking lot, but the entire trail system is enjoyable for riders of all experience levels. The trails are mostly fast and flowy, with standard PA roots and rocks and features to keep it all interesting and fun.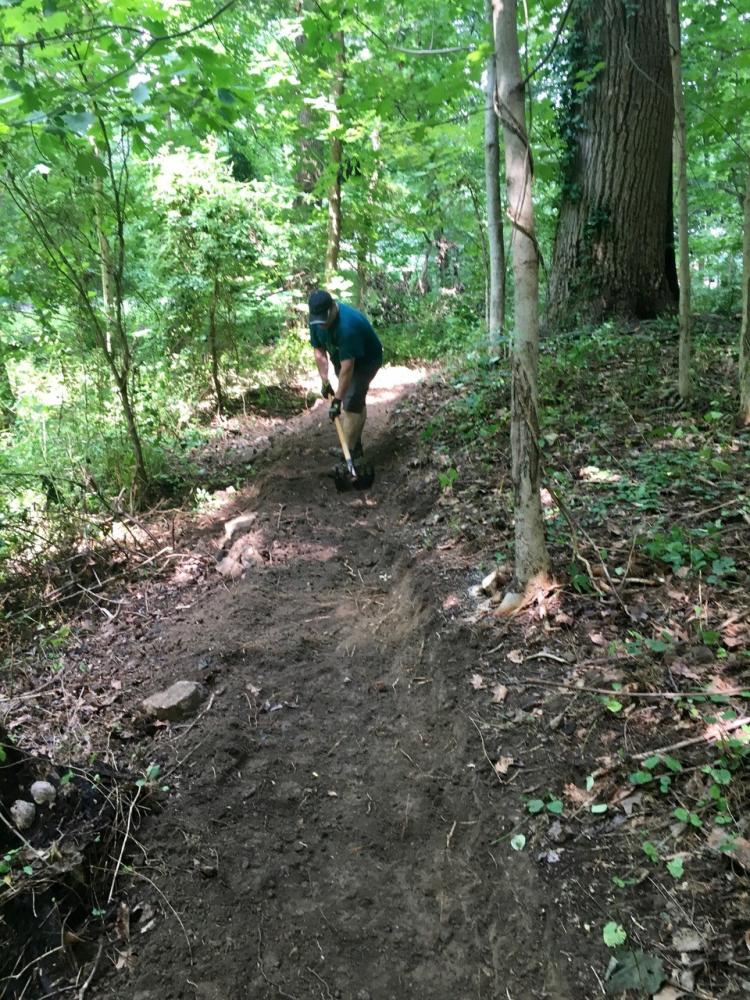 Technical trails run along the ridge of Ralph Stover Park and Tohickon Valley Park and down to the creek, with lots of root sections, rocks, stream crossings and logovers. The elevation changes and technical sections will challenge even intermediate and riders, but the system offers a more natural, ungroomed riding experience in a beautiful area of the County. The trails here drain well and can often be ridden soon after it rains without damage to the trails.

The Core Creek trails next to Lake Luxembourg and are beginner-friendly, with some more challenging root-filled sections, logovers and jump-worthy rollers on a downhill. There are a few creek crossings and bridges in the system, with relatively little elevation change. The trails remain muddy after it rains, so give them some time to dry out.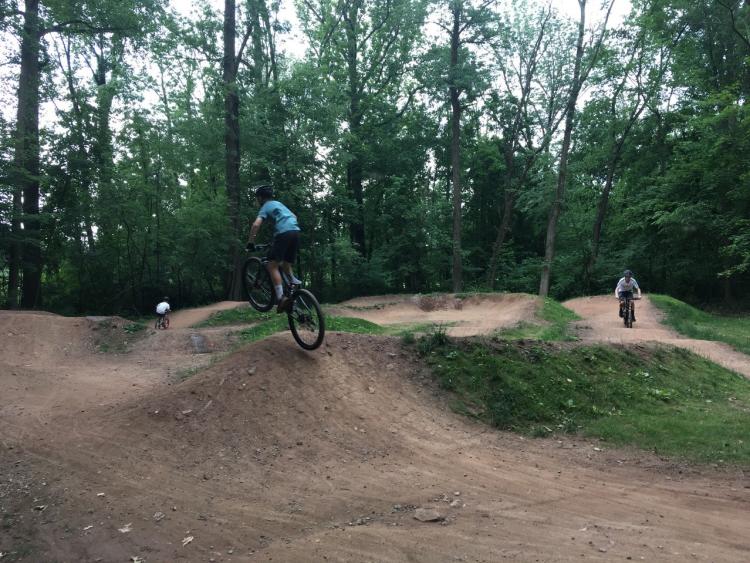 Built in 2018 with funds raised by the community and local businesses, the Doylestown Pump Track is located in Chapman Park in the woods next to Fanny Chapman Pools. Beginner-friendly, the track has tight berms and rollers that allow riders to pump without pedaling. Helmets are required for all riders on the track. Do not ride on the track when it's wet - it usually needs 24-hours to dry after it rains. There is also about a mile of singletrack trails in the woods adjacent to the track that are beginner-friendly, and gravel walking paths throughout the park too.
The trails behind Neshaminy High School, though once a popular spot, are officially closed due to Emerald Ash Borer damage and the danger of trees falling.
Remember, new riders should plan a route that suits their ability, and all riders should stay off trails after it rains to avoid damaging work often done by volunteers. You'll find more tips for new riders here. Happy riding!