A rich diversity of habitats and ecosystems allow Bucks County to have an amazing diversity of bird species.  Thanks to great technology and hundreds of passionate birders, we know that 353 species of birds have been observed in Bucks County. Some can be seen year-round, while others are glimpsed yearly during migration, and others are rare occurrences. Here are just a few of the birds that you might see in the different habitats according to the Bucks County Audubon Society…
Water is abundant in Bucks County from the coastal plains in Lower Bucks to the lakes and wetlands throughout the county to the Delaware River and its wonderful tributaries.  These aquatic habitats support a rich diversity of birds, from Bald Eagles to Mallard Ducks to Green Heron, as well as many species of gulls, terns, and other waterfowl.  One of our favorite visitors to the pond and wetlands of Bucks County Audubon Society at Honey Hollow is the Great Blue Heron.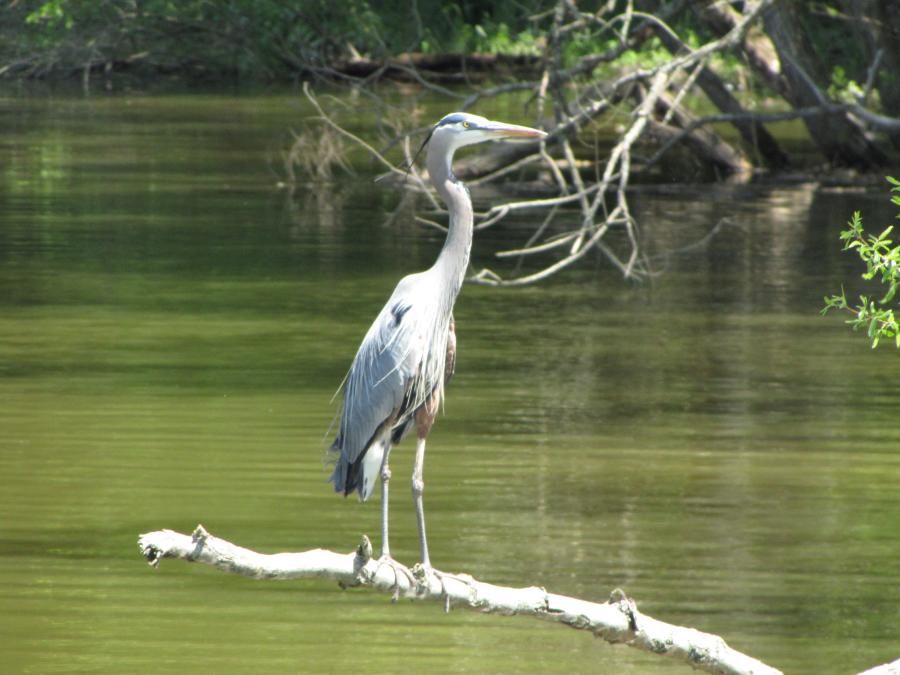 Photo Credit: Cynthia Daymon
Open grasslands, from wildflower meadows to pastures and farmland, also provide important habitats for many beloved species, including Eastern Bluebirds, Tree Swallows and many other insect eating birds, such as Chimney Swifts.  Large patches of grasslands are also ideal nesting spots for ground nesting birds, such as the Eastern Meadowlark and Bobolink.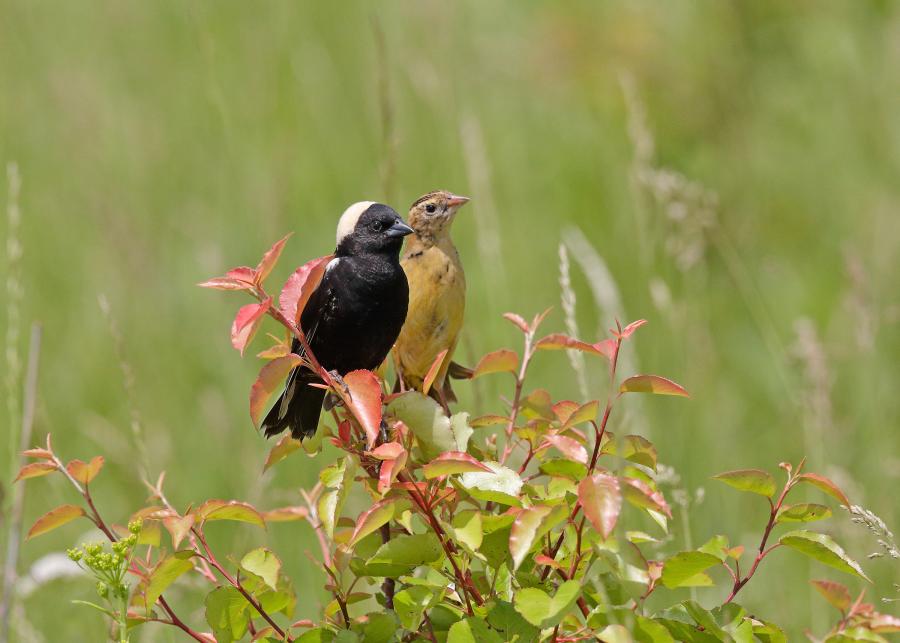 Photo Credit: Ruhikanta Meetei
Forested areas throughout Bucks County are also teeming with native species.  From raptors, such as the Great Horned Owl and Cooper's Hawk, to woodpeckers, including Pileated, Red-Bellied and Northern Flicker, to smaller birds, such as the Wood Thrush, Baltimore Oriole, Brown Thrasher, Northern Cardinal, and Scarlet Tanager.  If you are lucky, you might even see the Pennsylvania State Birds, the Ruffed Grouse, or a Wild Turkey.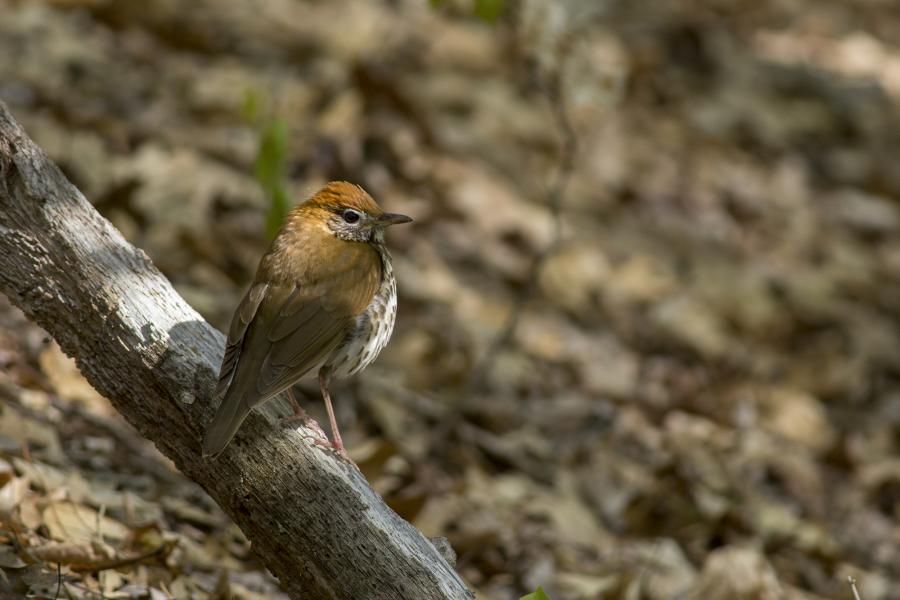 Photo Credit: Nate Rathbun, USFWS
Of course, we can't forget one of the best places to see birds in Bucks County: In your own backyard!  Many birds visit local backyards to eat at feeders or drink and bath at water features.  Many are also attracted to the seed, nut and berry producing native plants that homeowners choose to plant for wildlife.  Your backyard is a great place to see birds like the American Robin, American Goldfinch, Tufted Titmouse, White-Breasted Nuthatch, Ruby-throated Hummingbird, and so much more.  For more information on how to attract birds to your backyard, click here.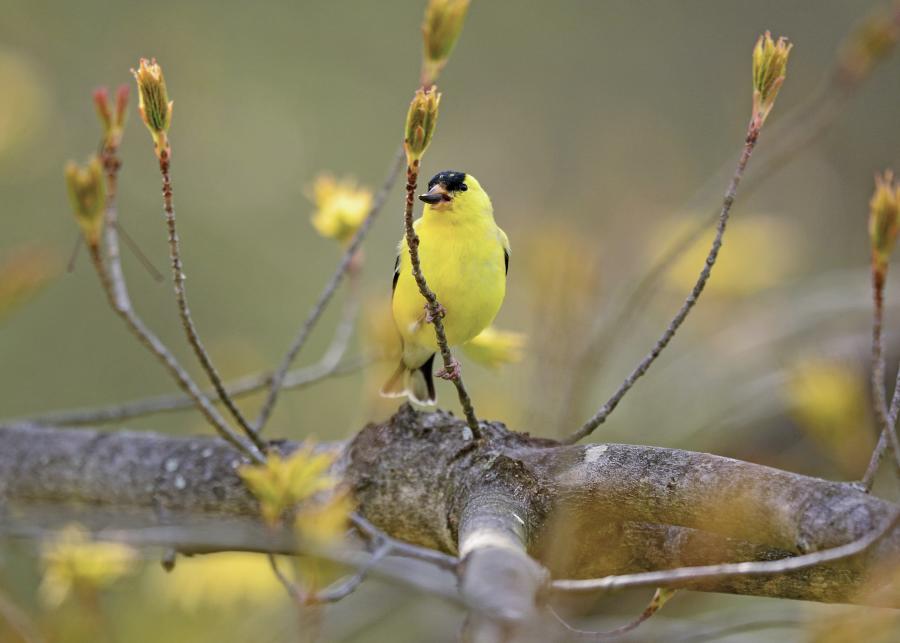 Photo Credit: Lynn Cleveland
Not sure what you are seeing? There's an app for that. With your smartphone, bird ID is just a tap away.  National Audubon Society has a great app and many birders love Merlin from the Cornell Lab of Ornithology. Whether you are just starting to bird watch, or are an expert birder, share what you see on eBird!  These observations by community scientists provide important data for scientists around the world.
Visit Honey Hollow Environmental Education Center in New Hope to learn more about our avian friends in Bucks County. The Center, which includes 110-acres with 6 miles of trails, meadows, forests, ponds wetlands and streams, is available for group tours and hosts weekly events. Yoga classes outdoors, natural lovers' book club, bird walks, forest hikes, and seasonal events like pumpkin carving are all open to the public. 
Get outside and explore the wonderful and diverse habitats and ecosystems of Bucks County, and the birds and wildlife that call them home!