My buddy Frank Williams and I love to bike long distances on the Delaware Canal towpath in Bucks County. Nothing puts more of an accent on our adventures than fine dining at one of the area's many inns and restaurants near the path. 
Recently, we started at Black Rock Road where it crosses the canal in Lower Makefield and set our sights on New Hope, 13 miles to the west. The scenery, as usual, was spectacular.

The river country along the way is inspiring. You pass through both sections of Washington Crossing Historic Park, open farm fields, deep woods ablaze with fall foliage, beautiful estate homes, all the while enjoying vistas of the river amid autumn's colorful canvas at its zenith.

On this trip, we opted for a turn-around stop at Martine's Riverhouse near the Bucks County Playhouse. I'd put it on my list of top places to dine if you want an intimate Old New Hope flavor. One young woman sitting alone in the dining room overlooking the river told me, "I just love this place.

Since it was a nice midday, we chose to sit on the 2nd tier deck closest to the river where mallard and white ducks cavorted below, joined by ubiquitous Canada geese. Beyond them was the New Hope-Lambertville bridge and the Lambertville city scape.
Ice cold York ale and a 60-minute IPA Dogfish brew chilled the ardor of our ride. For lunch, Frank enjoyed a Riverhouse burger done exactly to order with a slice of Vidalia onion.  For me, a top-rated chicken wrap with extremely lean prosciutto, asparagus, Swiss cheese, tomato jam, lemon butter Buerre blanc sauce and a side Caesar salad.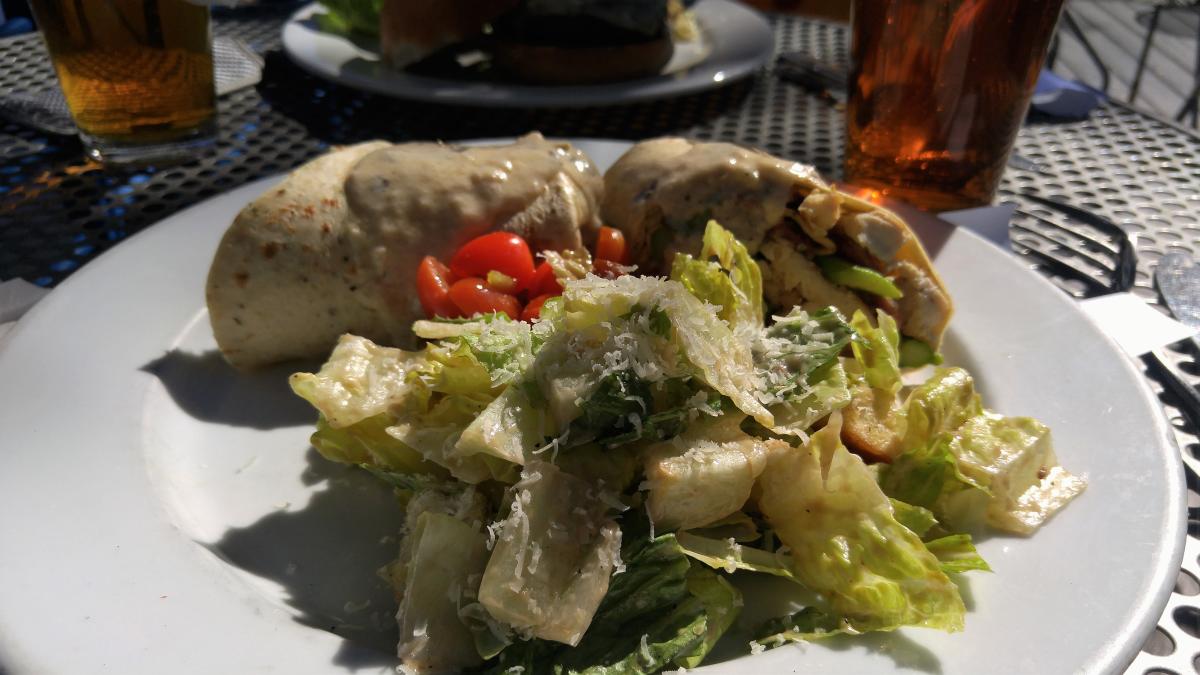 As the afternoon waned, neither one of us wanted to leave. I suggested that we call Frank's wife Jean to drive to New Hope and pick us up. Not. So, we saddled up and headed east back to our cars. Just long enough with 12 mph pedaling to not feel guilty about our indulgence at Martine's. We'll be back.