Road Trip
The contrasting tastes of sweet tea and spicy jalapeno combine in this whiskey drink named after one of the best parts of summer – taking road trips through Bucks County!
Ingredients:
1.5 oz of Hewn Spirits Rye Whiskey
1 slice of fresh jalapeno pepper
8 oz Peach Iced Tea
2 pumps of Rose Geranium hydrosol
2 edible flowers
Ice
Directions:
Pour whiskey into tumbler, add one slice of fresh jalapeno and muddle until whiskey has a green hue to it. Add ice to the tumbler, then add in iced tea and shake well. Pour into 12 oz serving glass, spray 2 pumps of hydrosol and then garnish with edible flowers.
The Bee's Knees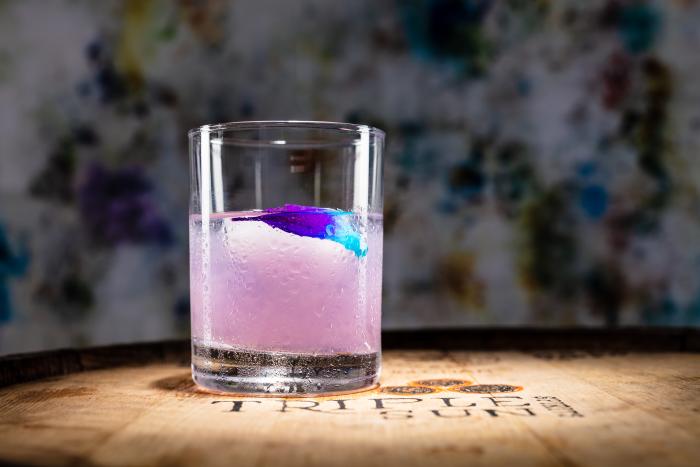 This Prohibition Era cocktail is just the drink to have while kicking off summer in the 2020's! A blend of lemon, honey and gin, made best in a shaker – and not a bathtub.
Ingredients:
2 oz Vapor Infused Gin from Triple Sun Spirit
1 oz honey simple syrup
½ oz lemon juice
6-8 drops butterfly pea flower extract
Large ice cube for cocktail
Ice for mixing
Orchid for garnish
Directions:
Put ice in shaker and add the gin, honey simple syrup & lemon. Place large ice cube in glass. Strain cocktail into glass. Add butterfly pea flower extract to cocktail. Garnish with orchid.
Discover these and more distilleries in Bucks County for yourself here!