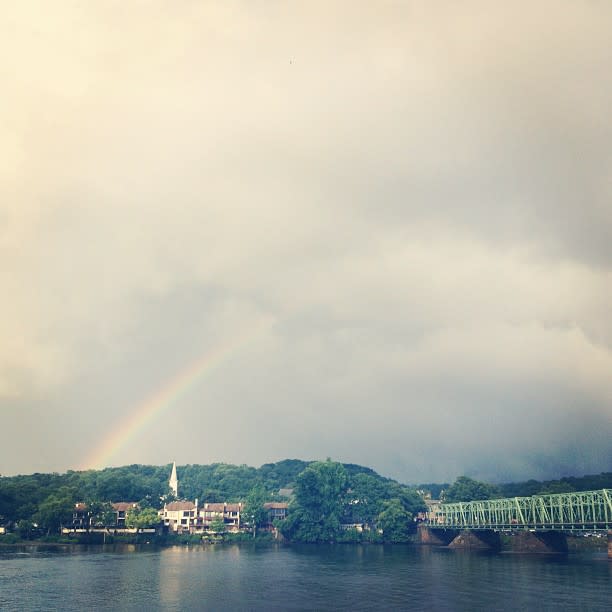 "My girlfriend grew up in New Jersey, not far from New Hope. I'm from California and the two of us met in NYC. We wanted a weekend away from the city and she suggested we spend a few days there. We planned to stay in a bed and breakfast, eat out, hear live music, take long walks, and enjoy the sights and sensations of the riverside town.

She'd been there many times. I'd never been. It was our first trip together. And it rained nearly constantly.

But that didn't stop us. We walked the bridge into Jersey, we saw a cover band perform at John and Peter's Place, we shopped, went to the brewery for beer flights, took a long walk, arm in arm, up and down the waterside path.

In the late afternoon of that Saturday, there was a patch of sunshine, so we took a table outside at The Landing, sitting by the water to eat lunch. The otherwise inclement weather, mixed with this sudden burst of sun, triggered a most beautiful sight: a full rainbow sprawling over the water, the church, and the bridge across the river. We marveled at it together. It lasted just minutes, but it put an incredible stamp of wonder on our trip, making all the rain worth it, and providing us an unrivaled view and a moment to capture and remember."

~ Emily W. from New Jersey
Learn more about Bucks County's Bed and Breakfasts, and New Hope.