"It looked like the world was covered in a cobbler crust of brown sugar and cinnamon."- Sarah Addison Adler
If summer is barbecue, ice cream and lemonade; autumn is stew, apple crisp and cappuccino. With a bit of chill in the air, it's time to come inside and enjoy a meal at one of the new restaurants in New Hope, PA.  Whether you are seated by a fire or watching the leaves glistening on the river, you will have the perfect ending to an autumn day.
All the following restaurants offer a different ambiance and menu, so explore and Bon App'etit!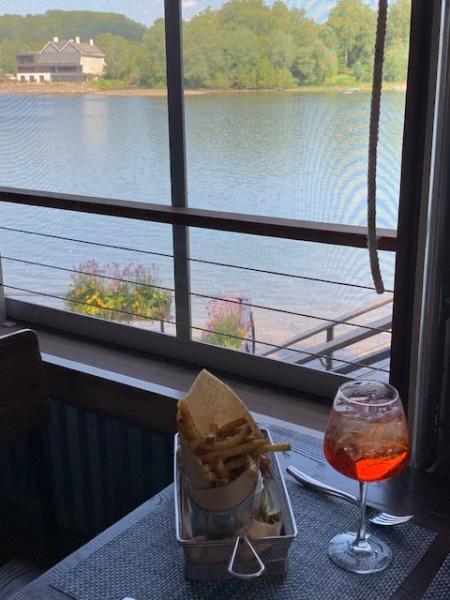 Originally the outside deck of the Bucks County Playhouse, The Deck Restaurant and Bar has been expanded and enclosed. The restaurant and bar also have access from the Playhouse, for dining before or after a show.
Designed with an industrial flair, it commands views of the Delaware River.  If the weather is seasonally warm, you can sit outside under the restaurant and listen to the waterfall.
The bar has several beers on tap, local IPAs, special cocktails and wines. For apple lovers, try the Whiskey Cider made with apple cider. You can also order a bottle of wine for a special occasion, even if it's just celebrating a great day in New Hope!
A "gastropub", the seasonal menu uses locally sourced ingredients. There are small plates, salads, sandwiches, entrees and desserts served all day. For the bacon lovers out there, try the Bacon Jam Burger. It's served with a bacon jam!
Make a reservation as The Deck gets busy during theatre season.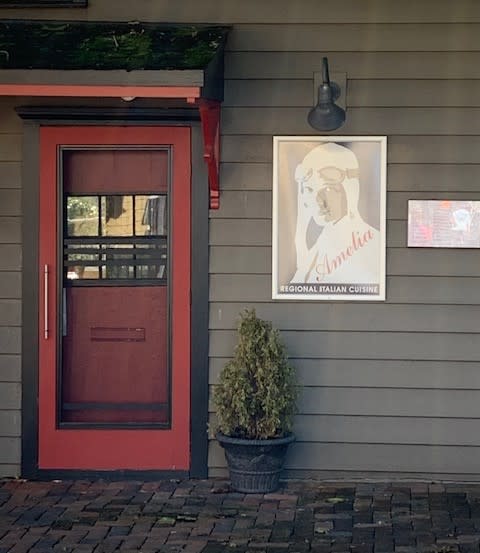 Amelia Earhart once said, "Adventure is worthwhile in itself."  Being my favorite heroine, I was happy to see a new restaurant opened in her name.
Amelia is tucked away on Ferry Street, a pretty street with residences dating back to the 18th Century. With understated elegance, there is a picture of Miss Earhart framing the doorway. Stepping inside is a warm and intimate space, awash in a cream and black décor, a perfect backdrop to an autumn evening!
The menu is Italian Regional Cuisine to satisfy your biggest pasta cravings and more. They also have salads, chicken, seafood and beef entrees.  For mushroom lovers, try the Rigatoni Alla Boscaiola with wild porcini mushrooms and plum tomatoes.  Always save room for their homemade desserts, who can resist strawberries with zabaglione cream?
Amelia is a BYOB and open for dinner Wednesday to Sunday. Make a reservation, bring a bottle of wine and raise a glass to Miss Earhart. After dinner, take a stroll down Ferry Street and gaze up at the stars.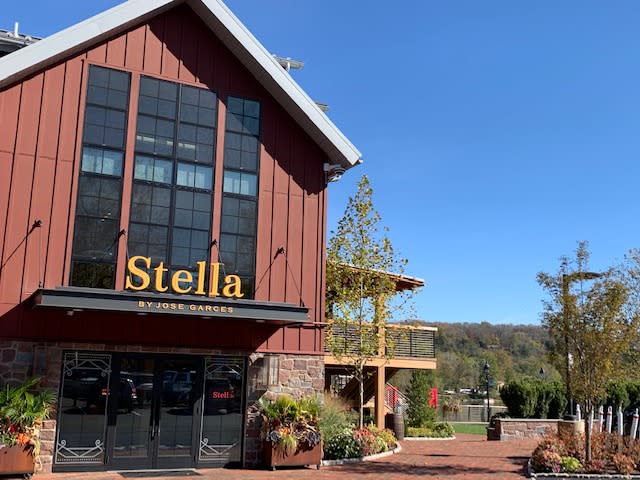 What was once Zadar's nightclub on the Delaware River next to the Bucks County Playhouse has now been transformed into Stella and Ghost Light Inn. Award winning chef Jose Garces brought his culinary experience to New Hope in his new restaurant Stella. For dog lovers out there, myself included, Stella is named after the owners' rescue dog. 
The restaurant is perched high on the Delaware River with outside dining on the terrace in warmer months. The décor is modern with old world touches, paying tribute to New Hope's history.  You can sit by the cozy fire in the restaurant, while sipping one of their theatre inspired cocktails. Rum lovers should try the Ghost Light made with white rum and lime.
Their menu features small plates and seasonal entrees from local purveyors.  To warm up on a cold day, try the Chicken and Dumplings. If you are still hanging on to summer, don't worry! There are S'mores for dessert.
If you can stay the night, the Ghost Light Inn is a boutique hotel attached to the restaurant. A ghost light is a single bulb left lit on the stage when the theatre is closed. Legend says that it provides light for ghosts who may be having their own performance. Whether or not there are any resident ghosts, all who come here will be having a magical time!
Meadowlark Restaurant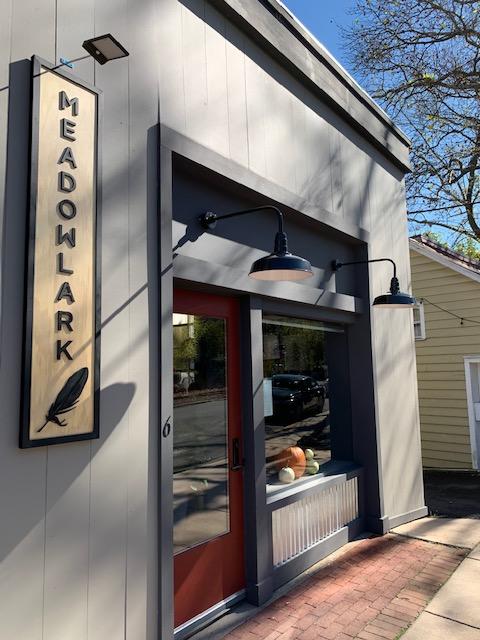 They say that when a Meadowlark bird sings it's good news to the farmers, signaling a good harvest. The restaurant takes pride in supporting local farmers.
On Stockton Street in New Hope, Meadowlark Restaurant has an eclectic artistic appeal. Inside is very inviting with wood tables and great lighting fixtures, a place that beckons you to stay for a while. Although it is a BYOB, there is a cozy bar in the back with an open window to the kitchen. Admitting my age, it reminded me of Alice Water's famous Chez Panisse.
The menu changes every season so don't let autumn pass you by. Autumn Salad with pears and pomegranates is the perfect intro to the evening meal. There is something for everyone, from the carnivore to the vegetarian. Save room for dessert and even though pumpkin jokes abound this time of year, try the Pumpkin Panna Cotta with caramel sauce!
They are open for dinner every day except Tuesday. Don't forget to make a reservation and enjoy all downtown New Hope has to offer.
Photos Courtesy of Anthony Piscione