Forty years ago in April of 1982, Carl and Nadine "Dinie" Glassman took a leap of faith when they saw an opportunity to move together to New Hope and open a bed & breakfast. The small riverside town filled with arts & culture is exactly where they felt their creative natures would thrive. Together, they took over ownership of the 1870 Wedgwood Inn of New Hope. 
"We come across as 'The Dynamic Duo'," says Carl of his and his wife's success together, "We are re-energized every day by the wonderful, interesting and appreciative guests from around the world."
Carly and Dinie saw themselves as part of an emerging class of professionals who rejected both suburban conformity and urban complexity. After both graduating from Rutgers University in New Brunswick, NJ, they knew it was life in a small town gingerbread Victorian filled with antiques for them. Their vision was to use the B&B as a platform for their interests in people, baking, gardening, renovating historic buildings and collecting art and antiques. 
Though originally a side hustle, as time went on, running the inn became their full time careers. They built their personal home on property where they raised their daughter, Jessica. As time went on, they purchased additional properties next door to add to their collection of three inns, including the 1833 Umpelby House and 1890 Carriage House.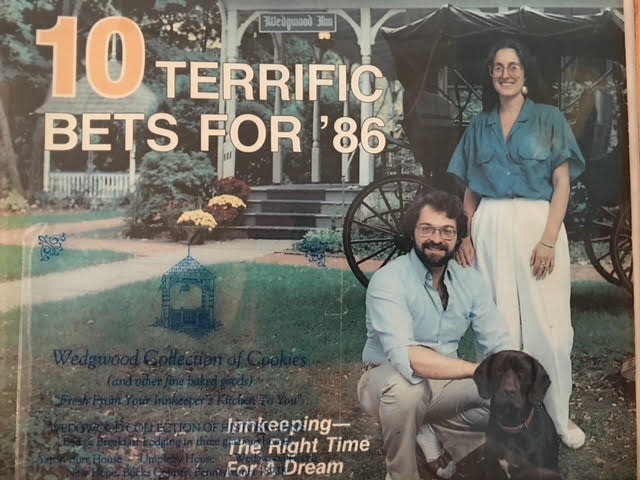 Carl, Dinie & Jasper, inn dog extraordinaire, in 1983.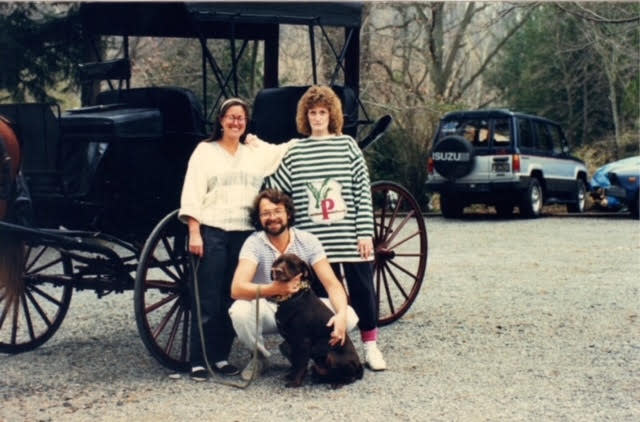 Carl, Dinie & Jasper with Denise Stoklosa, a guest of the Wedgwood Inn since 1983.
A Colonial Foundation
The building that is the Wedgwood Inn was built in 1870 and sits on top of a Colonial Era stone foundation. It has hip roofs, is painted a Victorian era blue shade, and was once referred to as
"The Fort" when it was a headquarters house during the Revolutionary War. The property had also been a temporary campsite for General George Washington's troops three weeks before the crossing of the Delaware River and the Battle of Trenton. 
Another intriguing part of Wedgwood's history was that it was once a spot on the Philadelphia-Quaker Underground Railroad that was organized in the early 1800s to serve as a safe haven for those escaping slavery. Upon site renovations in 1999, an underground stone room was uncovered under the old porch. As renovations were finished, the room was preserved to keep its history intact. Today, a window to the past can be found in the fireplace lounge of the inn. 
The Wedgwood Inn has 18 guest rooms with a wide selection of amenities for guests to enjoy – including suites with fireplaces and whirlpool tubs. Guests are treated to a multi-course breakfast each morning in the dining room. The garden out back showcases a selection of art sculptures, as well as a miniature covered bridge where guests can leave lovelocks (a tradition that dates back to World War 1) during their stay. 
At the Wedgwood Inn, they host not only individuals and tourists, but also small conferences, weddings, business retreats, and more. The Wedgwood Inn once hosted famous actor William Shatner for a three-week span while he performed at the Bucks County Playhouse!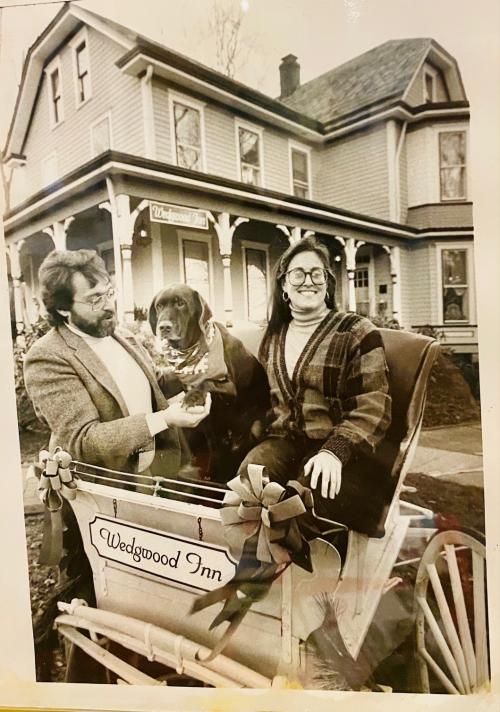 Carl, Dinie & Jasper. 1986.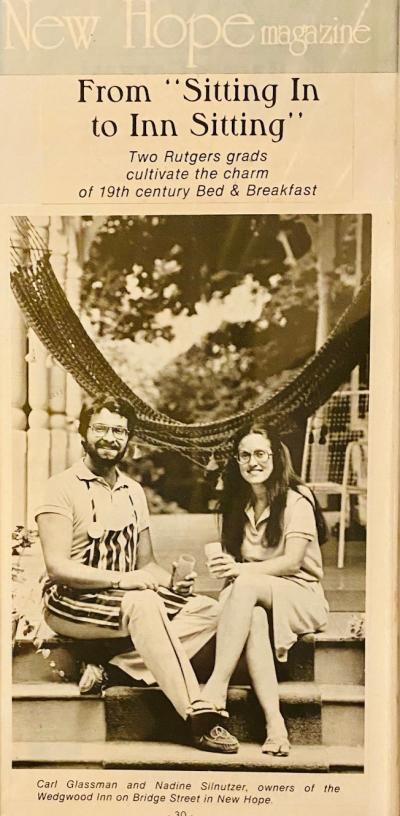 Haunted History
What kind of 19th century bed and breakfast would the Wedgwood be without a little haunted history? Through the years, guests have claimed to hear scratching on the walls of the inn, most frequently from within the walls of the old servant's staircase. The Wedgwood Inn's most famous ghost is "Sarah," a 12-year-old servant girl who was seeking freedom on the Underground Railroad on the property. It is said that her cries can still be heard as she searches for her parents who were separated from her on their journey. It has also been reported that Sarah has made an appearance to younger guests and shares stories with them about her escape. 
Another notable ghost is that of Joseph Pickett – a famous New Hope based painter who created his famous painting "Manchester Valley" based on the view from the backyard.
A Crux in the Community
The Wedgwood Inn owners are founders of the Bucks County Bed & Breakfast Association, which assists members in group marketing, collective purchasing and mutual aid. They are also active participants in annual New Hope events, like the Automobile Show.
Carl & Dinie developed The Inn School for Aspiring Innkeepers apprenticeship program to help others interested in pursuing a career in hospitality, maintain contact with other innkeepers around the world, and to keep on top of the latest trends and practices. In 1992, Carl co-authored the book How to Start & Run Your Own Bed & Breakfast Inn, which is available for purchase at the Inn and online.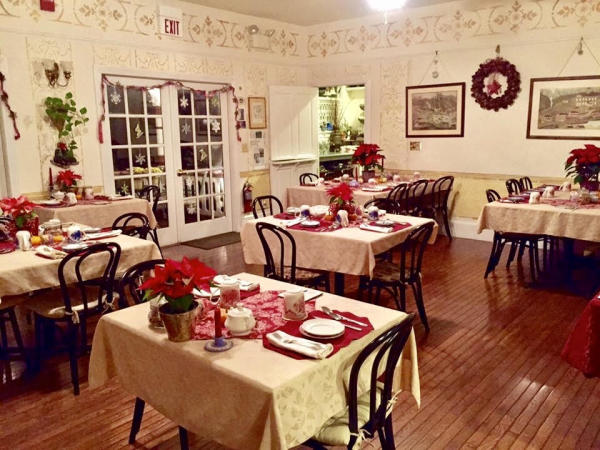 The dining room.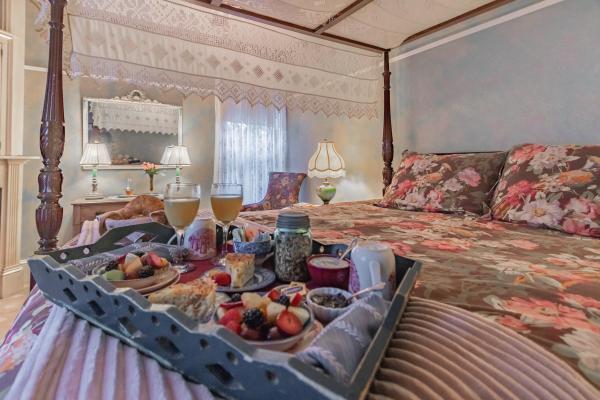 One of the charming bedrooms with a delicious breakfast in bed spread.
40 years and Beyond
Carl described running an inn as a 24/7 lifestyle business but also quotes the saying that "if you love what you do, you'll never work a day in your life." The love that Carl and Dinie have for their B&B is apparent from the minute you walk through the door and is visible in all aspects of their inn. Don't wait to book your stay at this iconic inn in New Hope. 
Congratulations to Carl and Dinie for 40 wonderful years of hospitality and best wishes for many more to come!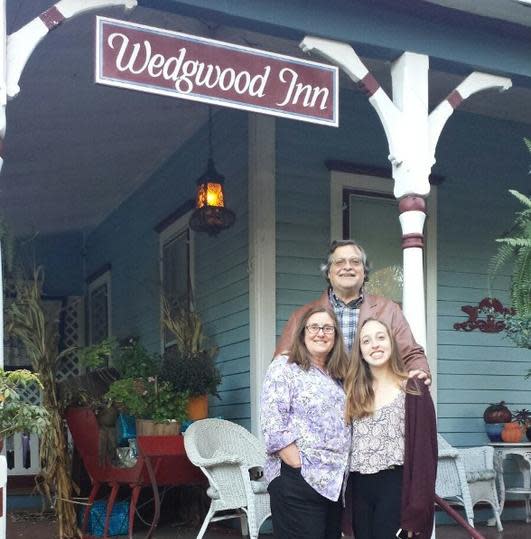 Carl, Dinie &  their daughter, Jessica.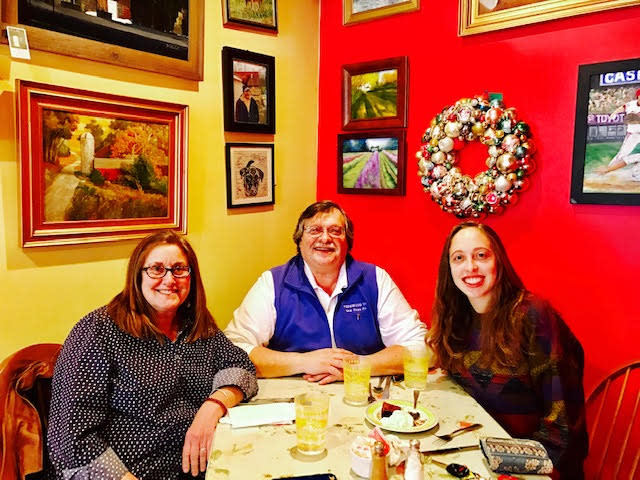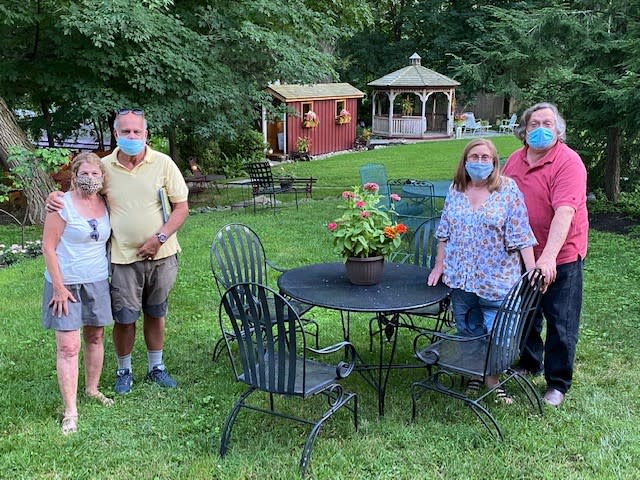 Innkeeping through the 2020 pandemic.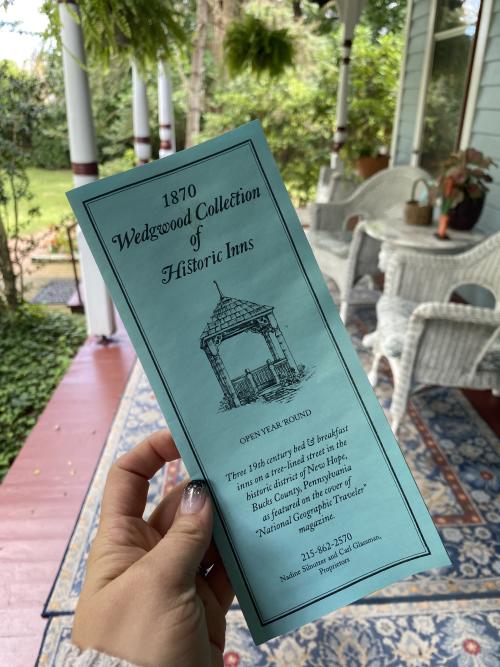 *Special Offer* As a special treat to visitors, those who mention "40th Anniversary Special" at the time of their booking will receive $40 off a 3-night reservation throughout 2022.