Have you ever heard of the old saying eat breakfast like a KING, lunch like a PRINCE, and dinner like a PAUPER to stay fit and help with your energy level? Well, this article will be right up your alley. These are a few of my favorite spots to start the day off right!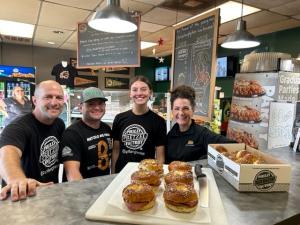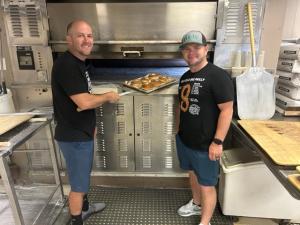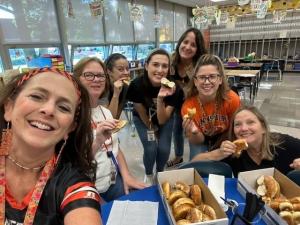 Pretzel Factory-Langhorne-located on Business Route 1 in Langhorne. Pretzels have become a breakfast staple at this location. They are quick, affordable, filling, and best of all, FRESH. Co-owners, brothers, and operators, Brian & Shaun, have been in business selling pretzels in this popular spot for seventeen years this October. Prior to the pandemic, these hardworking guys started doing pork roll pretzels and bagels, along with breakfast sandwiches on the bagels. Pretzel bagel queens, Melissa and Cameron, were at the shop when I did a quick drop-in before work. After popping a batch in the oven, they showed me the trick to assembling the perfect morning meal. When you preorder, you can treat yourself to two thick slices of Case's pork roll or custom order sausage, bacon, or even an egg, along with creamy American cheese on yes, you guessed it, a hot, fresh, and salty (or everything seasoned) pretzel! I brought some to school, and it was a huge hit! Every day of the week, Pretzel Factory-Langhorne delivers to gas stations, gyms, hospitals, football and soccer fields, schools, you name it. These sandwiches are the perfect grab-and-go treat and a thoughtful way to thank and appreciate employees, a friend, your spouse, or the crossing guard at your school! You can even grab an individual container of cream cheese to dip your pretzel in. What an incredible combination! Don't knock it until you try it!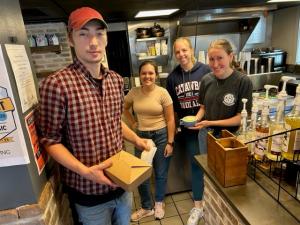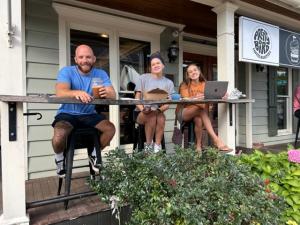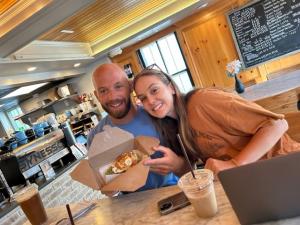 Pretty Bird-located on Main Street in Yardley. This coffee shop has been open since June of 2017 and is such a great spot to stop by before or after a nice walk on the canal path, as you are heading to work, or just to grab a delicious "pick me up"!  On this visit, my two daughters and one of our dear friends stopped in for a Coconut and Caramel Iced Samoa, Nitro Cold Brew, and an Iced Lavender Latte. Talk about refreshing! I had a Blackberry Amaretto Latte that was truly out of this world. Amelia, the general manager, shared the fact that although they are Pretty Bird by day, this location becomes Pretty Burger starting at 3:30 at night.  We enjoyed the Hot Honey Toast with Siracha Berry Jam and a scrumptious, homemade oatmeal cookie. Emily, Katie, and Ryan made sure the latte had a beautiful foam piece of artwork right on top of the latte. I was certainly impressed! Free WiFi made it possible for my daughters to do a little work on their laptops on the inviting porch connected to this amazing and quaint eatery.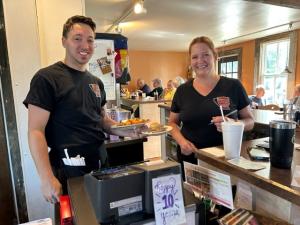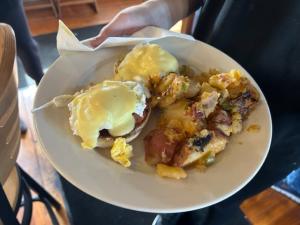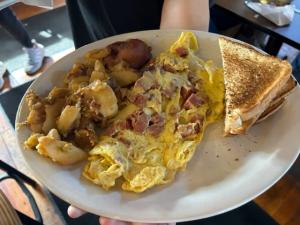 Edgewood Cafe-located on Langhorne-Yardley Road in Yardley. Have you ever heard of sauerkraut and kielbasa in an omelet? Well, you can try it at this cafe. It's a fan favorite, topped with provolone cheese. Raeann, who is co-owner of this restaurant with Sharon, told me on my visit that in August, they celebrated their ten-year anniversary. Two customer favorites on the menu are the Edgewood and Grande Combo breakfasts. They even have specials on Saturdays, Sundays, and Mondays and serve both breakfast and lunch until 3:00. What I love about this spot the most are the potatoes. They are red-skinned and even have peppers and onions mixed in. So delicious! I had a Coconut Rum Coffee when I was there, and it was amazing.  You can even enjoy Pumpkin Spice Coffee at this time of year, along with Black Forest Cake, Jamaican Me Crazy, and Blueberry Muffin. Oh my!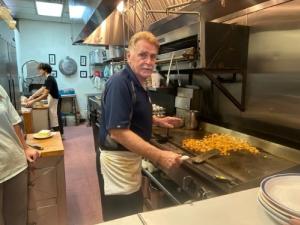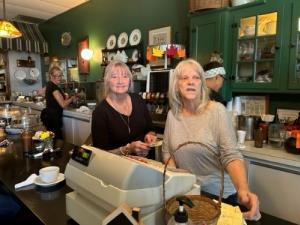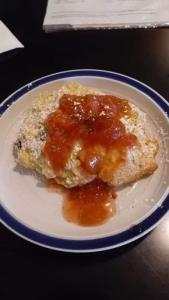 Cafe Ferraro-located in Queen Anne Plaza, Fairless Hills. Celebrating its fortieth anniversary just a few weeks ago, Cafe Ferraro, located in a strip shopping center a few doors down from Julio's Famous Pizzeria, is a local favorite for everyone. Joe was cooking up the home-fried potatoes while he shared his story about his homemade fig jam. For some reason, the figs have been thriving this year! What to do with all of these sweet, delicious figs? He decided to whip up a batch of fig jam which goes perfectly with the Cream Cheese Filled French Toast. This is a seasonal menu item, so if this is something that appeals to you, head on over to Cafe Ferraro's before the figs are no more. Joyce, who does most of the baking at the restaurant, showed me some of her amazing creations. One that caught my eye was the Apricot Scones, which Joe bakes. In addition to that flavor, Joe bakes Raspberry and Honey Scones-heaven on earth. There is so much variety on the menu, but a popular favorite, according to Joyce, is the Western Omelette. One can even request a tasty Potato Cake instead of Homefries. Why not switch it up? It is scrumptious. On Wednesday nights, you can treat your family to Pasta Night and enjoy a complimentary glass of wine or bring your own. They offer a variety of sauces and the service is both friendly and efficient.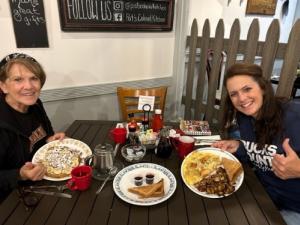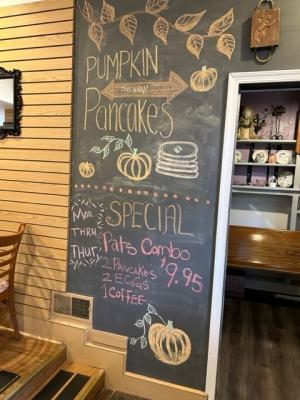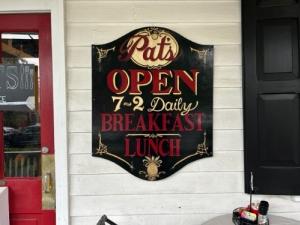 Pat's Colonial Kitchen-located on South State Street in Newtown. What an incredible restaurant-location, food, and ALL! My mom and I stopped in on a rainy Saturday morning and sat with Hugo, who works behind the scenes at Pat's. His wife, Laura, is the owner and operations manager. Family-owned and operated since 1988, the building where Pat's is positioned has been standing there since 1852, and the decor of the building demonstrates just that. You can even purchase antiques from the interesting and unique decorations in each and every room. We sat right across from a church pew in a comfy, cozy corner.  Our server, Pat, was so friendly and informative, sharing some unique choices such as the Fresh Apple Omelette filled with cheddar cheese and sausage and their signature Pumpkin Pancakes topped with bananas and walnuts-oh my! We split both items along with some fresh, homemade raspberry jam (for the toast.) It was so scrumptious that we purchased two jars of strawberry jam to take home. One of the servers we met, Ryan, took our picture and was so kind and helpful. Everyone we met at Pat's was welcoming and smiling, making us feel at home. We will definitely be back and parking in the horse stable adjacent to the parking lot, just for nostalgia's sake!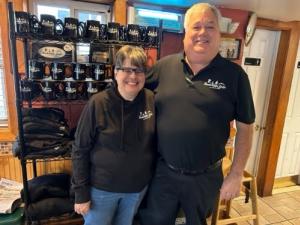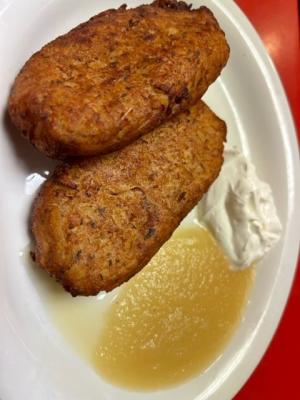 Radcliffe Cafe-located on Radcliffe Street in Bristol. This sure is a popular, well-known spot in beautiful Bristol right across from the Delaware River.  The building has been a restaurant for seventy-three years and has been known as Radcliffe Cafe for thirty-two years. The owners, Maria and Steve, have been running this successful business for approximately three years. Even their three children work at different times throughout the week. Treat yourself to the Bristol Stomp which is a local favorite consisting of two eggs and cheese, a choice of bacon, pork roll, or sausage patty on French toast, served with home fries. You can even get a homemade Potato Pancake concocted by Tex, who is the overnight chef who makes the magic come alive! These are only available on the weekend until they sell out.  The pancakes are huge and scrumptious.  Stop and eat here before taking a walk by the river. Bristol is a beautiful spot to visit!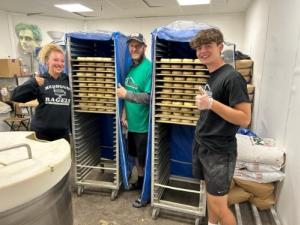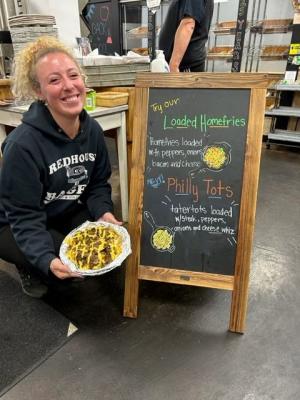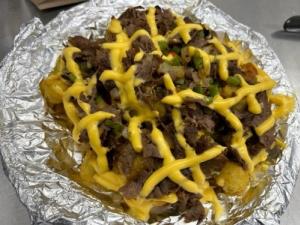 Redhouse Bagels-located on Hulmeville Road in Bensalem. What a place! It is family-friendly, filled with hospitable staff, and has plenty of seating, including chairs from an old airport and even church pews. Or, you can sit outside while playing cornhole on a nice day. Shannon and Rich have been the husband and wife team owners for three years, although Redhouse has been in operation for twenty-five years. Manager, Sam, showed me around this amazing location and shared some awesome things going on behind the scenes. There is a school that brings all of their students of the month for bagels as an incentive. What a cool idea! A life skills class from the local middle school has a partnership with Redhouse where the kids come to the shop to test their skills with money and real-life situations. The Philly Tots were my absolute favorite, containing crunchy tater tots smothered with thinly sliced steak, cheddar cheese, peppers, and onions. Get there before 1:00 p.m. on football game days and make this a staple snack to serve to your families and friends! The bagels are freshly made, right at the shop, and come in many different flavors including Cheddar Jalapeno and Pumpkin. You can top your bagel off with spreads such as the traditional homemade Vegetable Cream Cheese or be daring and adventurous by diving into Oreo or Pickle Cream Cheese. Jimmy, the bagel mixologist, is DOUGHrific in pumping out the homemade bagel treats. Don't forget to grab yourself a cup of Pumpkin Spice or French Toast Coffee before you walk out!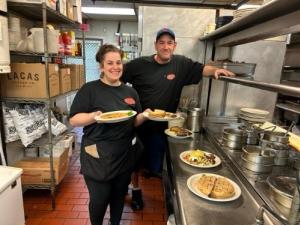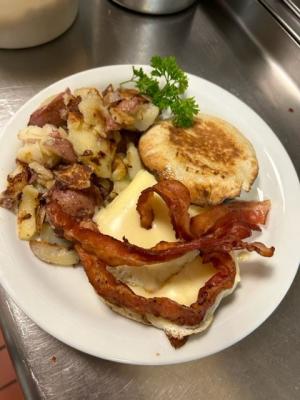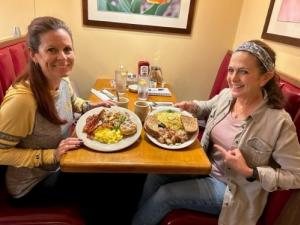 Jake's Eatery-located on Bustleton Pike in Richboro. Stephen manages Jake's in both the Newtown location (which has been there for twelve years) and the Richboro location (which has been in operation for 32 years.) He prides himself in the restaurant's generous portions, fresh sauces, daily hot soups, reasonable prices, and homemade, fresh ingredients. My friend from the second grade joined me on this outing where we brightened up a dreary weather day with friendly and sunny staff along with a scrumptious late breakfast. Andrea had The Hungry Junior which is a sampling of all the popular breakfast favorites, including crisp bacon and a mini waffle. I had the Urban Omelette, which included tasty roasted red peppers, spinach, and provolone cheese with a side of red potatoes grilled to perfection. Matt, the kitchen manager, took a few minutes to speak with us about the menu.  We received our food almost as quickly as we ordered it, yet it tasted like it took hours to create it. It was truly amazing.
Treat your kids, grandparents, your siblings, parents, a date, friend, or YOURSELF to the most important meal of the day…BREAKFAST in one of Bucks County's finest eateries. With so many places to choose from, you will not be disappointed!