This time of the year, a favorite past-time is to drive what I call "the Loop." It's a 50-mile, round-trip journey that hugs both sides of the Delaware River between Bucks County and New Jersey. It's a feast for the senses. Grand icicles draping towering palisades. Colonial-era inns and country eateries. The winding river. Ancient villages. Picturesque estates.
We like to start at Washington Crossing in Upper Makefield. The Loop consists of driving along River Road (Route 32) through Lumberville, Centre Bridge, New Hope, then cross the river and go west on Route 29 through Lambertville, Stockton and Frenchtown.
Here are our favorite restaurants and sights along the way: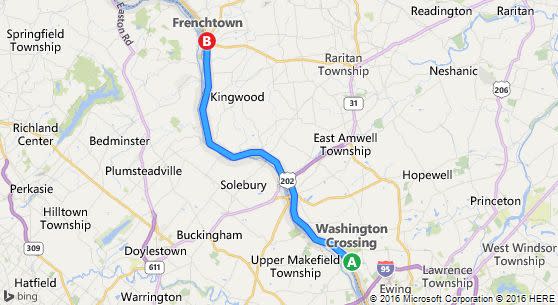 Bucks County Side:
-Black Bass Hotel: Tiny village of Lumberville is home to this 1740s inn. Fine American cuisine and libations can be enjoyed with a view of the suspension bridge to Bulls Island.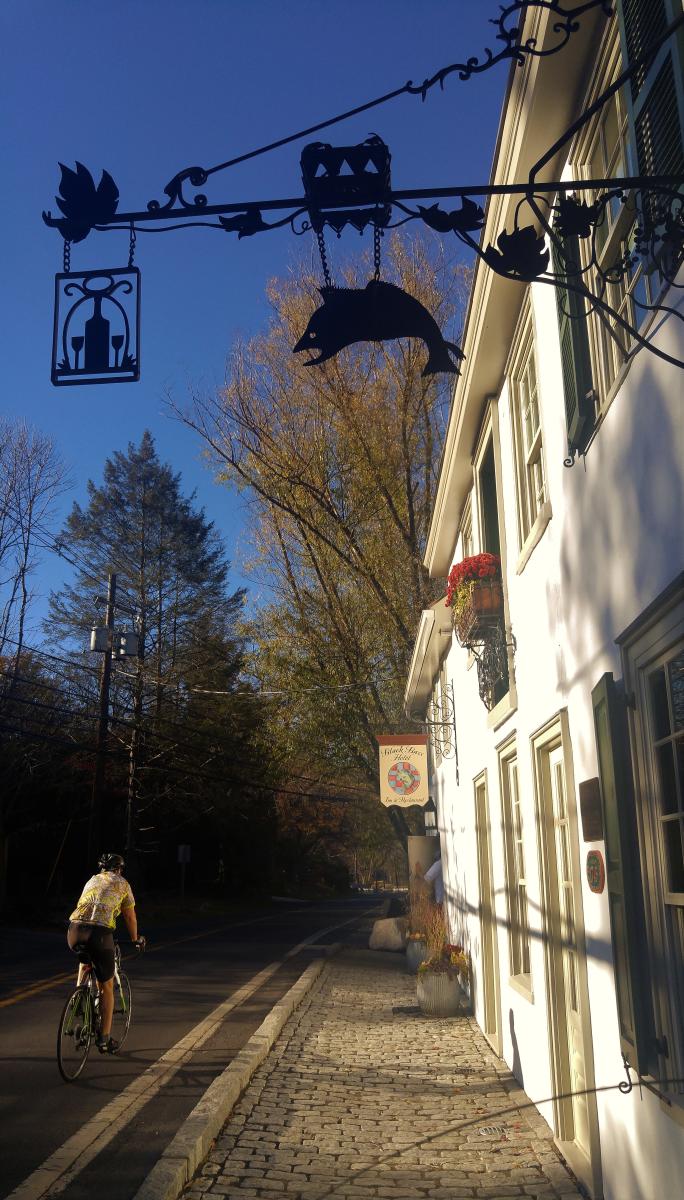 -Lumberville General Store: The 19th century store has been lovingly renovated into a café and deli. Wonderful atmospherics inside and out. Don't forget to take a stroll across the suspension bridge after dining at the hotel or the store.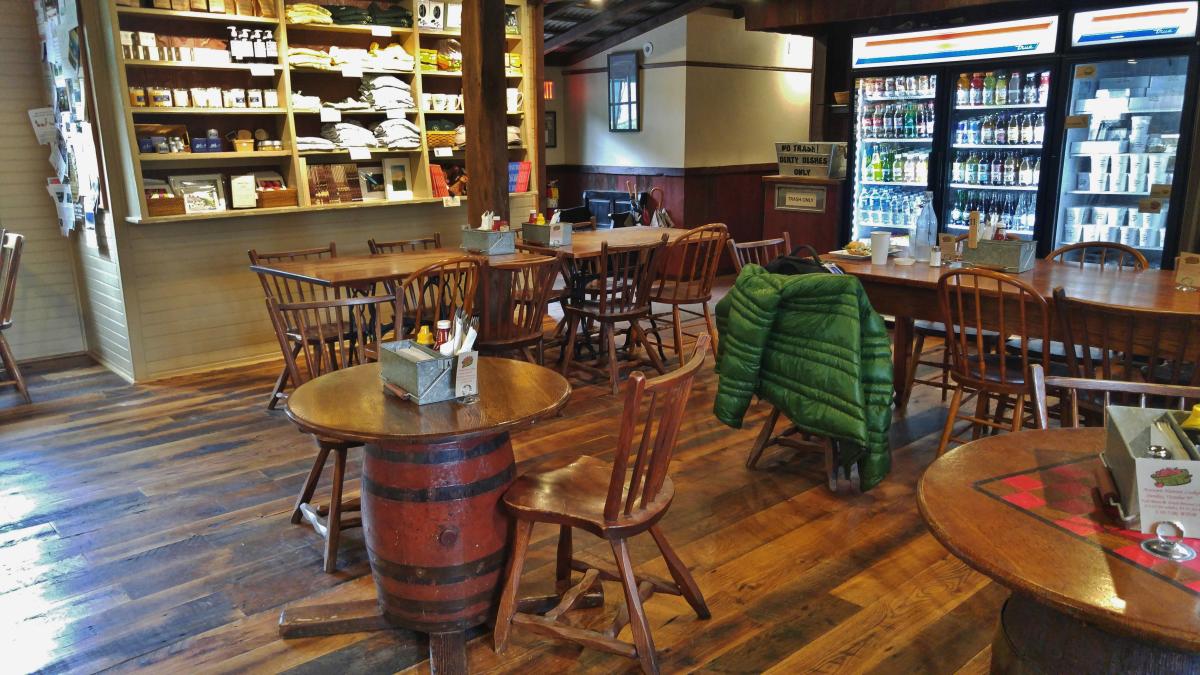 -Centre Bridge: Ice encrusted hill overlooks landscaped villas as you enter the village with its river span to Stockton. The 300-year-old Centre Bridge Inn is known for elegant wedding receptions, overnight lodging and exceptional dinner dining. 
-Phillips Mill: The small hamlet is where the Bucks County Impressionist fine art movement was born more than a century ago. The Inn at Phillips Mill is a great place to enjoy French country cuisine by candlelight.
-New Hope: The bustling tourist mecca has much to offer including the New Hope & Ivyland excursion railroad. A favorite restaurant on Mechanic Street is Karla's for gourmet European cuisine in a bistro atmosphere.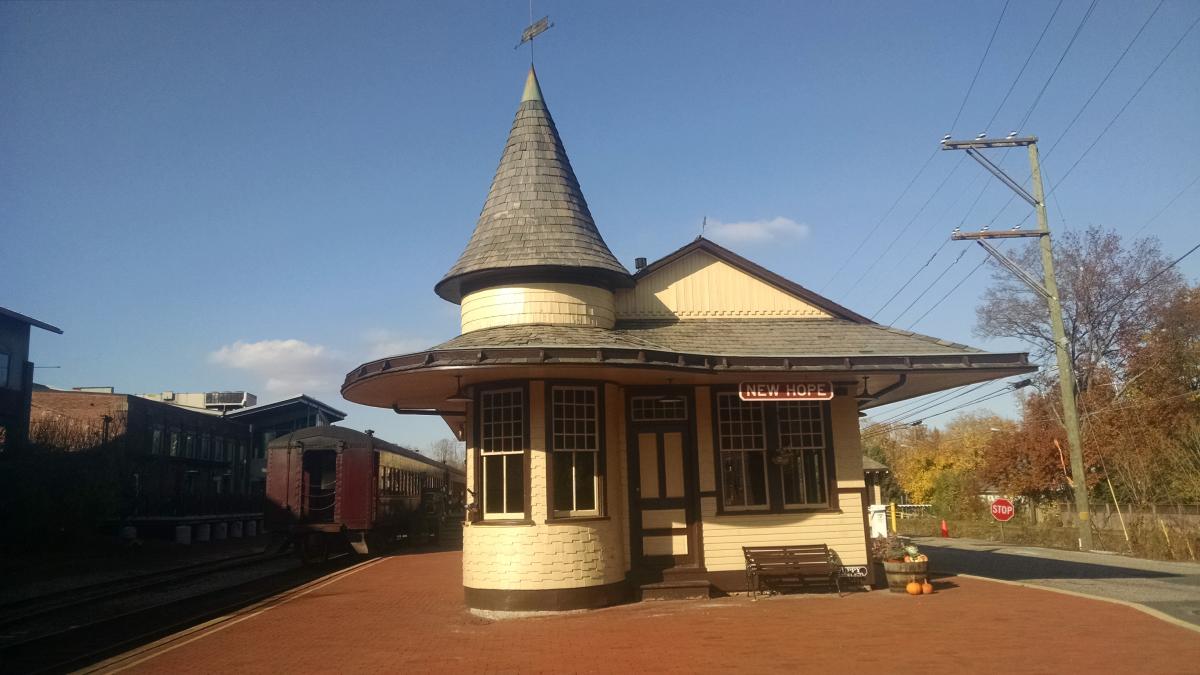 We also recommend Martine's Riverhouse Restaurant where fried green tomatoes and filet mignon are popular. It's located near the Bucks County Playhouse and faces the Delaware River with magnificent views of the bridge to Lambertville.
-Washington Crossing Historic Park, upper section: Here you can visit the Thompson-Neely House where George Washington's officers were quartered before the epic crossing the Delaware to attack Trenton in 1776.  Also, the graveyard of Continental Army soldiers is of interest, as well as the 125-foot-high Bowman's Hill Tower with its elevator to the rooftop for open air views of the river and countryside for miles around.
The newly renovated park museum and its theater are worth visiting at the very site where George Washington and the Continental Army made their famed crossing of the Delaware. The nearby Washington Crossing Inn dates back to that time and offers French cuisine by the fireside.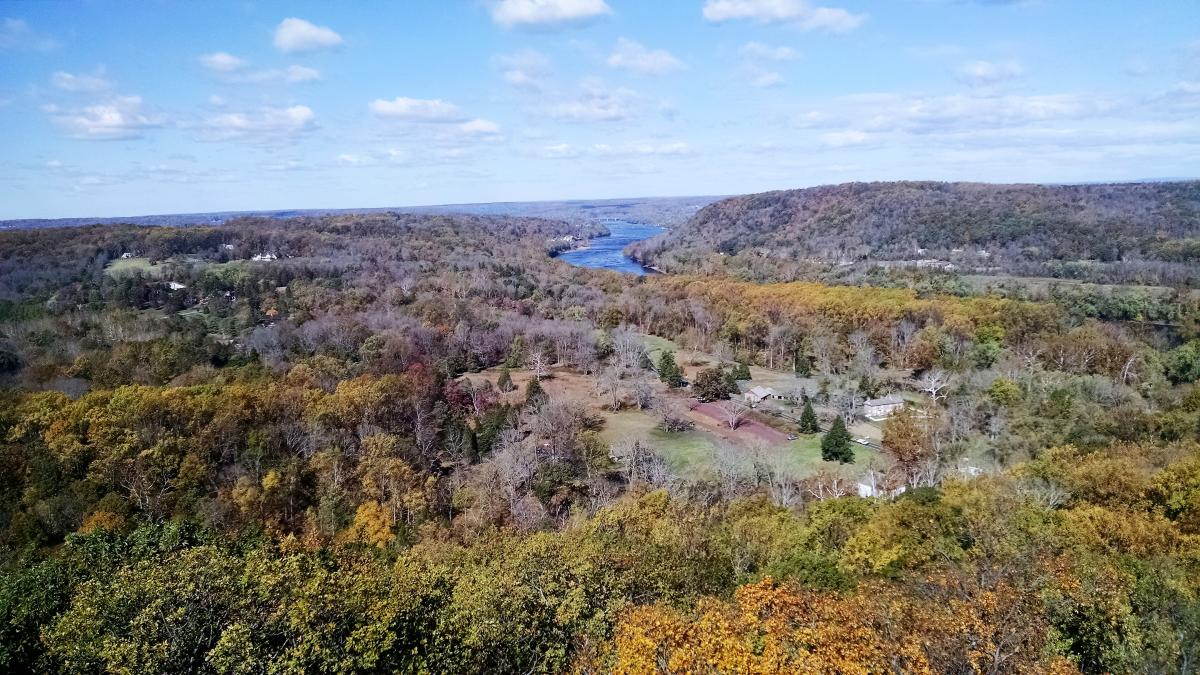 New Jersey Side:
-It's Nutts Restaurant: A 1950s-era café located about a half-mile up Route 29 from Washington's Crossing. Great breakfast menu.
-Golden Nugget flea market: Dates back 50 years and open daily year-round.
-New Hope rapids: Panoramic view from the highway of water falls below Lambertville.
-Lambertville dining: Nicely decorated Full Moon Café on Main Street with breakfast and lunch comfort food.
-Stockton: Historic village is home to the Stockton Inn, built in 1710. It was a popular hangout for literary giants of the 1940s. The inn features the Algonquin Roundtable once favored by F. Scott Fitzgerald, Dorothy Parker, Robert Benchley, Damon Runyon and S. J. Perelman whenever they were in town. The table is named for the group's regular Big Apple hangout in the Algonquin Hotel.
-Prallsville Mill: Dating back to the Colonial period, the former grist mill above Stockton is carefully preserved and favored by artists as a backdrop.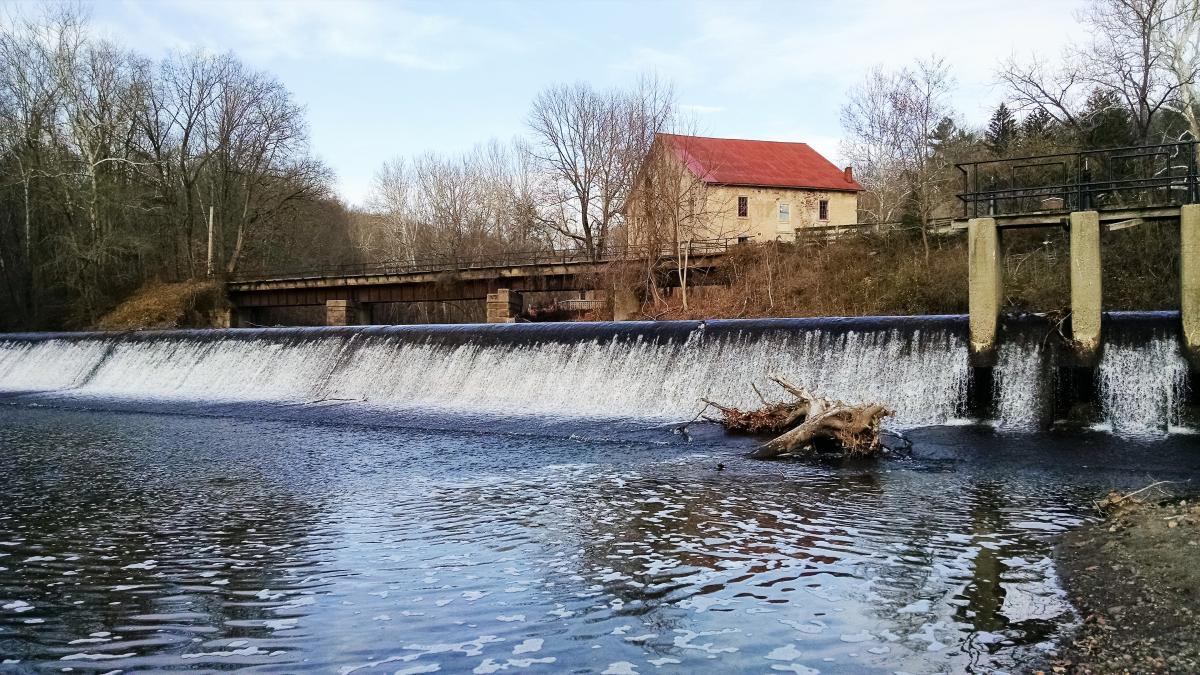 -Bulls Island State Park: Route 29 broadens into a 14-mile highway through unspoiled scenery between Stockton and Frenchtown. This beautiful pocket park is situated midway and sits between the Raritan Canal and the Delaware River. A visitor center, nice restroom facilities, camping, a canoe launch and suspension bridge linking the park to Bucks County are featured.
-Raven Rock: In winter, the vertical wall of the mountain is often draped in icicles within easy view of Route 29.
-Frenchtown: Up-and-coming village with artsy boutiques and restaurants. Highly-rated Lovin' Oven on Route 29 is ideal for vegetarian dining.
We also recommend the Frenchtown Café, very popular for town folk.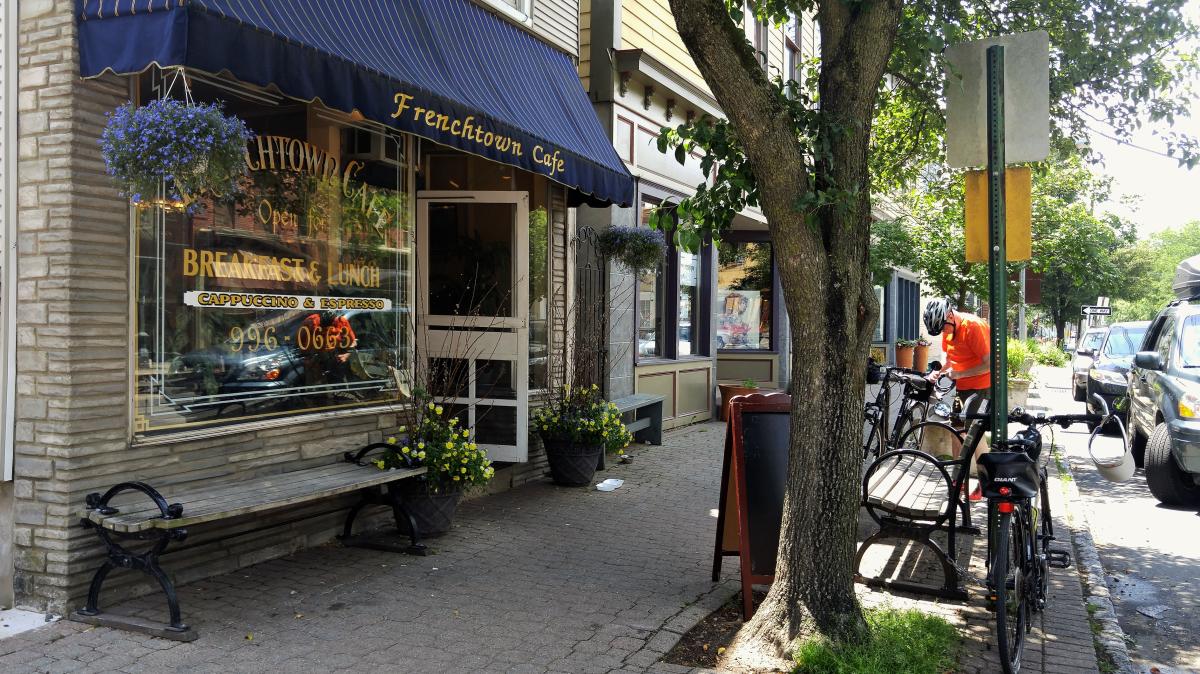 My family and I hope you enjoy "the Loop" – winter, spring, summer or fall.