Moss Mill Brewing Company, known for its delicious thirst-quenching brews, welcoming atmosphere, and expansive beer garden, recently opened its own in-house kitchen, and let me tell you – the food, prepared by Chef Matt Beck, is fresh, filling, and will leave you craving more the minute you step out the door. 
I had the pleasure to sit down and chat with Chef Matt about his background in the culinary arts, his kitchen, and, of course, the fantastic food options you can expect to find at the Huntingdon Valley based Moss Mill, from juicy customizable burgers to his fantastic weekly specials.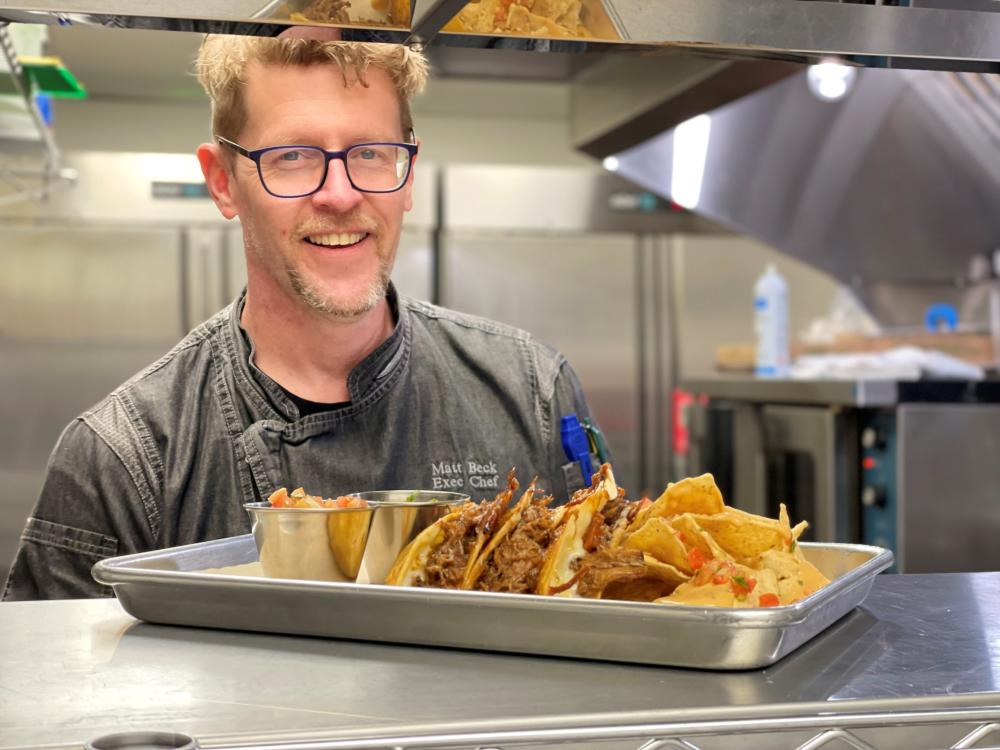 Whether you're in the mood for snacking apps like cheesy nachos and saucy wings, a light lunch, or a delicious dinner, Chef Matt has you covered. With thirty years of experience in the culinary world, Chef Matt has developed a menu perfect for people of all ages (and palates of all tastes!). Moss Mill's kitchen, officially opened in March 2021, is clean, organized, and offers the perfect amount of space for food preparation – just a few of the many things Chef Matt is passionate about in the kitchen. "It sets you up for success for the entire shift," he notes.
When it comes to food, Chef Matt enjoys creating different types of sandwiches, and "sloppy, messy sandwiches" are his go-to! Moss Mill also tries to be accommodating with dietary restrictions, including with their offering of a Beyond Burger, Beyond Meat, and a Vegan power bowl.  Because of his fabulous menu options, ranging from BBQ beef flatbreads to a pork cutlet sandwich, choosing what to eat is no easy feat (especially if you're indecisive like me!). It wasn't a tough choice this time around, though – I was lucky enough to be there when Chef Matt prepared one of my favorite dishes that just so happen to be all the rage as of late – birria tacos! 
These made-to-order authentic tacos were introduced as a special for the week of Cinco de Mayo (which paired perfectly with their on-tap special beer, a lager brewed with lime and cilantro). Since it was a special, I'm not sure when we'll see it again, though I'm sure if Chef receives enough requests, he'll bring it back as a special in the future (my fingers are crossed!).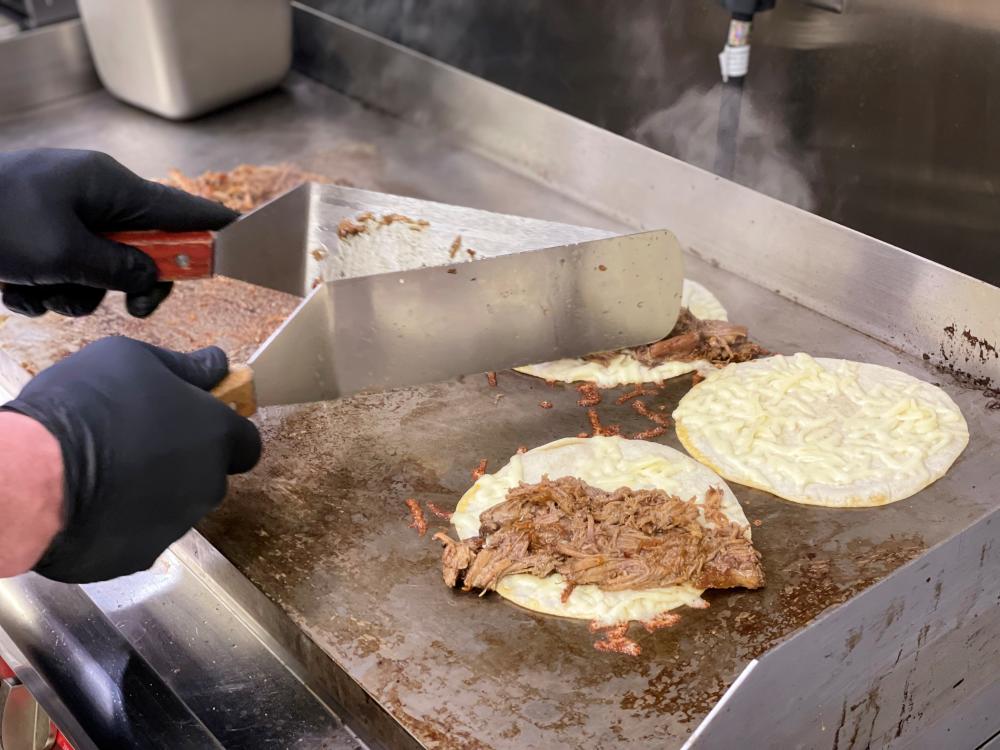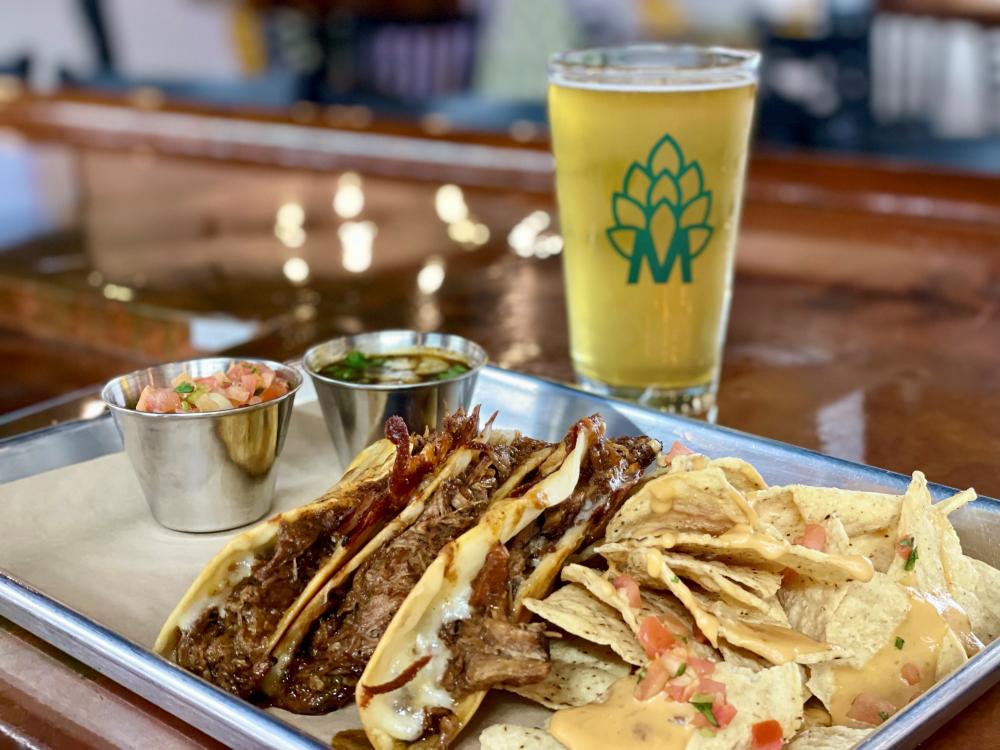 Other past specials include fried mac 'n cheese balls, a fried fish po' boy, and a crab cake sandwich, all of which showcase Chef Matt's creativity, passion, and, most importantly, his skill in preparing the freshest, most delicious food in the kitchen. 
If you've been to Moss Mill Brewing before, whether on your journey on the Bucks County Ale Trail, or some time with friends since they opened in 2018, then you have probably enjoyed an ice cold craft brew at their first floor bar. In the winter of 2019, however, Moss Mill also opened a second-floor taproom, creating an even larger space to drink, chat, enjoy a bite to eat, and play some games. The taproom, which features a large center bar, seven television screens, and local art for sale, the latter reflective of their ongoing community-based initiatives, combines a rustic industrial vibe with chic elements to create an organic atmosphere perfect for date nights, gatherings, get-togethers, and parties. The upstairs bar currently features 8 beers on tap as well as a few canned brews, and you can order your food through the bartender for fantastic kitchen-to-table service! Whether you're sitting at the bar or at one of the low or high-top tables spread throughout the taproom, there's plenty of space for you to kick back and relax with a great brew and delicious food. 
The local art, a focal point of the taproom, is unveiled every first Friday of the month and is available for purchase in an effort to support local and develop community-based partnerships. 
Moss Mill is and has always been one of my favorite local breweries in Bucks County. From their classic brews like the Moss Mill Lager and Indecent Proposal Ale, to their Hittin' Season Pilsner and Birthday Beignet White Pastry Stout, Moss Mill has been brewing up some of the best beer in Bucks since 2018. Whether you're a returning guest or newcomer, make plans to visit this spring and summer, order a refreshing pint, grab a bite to eat, and enjoy some live weekend entertainment in their spacious taproom or open-air beer garden – it's the perfect hangout spot for time spent with friends and family.