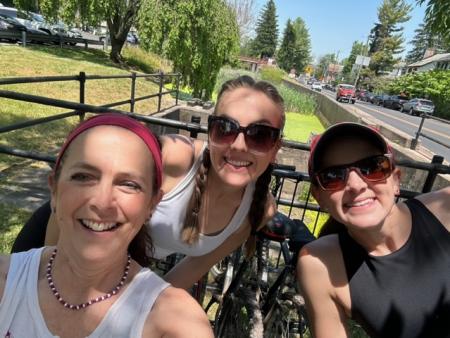 If you are looking for something interesting and FUN, head on over to the scenic small town of New Hope, Pennsylvania. You will be surprised when you experience all that it has to offer with its riverside eateries, various shops full of personality, a well-known theater, and many cultural attractions. What's great about this quaint town in Pennsylvania, is that not only is it historical in nature, dating back to the 1800's, but it is also home to the Delaware Canal Towpath, one of my favorite places to go with family and friends. The towpath runs from Easton to Bristol and is 60 miles in length. New Hope is one of my favorite spots to visit, especially after riding my bike with friends and family on the towpath.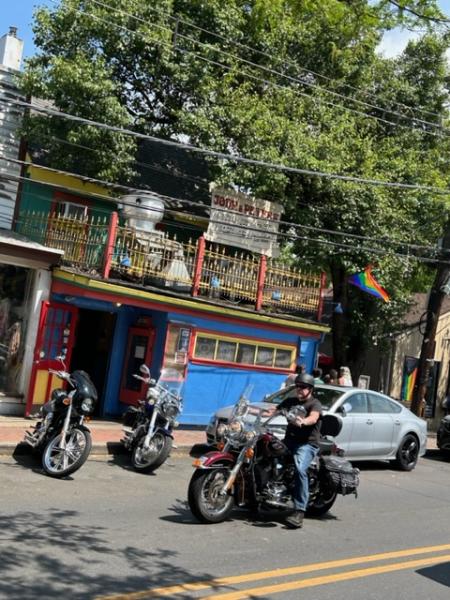 John and Peter's is my absolute favorite place to sip on a Bloody Mary concocted to perfection and munch on some amazing appetizers from vegetable quesadillas to Texas Tots, potato tots smothered in jack and cheddar cheese, chili, and jalapenos-YUM! If you like sweet potato fries, this is the place to order them. They are truly the most delicious ones I have had yet! The bartenders, Chris and Kevin are always welcoming, friendly, and efficient. We tend to sit outside when we visit John and Peter's but always make sure to make a pit stop inside. You can smell, taste, and see the nostalgia in the building. It opened in 1972 and has showcased some of the best music and musicians around. We stopped in The Catwalk Too, which carries some of the most unique and eclectic items. There is something for everyone in this incredible shop; from signs, to candles, to clothing, and so much more! Plus, the customer service is top notch. Terri and Ashley showed us an area in the store with New Hope swag. It was awesome.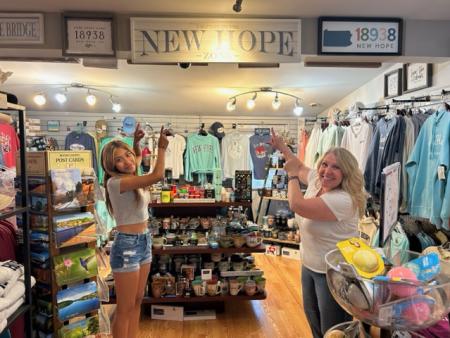 We ran into friends of ours, Cole and Noah, at Moo Hope, a family-run ice cream shop in the heart of town. The ice cream is made on the premises and includes all of the traditional favorites and even lavender coconut, nutella, amaretto, and coffee grinds if you are feeling adventurous! After that, my daughters and I decided to head into Love Saves the Day, a vintage store in operation for over fifty years. This place is a great conversation piece! Every time I visit here, I find something special and unique. The vintage toys for sale are my favorite to look at, but there are so many hidden treasures. You will find collectables that are both fun and funky and at times, cool cowboy boots, a colorful dress or scarf, or even a leather jacket.  We always get a good laugh with the interesting collection housed in this store filled with personality and humor everywhere you turn.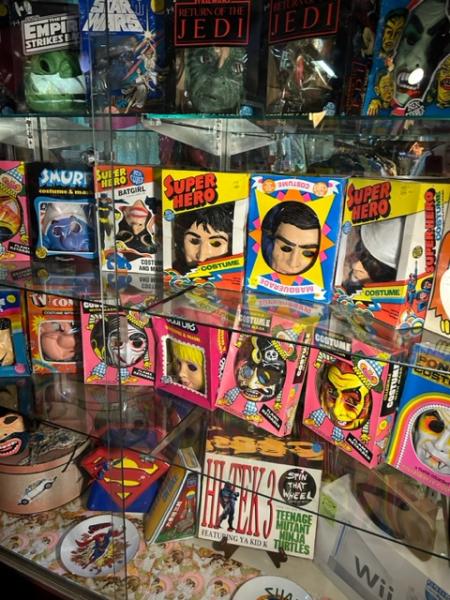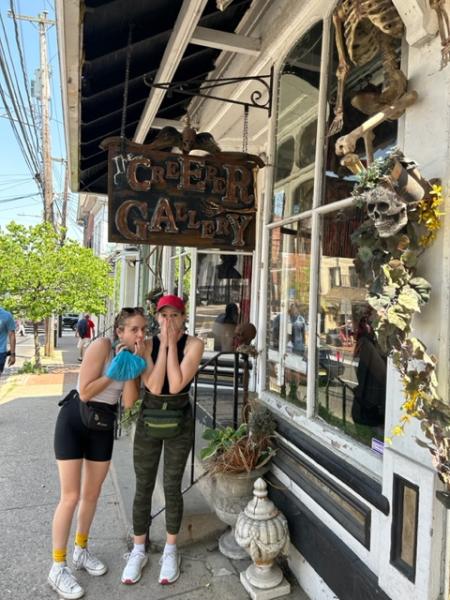 Even though this store was closed on this particular outing, it is so worth the mention! Stop in the Creeper Gallery on the weekend to witness, or better yet, purchase for your own home fine gothic art, antiques, and peculiars. The storefront of this property says it all with the skeletons and creepy decor. You will not be disappointed with a trip to this extraordinary shop! Another must-see stop is Farley's Bookshop which has been around since 1967. It felt so comfortable and warm in there with all of the stacked books for people of all ages. Charlie and Katie were so friendly and kind to us when we walked through the doors of this treasure.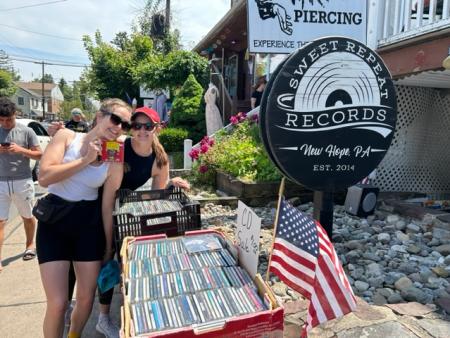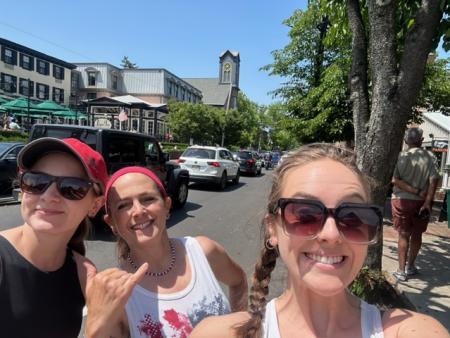 Our final stop before heading back to home on our bikes was Sweet Repeat Records. Bill is the best! He greeted us in this sentimental shop that buys, sells, and trades records, CDs, music, and collectibles. If you are into music, this is the place for you. This store will be sure to take you back into time as you peruse the vinyl records displayed in every corner of the room. There is even a pile of records melted into bowls, which was one of my favorite finds this time around.  New Hope is a must-see, must-experience small town located in the beautiful county of Bucks right by the Delaware River. Be sure to check it out whether you bring your family, your pup, friends, a date, or even just YOURSELF!