Let's be honest – who wouldn't want to enjoy a bite and a brew after navigating through a castle?
Just over 100 years ago, Henry Mercer – local historian and archaeologist – constructed the museum, a beautiful, six-story castle in the heart of Doylestown's historic district.Thirty-two years later, Joe Modestine's grandfather opened Norristown's first beer distributor, consequently leading to the birth of Doylestown Brewing Company.
Between the Hops Bar & Grill, The Still and Doyle's Down the Alley, the Doylestown Brewing Company features a wide selection of craft beer, sandwiches and small plates that you can enjoy in exchange for a short, 5-minute walk from the Mercer Museum, a masterful work of art that I truly believe every resident of Bucks County should visit. (If you go in the warmer months, an icy cold pint will be calling your name.)
But don't wait until summer rolls around! The brewery will be hosting its first Spring 2017 event – the Day After St. Paddy's Day Celebration. (Mark your calendars!) If you're not the breakfast-type, hop on over to Mercer Museum in the A.M. then head over to the brewery to catch the Ireland vs. England rugby match at 12 p.m. with live Irish music starting at 2 p.m.  (If you are really into local Irish history, DBC recently released a beer paying homage to Duffy's Cut.)


More about the Museum:
Located at 84 Pine Street (you can't miss it), Mercer Museum is listed on the National Register of Historic Places, included in the National Historic Landmark District, and is one of three concrete structures built by Henry Mercer in Doylestown. Displaying expansive Early-American furnishings, tools, carriages and fire engines, Mercer Museum is also home to The Spruance Library, housing the Bucks County Historical Society's research materials and other historic artifacts.
After the Great Boston Fire of 1872, which consumed 65 acres and 776 buildings, Mercer decided that in order to properly store his various 18th-19th century artifacts, he must safeguard his collection using a poured-in-place, rebar-reinforced concrete structure. Stepping inside is like stepping into a medieval, 15th century castle in Europe – except it's 100% structurally-sound!
With more than 40,000 artifacts and 55 exhibit rooms, guests can visit permanent and temporary exhibitions showcasing classic (or peculiar) artifacts. Mercer Museum is sure to please the entire family throughout the year. The concrete structure can maintain its temperature, though the sixth floor may require a jacket during the winter months.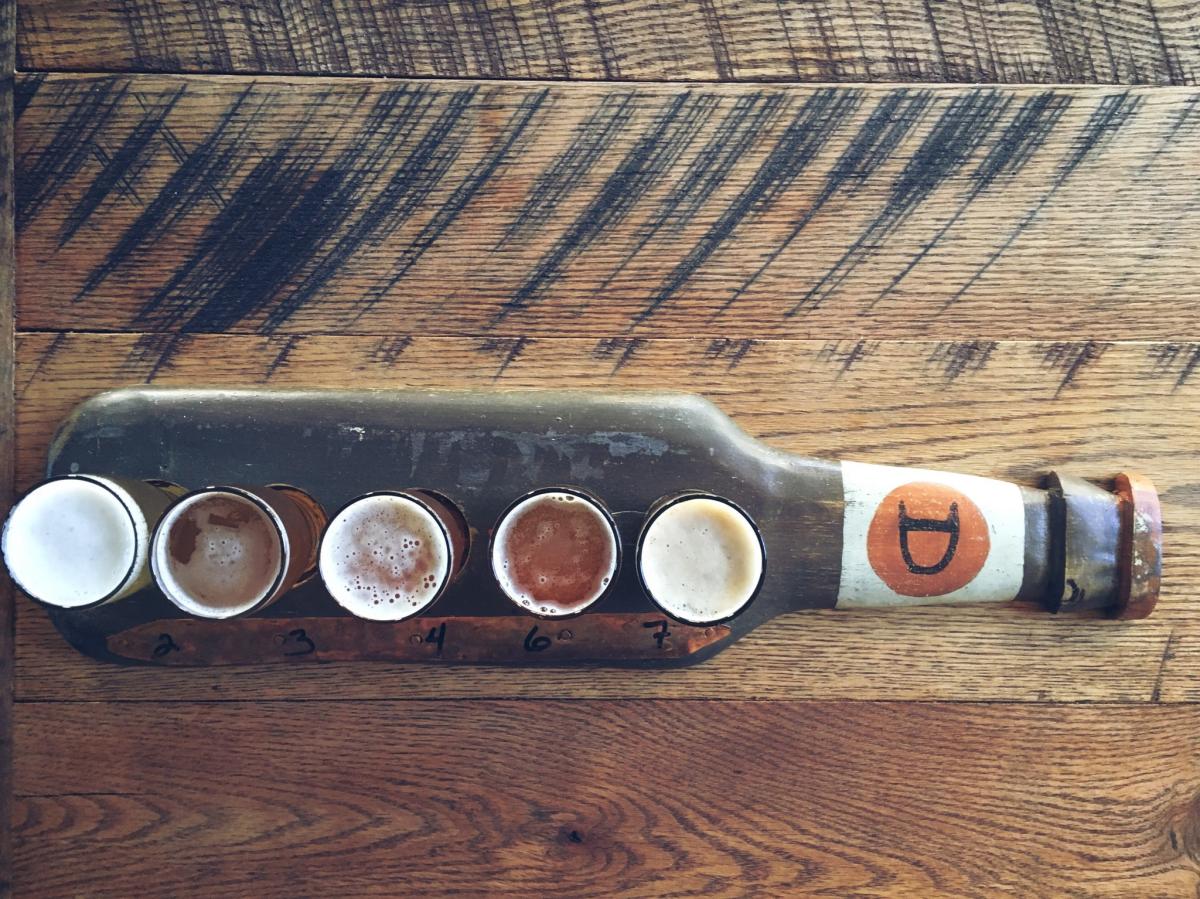 More about the Brewery:
From an R5 Lager to the Tileworks Tripel (Henry Mercer – need I say more?), Doylestown Brewing Company has a brew to quench your thirst.
Joe Modestine, President and owner of Doylestown Brewing Company, decided to keep his family's tradition alive when he opened the brewery doors and eventually expanded into the Hops Bar and Grill, The Still, Doyle's Down the Alley – their newest restaurant – and the upcoming tasting room near Doylestown Airport.
The tasting room is located inside a 5,000-square-foot warehouse! Justin Low, certified brew master and previous head brewer at Dock Street Brewing in Philadelphia, creates the eclectic taste behind the beers you'll taste today. Let's not forget about the food – you had me at half-priced burger Wednesday.