How do you like your wine? Dry? Semi-dry? Sweet? Fruity? Full-bodied? Oak-aged? Whether you like some or all of these in your favorite white, red, rosé, fruit or fall-inspired spice or mulled wine, the Bucks County Wine Trail offers award-winning tastes for every palate.
Best of all, visitors can try some of their old standbys – and find new favorites – during the Bucks County Wine Trail's annual Passport to Bucks self-guided wine-tasting tour. Beginning in November and continuing through April 30, the eight family-owned wineries that make up the wine trail are opening their tasting room doors and beckoning visitors for a new adventure – this one with leisurely, self-guided travel (and wine) as the focus. Guests are invited to purchase a passport for $30 and enjoy a world-class tasting at each of our wineries. The Passport bearer will have his or her card punched with every winery visit. Once all eight wineries have been visited, the card will be entered into a drawing for one of five fabulous Bucks County prizes. 
Wine enthusiasts can make passport stops at their own pace; whether it be over the course of a weekend, a few weekends or seasonally. Amid the fall and winter months, leaves are changing, temperatures are cooler and the warmth of the holidays enthrall us. It's a great time to taste wines and find favorites to grace tables at holiday gatherings or to share with loved ones as gifts.
Of course, spring in Bucks County is equally fabulous. Throughout this time of renewal, the County's verdant landscapes are in full bloom, including breathtaking views accented by cherry blossoms. At the wineries, guests can soak up the romanticism of budding vines and grapes that will ripen into the 2018 growing season and harvest.   
No matter when you choose to visit Bucks County, the Bucks County Wine Trail invites wine lovers from near and far to slow down, take it all in and sample a wide range of locally-made award-winning wines.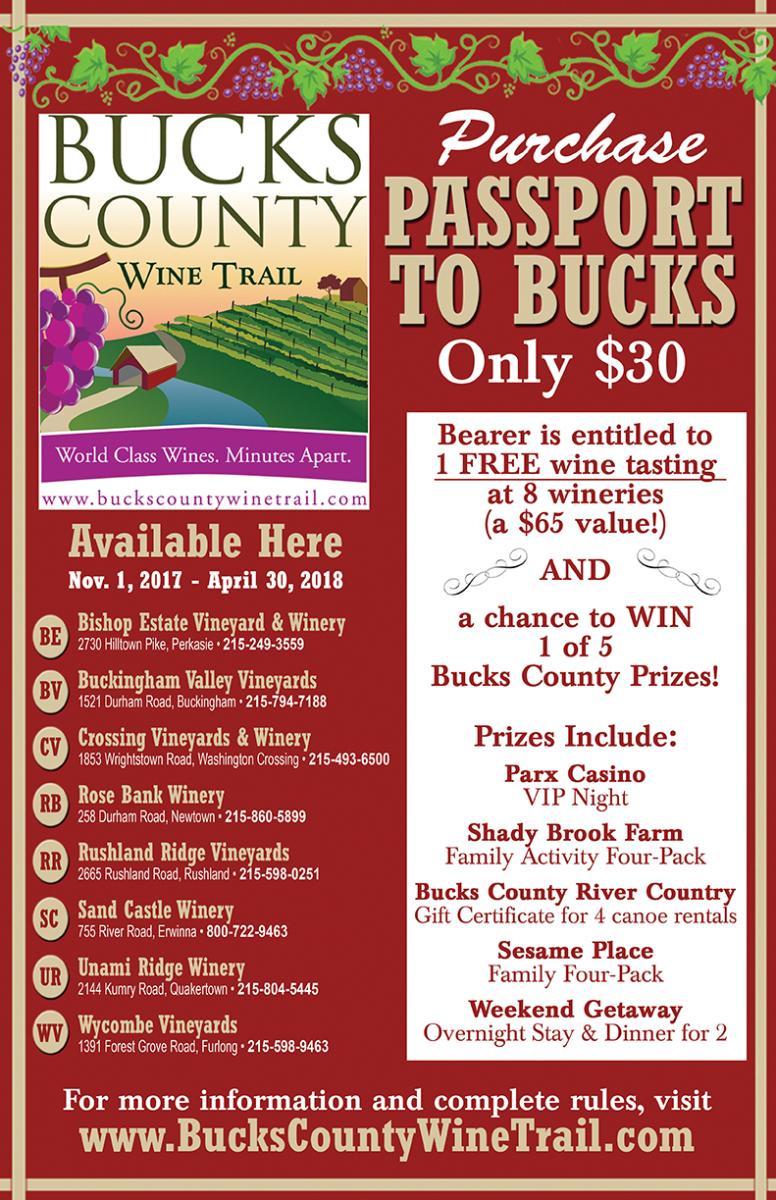 We encourage guests to purchase their Passports early as quantities are limited. Passport to Bucks is perfect for holiday gift-giving, birthdays, dates, girls' weekends and more. Passports are available for purchase in our wineries, the Bucks County Visitor Center, as well as online.
The Bucks County Wine Trail is comprised of Buckingham Valley Vineyards, Crossing Vineyards and Winery, Rose Bank Winery, Rushland Ridge Vineyard and Winery, Sand Castle Winery, Unami Ridge Winery and Wycombe Vineyards. This fall, our newest member winery, Bishop Estate Vineyard and Winery, will open in Perkasie.
To learn more about Passport to Bucks, click here.