Visit Bucks County's mascot "Bucky" wants to share some delicious recipes from Bucks County B&Bs.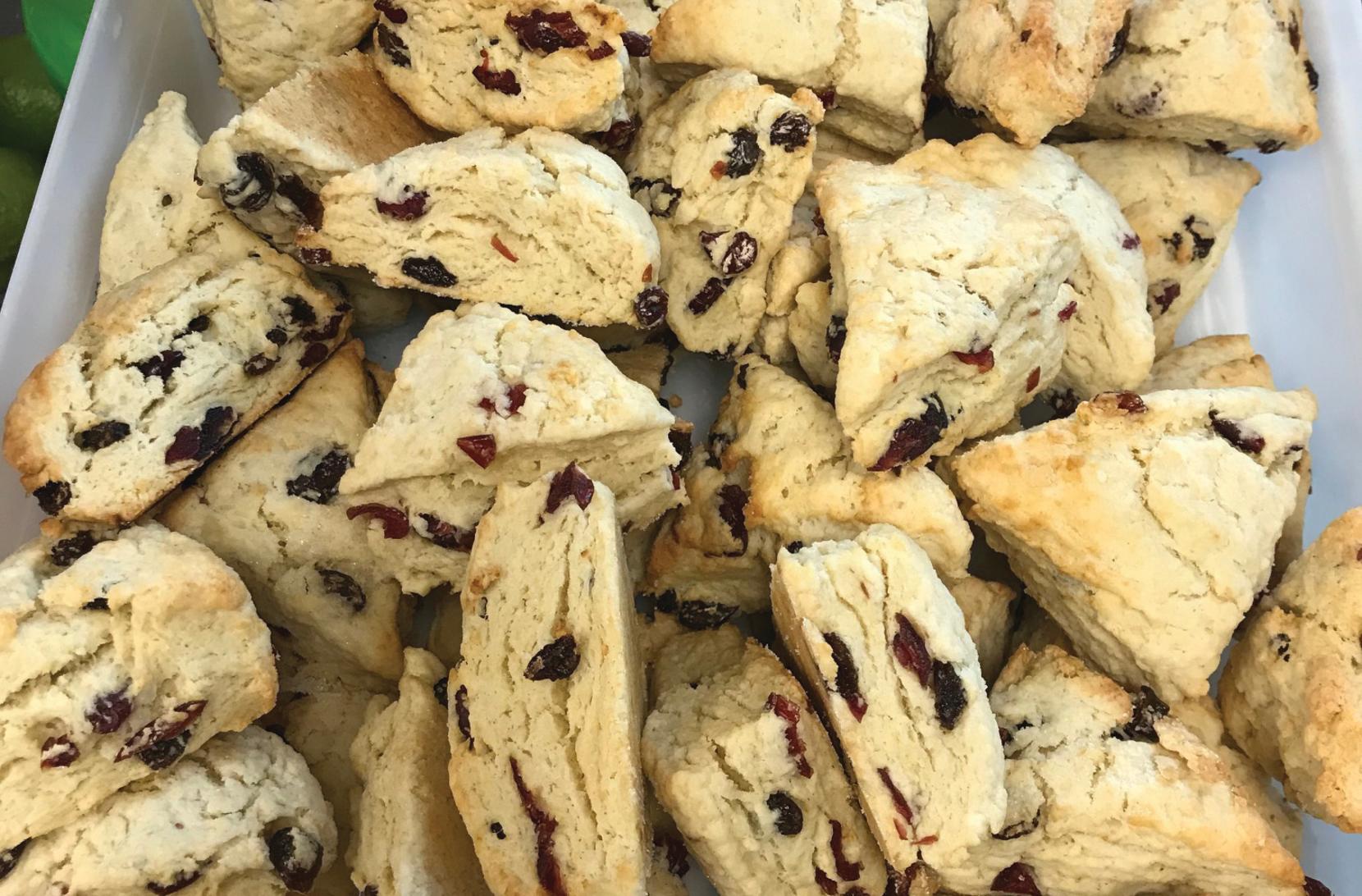 Scones at The Washington House Hotel & Restaurant

This is a very easy and quick recipe, which can be made with any combination of nuts, sweet chips and dried fruits. They are best right out of the oven but freeze and thaw well. Eat some now, and freeze the rest for another day!

Ingredients:
5 cups flour
2/3 cup sugar
1 tbsp baking powder
1/2 tsp baking soda
1/2 tsp salt
2/3 cup cold butter, cut in 1/4" cubes
1 cup chocolate chips
1 cup dried cranberries
1 tsp vanilla
1 2/3 cup buttermilk
Directions:
Put all of the dry ingredients in your mixing bowl and whisk to combine. If you are mixing by hand, add the butter cubes and use a pastry cutter or two knives to mix with flour so that you get a mixture that looks like big fresh bread crumbs. Butter pieces should be no larger than very small peas. If you are using your mixer, you would use the paddle attachment, not the whisk to do this. In another bowl, combine the last four ingredients and add to flour mixture. Mix only until the dough comes together - overmixing will create tough scones.

Turn half the mixture out onto a floured work surface and flour your hands. The mixture should be a little sticky. Pat it into a rectangle that is 1 inch thick. Slice the rectangle into 2 inch wide strips and cut those strips into triangles. Space your triangles about one inch apart on a sheet tray lined with parchment paper. Repeat with other half of the dough. Bake at 375 degrees until golden brown, about 12 minutes.
Bridgeton House on the Delaware deviled eggs
This delectable classic is a must for any Sunday brunch menu!
Ingredients:
6 free range eggs
1/4 cup Hellman's mayonnaise
1 tsp white vinegar
1 tsp Grey Poupon mustard
1/8 tsp sea salt
Freshly ground black pepper
Dash of hot sauce
Minced herbs (Dill, chives and parsley)
Smoked Spanish paprika, for garnish
Directions:
Place eggs in a single layer in a saucepan and cover with enough water that there's 1 1/2 inches of water above the eggs. Heat on high until water begins to boil, then cover, turn the heat to low and cook for one minute. Remove from heat and leave covered for 14 minutes, then rinse under cold water continuously for one minute.
Crack egg shells and carefully peel under cool running water. Gently dry with paper towels. Slice the eggs in half lengthwise, removing yolks to a medium bowl and placing the whites on a serving platter. Mash the yolks into a fine crumble using a fork. Add mayonnaise, vinegar, mustard, salt and pepper, then mix well.
Place the yolk mixture into a plastic storage bag, cut off the corner and pipe it into the egg whites. Sprinkle with paprika and herbs, then serve!
'Morning Glory' muffins at the Wedgwood Inn
Start your morning with this delicious sweet treat! 
Ingredients:
2 1/4 cups all-purpose flour
3/4 cup granulated sugar
1 1/2 tsp baking soda
1/2 tsp baking powder
1 tsp ground cinnamon
3/4 tsp salt 
1/4 cup shredded coconut (toasted)
1/4 cup walnuts, toasted
1 1/2 cups shredded carrots (about 3)
1 1/2 cups golden raisins
1 (8 oz) can crushed pineapple in juice
1 Granny Smith apple, peeled, cored and shredded
1/4 cup honey
3 eggs
4 tsp unsalted butter, melted and cooled
1 tsp vanilla extract
Directions:
Preheat oven to 350 degrees. Line a 12-cup muffin tin with paper muffin cups. In a large bowl combine the flour, sugar, baking soda, baking powder, cinnamon and salt. Pulse the coconut and walnuts in a food processor until finely ground. Then add to the flour mixture and set aside. Pour the crushed pineapple into a fine-mesh strainer and add the shredded apple. Strain the fruit mixture until it is completely dry. In a medium bowl, whisk the honey, eggs, melted butter and vanilla extract until smooth. Gently fold the egg mixture into the flour mixture until just combined. Fold in the pineapple and apple mixture, the carrots, ending with the raisins and nuts. Fill muffin cups half full to leave room to rise. Bake 24 to 28 minutes, rotating the muffin tin halfway through baking. Let the muffins cool for 10 minutes in the pan. Remove the muffins to a wire rack to cool completely. Yields two dozen muffins.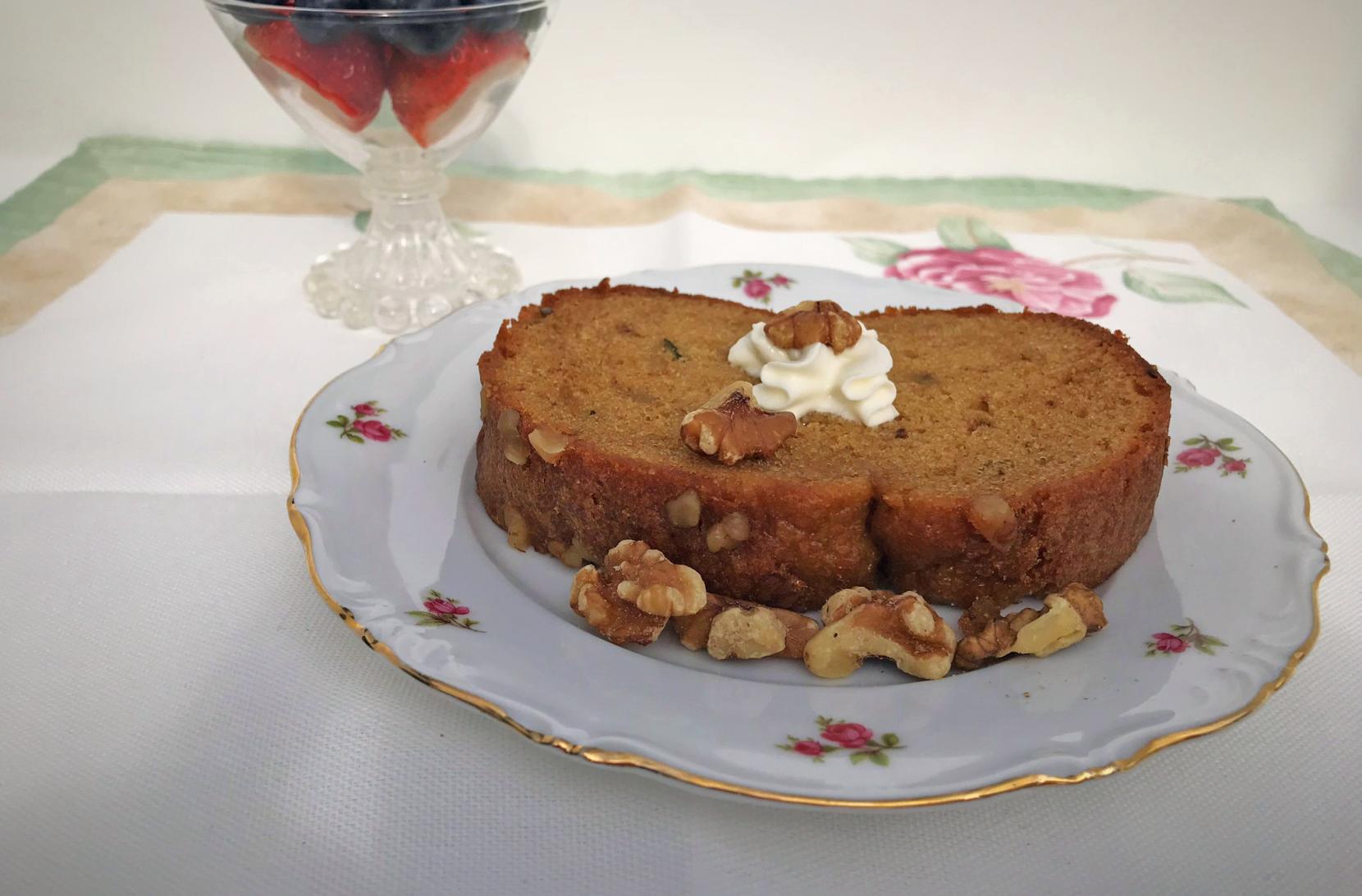 Zucchini bread at Fox & Hound
This culinary creation is often served using raisins. Zucchinis are used straight from the Fox and Hound garden, which really puts the homemade flavor over the top!
Ingredients:
3 cups flour
2 cups sugar
1 tsp cinnamon
1 tsp baking soda
1 tsp salt
1/4 tsp baking powder
3 eggs, well beaten
1 cup vegetable oil
2 cups zucchini, grated
1 cup walnuts, chopped
2 tsp vanilla
1 cup raisins or dates

Directions:
Mix dry ingredients in bowl first. Then add in the eggs, vegetable oil, walnuts, zucchini, vanilla and raisins. Lightly grease 2 loaf pans.  Mix the batter well and pour into greased pans.  Bake at 360 degrees for approximately 60-70 minutes.  Check with toothpick to make sure they are fully cooked.