Growing up, I loved to dress up as if I were royalty hosting a pretend tea party with all my friends. We would all wear princess dresses, pull out my tea set that my seven-year-old self painted, and sip air out of our cups. Now, I can do that but even better- I don't have to pretend. If you're looking to assuage your childhood tea party dreams, The Talking Teacup is the place to visit. This hidden gem is located just fifteen minutes outside Doylestown in Chalfont, PA. The atmosphere makes you feel like you're in a movie, the tea and treats are deliciously homemade, and it is the perfect location for many occasions.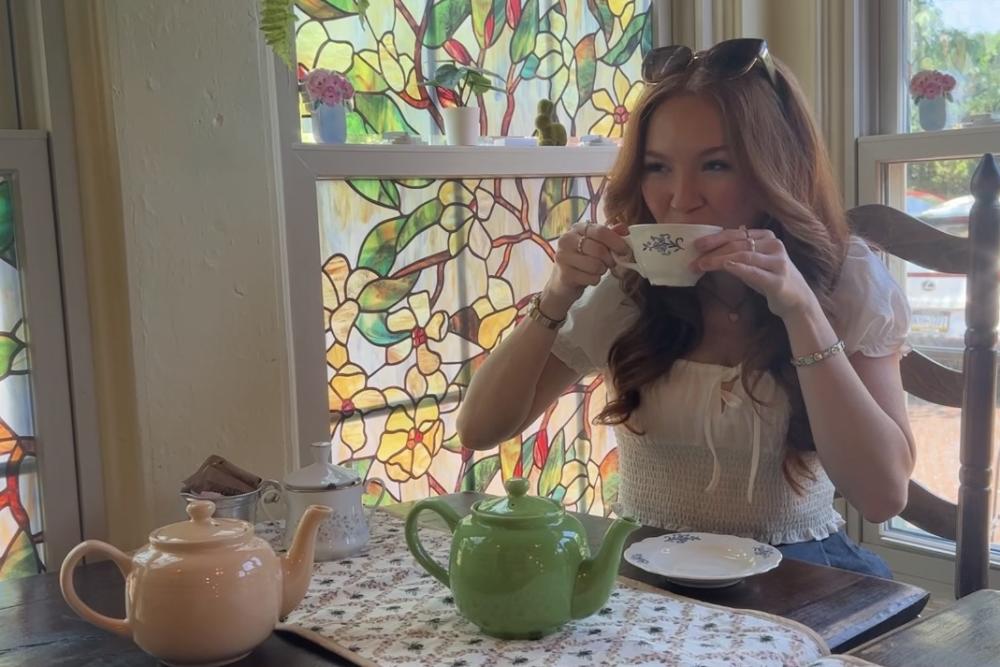 The Talking Tea Cup is located in a beautifully renovated house at 301 West Butler Avenue. There is plenty of parking and the restaurant is suitable for groups up to 35, making it perfect for a bridal shower, bus tour, a day out with family and friends or any small event. The atmosphere makes you feel right at home, and knowing the background of the designs and the story of the business makes the experience even sweeter. 
After talking to the new owner, Patti Fitzpatrick, she told us how she reopened The Talking Teacup after her friend passed away in 2020. Her friend, Kathy Heck, established The Talking Teacup in 2003 and encouraged her to keep the tea house going due to Patty's love for making different plates. In a letter to Patti, Kathy wrote, "You're a good chef, baker and marketing person and you would be great at it. GO FOR IT!" After some thought and one pandemic later, Patti indeed decided to go for it. She wanted a place for people to be able to unwind and reconnect with loved ones and she got to refurbishing.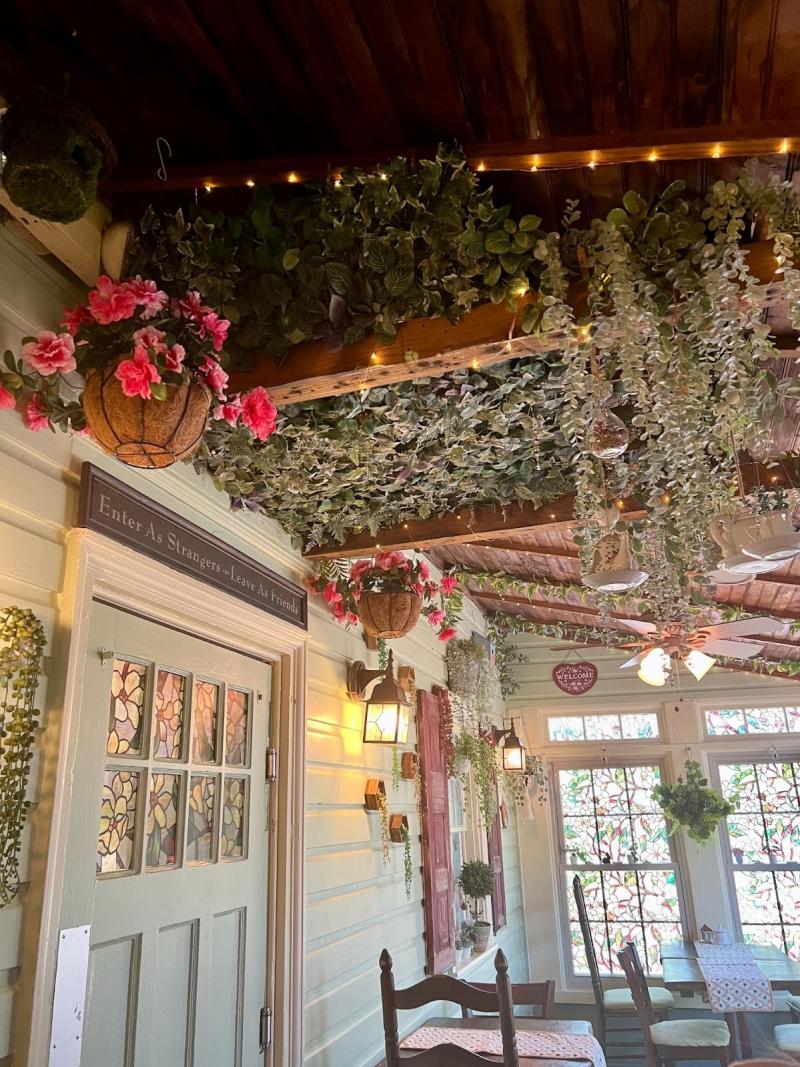 The tea house is inside a 1700's house and has recently gone through incredible renovations. Patti definitely sets the scene with unique and quaint decor throughout the house. The picture opportunities here are endless! When you first walk in, there is an adorable gift shop filled with teas ready for purchase. I was already in awe, but when we walked into the sitting area, I was even more amazed. The decor matches the vibe perfectly- I felt like I was at an actual tea party. There was an incredible room in the back filled with stained glass and sun. Of course, we took lots of photos and videos that I made sure to show to just about everyone I know- I already have plans to go back with my friends. Kudos to Patti, she knows how to create a lovely and welcoming atmosphere!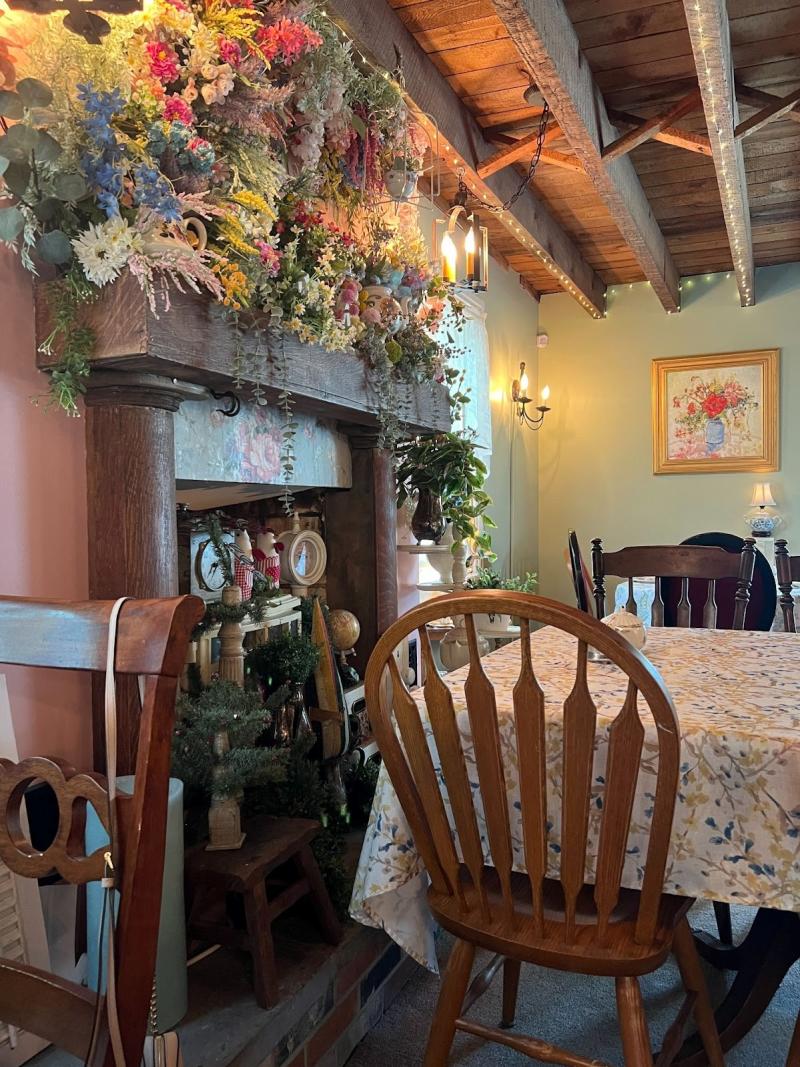 We had a 90-minute sitting which included tea, scones, soup and salad, finger sandwiches, and desserts. The tea menu had a wide range of teas from white, green, red, Oolong, black, caffeinated, decaffeinated- I've never seen such a wide range of tea options! I was between a few, such as cotton candy tea and caramel tea, but I ended up going with the "Sunset Tea"- a refreshing strawberry blend.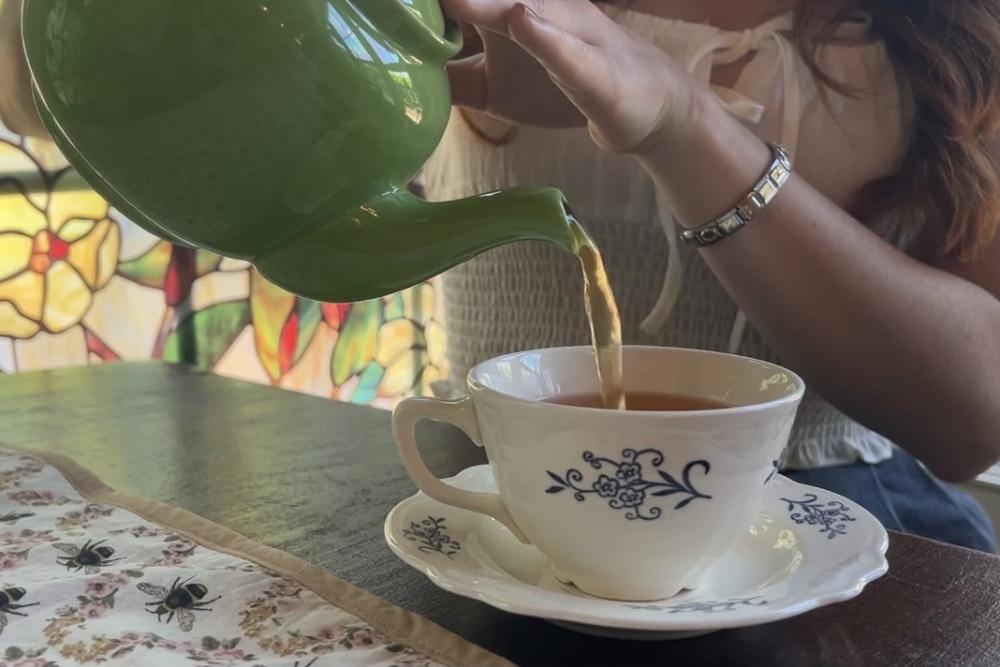 Then, scones were brought to us. It was my first time trying a scone, and now I've been craving this combo ever since! We had a seasonal salad and tomato soup after, which really hit the spot. Next, we were given a plate of five different finger sandwiches and savory foods. I especially enjoyed the pistachio spread on fresh bread, topped with a strawberry. Patti knows how to create the best flavor combos, which she formulates herself each week. There is no set menu because she is always creating new recipes for her customers, as well as offers seasonal treats.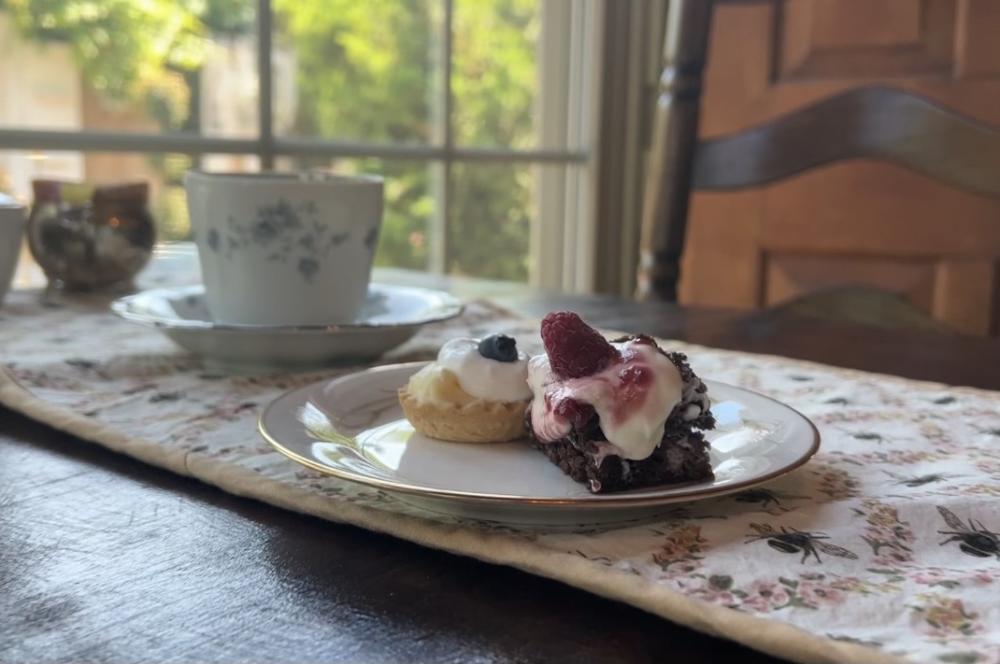 Finally, we made sure to save enough room for dessert. I had the best lemon custard pie- you can just tell it was homemade. We also tried a brownie-like treat with raspberry custard. I was amazed at how perfect the different foods were, especially paired with the tea. What I love about The Talking Teacup is that not only is the tea and food divine, but also the way the environment takes you to another magical world. 
I have definitely lived out my childhood dream of attending an actual tea party, and it was right around the corner this entire time. Patti really knows what she's doing, from the elegant decor to the tasteful tea and food. The next time you're looking for a fun outing while also giving the greatest gift to younger you, make a reservation at The Talking Teacup!