As many vegans can remember, years ago, the only option us herbivores had when eating out was a side salad with balsamic vinaigrette dressing (and maybe some avocado if we were lucky). However, vegans are thriving in 2023, with that little "V" popping up next to more and more menu items, especially here in Bucks County.
Known (at least by the residents) for its local produce and farm to table restaurants, Bucks County seems like the perfect place for a vegan to eat out. And while there may not be many strictly vegan food joints, there are more options out there than one might think. Thanks to Google, word-of-vegan-mouth, and private Facebook groups, finding safe places to eat in the area is a piece of vegan carrot cake. Whether you want a quick bite, something to satisfy your sweet tooth, or a luxury vegan dining experience, the vegan options in Bucks County have you covered.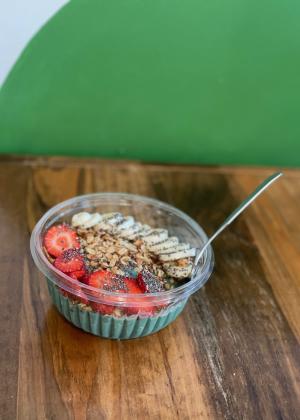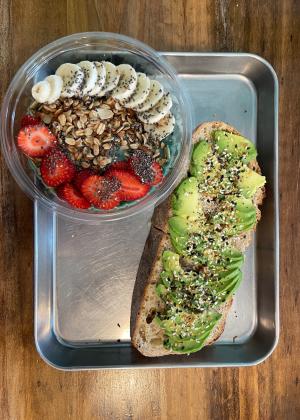 Let's start with the most important meal of the day: breakfast. My personal favorite spot is Farm to Toast in Dublin. I love their "Avocado Toast" (but make sure to request no cream cheese) and "Kai Bowl". They have a great selection of smoothies, bowls, toasts, and beverages depending on your mood, and serve breakfast and lunch items all day. *Pro tip* - if you're ordering coffee or any other hot drink, bring your own to-go cup and they'll hook you up with a discount! Located in The Square at Dublin Town Center, you can easily turn your breakfast date into a fun shopping day while you checkout locally sourced stores in the same building.
Moving on to lunch, I'm a big fan of Nourish by Mama in Doylestown. This local, organic, vegan/vegetarian spot hits all the buzzwords. They serve breakfast and lunch, and have a variety of unique smoothies and drinks as well. Their "Crispy Thai Tofu Wrap" is one of my favorite mid-day meals. It's savory, creamy, and…well..crispy. Also, being in the heart of Doylestown, this eatery offers easy access to shopping, bars, and more.
Now I don't know about you, but dinner as a vegan can go one of two ways. Sometimes I feel like embracing my passion for regenerative agriculture, living my truest vegan self, and nourishing my body with beautifully crafted local dishes…and sometimes I just want a pizza. Fear not, Dear Reader, I have options for both moods.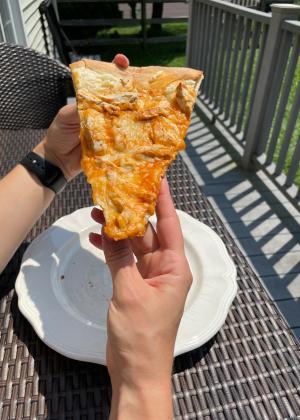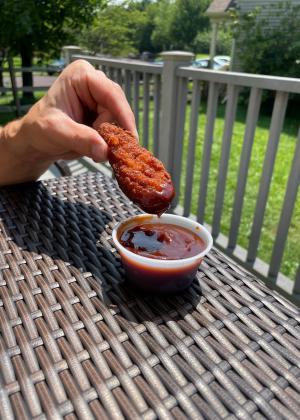 For the nights where you crave pizza from the pre-vegan days, there's Main Street Pizzeria & Grille in Chalfont. They have quite a few vegan options on the menu, but my personal favorite is their "Buffalo Chicken Pizza". As my non-vegan husband says, "It's just really good pizza". Their "BBQ Chicken Tenders", fried to perfection, come with the sweetest BBQ sauce to dip in and make for an excellent side, or standalone meal.
Now, when a vegan wants to be able to walk into a restaurant, close their eyes, randomly point anywhere on the menu and feel confident that what they picked will check all the animal kindness boxes AND knock their 100% organic cotton socks off, there's none other than Sprig & Vine in New Hope. Executive Chef and owner, Ross Olchvary has brilliantly curated a menu that changes with the seasons, showcasing ingredients in both classic, and truly inspiring ways. This fully vegan restaurant is without a doubt, a must-add to your list. Here's what my husband and I had when we visited in August (keep in mind the menu might be different when you visit):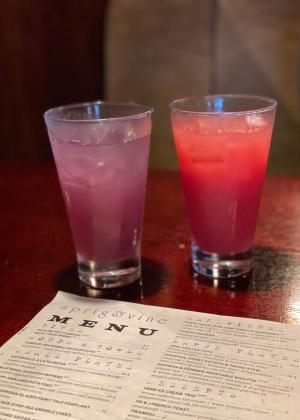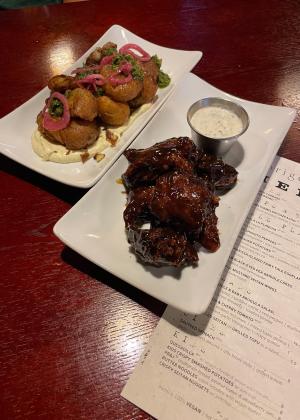 For beverages, we ordered the "Watermelon Agua Fresca" and house-made "Lavender Lemonade" which were both the perfect level of sweet, refreshing, vibrant and fun. The "Basil Garlic Herb Bread" that followed quite literally melted in our mouths. For small plates, we ordered the "Crispy Smashed Potatoes" and, at our server, Nadia's suggestion, the "BBQ Seitan Wings". Sea salt combined with the tanginess of the preserved lemon sauce beautifully complimented the crispy potatoes. And the BBQ wings brought back memories of spare ribs, which was one of my favorite meals P.V. (pre-vegan).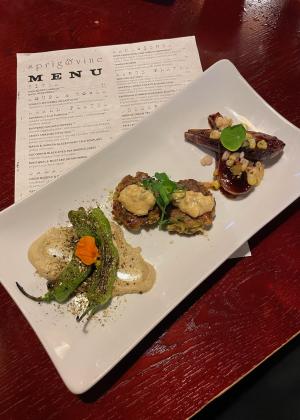 As we debated what to order for dinner, Chef Ross surprised us with a small plate sampler of the "Blistered Shishito Peppers", "Maple & Harissa-Glazed Fairy Tale Eggplant", and "Zucchini & Black-Eyed Pea Griddle Cakes", all of which were clever takes on produce that I recognized from other traditional meals. The peppers were served over an eggplant puree which I could have eaten as a soup, and flavored with nori-sesame-smoked salt furikake, giving the entire bite just a hint of the ocean. The fairy tale eggplants contained a wonderful combination of both sweet and spicy. And the zucchini griddle cakes bursted with flavor, were crispy, and left us with a happily unexpected spiciness at the end.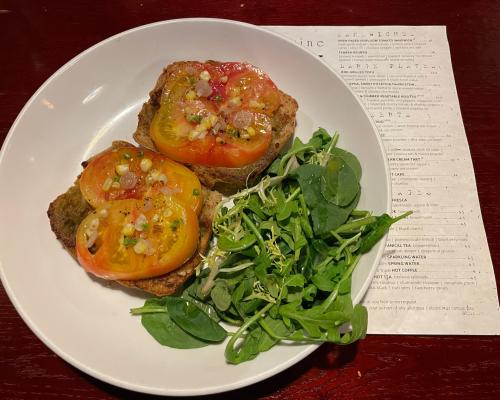 After sampling all but one of the small plates, we didn't know if we'd have room for large plates…but the descriptions twisted our arms, and we ordered the "Jerk-Grilled Tofu", "Tempeh Reuben", and (after seeing that the "Basil-Garlic Bread" made an encore performance in it) the "Open-Faced Heirloom Tomato Sandwich". The jerk tofu was a fully balanced meal and left us with warm cozy feelings. The Reuben brought back more P.V. memories, delivering the classic sandwich we know and love. And the heirloom sandwich allowed the in-season tomato be the star of the meal, with the herbaceous bread completing every bite.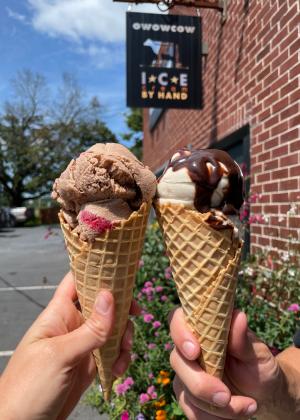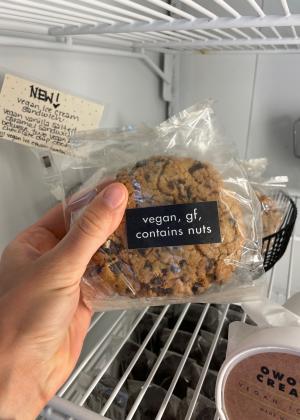 So Vegan FOOD is well and good, but what's a meal without a dessert? Bucks County delivers on that front as well. Owowcow, an ice cream shop with a few locations throughout the county, known for its delicious seasonal flavors, carries rotating vegan options as well. My husband and I tried the "Chocolate Raspberry" and "Peach" flavors, and both were so fresh and full of summer vibes. There were vegan ice cream sandwiches and vegan toppings available too.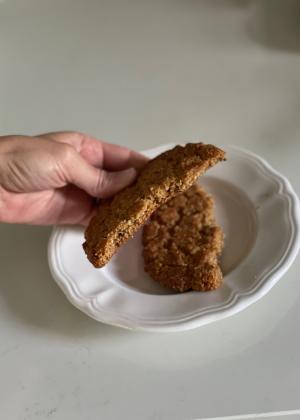 If cookies are your dessert of choice, look no further than Pipits Bakery, found at the Perkasie Farmers Market every Saturday until October 28th. Sarah Kauzmann, the owner and baker, always carries one vegan cookie option alongside her non-vegan baked goods for her loyal, animal-loving-customers. Currently, she is offering a "Gluten-Free, Vegan, Peanut Butter Cookie" that is so unbelievably chewy and delicious.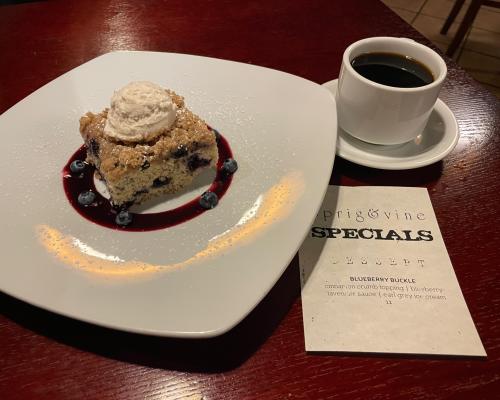 Meanwhile, back at Sprig & Vine, the "Blueberry Buckle" is the perfect finale to their vegan dinners. "What's a buckle," you ask? It's a blueberry crumb cake, with blueberry-lavender sauce, served with earl grey ice cream. And yes, the earl grey ice cream does in fact taste like an earl grey tea. Their dessert menu, like their dinner menu, also changes with the seasons.
And that, Dear Reader, is just a peek at all the vegan options Bucks County has to offer. I hope I introduced you to a few spots you didn't know existed. And if you've reached the end of this article and are thinking, "Rebecca…I've BEEN to all of these places already," here are some more of my favorite places, along with recommendations from members of the Bucks County Vegan Facebook Page, that are fully vegan or have vegan options in Bucks County:
Happy eating!