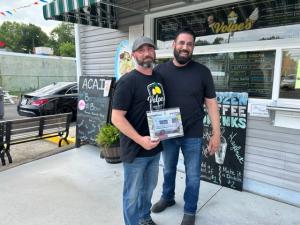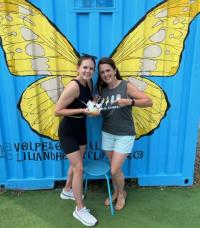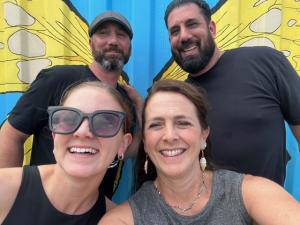 Besides treating yourself to Italian Ice, a milkshake, or a sundae, I hope you will try my absolute FAVORITE, fresh warm waffles right off the griddle, topped with hand dipped ice cream of your choice! John and Jerry were both FUN and welcoming, full of personality, sharing the history of this amazing ice cream and water ice family adventure. To think that this business began in a garage in Northeast Philly with the sole choice of homemade lemon water ice like no other fascinated my daughter and me! Volpe's is a family run store located where the old Warner's Candy Store once lived. There is plenty of colorful and comfortable outside seating, along with a pretty painted butterfly photo opportunity! I highly recommend you visit www.volpesoriginal.com to read about how grade school sweethearts stumbled upon an old family Italian ice recipe and began concocting it in their very own garage in the 70's. You will leave Volpe's with a full and satisfied belly, along with a smile on your face, for sure. Adjacent to Volpe's is Lili & Honey Clothing Co., a beautiful boutique, owned and operated by Volpe family members-that stop was a total bonus to this trip, with all of the fashionable decor and personable, kind service.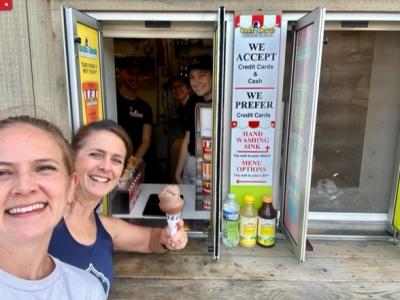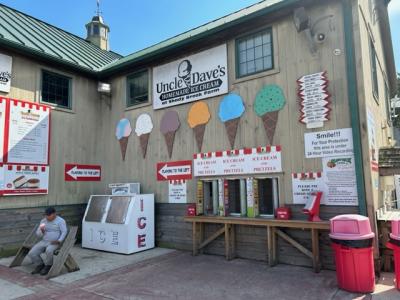 Uncle Dave's has been open since 2007 and is such a great spot to bring your family with plenty of seating outside right next to the garden center. Watermelon and Basil, Banana Chip, Cannoli, Lavender, and Milk & Cookies are just a few of the unique flavors you will have to choose from, along with the crowd pleasers such as Cotton Candy and Billionaire Chocolate. In the spring, they even offered Irish Potato Ice Cream. Matt, the production manager described this dessert WONDER and how it was concocted with sweet cream, coconut shavings, cinnamon, along with chunks of, yes, you guessed it, Irish Potatoes! The menu at this location is sure to please.
    
Have you ever heard of "The Elvis"? Well, you can try it at Jo Jo's. It's a fan favorite, topped with chocolate syrup, peanut butter, marshmallow, and banana slices. You will be hounding like a HOUND DOG when you try that one! Joe treated two of my young friends and me to an amazing new flavor, Frozen Minted Cookie which was out of this world! He sent us home with a Frozen Mint Cookie which was made with this ice cream smothered in frozen chocolate. I nearly died and went to heaven after the first bite! Treat yourself to Pineapple Dole Whip soft serve which won't be available forever since the flavors are always changing. Joe is very passionate about coming up with flavors that are sure to please those looking to satisfy the palate.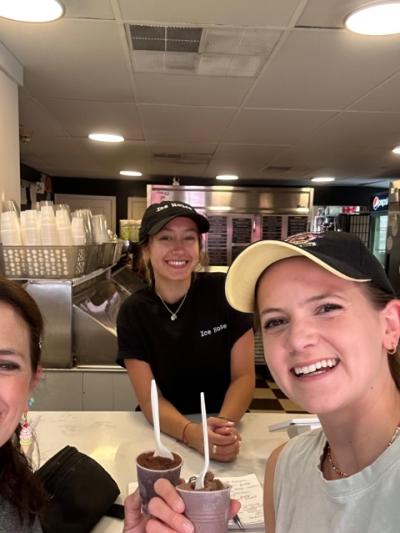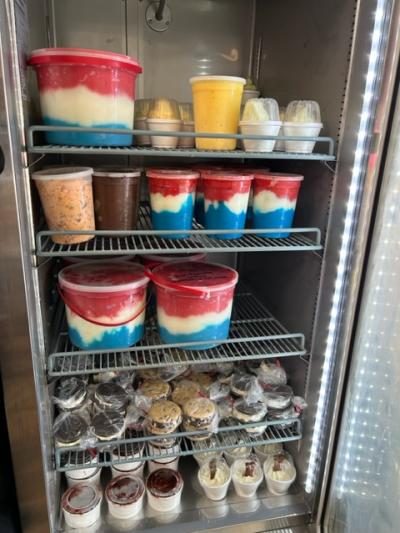 Sophia served my daughter and I a Cherry Bordeaux and Peanut Butter Cup Gourmet Water Ice. Both flavors were delicious, refreshing, and smooth.Their main mission is to bring the community together over delicious and refreshing handcrafted water ice. The Yardley location opened in 1994. The owners at that time wanted to create a place that the community could gather to enjoy delicious desserts. What used to be a limited menu has turned into items like Orange Creamsicle and Key Lime Pie! The business is still in the family but now has two locations serving soft-serve custard, gelatis, sundaes, shakes, malts, floats, and even blend-ins. If you dare to be different, try Matcha, Butterbeer, or even Brownie Dough water ice-wow!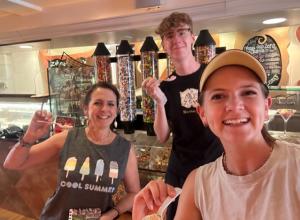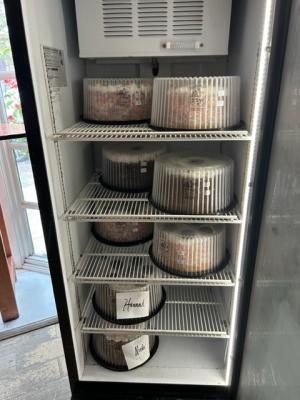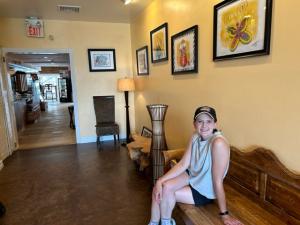 The Zebra Striped Whale has been family owned and operated since 2004 and serves premium ice cream, espresso drinks, coffee, tea, crepes, and desserts. They specialize in hand mixing an array of toppings into its delicious ice cream, known as Whirlwinds. When my daughter and I were visiting, we ran into a young mom picking up an ice cream cake for her daughter's birthday party. They customize the ice cream cakes and even serve chocolate pretzel trays! Sebastian recommended we try Raspberry Sorbet and Cappuccino Crunch. Boy, was he correct in his recommendation! We even tried the Graham Slam which is Gluten-free. ALL flavors were scrumptious and made us want to come back for more.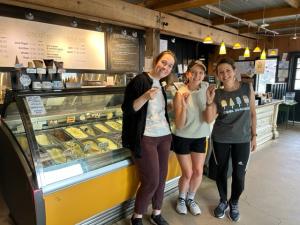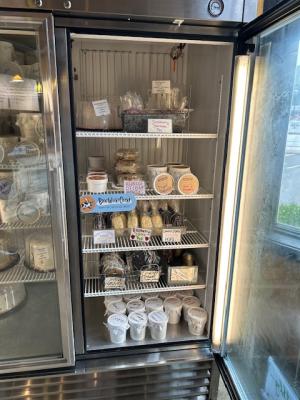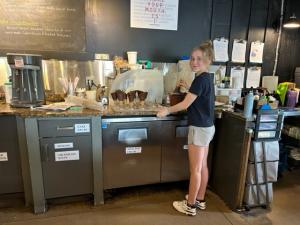 How cool that it is housed in a traditional Bucks County barn in Carousel Village? There is plenty of parking and outdoor seating which is a sweet bonus. Leslie was amazing-when asking what flavors she suggested we try, it was a difficult answer since EVERYTHING was amazing. My daughter and I had a mouth watering experience as we sampled the Cashew Caramel and Cookie Monstah. What was pretty unique about the latter is that Cookie Monstah is made naturally with the blue dye from the Butterfly Pea Flower. How cool is that? They source local and organic cream and milk, fruits and vegetables, cage free eggs and even raw honey. They support the local farms and create extraordinary flavors. It certainly was obvious after trying these sweet treats. As we were leaving, we couldn't help but notice Sabina dipping fresh waffle cones in melted chocolate. The smell was intoxicating (in a good way)!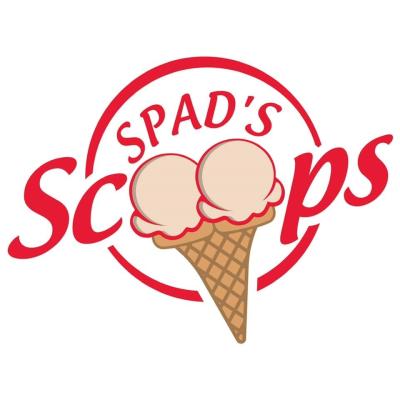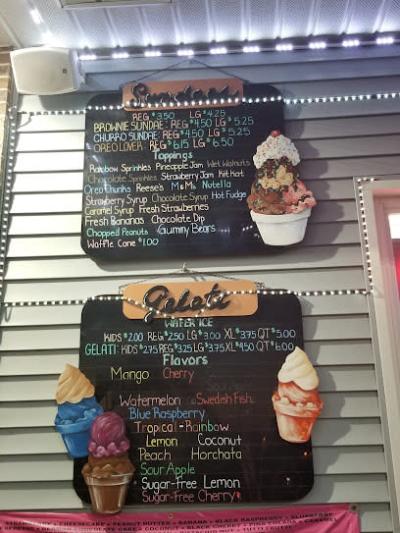 Looking for vegan options? Try this new spot for a cold, sweet treat. What a great spot for an ice cream place-right next to the beautiful Delaware River in historic Bristol. You can work up an appetite for the creamy sensation after strolling around Bristol Waterfront. They have every flavor you could imagine, including Peppermint Stick and Eggnog.  You can even grab your own furry friend a Pup Cup!
Fairless Hills Ice Cream - Fairless Hills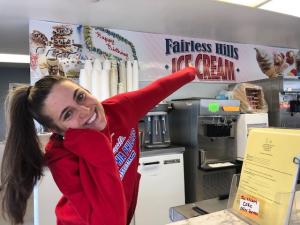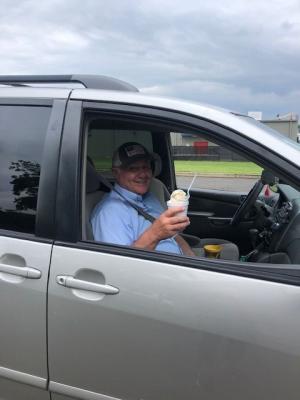 The ice cream is scrumptious. On one of my frequent trips, my dad ordered peanut butter hard ice cream in a cup. I ordered a 6 pack of their delicious ice cream sandwiches for my family. So YUMMY! They also have pies, cupcakes, an endless amount of sundae selections, including Apple Crisp, Cannoli, Strawberry Shortcake, and Lemon Meringue, chocolate dipped bananas, and water ice for those who are lactose free. There are also some no sugar added flavors for those on a restricted sugar diet.