Get to Know: Antiquarian Noel Barrett
You may recognize him from television, he's an appraiser on the long-standing hit PBS show Antiques Roadshow, or, you may recognize him from around town in Bucks County. He has his own auction house in Pipersville, and recently partnered with Pook & Pook, Inc. auctioneers out in Downingtown, PA. The avid toy collector is the star of one of our 'Bucks County is My Home' videos, so we sat down to talk more with him about his career in the antique business...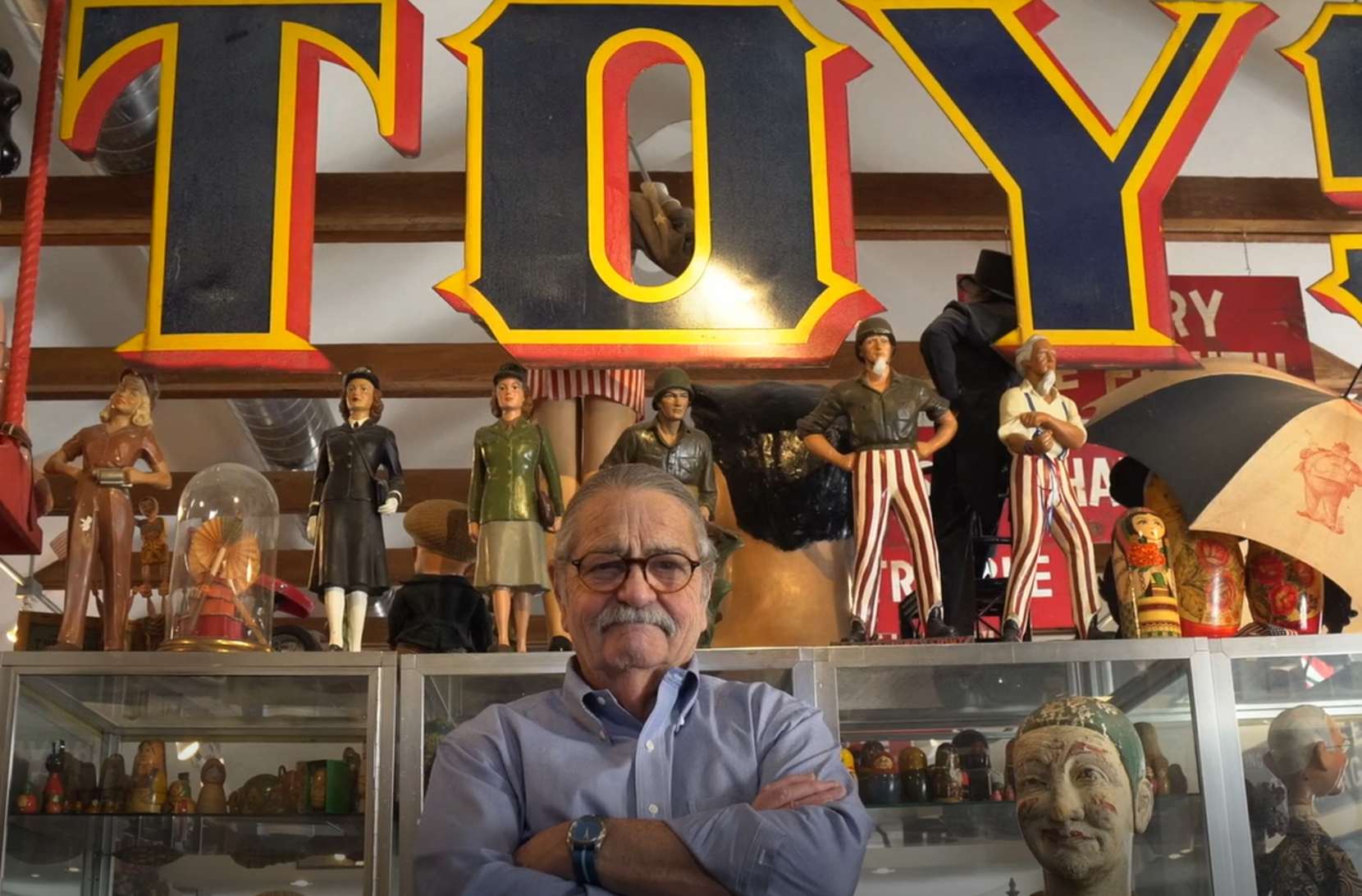 Noel Barrett: Antiquing with Character
Where did you grow up?
I grew up in Alexandria, Virginia, but spent summers in New London, Connecticut. I moved to Carversville in Solebury Township in Bucks County in April 1983. I wanted to be in Pennsylvania – better for antique business than Alexandria and my then in-laws lived in Warrington. We often visited a small antique shop in Carversville.
What got you into the antique business after starting out your career as a filmmaker? 
My favorite high school subject was history and I received my Bachelor of Science degree at Columbia University in American History. I was always interested in the past, including music, movies, literature and ultimately, objects from previous eras. While my interest in movie production was winding down, I began an enthusiasm for old toys spurred on by finding one of my childhood favorites in an antique shop. One toy led to another and thus my collecting hobby began to be supported by buying and selling other toys I found.
What is your favorite thing about the antique toy collecting business? 
Interest in objects as a collector or dealer forces you to take in the world around - to see things and be aware.
What is one of the strangest antiques or toys you've ever seen?
I had a friend who collected all manner of material from the world of sideshows and freaks, etc. Among his treasures was the handwritten contract between P.T. Barnum and Chang & Eng, the original Siamese twins. He also had [the dog tag] of Bela Lugosi's dog, but weirdest was a stuffed two-headed calf – one of the displays from a traveling sideshow museum of oddities.
Do you have any advice for amateur collectors?
Buy what you love if you can afford it. You can always get rid of something you lose interest in, but you can seldom get that item you loved and passed up when you had a chance. Malcolm Forbes, a great collector, said, "I never regretted something I bought, only the things I didn't buy."
Do you have any favorite Bucks County spots for dinner?
I have always been treated very well at the Centre Bridge Inn!
Has the Antiques Roadshow tour brought you to any cool places across the USA? Any towns that are better than others for finding antiques?
It's hard to filter through all the places we went for the last 23 years. I just got back from Tulsa, Oklahoma, which was a bit of a surprise. The "art deco" district is a trove of well-preserved 20's & 30's architecture, an array of fine restaurants are available and there are two fine museums to visit, The Philmont and The Gilcrease, but my real favorite is New Orleans. We have been there twice. For antiques in general, Pennsylvania has been among the best states for finding antiques.
Where did you learn to determine an antique's worth?
The internet auction sites like eBay, Bidsquare, and LiveAuctioneers are good resources.
What is the best thing about living Bucks County?
Speaking from my end of Bucks County, Solebury, New Hope, Buckingham and the more northern townships, I love the quality of life in the beautiful countryside along the Delaware River. It's charming and scenic with a small town feel and close enough to New York City and Philadelphia for big city life.