BUCKS COUNTY, PA (January 29, 2020) – Mark your calendars, because Bucks County, Pennsylvania is gearing up for an exciting new year (and decade)!
Bucks County is coming off a very successful 2019. According to STR, 2019 room supply was up 3% for the year. Even with more rooms available, average occupancy was up nearly 4% in the peak travel season of May through August. The holidays in Bucks County also saw more overnight rooms filled in 2019. November occupancy was up 5.8% and December was up 2.8%.
From new brewery openings to ravishing renovations, a visit to Bucks County is a must in 2020! To help you plan your trip, Visit Bucks County has rounded up the reasons to start booking your getaway to the area.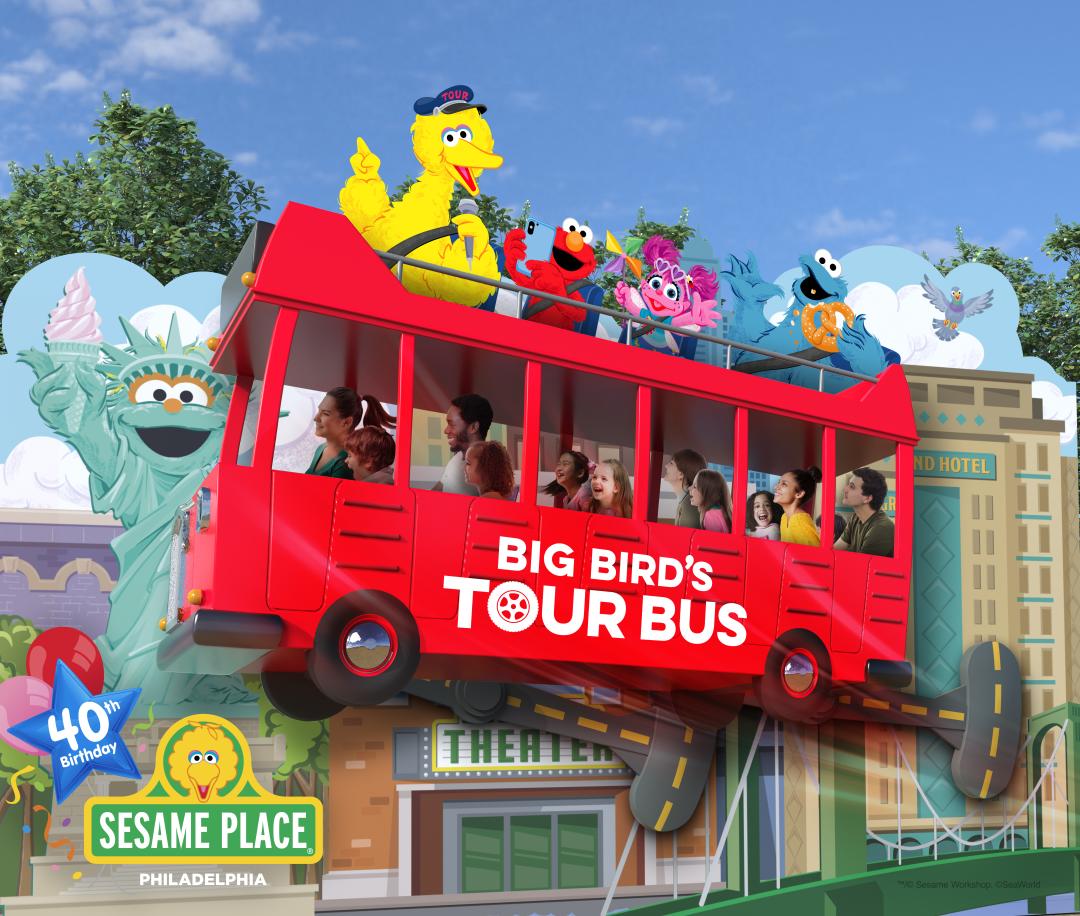 Celebrate 40 years of family fun at Sesame Place® Philadelphia! The popular children's theme and water park in Langhorne will celebrate its 40th birthday in 2020 all season long with the Neighborhood Birthday Party Parade featuring festive birthday floats, sparkly cupcakes and an original, toe-tapping birthday song. The theme park, which was the first in the world to become a Certified Autism Center, will also introduce three new attractions, including the family-friendly ride, Big Bird's Tour Bus; a new food location, ABC Eats, featuring healthy wraps and salads; and a new play area for kids, Slimey's Square.
The Riverhouse at Odette's opens in May. Formerly Chez Odette's, the luxury boutique hotel and riverside restaurant will open in May with 34 guest rooms, a members-only rooftop bar, lobby piano lounge, Odette's Restaurant, plus an open-concept wedding venue space for up to 220 guests. This edgy, yet elegant, new hotel designed with flowing fabrics, bold fixtures and floor-to-ceiling glass doors for a French flair, brings a luxurious escape option to beloved New Hope.
Explore 40 new rooms and more at The Logan Inn. The Logan Inn expansion will bring 40 rooms to the center of the New Hope, as well as an event space and multiple breakout rooms. In addition to increased room inventory, the Logan Inn expansion will create a very social and well programmed main level, which will include a restaurant, bar, private dining space and curated entertainment. The inn will also debut a stunning new outdoor space just in time for summer. The unveiling of the renovated Logan Inn is slated for May 2020.
Head Over to "The Yard," at the Brand-New Trolley Barn in Quakertown. Trolley Barn Public Market, a 19,000-square-foot market across the tracks from the old train station in Quakertown, continues construction in 2020. The historic space will feature a community event center and up to a dozen vendors, including Artisan Pizza, Two Rivers Brewing Company, Black River Winery, Bank Street Creamery, Hewn Distillery and more! Outside, enjoy a beer garden at "The Yard," offering a social area with seating to accommodate hundreds of people. This carefully designed space includes five firepits, cornhole games and ample room for entertainment. The old railyard's 5,000 square feet is the perfect setting to host private events.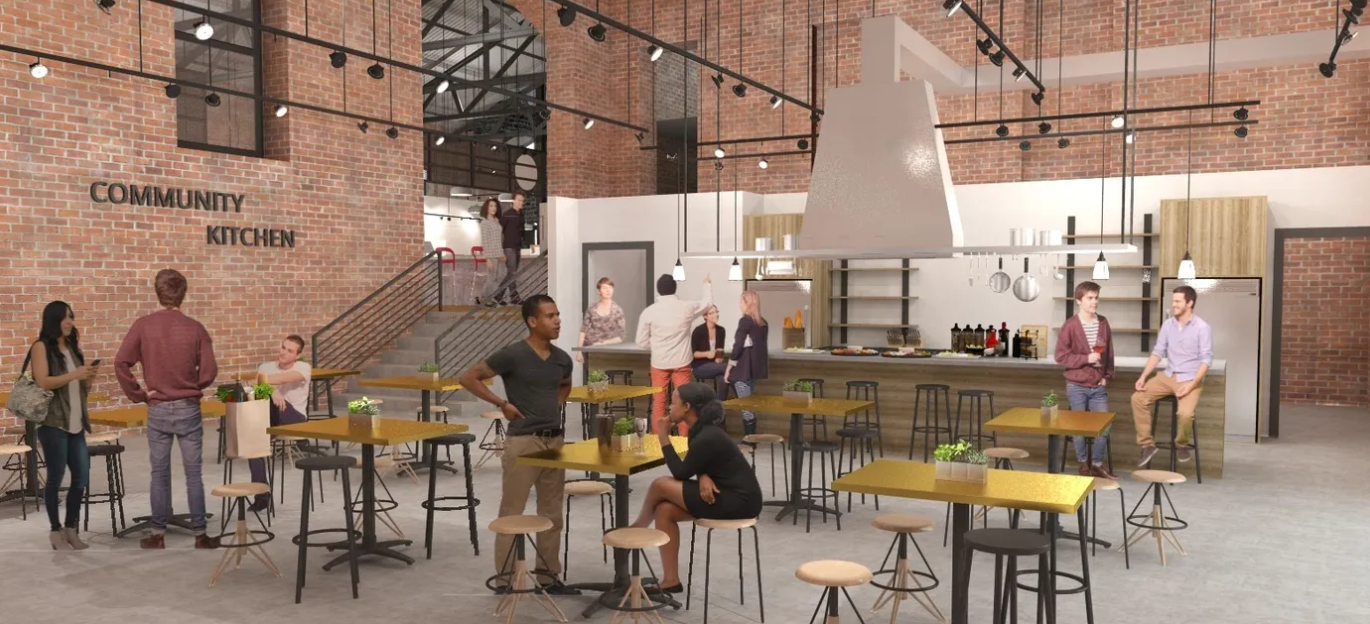 More Space for Small Business at Dublin Town Center. The Dublin Town Center investment group has opened The Square, a" town square" small business community hub for all to enjoy and utilize and currently has Station 23 under construction. This one-time pants factory now combines fresh food and drink, local artisans and small businesses all under one roof. Current vendors at The Square include The Novel Baker, Wildflower Valley, Makers Vintage & Handmade, Pineapple on Main, Manes on Main and coming summer 2020, a Wine Bar featuring Crossing Vineyards. Vendors expected to be at Station 23 include Neshaminy Creek Brewing Co., Backyard Beans Coffee Co., Itri Wood Fired Pizza and more.
Meet and Greet with Celebrity Chefs at the 2nd Annual Bucks County Food & Wine Festival. The Bucks County Food & Wine Festival will return to Parx Casino® in Bensalem April 17-18 featuring Chef Marc Murphy and Chef Anne Burrell from The Food Network. Experience the wonderful tastes of Bucks County at a world-class culinary event with tastings, sliders & suds and even a celebrity chef cook-off. Fine dining will continue throughout the year at Parx Casino® with the all-new Celebrity Chef Experience Series at Parxgrill. On March 6, the series kicks off with Food Network Chef Amanda Freitag serving up a 5-course meal and paired wine, followed by Jose Garces June 26, Marc Murphy September 25 and Frank Perko December 3.
Get Ready to Party at Peddler's Village! The 42-acre outdoor shopping and dining destination in Lahaska known as Peddler's Village is rolling out two new events this year. On April 18 and 19, enjoy the new Spring FunFest, two fun-filled days for the whole family with live music, outdoor food and beverages, sidewalk sale, character appearances and a kids' fun area. On June 13 and 14, travel through the Village neighborhoods to experience a range of live entertainment, food and beverages and activities for visitors of all ages during the new Summer Block Party. Returning this year, are popular festivals and events including PEEPS® in the Village April 8-19, Strawberry Festival May 16 & 17, Bluegrass & Blueberries Festival July 18 & 19, Peach Festival & Sidewalk Sale August 8 & 9, Scarecrows in the Village September 7-October 25, Apple Festival November 7 & 8, Grand Illumination Celebration November 20 and Gingerbread House Competition and Display November 20-January 2, 2021.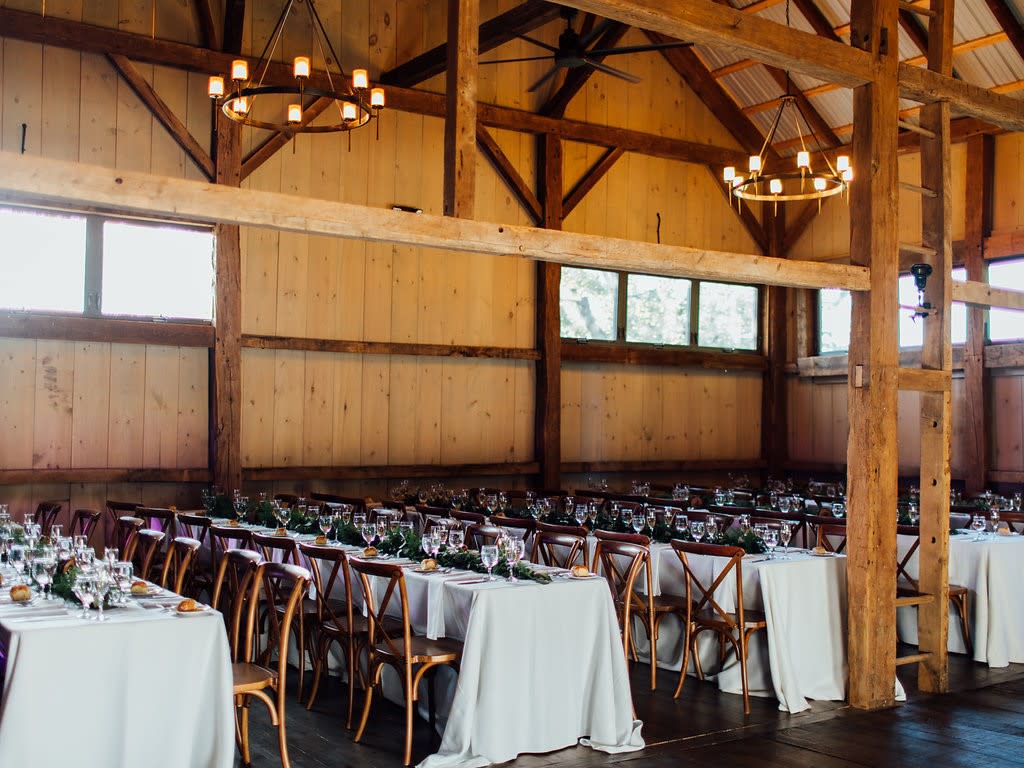 Rustic Renovations Reveal New Rooms for Wedding Venues. Barnsley Manor in Bensalem is currently undergoing a massive renovation project with grand plans to open its doors in 2020 as a wedding and events venue. This beautiful brick mansion from 1763 with architectural rivaling the colonial houses of Virginia sits on five acres and holds three floors, six fire places and various rooms, including one that will become a timeless bridal suite, and additional rooms for guests to stay on-site. The Farm Bakery & Events wedding venue will be adding a new barn this year. The new space will include a bridal suite with a powder room. The venue will also expand its kitchen, allowing for new menu offerings as well as a seasonal farm stand, where visitors can pick up a variety of seasonal baked goods. As the venue transforms, hosting opportunities will include rehearsal dinners, bridal showers, baby showers, corporate meetings, seasonal workshops, cooking classes and more!
Four Lodging Properties get Facelifts. The Thompson family, also owners of the iconic Black Bass Inn and Lumberville General Store, have assumed ownership of the Golden Pheasant Inn with plans to re-open in early March. Renovations are happening at The Doylestown Inn - the historic property is adding six new rooms for a total of 17. Nearby, the Homewood Suites Doylestown is also undergoing renovations to its amenities and lodging options. The Wishing Well B&B in New Hope is debuting its newly renovated "Wish Room" in 2020. Throughout the year, every time the Wish Room is booked, a portion is collected and sent to the local Make-A-Wish Foundation Philadelphia chapter. 
Construction Commences at the County Theater. Construction has officially begun to expand and renovate the historic County Theater, a Main Street icon of Doylestown since 1938. The new addition, which is set to open in December 2020, will include a brand-new 180-seat auditorium, lobby and first floor restrooms. The historic theater section will be open during construction. Plans for renovation of this section will commence in January 2021 and include a new sound separation wall between the existing auditoriums, new carpet and paint, facade repairs and new seats with more legroom.
Bottoms up at Key Spirits Distillery, Bucks County's 5th craft distillery. Key Spirits Distillery is coming to the Riverwalk Complex in Bensalem in 2020, neighboring Broken Goblet Brewing. A tribute to founding father Benjamin Franklin, Key Spirits gets its name from the tale of when good ole Ben was flying a kite and a key in a thunderstorm on the grounds of nearby Growden Mansion. Key Spirits celebrates Ben and his kite experiment with fun décor throughout the distillery.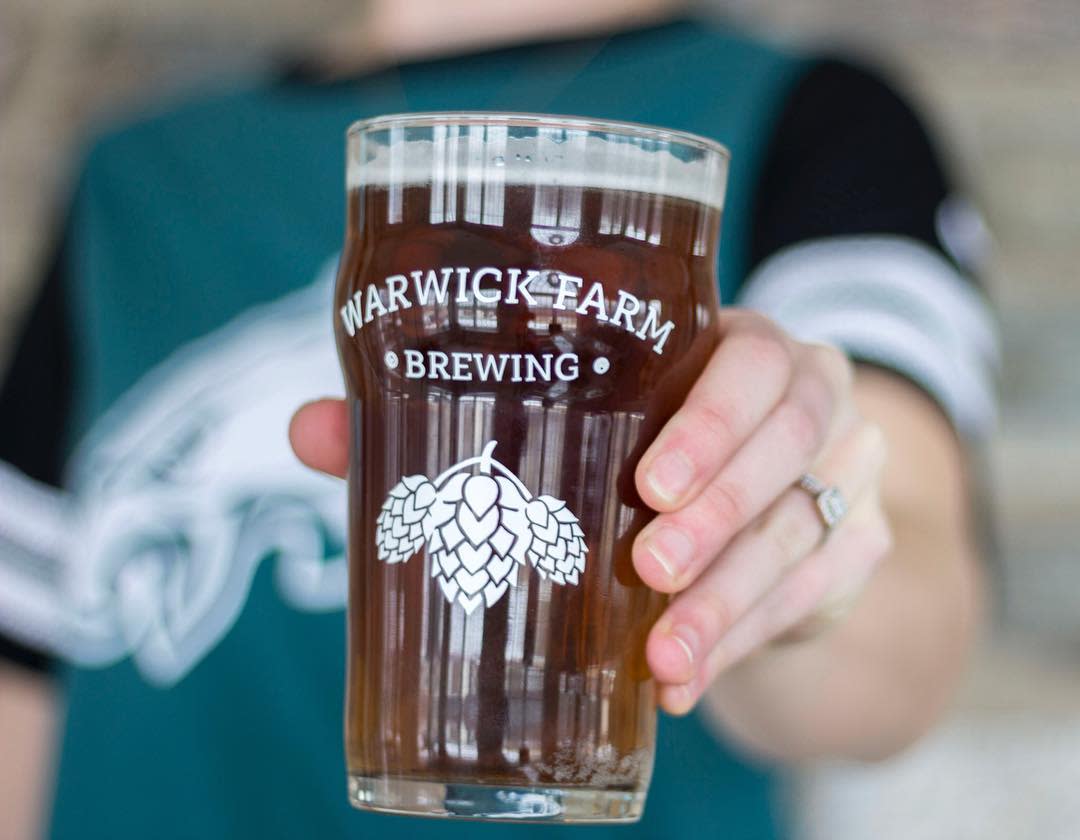 20+ breweries now on the Bucks County Ale Trail. The Bucks County Ale Trail's late 2019 additions included Second Sin Brewing in Bristol, Odd Logic Brewing Co. in Bristol, Weyerbacher Tap Room in New Hope, Two Rivers Brewing Taproom in Quakertown, Newtown Brewing Co. in Newtown, Tilt'em Back Brewing in Chalfont, Vault Brewing Co. Taproom in Yardley and Warwick Farm Brewing in Jamison. Coming spring 2020, Iron Hill Brewery and Restaurant will open their 11th Pennsylvania location, a 7,500-square-foot space in the Village at Newtown Shopping Center. Coming Fall 2020, check out Aristaeus Craft Brewing Company in Langhorne.
10+ New Restaurants to #EatinBucksCo and #DrinkinBucksCo! Tredici, a chic Mediterranean restaurant that was named the area's best wine bar by Philadelphia Magazine in 2018, is opening a Doylestown location in summer 2020. Solstice, featuring a menu with seasonally curated dishes, will be opening in the Village at Newtown Shopping Center in January 2020 offering "city-like dining experience" with "modern, whimsical plating." Also opening in Newtown will be Bomba Tacos & Rum, a premium Latin-style taco restaurant originally based in Ohio. The Farmer & The Chickpea, a healthy, artisan-focused restaurant opened in January in Quakertown. Joe Santucci's Original Square Pizza is currently under construction in Fairless Hills, with an opening expected early in the new year. Popular restaurants Turning Point, LoveBird, Bryn & Dane's, MOD Pizza, Melt Shop and Playa Bowls will also be opening additional locations in Bucks County.
How Sweet it is… at the 40+ Stops on the Bucks County Sweet Spots Trail. Visitors traveling to Bucks County can now snack their way to a free Bucky plush! The Bucks County Sweet Spots Trail, which launched in 2019, now has more than 40 locations, including delicious bakeries, ice cream parlors, coffee roasters, chocolatiers and candy stores that neighbor family-friendly attractions and line the streets of Bucks County's picturesque downtowns. By checking in to five or more spots on the mobile passport, Sweet Spots travelers can receive a free Bucky plush stuffed animal deer.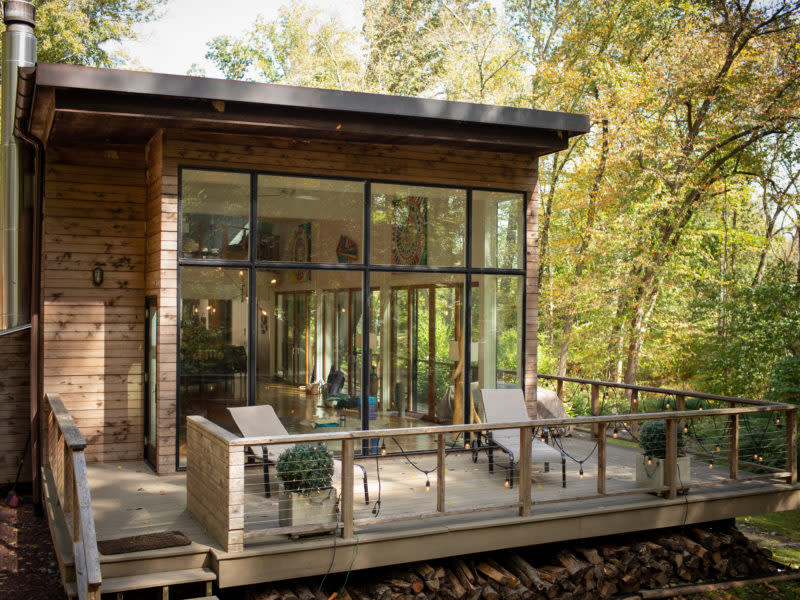 Reset the New Year with a Retreat. Take your meetings and events to the next level with Copper House Events, a brand-new contemporary space complete with an outdoor kitchen (and pizza oven!) located on 11 peaceful acres. New York Times best-selling author Pam Anderson offers culinary teambuilding, small conferences, mindfulness retreats and fine food and wine experiences in Riegelsville. Other newer teambuilding experiences include Swing, an indoor golf simulation located inside Fishers Complex in Bensalem and The Rooster & The Carrot Cooking Studio in Carversville, perfect for a group cooking class experience. 
Take a Trip Back in Time with Washington Crossing Historic Park's New 18th Century Garden. As part of its mission to educate the public about 18th century life, the Friends of Washington Crossing Park will cultivate a large kitchen garden outside the Hibbs House in the Historic Village. Kitchen gardens played a large role in 18th century life, providing plants essential for making food and beverages, medicine and other household items. The goal of the garden project is to engage park visitors through presentations and hands-on, interactive demonstrations. These activities will be offered to both seasonal visitors on tours and to the thousands of schoolchildren and scouts who visit the park each year for field trips.
Get Inspired at the Michener Art Museum. From January 25 - June 20, the Michener Art Museum will welcome Ponstingl: Dreams of Past Futures, the first solo exhibition of Pennsylvania surrealist Franz Jozef Ponstingl. Expect painted fantastical visions of surreal landscapes, future civilizations and abstract networks. From February 22 - July 26, the museum will exhibit Selma Bortner: The Journey, displaying the works of this innovative printmaker and beloved art professor at Bucks County Community College. Lastly, from April 4 - August 30, visitors can see the exhibit Rising Tides: Contemporary Art & the Ecology of Water, which was brought to fruition with the help of Visit Bucks County's grant program. The museum will feature work that explores the effects of global warming, climate change and related environmental concerns on bodies of water and aquatic species.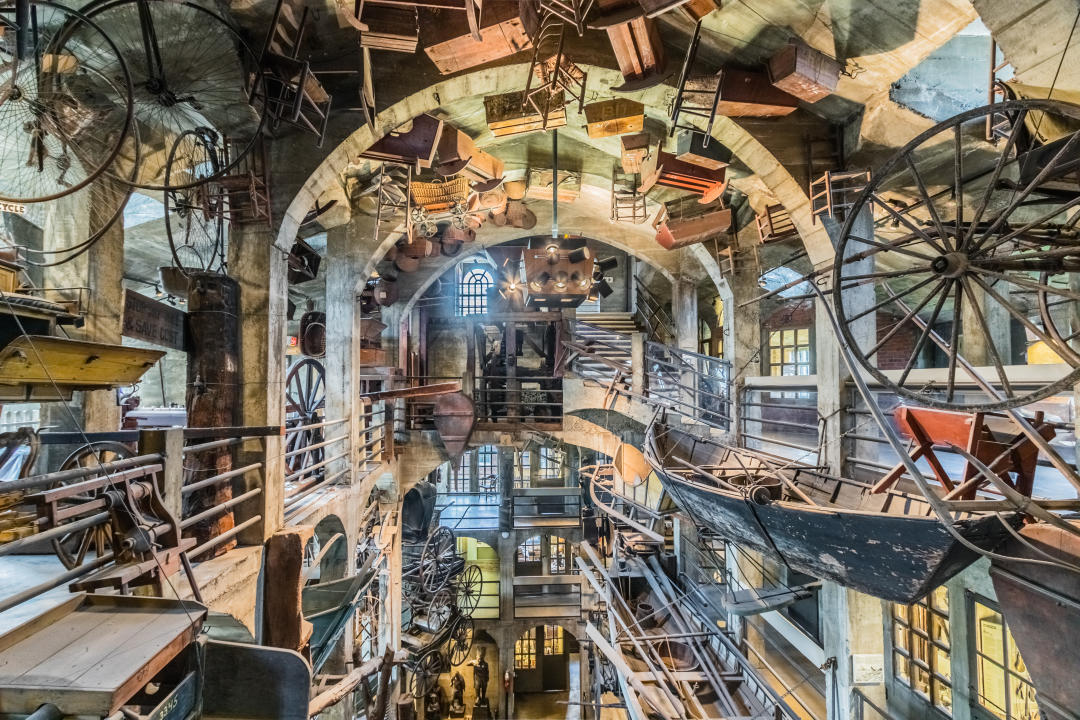 Kick-Off a Year of Learning at the Mercer Museum. Celebrating Super Bowl season, the Mercer Museum is showcasing a selection of Charles M. Schulz's famous football-themed comic strips in a new exhibit titled Pigskin Peanuts now through February 9. This exhibit, organized by the Charles M. Schulz Museum and Research Center, features fifty Peanuts comic strips around the sport of football and the popular characters Charlie Brown, Woodstock, Snoopy and more. In the spring, the Mercer Museum will be showcasing the exhibit Two Hundred Years of Bucks County Art from March 19 - September 7. The exhibit will feature more than 40 paintings created by Bucks County artists between the years 1778-1966, including works by Edward Hicks, William B. T. Trego, Daniel Garber and many other revered artists.
Fun for All Ages at Aldie Mansion. New this year at Aldie Mansion will be interactive family tours. Children and adults will enjoy an "iSpy" tour as they search together for more than 90 animal motifs hidden in the architectural details of Aldie's concrete work.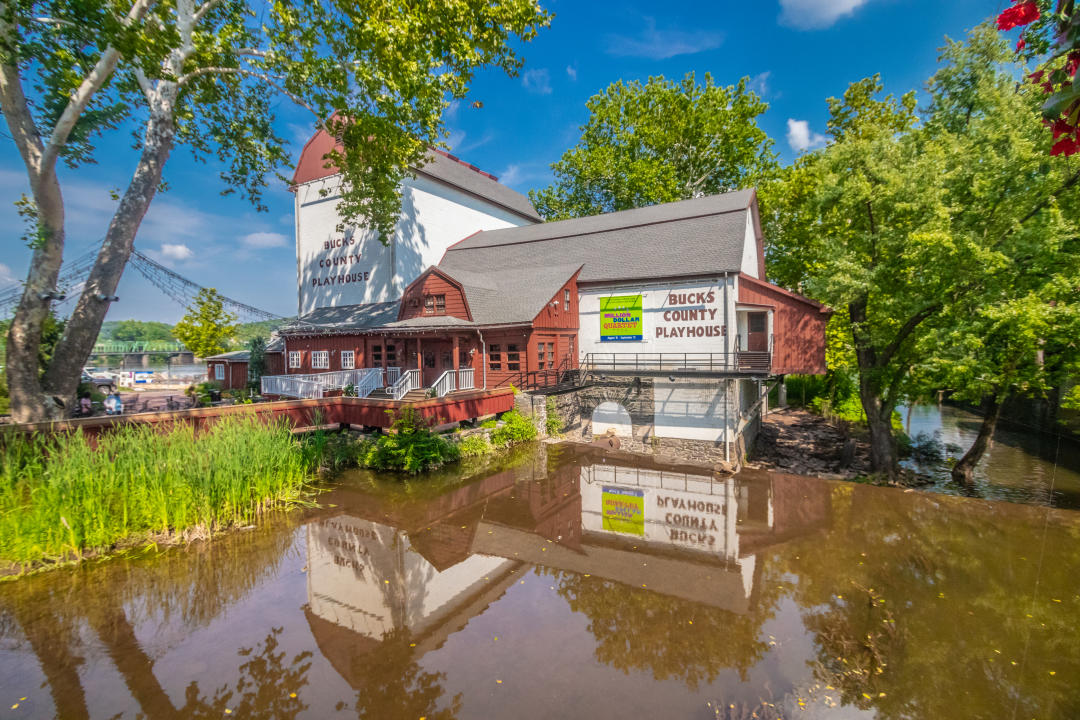 Musicals, Comedies and Plays, oh my! Catch a Show on Bucks County's stages. Coming to the Bucks County Playhouse in New Hope March 13 - April 11 is the world-premiere of the musical adventure "Other World" by Tony and Drama Desk nominee and Obie winner, Hunter Bell with music and lyrics by Obie winner Jeff Bowen and Ann McNamee. The musical tells the story of Sri and Lorraine who are magically and unexpectedly transported into Sri's favorite video game, "Other World." Trapped in a fantastical game universe, this unlikely pair must work together, discover their hidden inner strengths and connect with other gamers to find their way home. This original new musical explores the connections we make on- and off-line and celebrates the families and friendships we need to thrive in any world. The Shakespeare classic "King Lear" is brought to life at the Bristol Riverside Theatre January 28 - February 16, directed by Eric Tucker of New York's acclaimed Bedlam Theatre. Considered by many to be the greatest tragedy ever written, "King Lear" is an epic tale of sorrow, forgiveness, madness, and reconciliation. The hit musical "Cabaret" also takes the stage in Bristol March 10-April 12, directed by Keith Baker.
Visit Bucks County Restaurant Week returns for thirds. Visit Bucks County Restaurant Week will return April 26-May 2. A wide variety of restaurants are expected to participate in this tasty event that offers discounted, prix fixe menus to visitors and locals dining out in Bucks County. Proceeds from participating restaurants will go to United Way of Bucks County's Bucks Knocks Out Hunger campaign.
Wedding Bells are Ringing! The 2020 Bucks County Wedding Show will be on Sunday, March 8 at Delaware Valley University from 12-4 p.m. Join Visit Bucks County for a one-of-a-kind wedding showcase featuring all of Bucks County's finest venues! Enjoy food and beverage tastings along with several D.I.Y. and entertainment sessions.
For a full list of What's New in Bucks County, go to VisitBucksCounty.com/WhatsNew  
# # #
Download high-res imagery here: https://www.dropbox.com/sh/q6g9yiw6mldo4xa/AABB3MVocd_E9iknUCVouJI6a?dl=0
Share this! 20 Reasons to visit Bucks County, PA in 2020 www.visitbuckscounty.com/whatsnew #ExploreinBucksCo #EatinBucksCo #DrinkinBucksCo
Contact: Emily Cummins
                Public Relations Manager
                Visit Bucks County
                215-639-0300 x 232                                     
                EmilyC@VisitBucksCounty.com
About Visit Bucks County
Visit Bucks County (VBC) is the official tourism promotion agency for Bucks County. The tourism office promotes all there is to see and do to potential visitors and residents. In addition to consumer travel, Visit Bucks County targets sports tournaments, motorcoach groups, meetings, special events and weddings. For more information on VBC activities call 1-800-836-BUCKS, visit VisitBucksCounty.com or stop by the Bucks County Visitor Center located at 3207 Street Road in Bensalem (adjacent to the entrance to PARX Casino). The Visitor Center is open seven days a week from 9 a.m. until 5 p.m. It is easily accessible from the Pennsylvania Turnpike, Route 1 and Interstate 95.