BUCKS COUNTY, PA (January 26, 2021) – From expanded venues to in-person exhibit opportunities, a visit to Bucks County is a must in 2021! To help you plan your trip, Visit Bucks County (VBC) has rounded up the reasons to start booking your getaway to the area.
HOTELS & B&B'S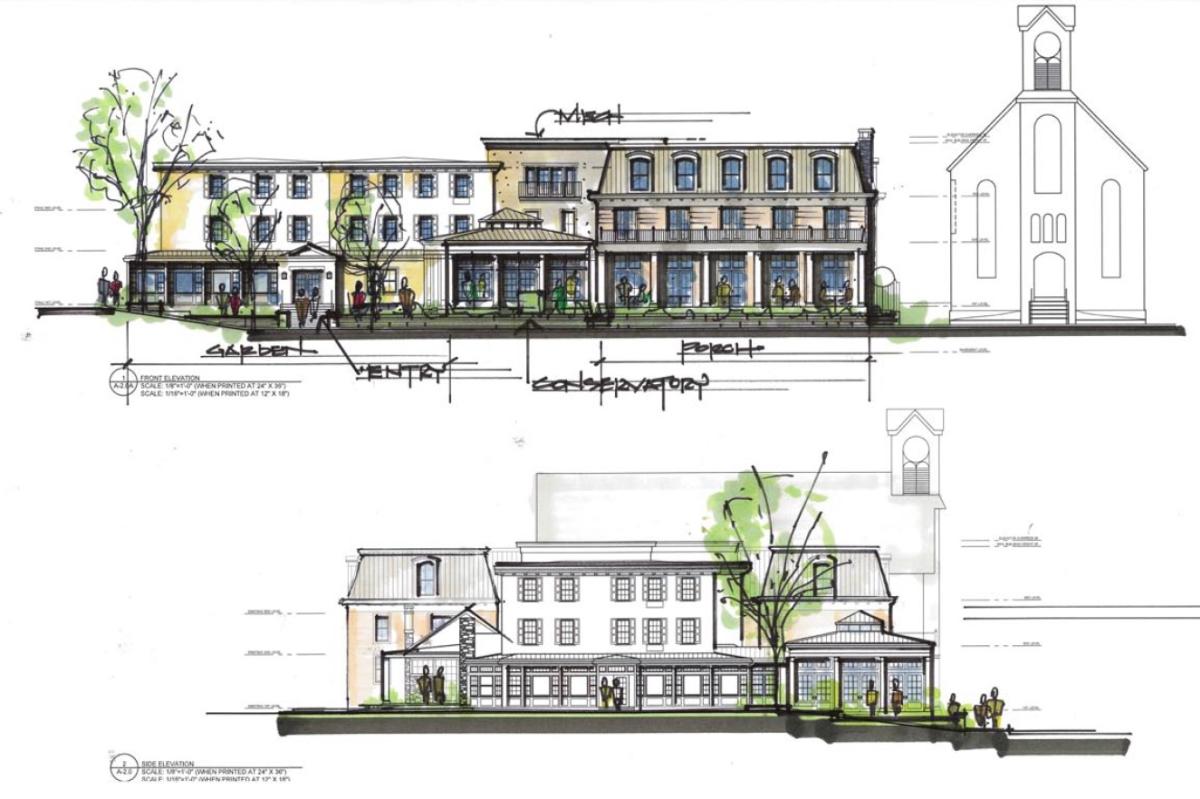 Logan Inn expansion set to finish in the spring. The Logan Inn expansion brings more than 40 stylish rooms to New Hope. An event space and multiple breakout rooms are also in the works. Featuring an award-winning restaurant, bar, private dining space, fine art displays and live entertainment, the well-programmed main level will prove to be the social center of New Hope and the perfect wedding destination.
An entertainment series and wine lovers' getaway from the River House at Odette's. River House at Odette's, Bucks County's newest luxury hotel, event venue and restaurant, is offering a "Wine Down Package" in 2021. The package includes a 2-night stay, wine-centric welcome amenity, 4-course prix fix wine dinner and private wine tasting with a River House Sommelier. Every Thursday in 2021 the hotel will host violinist Gina Corso and every Friday pianist Bob Egan from 6-9 p.m. to serenade those in the restaurant with eclectic tunes that would make Odette Myrtil herself proud.
Riverside B&B, Bridgeton House on the Delaware, celebrates 40 years of welcoming guests to the banks of the Delaware River. Luxury lodging suites, magnificent river views and warm hospitality have made this beautiful historic inn a top-rated destination for 40 years. Plan your 2021 getaway to Bridgeton House and take $40 off a two-night stay when you mention "40 years" at the time of booking. Another offer for 2021 is the inn's complimentary breakfast in bed deal through May. Wake up to a home-cooked breakfast in a delightful suite! Finally, the inn is also launching their "Workcation Package" for the savvy business traveler or locals needing a change of scenery.
The Holiday Inn Express Philadelphia NE-Bensalem makes space. The Northeast-Bensalem location of the popular chain hotel will be completing renovations of their 141 guestrooms by end of 2020. During 2021, there are plans for improvements to the lobby, public space, and exterior.
WEDDING & EVENT SPACE

Pearl S. Buck House opens new conference and event space. The Perkasie based Pearl S. Buck House is expected to open their new Conference and Event Center in April. It will provide the perfect rustic venue in a beautiful, serene 60+ acre setting for business meetings and retreats, community and civic engagements, weddings, and family gatherings for locals and visitors. Pearl S. Buck House will also have a new virtual exhibit online beginning in January titled, "I Speak as One Who Knows: The Story of The Child Who Never Grew," about Buck's experience raising a differently-abled child and advocating for those with special needs.
Celebrations Wedding Venue expands menu to include vegan options. In an effort to keep up with guests' dietary demands, Celebrations, a Bensalem wedding venue, is now offering couples new hors d'oeuvres and entrées catering specifically to vegetarians and vegans. Indulge in tasty menu items including slow roasted tomato hummus, chickpea bruschetta with sun-dried tomatoes, sweet potato and avocado tartar, vegetable biryani, and roasted tomato stuffed with creamy risotto.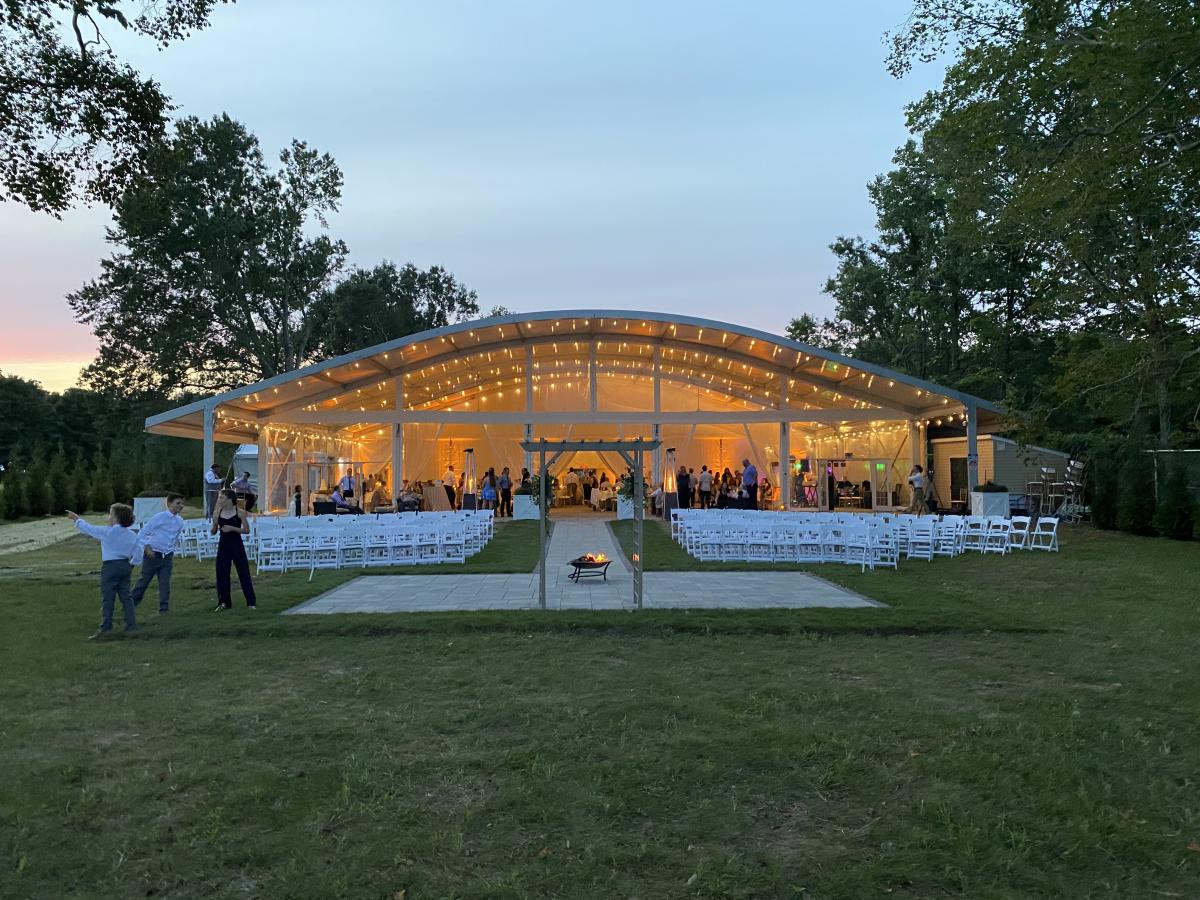 Pen Ryn Estate in Bensalem opens third venue space, the indoor/outdoor River's Edge. Boasting space for 300 guests, River's Edge is a beautifully landscaped, secluded, state-of-the-art 40' x 100' tented venue crafted for couples seeking the "wow" factor. Fully heated and air conditioned, River's Edge provides all the amenities of a building. Situated just 100 feet from the Delaware River, River's Edge has a stunning backdrop, ceremony site, bridal suite, full commercial kitchen, grand cocktail hour and reception spaces, surround-sound audio system and more.
Rent out the entire Carriage House of New Hope for your microwedding. Due to COVID-19 and capacity limitations on events, this year, smaller venues like the Carriage House of New Hope has seen more "weddings than ever before - "micro" weddings that is. The 3-room boutique hotel in the heart of New Hope can be rented out entirely for ceremonies and receptions with family and friends. It has also become a popular spot for marriage proposals, engagement photoshoots even bachelorette parties. For folks planning a wedding this year not sure if a large event is right or able to happen, consider the Carriage House of New Hope.
BEER, WINE & SPIRITS
The Bucks County Ale Trail expands, adding new breweries and taprooms. Alongside the two Perkasie breweries mentioned, Aristaeus Craft Brewing Co., an open-concept nano-brewery, is expected to open in Langhorne. The nano-brewery will feature indoor and outdoor seating with taps that serve a variety of true-to-style beers and hand-crafted nitro cold brew coffees, as well as specialty cocktails. Visitors can also check out Warwick Farm Brewing's new taproom opening in spring. The brewery began hosting "Field Day" events on its large acre location to accommodate the current state of events this summer. In 2020, Iron Hill Brewery opened in Newtown, and two breweries along the Ale Trail added taprooms: Neshaminy Creek Brewing Co. in the Ferry Market in New Hope (that is also looking for two new vendors!) and Naked Brewing Co. in Bristol Borough. Also, Geronimo Brewing and Moss Mill Brewing Co. began canning for the first time and Bucks County Brewery reopened under new ownership.
Bishop Estate Vineyard and Winery expands space to include The Barn Tasting Room. This brand-new tasting room will be located in their historic barn dating back to 1864. The winery already has two tasting rooms, the Cottage Tasting Room and the Stable Tasting area. The addition of the Barn Tasting Room, along with new outdoor seating and firepits, is Bishop Estate's way of ensuring plenty of room to spread out guests and ensure safety. They are also releasing the Sisters' Marquette Blush Wine. This is a beautiful dry wine with estate grown grapes, a descendant of the Pinot Noir grape. A portion of the proceeds will support local families in need.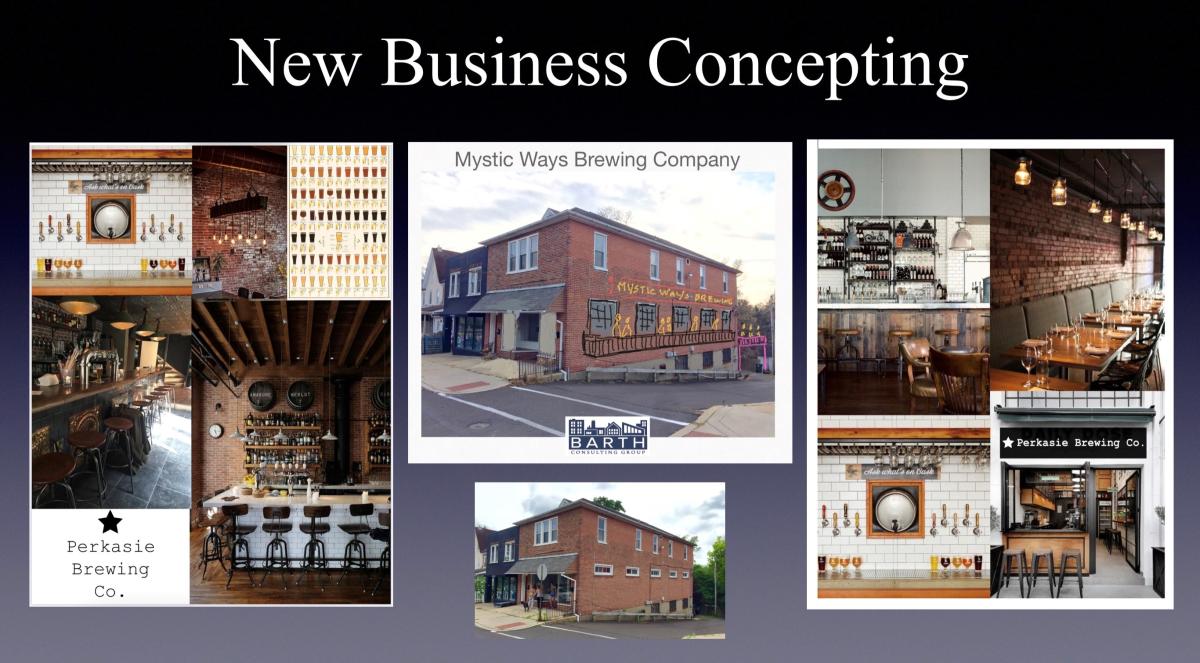 Perkasie will soon have the most microbreweries of any small town in Bucks County. Exciting things are "perk"ing up in Bucks County's upper borough. In December 2020, The Ram restaurant, pub and area's only rooftop dining establishment, opened in Perkasie's Town Center. Plan on having yourself a Perkasie pub crawl by the end of 2021 with stops at Free Will Brewing, The Ram, the Perkasie Olde Town Tavern, The Perk, Mystic Ways Brewing (opening spring/summer 2021), and Van Lieus Brewing Co. (opening spring/summer 2021) – the latter two located in the Walnut Street District.
Crossing Vineyards and Winery expands outdoor seating area. As a response to the increase in outdoor dining during the COVID-19 pandemic, Crossing Vineyards has expanded its outdoor seating capacity. The Washington Crossing winery can now accommodate more than 90 customers on their terraces and cottage patio. Visitors can also bring their own lawn chairs and social distance comfortably on their expansive grounds.
ART & ENTERTAINMENT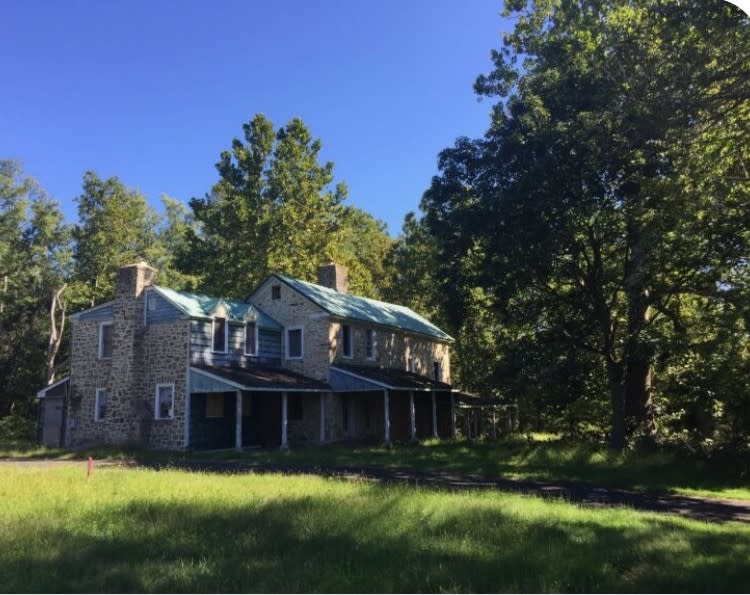 The African American Museum of Bucks County finds a permanent location. Currently a traveling exhibit, "Building on the Dream: From Africa to Bucks County," the African American Museum of Bucks County (AAMBC) will locate to Boone Farm in Langhorne. The property is in the National Register of Historic Places for its role in the Great Migration in the early 20th century during which millions of African Americans moved up from the South to Northern states for economic opportunity.
Oscar Hammerstein Museum and Theatre Education Center receives funds from state to restore and preserve Highland Farm. The Museum will use the funding to purchase, restore, and preserve Oscar Hammerstein's II former home and workplace at Highland Farm in Doylestown, PA. Though no finished date has been announced, the goal of the Museum is to create a multifaceted and dynamic museum experience, with a strong theatre education component, that will serve as a place of inspiration for Broadway fans and humanitarians alike, from Hammerstein's backyard and across the world.
The County Theater expects to officially reopen in March. In September 2019, the independent Doylestown theater founded in 1938 underwent a $5 million expansion project to build a new, larger lobby including bathrooms, a third auditorium for expanded programming and seat and box office upgrades to the current historic theater parts. The venue had intentions of doing a partial opening over summer 2020; however, due to the pandemic, they remained closed. This allowed the Theater to complete full construction five months ahead of schedule.
The Grand Reveal of the New Exhibit Case at the Grundy Museum opens in January. Spend Valentine's Day at the Grundy Museum and "fall in love" with the new tour interpretations. The weekend of February 12-13 will be grand opening of the newly restored Margaret R. Grundy Memorial Museum.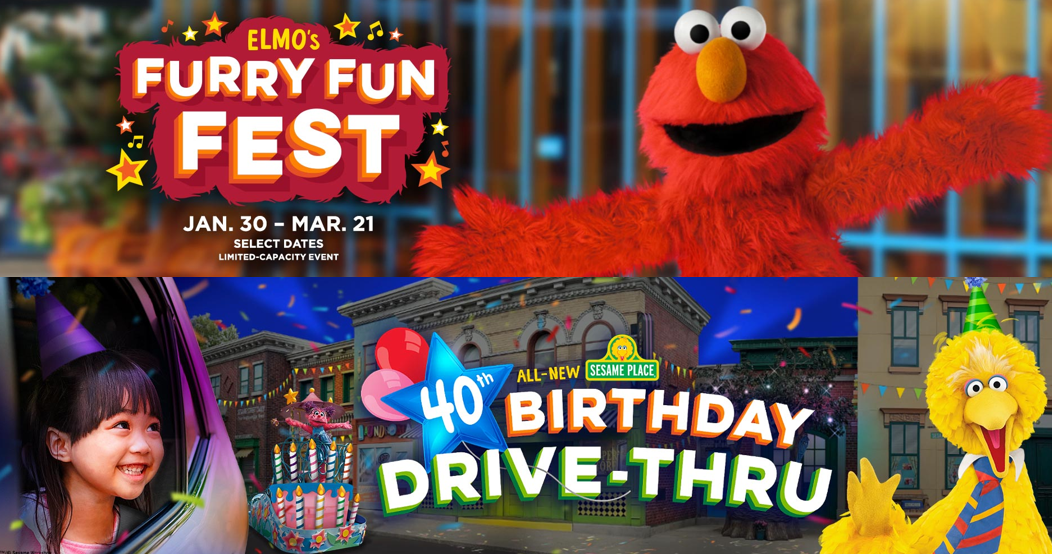 Sesame Place® Philadelphia opens for the first time in January, February and March. Sesame Place® Philadelphia in Langhorne is giving guests more opportunities to safely visit the park in 2021. For the first time ever, Sesame Place will open in January, February, and March for two ALL-NEW events – Elmo's Furry Fun Fest and Sesame Place's 40th Birthday Drive-Thru! Elmo's Furry Fun Fest (Saturdays & Sundays January 30 – March 21) will include a Neighborhood Birthday Party Parade, Elmo's Party Balloon Scavenger Hunt and Furry Friends Dance Party, as well as s'mores and hot cocoa at the new family-friendly fire pits. The 40th Birthday Drive-Thru (Tuesdays & Wednesdays, January 26 – February 24) will include complimentary birthday hats, energetic music tracks and colorful birthday scenes. Additionally, the park will host their first-ever family-friendly Mardi Gras Celebration at the park.
Mercer Museum showcases the interactive, family-friendly exhibit, "Measurement Rules." Created by the Children's Museum of Pittsburgh, visitors will be able to explore different measurements of length, time, volume and weight in a variety of ways, including giant tape measures, treadmill odometers, bead tables, balance scales and more through summer 2021! A companion exhibit at the Mercer Museum will feature many rare and early examples of historical measuring instruments, drawn from the private collection of Bucks County residents Jim Hill and Kathy Hausman.
Bristol Riverside Theater kicks off the year virtually with "Singles in Agriculture." On their last night together at the annual convention for "Singles in Agriculture," a resilient young army widow who loves Modern Family and talks to her Pygmy goats, finds romance with a fundamentalist dairy farmer from Oklahoma. The LIVE online production written by Abby Rosebrock will be streamed January 26-30.
Portraits, sculptures and the Michener Art Museum all to yourself. Alongside virtual and in-person art classes for all ages, the Michener will feature several exhibits, including Through the Lens: Modern Photography in the Delaware Valley (opens Feb. 5), Essential Work 2020: A Community Portrait (opens March 19), and Sculpture with a Purpose: Women, Patronage, and Wharton Esherick, 1930-1945 (opens September 10). There is also a new way to observe the museum though Private Eyes. Private Eyes allows individuals or businesses to have the entire museum to themselves for a two-hour period. With only the Museum staff present, guests can explore the galleries with their "quarantine bubble."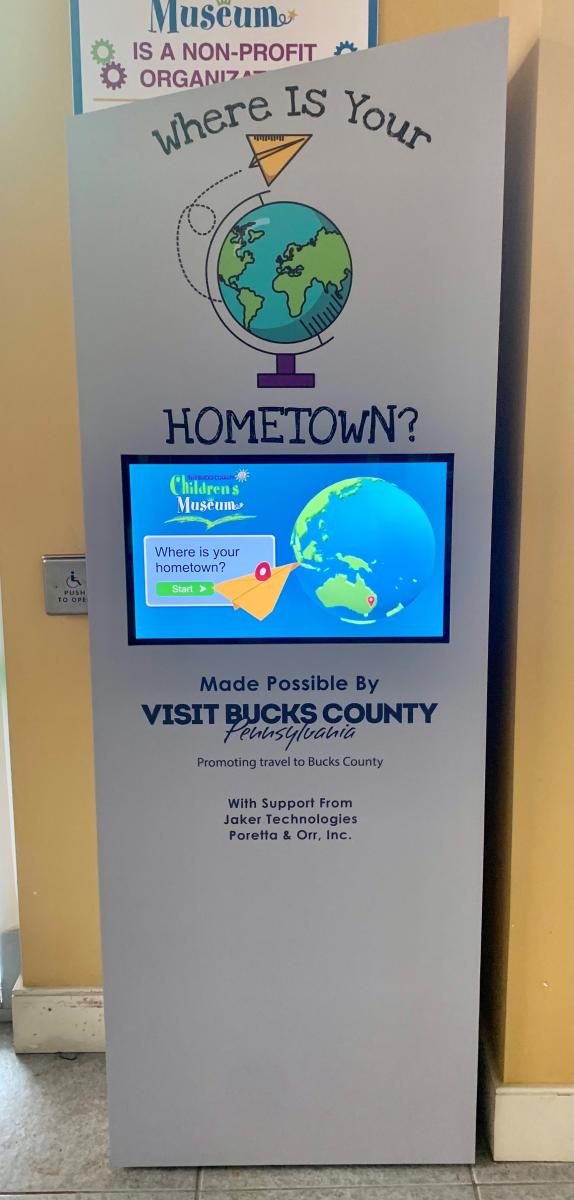 Bucks County Children's Museum debuts "Where's Your Hometown" kiosk exhibit. Housed in the children's museum lobby, the interactive touchscreen "Where's Your Hometown" exhibit will collect geographic information from visitors and display the amalgamated data in a creative and entertaining way. The exhibit will be open when the Children's Museum opens. There is currently no date set due to COVID-19 precautions.
The return of festivals at Peddler's Village. The outdoor shopping village boasting more than 65 shops, restaurants and more, hopes to introduce new celebrations, along with the originals we all know and love. As of now, you can look forward to Outdoor Murder Mystery Walking Tour, "Murder by Gaslight 2: The Murder of Emmeline" (February 13-May 30), PEEPs in the Village (March 31-April 11), Strawberry Festival (May 15-16), Summer Block Party Month (June), Fourth of July Barbeque (July 4), Bluegrass and Blueberries Month (July), Peach Festival and Sidewalk Sale (August 7-8), Scarecrows in the Village (September 6-October 30), OctoberFeast (October 16-17), Apple Festival (November 6-7), Grand Illumination (November 19), Gingerbread Competition and Display (November 19-January 8), Christmas Festival (December 4-5) and Village Food Truck Evenings (select dates June-October).
Celebrate George Washington's birthday virtually. Washington Crossing Historic Park will be continuing their virtual lecture series and annual events such as George Washington's Birthday Celebration in February will also be virtual. Check back on their website at WashingtonCrossingPark.org for upcoming events throughout the year!
FOOD & BEVERAGE
Share a little sweetness around Bucks County. The Bucks County Sweet Spots Trail, launched in 2019, has more than 40 locations, including bakeries, ice cream parlors, coffee roasters, chocolatiers and candy stores that neighbor family-friendly attractions and line the streets of Bucks County's picturesque downtowns. Several 2021 additions are coming soon to the Trail, including Magic Arts Studio & Sweet Treats in Morrisville and Haasis Gluten-Free Bakery in Perkasie. Late 2020 additions included Lily's Chocolate Paradise, Cowabunga Coffee Roasters, Mama Hawk's Kitchen & Coffee (moved from the Ferry Market to Peddler's Village), Pigadilly's, The Hickory Stick and Clusters Handcrafted Popcorn. By checking in to five or more spots on the mobile passport, Sweet Spots travelers can receive a free Bucky plush.
Dining Deals and Gift Cards on VisitBucksCounty.com. The Visit Bucks County website is your resource for restaurant deals Find specials at restaurants and gift card ideas. While the restaurant industry struggles, the majority pivoting to take-out, several spots were able to have grand openings in 2020: Holy 'Que Smokehouse in Lahaska, La La Lobster in Yardley, Le Macaron French Pastries, Omiza and Heirloom in Doylestown and Duck Donuts in Levittown.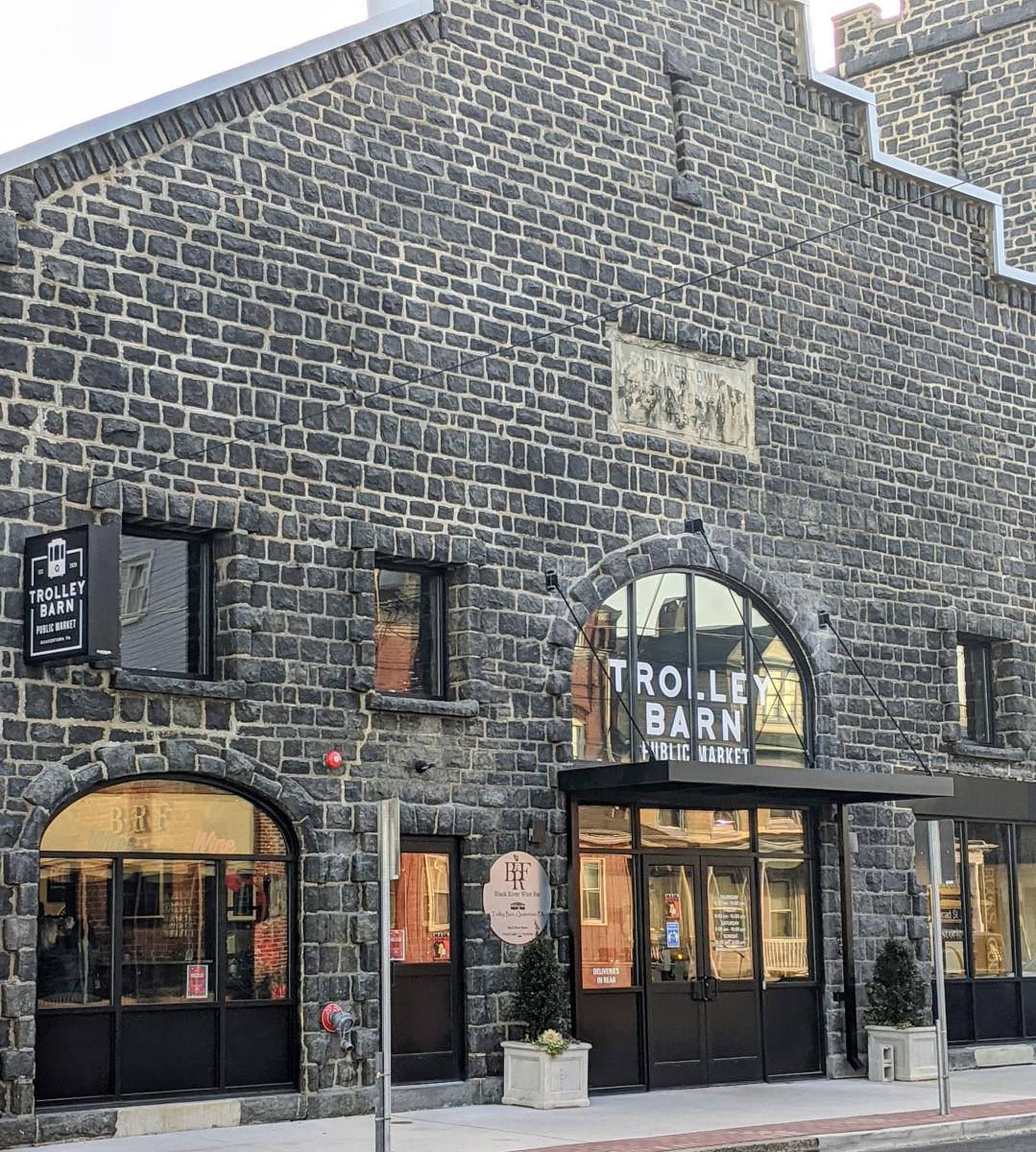 Quakertown's Trolley Barn adds new vendors, live events and outdoor beauty. Quakertown's 15,000 square foot Trolley Barn, a public market similar to Philadelphia's Reading Terminal Market that opened in 2019, has several projects in the works for this year. There will be a spring opening of Red Brick Mercantile, which will be a space for home good and crafts made by local artisans on a consignment basis. April will also see live events and activities – live music outside, public and private ticketed events and more. Demonstration Kitchen, a non-profit run, live-demo kitchen that will serve as an educational space for the local community on healthy eating and lifestyle, should open in the latter half of 2021. Additionally, more trees for shade will be added into The Yard outdoor pavilion for summer, a seafood concept is expected to open, and six office spaces will be made available for new tenants.
VISIT BUCKS COUNTY CONTINUES TO SUPPORT INDUSTRY DURING PANDEMIC
Visit Bucks County continues to work with the County of Bucks and many other organizations to promote the return of commerce, small business patronage and tourism during the new year. VBC will do their due diligence and market responsibly, cautiously navigating through these unprecedented times.

2020 Impact

In 2020, hotel occupancy dropped 26%. Even with declines in visitation, Bucks County fared much better than other destinations due to proximity and outdoor travel product. Visit Bucks County pivoted to support, market and promote responsibly visitation to hospitality businesses, keeping Bucks County top of mind for consumers when they are ready to travel again.
VisitBucksCounty.com saw 1.15 million visitors to its website - up nearly 14% from 2019. The Visitor Center referred a record number of partners - more than 39,000, up 30% from 2019. Requests for information are received via the website, phone calls, emails, walk-ins and live chats.
Welcome New Board Member
Visit Bucks County welcomes Linda Salley to the Board of Directors. She is a founding member and the President and Executive Director of the African American Museum of Bucks County. Linda retired from the New York City Board of Education after a long career as an educator and administrator in the New York City schools.
She speaks frequently at schools and within the community educating people about African American history in the United States and Bucks County. In 2021, the African American Museum of Bucks County will move to a permanent home in Langhorne.
Grant Program Returns
Visit Bucks County announces the next cycle for the Bucks County Tourism Grant Program will open on September 7, 2021. The Bucks County Tourism Grant Program will continue on an annual basis with one cycle per year.
Hospitality Workforce Support
Visit Bucks County and the Bucks County Department of Workforce and Economic Development are collaborating on a survey to collect feedback on the business impacts of COVID-19. Insights will be used to develop programming and initiatives to provide workforce solutions for Bucks County tourism and hospitality businesses.
# # #
According to ESI, visitor spending, in 2019, resulted in $1.1 billion in economic impact to the local Bucks County economy. A record 8.29 million visitors explored Bucks County's countryside, enjoying area attractions, experiencing outdoor adventure, shopping, dining and indulging in the local flavor. Additionally, the leisure & hospitality industry employed 29,000 in 2019.
📷 Download high-res imagery here: https://www.dropbox.com/sh/z59y4f7olulg33h/AAD6_6li6t7Psi2vaks9q3MZa?dl=0  
📺 View the presentation here:
https://us02web.zoom.us/rec/share/KIC8bYkD--fjgab87Ae2qUbC7TBmas0DQAlZ266AA_GrQFfWKzmzV4DLwm0s2vhF.uRWExGUe5dW7xIQv?startTime=1611669797000
Passcode: ZxB=JXS3
📢 Share this! 21+ Reasons to Book your Trip to Bucks County in 2021 VisitBucksCounty.com/WhatsAhead #StayinBucksCo #ExploreinBucksCo #EatinBucksCo #DrinkinBucksCo
Contact: Alexa Johnson
                Senior Marketing & Communications Manager
                Visit Bucks County
                215-639-0300 x 227                                     
                AlexaJ@VisitBucksCounty.com
About Visit Bucks County
Visit Bucks County (VBC) is the official tourism promotion agency for Bucks County. The tourism office promotes all there is to see and do to potential visitors and residents. In addition to consumer travel, Visit Bucks County targets sports tournaments, motorcoach groups, meetings, special events and weddings. For more information on VBC activities call 1-800-836-BUCKS, visit VisitBucksCounty.com or stop by the Bucks County Visitor Center located at 3207 Street Road in Bensalem (adjacent to the entrance to PARX Casino). The Visitor Center is open seven days a week from 9 a.m. until 4:30 p.m. It is easily accessible from the Pennsylvania Turnpike, Route 1 and Interstate 95.