NEW YORK, N.Y. (September 20, 2018) – From foliage to festivals, why wouldn't you want to escape the city for a weekend in the countryside? Visit Bucks County (VBC), the official tourism promotion agency of Bucks County, Pennsylvania, hosted a pop-up ice cream truck event on Thursday, September 20th in New York City to promote the Bucks County Ice Cream Trail and fall and holiday travel with nearly 2,000 pieces of FREE ice cream to Big Apple residents.
A custom-wrapped ice cream truck was stationed just a block away from Union Square Park, a busy public space. From 10:00 a.m. to 2:00 p.m., VBC staff had the opportunity to talk one-on-one with passersby and distribute the brand-new Fall/Winter issue of our food and beverage magazine Well Seasoned, and a copy of our destination brochure. The sweet treats were: Pumpkin Ice Cream Bars from Uncle Dave's Homemade Ice Cream, and Campfire S'mores Ice Cream in a Chocolate Chip Cookie Sandwich and Graham Cracker Ice Cream in a Sugar Cookie Sandwich from Chubby's Dairy Barn. Earlier this year, VBC hosted a similar event promoting summer travel in Washington, D.C.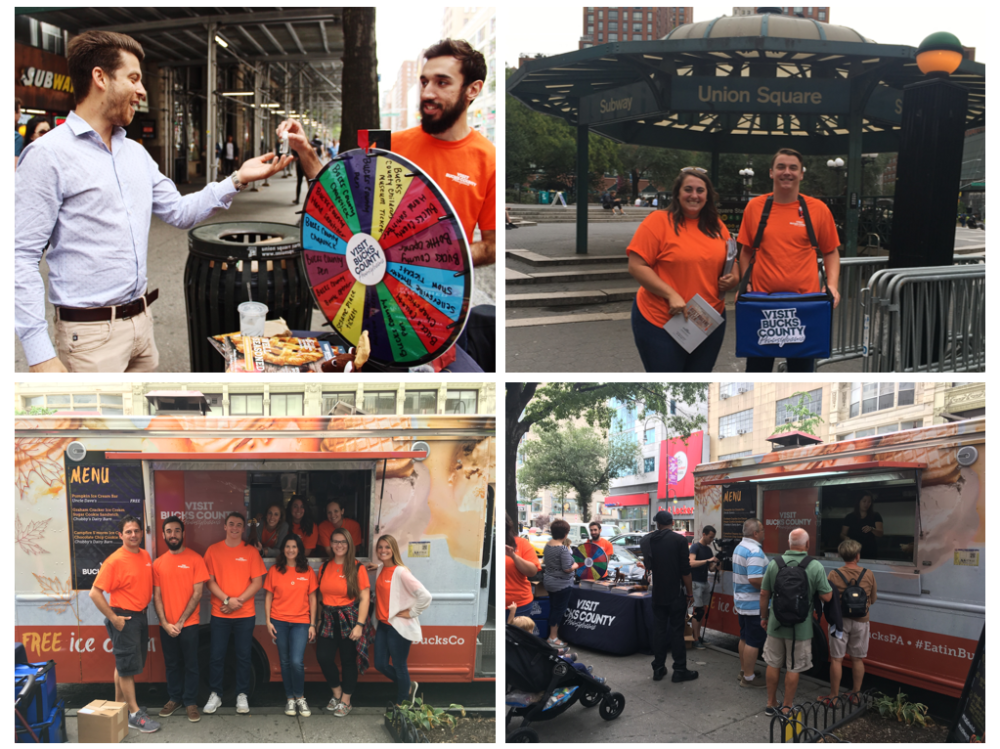 "We promoted all there is to see and do in Bucks County to the New York City audience," says Paul Bencivengo, Vice President of Visit Bucks County, "Our spot near the park was surrounded by corporate offices, residential apartments and a central subway stop for commuters. By targeting the mid-week lunch rush, we were able to successfully interact with thousands of potential visitors to our area, who we hope to see come down for a weekend getaway or the holidays. The event aligned perfectly with our advertising campaign that just hit and the first official day of autumn. It was a perfect sweet surprise!"
Those that stopped by the spinning wheel had chances to win nearly 100 different prizes, including a round-trip NJ Transit ticket from Penn Station to Hamilton Station and a $25 Uber gift card. Tickets and accommodations to various Bucks County locations were also available, including Bristol Riverside Theatre, Bucks County Children's Museum, Byer's Choice, Candlewood Suites Bensalem-Philadelphia area, James A. Michener Art Museum, Logan Inn, Peddler's Village, Radisson Hotel Philadelphia Northeast, Sellersville Theater, Sesame Place and the Washington House Hotel.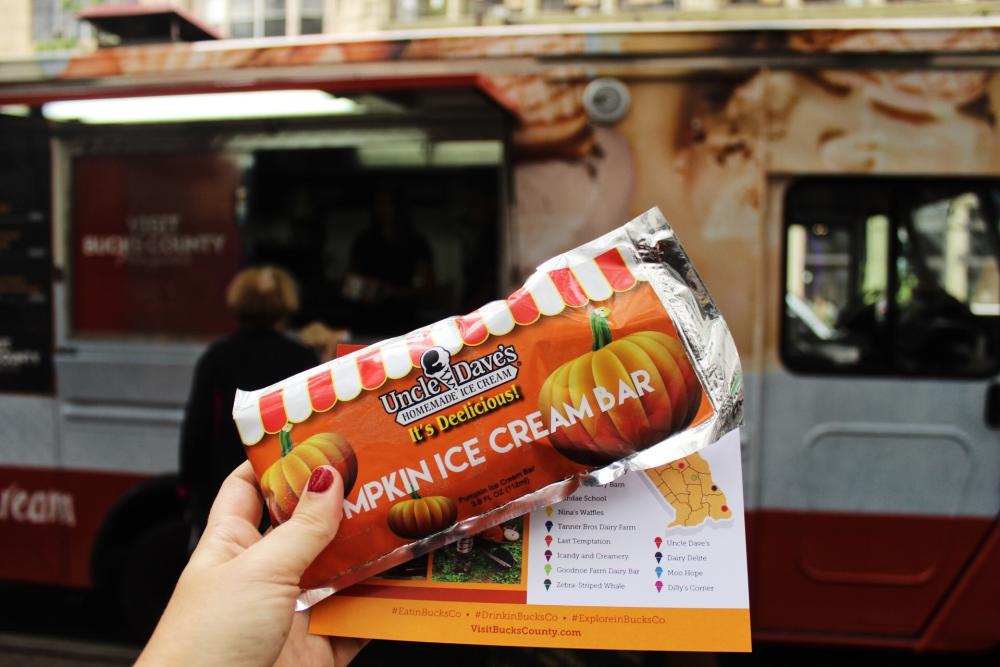 Download all images:
https://www.dropbox.com/sh/fz1tgmc1bnw8b9v/AABnuB-bmBY0oQ5Yexrl0W8Va?dl=0
More info on the Bucks County Ice Cream Trail:
www.visitbuckscounty.com/restaurants/planning-ideas/best-ice-cream-in-bucks-county
More info on fall festivals:
www.visitbuckscounty.com/events/top-fall-festivals/
About Visit Bucks County
Visit Bucks County (VBC) is the official tourism promotion agency for Bucks County. The tourism office, with more than 450 tourism/hospitality partners throughout Bucks County, promotes all there is to see and do to potential visitors and residents. In addition to consumer travel, Visit Bucks County targets sports tournaments, motor coach groups, meetings, special events and weddings. For more information on VBC activities call 215-639-0300, visit VisitBucksCounty.com or stop by the Bucks County Visitor Center located at 3207 Street Road in Bensalem (adjacent to the entrance to PARX Casino).