Fall Festivals & Frightening Fun
From fabulous fall festivals to freaky and frightening fun, Bucks County has everything you need to embrace the 2022 autumn season during one of the most picturesque times of year in the countryside.
Fridays & Saturdays in October by appointment
New Hope
Fall may be known for its beauty, but it is also one of the spookiest times of year and Bucks County has plenty of ways to terrify you during the month of October. Grab a flashlight and take to the streets with Ghost Tours of New Hope to hear the chilling tales of the area's former residents who may have never left during a lantern-led walk. Meet at Ferry & Main Streets corner at 8 p.m.
SCARECROWS IN THE VILLAGE
September 5 - October 31, 2022
Peddler's Village
Every September & October, Peddler's Village hosts a famous scarecrow display that brings visitors from around the world. For seven fun-filled weeks, view scarecrows along the winding pathways of the Village. Make and take home your own scarecrow in the workshops (September 10, 11, 17 & 24) and see the larger than life Scarecrow Competition & Display throughout the Village. Sign up for thr Scarecrow Shuffle with Scoogie Race on October 16!
September 9 - October 31, 2022
Shady Brook Farm
Come to FallFest for fun day and night without the fright! Go pumpkin picking, scenic wagon rides, spooky snacks, barnyward animals, ghoulish ghouls, bonfires and a 5-acre corn maze.
DOYLESTOWN ARTS FESTIVAL
September 10 & 11, 2022
Doylestown
The popular juried art festival will be hosting their popular event throgh downtown Doylestown to spotlight talented artists, musicians and other partners.
YARDLEY HARVEST DAY
September 17, 2022
Yardley
Located in Downtown Yardley Borough and taking place from 10 a.m. to 5 p.m., it is one of the Borough's most treasured and popular traditions. The event is scheduled, rain or shine. In addition to a wide variety of handmade crafts & artwork, great food, local and civic groups and businesses, there will be Live Music and Entertainment in the field.
NEW HOPE ARTS & CRAFTS FESTIVAL
September 24 & 25, 2022
New Hope-Solebury High School Parking Lots
Over 160 juried fine Artists and Craftsmen will exhibit using media such as oil paintings, watercolors, pastels, sculpture, fine and fun jewelry, ceramics, works in wood, fiber, furniture, wearable art, glass art, photography, outsider art, and more. The Festival takes place at the New Hope – Solebury High School parking lot, just a few minutes walk from the center of the business district, and there is a free bus to from the Festival parking to South Main St at the Bucks County Playhouse.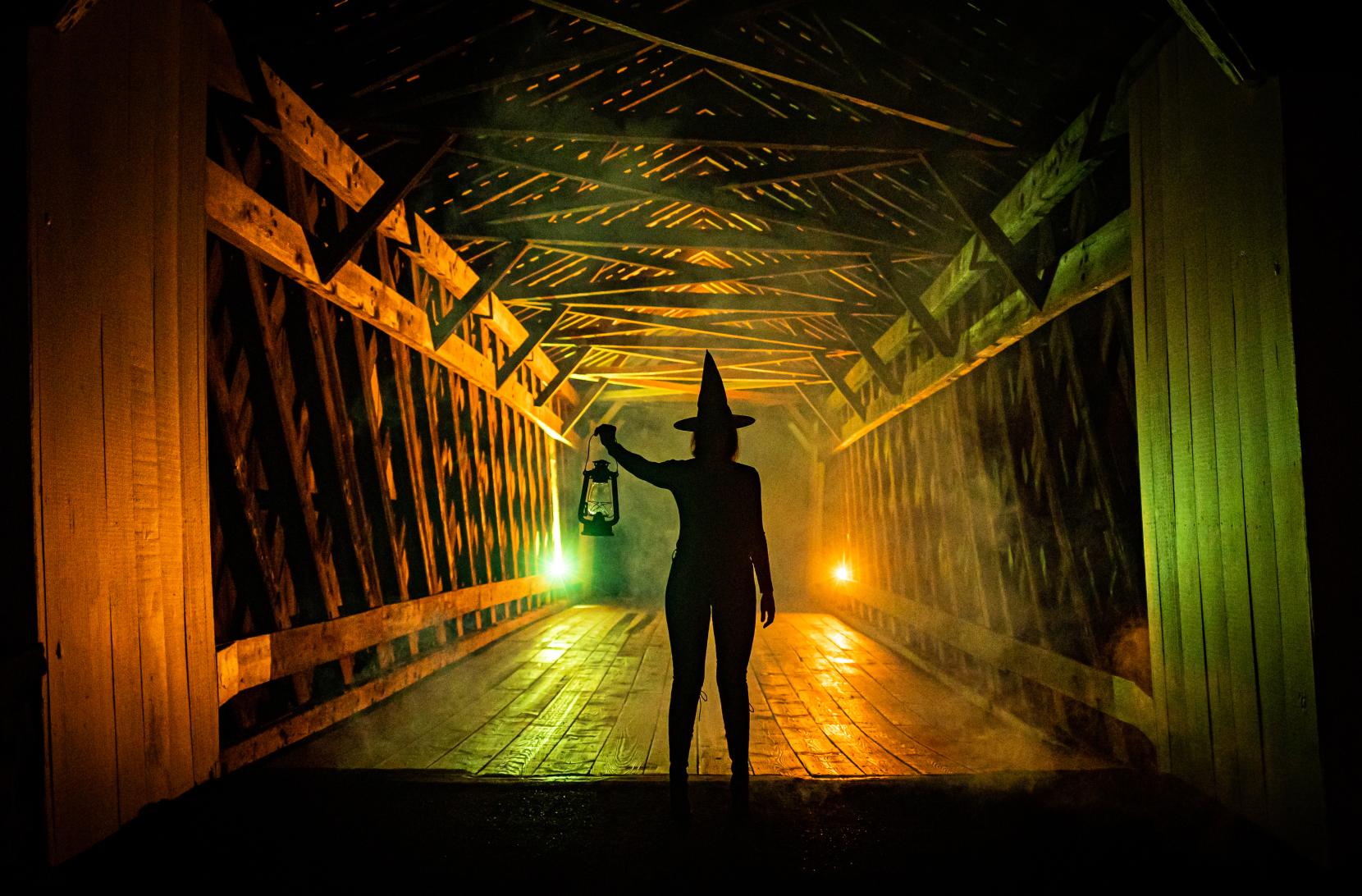 Van Sant covered bridge Halloween
September 17 - November 6, 2022
Sesame Place® Philadelphia
Come in costume and celebrate silly, not-too-spooky fun at The Count's Halloween Spooktacular at Sesame Place! The park will be transformed into a family-friendly Halloween haven and guests will enjoy trick-or-treating around the park, Halloween-themed shows, participating in the interactive Scarecrow Scavenger Hunt, Furry Friends Dance Party, pumpkin decorating, swinging, flying, and cruising on Count von Count-themed mechanical rides, and unique photo opportunities with everyone's favorite furry friends dressed up in costume on their Halloween-themed floats!
BUCKS COUNTY BOOK FEST
September 23 & 24, 2022
Doylestown
The Bucks County Book Festival is back for 2022 with some great authors. Enjoy a Writer's Workshop on Saturday morning and Books 'N Brew on Saturday night!
 
Weekends September 24 - October 29, 2022
Active Acre Farms
Located just up 95 from Philadelphia, Sleepy Hollow Haunted Acres offers a bone-chilling walking tour throughout the premises. Venture into the hallow for frights at every turn. Dare to enter the gates of the field as you wander through the ruins of a bewitched village haunted by ghosts of the outlaws and outcasts that once lived there. 
 
Weekends October 1 - 29, 2022
Froehlich's Farm
Celebrate the changing of the leaves, the chill in the air and Halloween at Froehlich's Farm Fall Festival. Enjoy a hayride around the 100-acre farm, get lost in a three-acre corn maze, find the perfect pumpkin from the patch, build a scarecrow, grab a brew from The Proper Brewing Co., enjoy live music and warm up with some hot cider!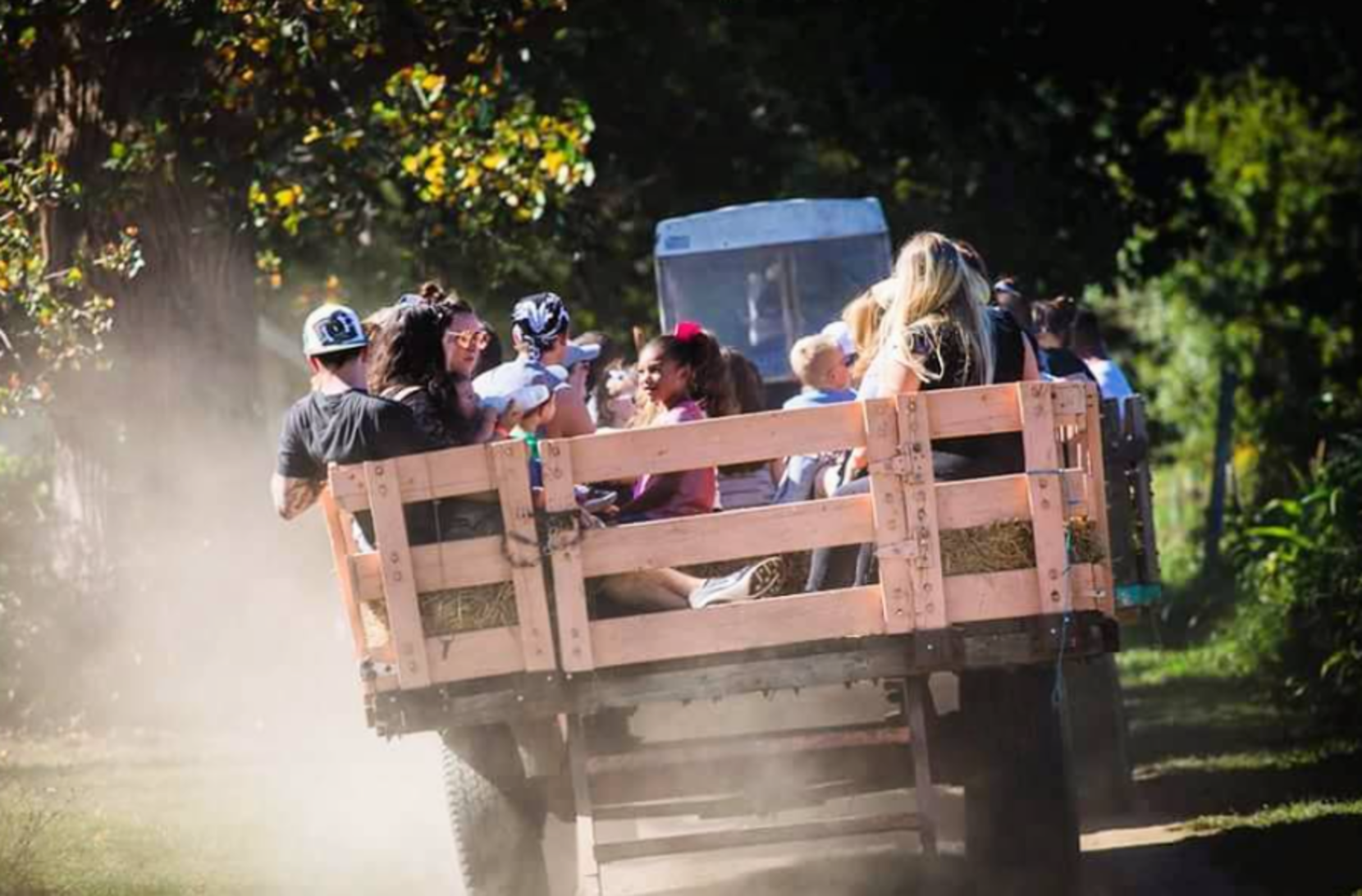 PERKASIE FALL FESTIVAL
October 2, 2022
Perkasie
Join in for an afternoon of fun at Perkasie's annual Fall Fest. From 12 p.m. - 4 p.m. in the town center AND at Menlo Park. Free buses run between the 2 locations for those who do not wish to walk. It's about 1/4 mile. Entertainment, acrobats, music, food trucks, huge vendor fair, pumpkin decorating, scarecrow making, games, petting zoo, pony rides, face painting, crafts, tractor rides, and much much more. The best part is almost everything is free for visiting families.
October 8-9, 2022
Bucks County Wine Trail
Come and taste the fruits of our labor during our annual Harvest Celebration on Saturday and Sunday, Oct. 8-9. In addition to sampling a variety of award-winning locally made Bucks County wines, guests can sample freshly pressed grape juices that have not yet fermented into wine. Please note: Harvest Celebration hours and events vary for each winery. Please check the winery for specific details.
HISTORIC FALLSINGTON DAY
October 8, 2022
Historic Fallsington
Come out to this free, annual, outdoor event in Fallsington on October 9, 2021 from 10 a.m. to 4:30 p.m. The day will feature folksingers, puppet shows, jugglers, Colonial dancing, Native American dancing and culture, demonstrations of Colonial skills, and more. Visit the entire village to purchase some homemade crafts made by local artisans, buy new & used books, tour the historic museum buildings and other places throughout the town, purchase a homemade treat or two, and more.
October 9, 2022
Bensalem celebrates community pride with family entertainment, music, food trucks, beer garden and evening concert and fireworks. The fun starts at 3 p.m. at the municipal complex on Byberry Road. Concert is set for 6 p.m. followed by fireworks at 8:15 p.m. Rain date Oct. 2 Free shuttle from over flow parking area at Bensalem High School. Accessible parking and shuttle from senior center.
October 15, 2022
Quakertown
Running from 10 a.m. to 4 p.m. the Autumn Alive! fall festival focuses on fun and our furry friends. The Broad Street Pet Parade is always a family favorite. Along with crafters and businesses, pet rescue organizations will line Broad Street from 4th Street to Hellertown Avenue and down Branch Street. There will be plenty of family fun to enjoy children's activities, live entertainment all day on two stages, cupcake contests, Food Court, Authors Corner, and guests of age can enjoy samples of beer and wine in the Beer Garden. There's always surprise fun on the street and just around the corner at Autumn Alive!.
October 15, 2022
Come for a day of fun in this historic river town. The event from 10 a.m. to 4 p.m. includes entertainment, historical tours, crafters and vendors, an amazing car show, a sailing regatta, an antique boat show, children's activities and a food court by the Delaware River.
APPLE WEEKEND
November 5 & 6, 2022
Peddler's Village
Celebrate Apple season in Bucks County with a weekend of family fun at the Peddler's Village 48th Annual Apple Weekend on Saturday & Sunday, November 5 & 6 from 10 a.m. to 6 p.m. Join us for one of the most popular annual events in the greater Philadelphia region! This outdoor event is held rain or shine. Admission and most parking spaces are free. All attractions and food are pay as you go. Peddler's Village shops are open until 8 p.m. on Saturday.
September 17 - October 29, 2022
Hellerick's Family Farm
Stop by this Doylestown farm to see the giant Bucks County letters this fall 2021! Also enjoy a Hayride, 2 Corn mazes, Farm animals, 3 slides, Tractor Tire playground and 40+ activities for children and adults of all ages.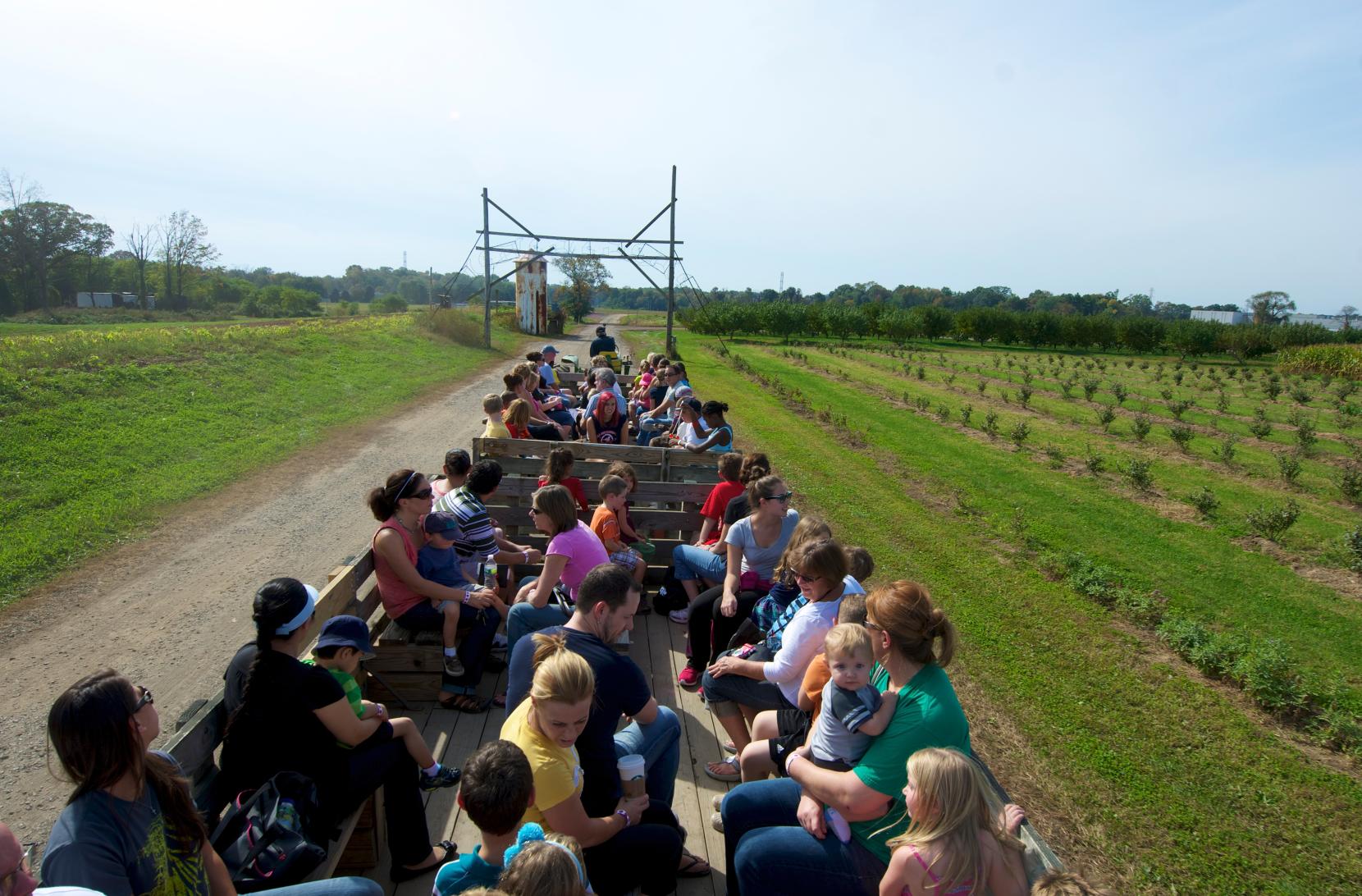 September 25 - October 30, 2022
Active Acres Farm
Venture down into THE HOLLOW through the abandoned gardens and deep into the winding crypts and catacombs deep beneath the manor. An expansive cemetery and dark woods provide bone-chilling frights at every turn. Dare to enter the gates of THE FIELD and wander through the ruins of a bewitched village haunted by ghosts of the outlaws and outcasts that lived there in the 1800's. Continue through the deserted section of the farm no longer in use after the tragic events of the past. 
September 24 - October 29, 2022
Yardley
Our Fall Festival is a ton of fun for families. Our activities/games are geared towards younger children. New Activities have been added this year, including a CORN MAZE (additional fee) and hayride to our "Pick Your Own" Pumpkin Patch. Hayrides will be offered on Weekends only. PYO pumpkins are an additional cost per pound. Purchase timed-tickets online in advance through our website.
October 8, 2022
Quakertown
Enjoy a night filled with spooky games and tasty treats! A fun festival with various crafts and activities. Come out and get ready for Halloween! The 2022 Fall Festival will consist of your favorites: Hayrides, scarecrow decorating contest, moon bounces, games, activities, sensory tent, costume contest, and many more of your favorites!
September 23 - October 31, 2022
Feasterville
The Original Haunted Hayride will top all others in 2022! This is our 32nd Year of Fear! With that said we are expanding and creating a ALL NEW EXPERIENCE with over 10 new scenes and all new sound experience.
September 30 - October 31, 2022
Warrington
The thrill of Night Chills on a dark autumn evening! We strive to give you an extraordinary haunted hayride. Starting off serene and winding your way into the "Gates of Hell". Our woods have been transformed to include many of the spectacular creatures that are in your nightmares! You are trapped in the wagon! You cannot escape! Will your driver bring you back safely? Or will you end up being forever stuck in the chills of the night? There is also a "Corn Walk of Horror" and "Haunted Hay Maze!"