Looking for the most toddler packed fun playgrounds?  Well, look no further.  Bucks County has awesome playgrounds for toddlers and young kids. Some are castle-shaped, others are built onto a hill with unique slide networks, and some the more traditional type. One thing for sure though, your child will have a great time at all of them. The following 6 playgrounds are all located in Bucks County and personally approved by my 3 ½ and 2 year old toddlers.  
I am an outdoor person and try to spend as much time as I can outside with my two toddlers and new baby. Some days we hike, others we play in our neighborhood and often we go to our favorite Bucks County playgrounds.
This amazing castle themed playground is located in Doylestown. It features a large castle that tops out at 8 stories high! At the very top are large spiral slides to get back to the lower level. At the bottom of the castle is a maze network designed to be a farm.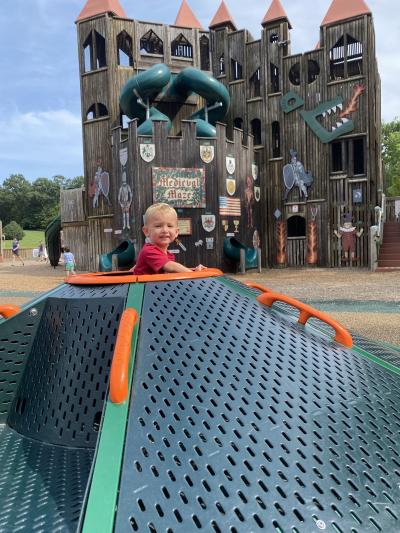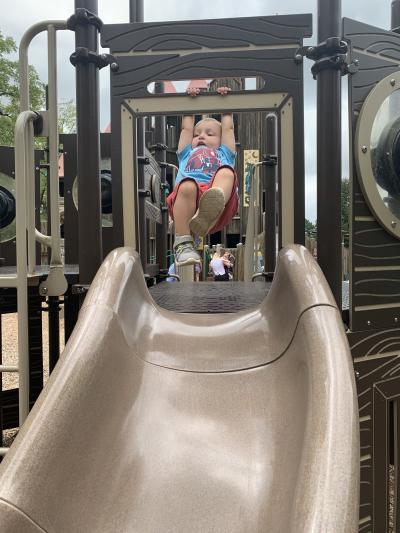 The castle is built for children and as an adult you will be bending down to make your way through this castle. My 3 ½  year old can do everything in the castle while my 2 year old is still a bit young, but loves to try anyway. There is an internal slide system in the castle that my 2 year old loves!
Around the castle are other smaller play structures. A pirate boat theme playset geared towards children 2-5 is on the left and a complete wheelchair accessible section is to the right. The whole right section of the playground is soft rubber so you can push a wheelchair or stroller. Integrated into the wall ramps on the right are toddler aged interactions such as tic tac toe, musical discovery and color and shape beads. 
A playground is not complete without swings and you will find many different options at Kids Castle from baby swings to child swings to rope swings. 
A new toddler section has just been completed in 2022 that features more play equipment for young toddlers. This section is mostly enclosed with an inner fence and the ground is rubber which is perfect for crawlers.
Just outside the castle is lots of green space and a picnic area under a gazebo. A great place to have lunch or snacks when taking a break from the playground or when meeting up with friends.
The restrooms are located closer to the smaller playground across the road when you enter Central Park Doylestown. The smaller playground is suited for 2-5 years old and right next to the soccer fields.
Central Park has many other features such as a nature trail, disc golf course, tennis courts, soccer fields, walking trails and sensory trail. I love to bring a stroller and get a run or walk in before letting the kids play at Kids Castle. A workout for me and play for the kids, best combo!
Main Theme: Castle
Playground Size: Large
SandBox: No
Picnic Benches: Yes
Restrooms: Yes
This is a truly unique playpark that I haven't seen anywhere else. The play structure is built on a hill that is covered in soft rubber to climb. At the top of the hill are slides to go down in 3 directions. My toddlers loved the slides and none are too fast for them, although my 2 year old is fearless for his age.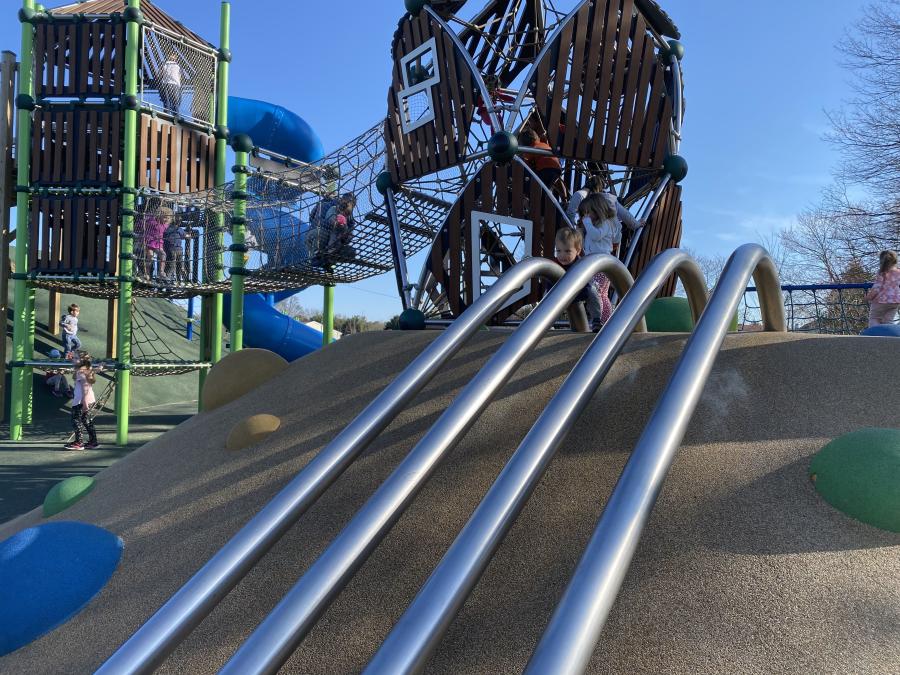 There are several different climbing rope sections to get to the top. My 2 year old wasn't old enough for this but my 3.5 year old loved the challenge. On one structure you must climb your way to a rope walkway entrance which leads to another multilevel rope climb. 
My 2 year old was able to climb the ropes but was able to walk up the hill to get to the slides. A smaller hill was featured with a small slide and other fun unique play equipment, such as pipes. As an adult I loved the 3 dimensionality of this park and creativity that went into its design.
Around the park were more common playground features such as swings, a large sandbox and a musical instrument section. The musical instruments had processions, lots of different chimes to strike and some wooden keyboards.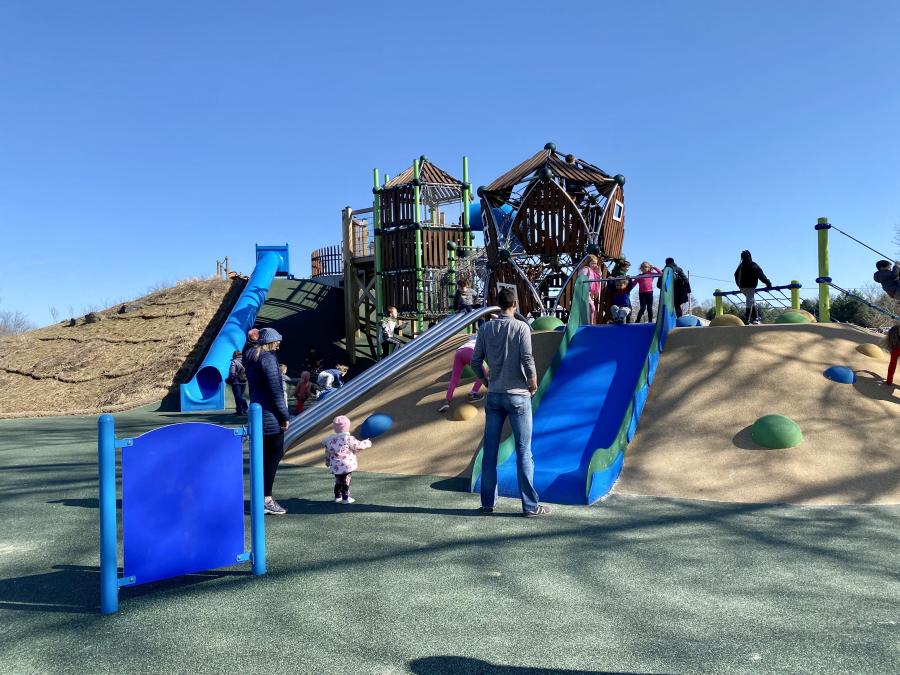 Colorful adirondack chairs were placed around the park for adults to sit in. This is a great add on for parents with older kids that need less supervision. You can sit down and put your feet up, however if you have toddler aged kids you might not get a chance to rest. 
The playground is part of a larger park with walking trails, restrooms and sports fields. A pavilion with picnic benches is a short walk from the playground and another great option for lunch.
Main Theme: Unique hill climbing design
Playground Size: Large
SandBox: Yes
Picnic Benches: Yes
Restrooms: Yes
Burpee Park
Doylestown
A short walk from the center of Doylestown and all the shops is Burpee Park. This park is a more traditional playground next to the catholic school. It has three main play structures designed for slightly different ages.
The largest play structure has multiple ways up and down with bridges between different sections. My 2 year old can climb up the majority of the ways but still struggles with the steel bar way up. My 3 ½  year old has no issues.
Near the large play structure is some ride on options; a horse, spaceship, and a tractor. There are also swings, both baby and child, and two different merry-go-rounds. A couple picnic benches are found around the perimeter.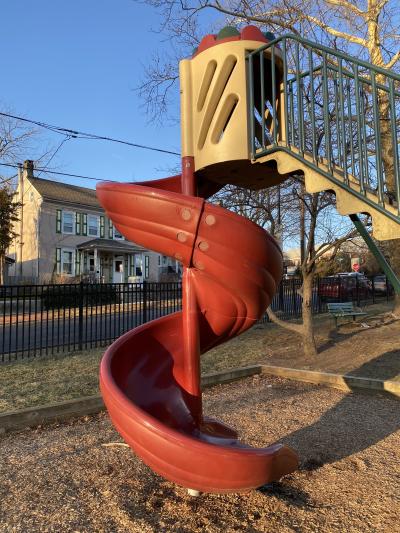 A 1 minute walk up a hill leads you to an older kids play structure which features a very tall spiral slide. Even though it is geared towards 5-12 year olds my nearly 2 year old goes down this slide.
Further away from the main playground are see-saws.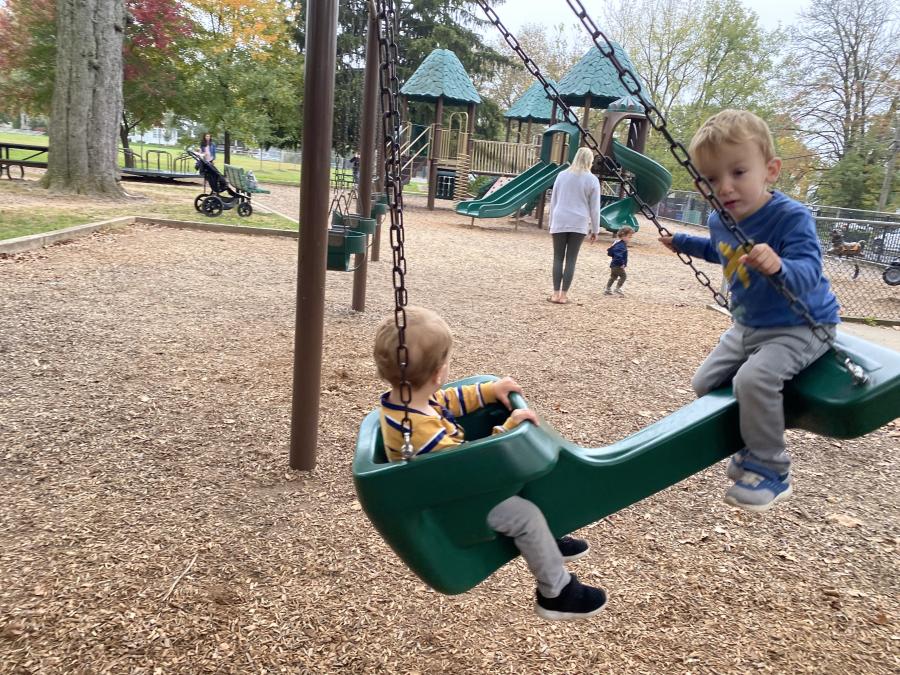 I love this park option coupled with a walk into town for a treat or meal. The Doylestown library is also a small walk away. Parking is street side and it is  normally not hard to get a spot.
Main Theme: Traditional Playground
Playground Size: Medium
SandBox: No
Picnic Benches: Yes
Restrooms: No
Kids Kingdom Playground
Yardley
Another castle themed playground can be found in Yardley. This castle is more spread out than Doylestown Kids Castle and less tall. Parents of toddlers do not have to bend down to follow their toddlers through this castle and it is just as fun for kids.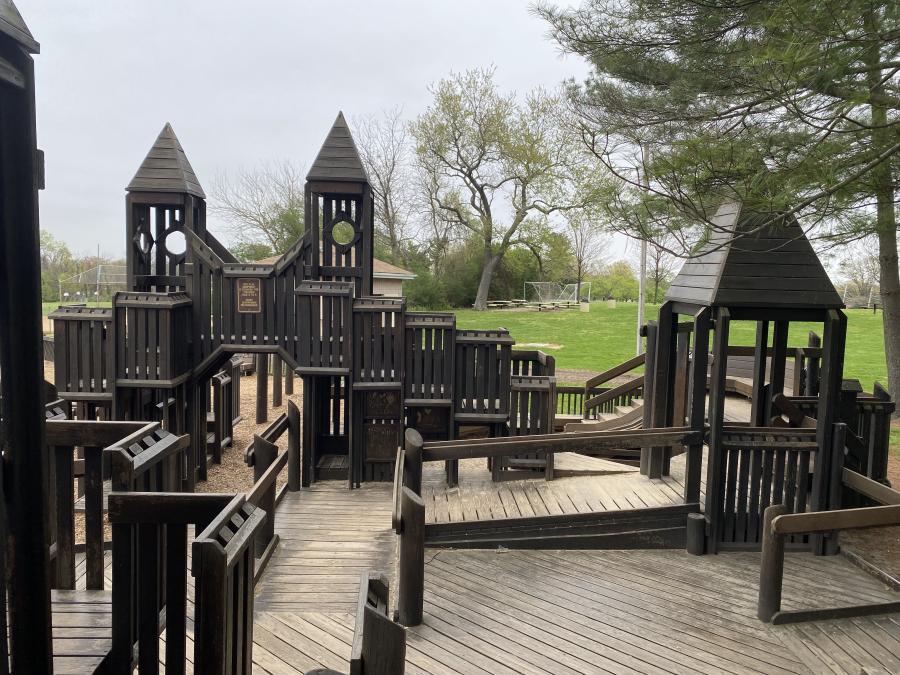 The playground has many slides incorporated into the castle, but none are as long as in Kids Castle. The playground was built for the younger kids. A large sandbox is found in one section of the castle with a slide, steps and even nice places for adults to sit and watch. My toddlers love this section. 
Around the castle are other play equipment; swings, wooden boat, monkey bars and other balance features. Benches are incorporated around the castle to sit and watch your children play.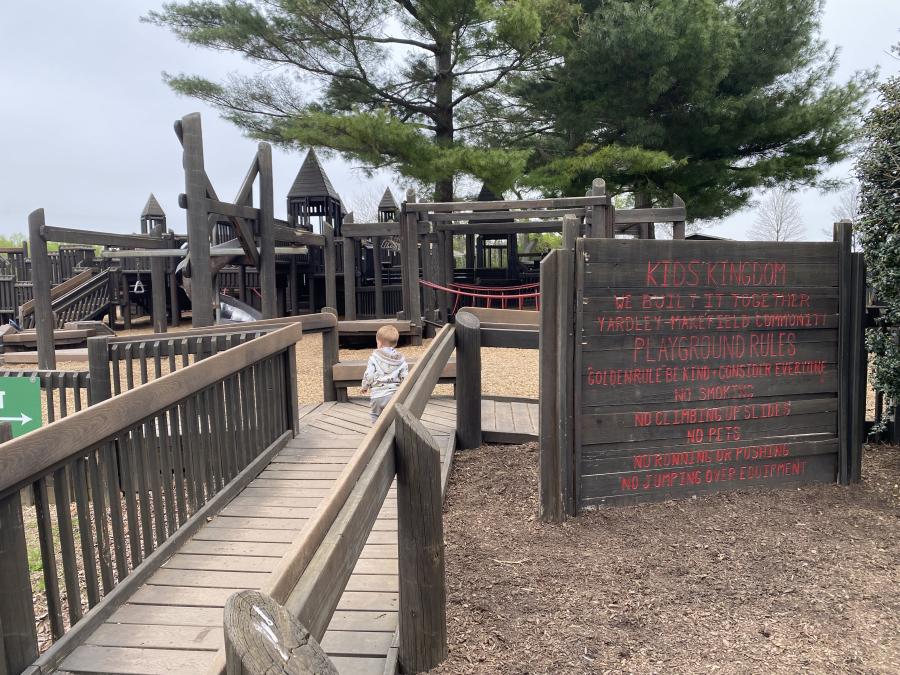 Not in the playground but within a 2 minute walk you can find restrooms, if needed. The park is next to the Lower Makefield Township pool, open sports fields, tennis courts and an elementary school. 
Main Theme: Wooden Castle 
Playground Size: Large
SandBox: Yes
Picnic Benches: Yes
Restrooms: Yes

Covered Bridge Park
New Britain
Covered Bridge Park is a more relaxed playground. It features more traditional playground equipment and multiple slides. The park is less crowded than other options and easier to sit down and relax as your toddlers play. 
The park features many different slides of different heights, see-saws, climbing dome, baby and kid swings and ride-on bouncers, a 2 person caterpillar and a frog. It also has a large sandbox that is equipped with different sand toys that are part shaded.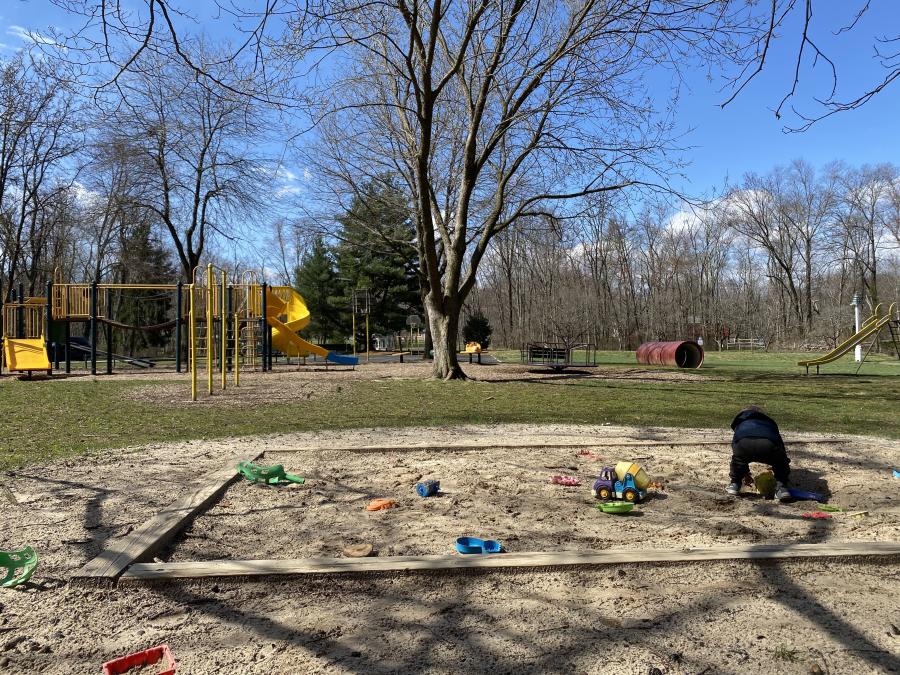 A large pavilion with a fireplace can be rented out for parties and there are shaded picnic benches scattered around the park. At times the park features kids plays, bands playing and other events. Restrooms are located on site. 
A basketball court is located next to the playground and walking trails. The walking trails lead to sports fields as well as to Pine Run Dam, with a beautiful view of the water.
My husband and I love to cycle our toddlers to this park from our house. Or we park at Pine Run Reservoir Parking and walk the scenic blacktop trail past Pine Run Dam to the park with the kids in the stroller or on their scooters, about a mile walk.
Main Theme: Traditional
Playground Size: Medium
SandBox: Yes
Picnic Benches: Yes
Restrooms: Yes
Warminster Community Park
Warminster 
Warminster Community Park is a traditional style playground with a unique fenced area designed for bikes and scooters called "Safety Town". This fenced area resembles a town with blacktop roads through the shops for kids to ride through. The buildings are sponsored from shops around the area and painted in bright colors. My toddlers love riding through or sometimes just running around and playing hide-and-seek.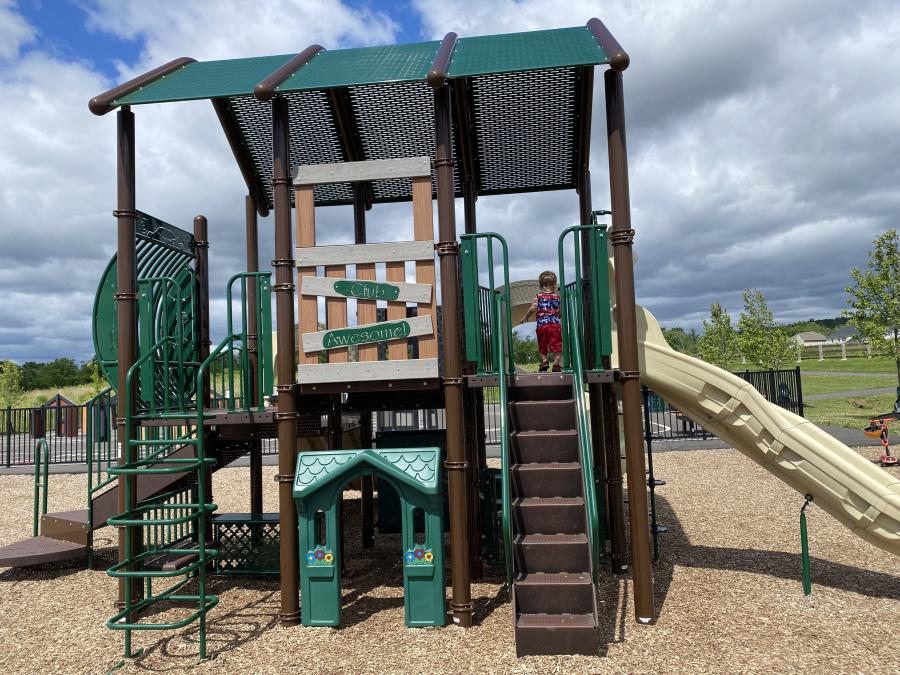 The playground features two different main structures. One geared towards a smaller child with easier climbing options and smaller slides. The larger structure has more difficult climbing ropes to get to taller slides. Both my toddlers try to climb the robes, however only my older toddler can reach the slides at the larger structure.
Musical instrument features are incorporated around the playground. You never know what you will find attached to the wooden structure. Another feature is a large rope scramble across a rope bridge off of the main play structure. Your toddler will love trying to be king of the mountain here! You just might have to spot them.
Like all the other playgrounds, this park has swings as well. There is also a large pavilion connected to the playground and bathrooms. It is a great spot for shade and a picnic lunch.
Main Theme: Traditional Playground and Road Theme Town
Playground Size: Large
SandBox: No
Picnic Benches: Yes
Restrooms: Yes