The Mercer Museum Holiday Open House is one of my favorite events of the season. Wandering through the museum and Henry Mercer's treasures, enjoying live holiday performances, sipping hot cider by a fire outside – it's the epitome of holidays in Bucks County and the best part is it's completely free!
Henry Mercer opened his museum in 1916 to hold his collection of tools and artifacts from early American life, before the Industrial Revolution. Behind the walls of the six story concrete castle lies 50 thousand objects including everything from shoe-making tools and farming equipment to a full-size whaling boat and antique cider press. The museum also hosts rotating special exhibits throughout the year.
This year's Holiday Open House is on Tuesday, December 12, from 7-9 p.m. To get a glimpse of what the museum has planned, I caught up with Gayle Shupack, Communications Coordinator at the Mercer Museum.
Brooke Hillman: The holiday open house is one of my favorite events. What can people look forward to this year at the museum?  
Gayle Shupack: We have a lot of returning favorites, as well as some new activities. Santa will be stationed in the Log House where children can take photos with him, tell him their holiday wishes and take home a keepsake ornament. There will also be a menorah lighting and outside people can enjoy hot cider or participate in the burning of the greens. We'll have entertainment throughout the museum the whole night while people walk around. In addition, our special exhibits, Centuries of Childhood and Under the Tree will also be open. Across the street, the James A. Michener Art Museum will also be having an open house that people can visit.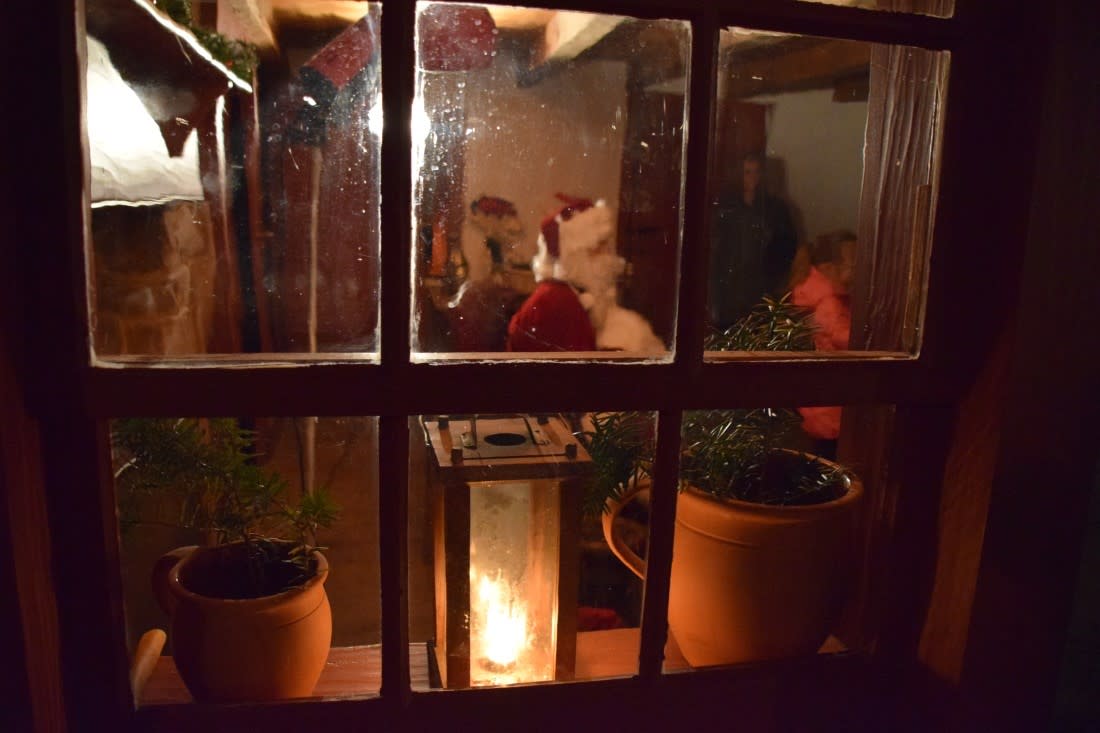 BH: Well your special exhibits just sound magical! What do they feature?
GS: Centuries of Childhood is a really great exhibit for families. The immersive experience introduces you to fictional children from the 1700s to mid-20th century. Kids can paddle a canoe, ride on a horse and carriage, practice early trades and more.
Under the Tree is our annual holiday exhibit that shares the excitement of Christmas from a child's perspective.  You can see the evolution of Christmas trees, decorations and children's toys from the Victorian Era through the 1980s.
BH: What is some of the entertainment happening this year?
GS: We are so excited about the groups performing this year! The Temple Judea Youth Group will be part of the menorah lighting and the CB East Symphonic Band will serenade Santa as he heads into the Log House. And Got Strings Youth Orchestra, Bucks County Country Gentlemen and the Mercer Carolers are just a few of the groups who will be entertaining guests throughout the night.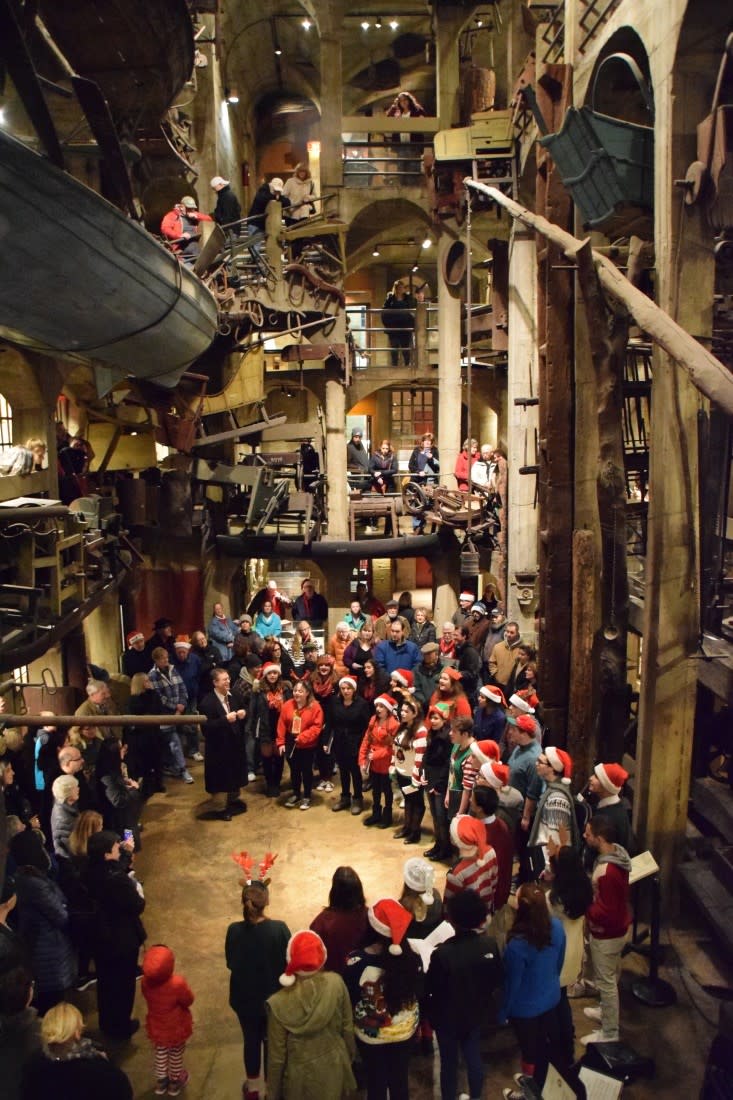 BH: There's always a big crowd for this event. Why do people love it?
GS: There's a special atmosphere at the museum this whole night. There's such a warmth and everyone is enjoying the holiday season. I think it's also popular because it's a free event where people can wander around the museum, enjoy entertainment and have some holiday fun with their families.
BH: How did Henry Mercer celebrate the holidays? Did he have an open house at the museum?
GS: Henry didn't have an open house at the museum - he was a little more low key. But we do know that he sent Christmas cards to family and friends. He would actually make his own by cutting out images from books and pasting them onto colored paper. He did love music so I would imagine he would appreciate that part of our event.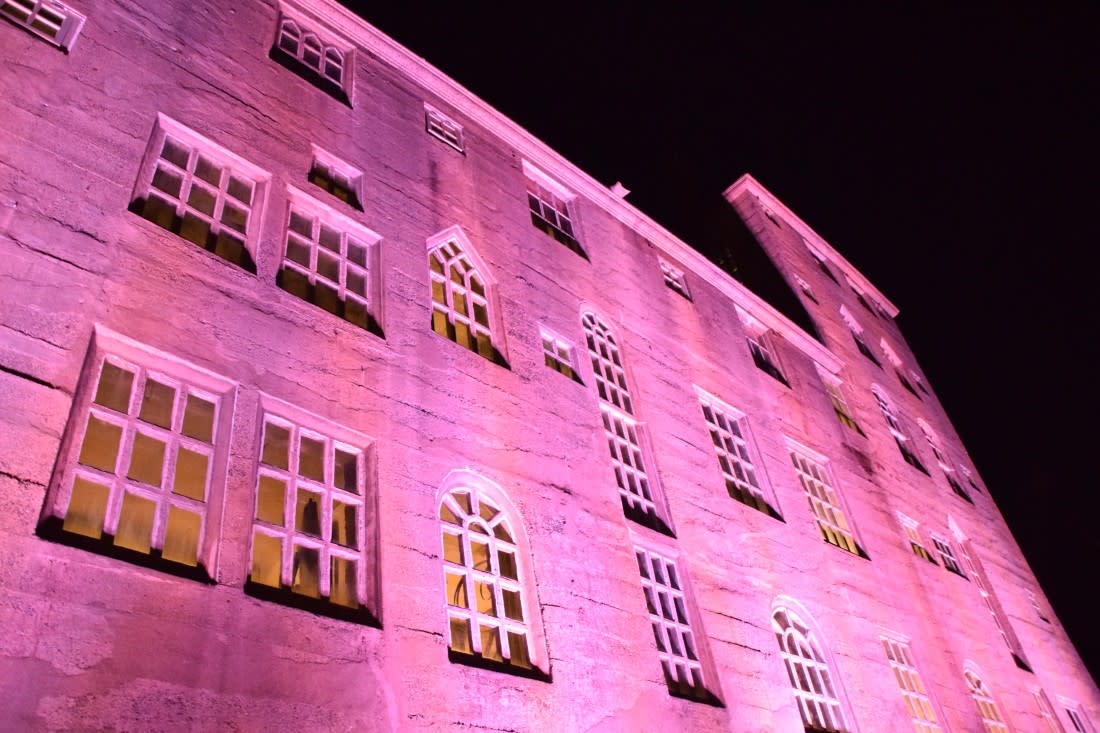 BH: What else does the Mercer Museum and Fonthill Castle have planned this holiday season?
GS: We have a slew of holiday events coming up. On December 10, we're doing a new tour, Henry's Homes for the Holidays, where people can visit Henry's birthplace (the James-Lorah Memorial Home) and his former home (Fonthill), both of which will be decorated for the holidays. There is also an opportunity for people to wander through Fonthill Castle and enjoy the holiday decorations by candlelight at our Fonthill Holiday Lights Meander. If you prefer a guided tour, we also have Winter Wonderland Holiday Decoration tours of Fonthill from December 2-31.
BH: Sounds wonderful! I can't wait!
Click here for more information on these events or to make reservations.