Most people associate shopping and restaurants with New Hope and they wouldn't be wrong. However, if you are visiting New Hope with your toddler or preschooler, you might wonder what there is to do that is more geared towards the (much) younger crowd. 
I can assure you that New Hope can be the perfect day out for both you and your toddler.  There are many options to choose from, but my toddlers' favorite is a morning at the Bowman's Wildlife Preserve, followed by a visit to the Children's Museum of Bucks County and ending with ice cream at Moo Hope Ice Cream.
Start your day with a trip to Bowman's Hill Wildlife Preserve. Located just on the outskirts of town the Preserve is a magical spot for toddlers. The 134-acre location has hiking trails, a flower and plant shop, a nature playground and wildflowers! It is open daily starting at 9 am.
When you arrive you will be given a map of the area showing you all the hiking trails. Each trail is short and achievable for little feet. When I go with my family, we can walk all the trails in less than 2 hours at a toddlers pace.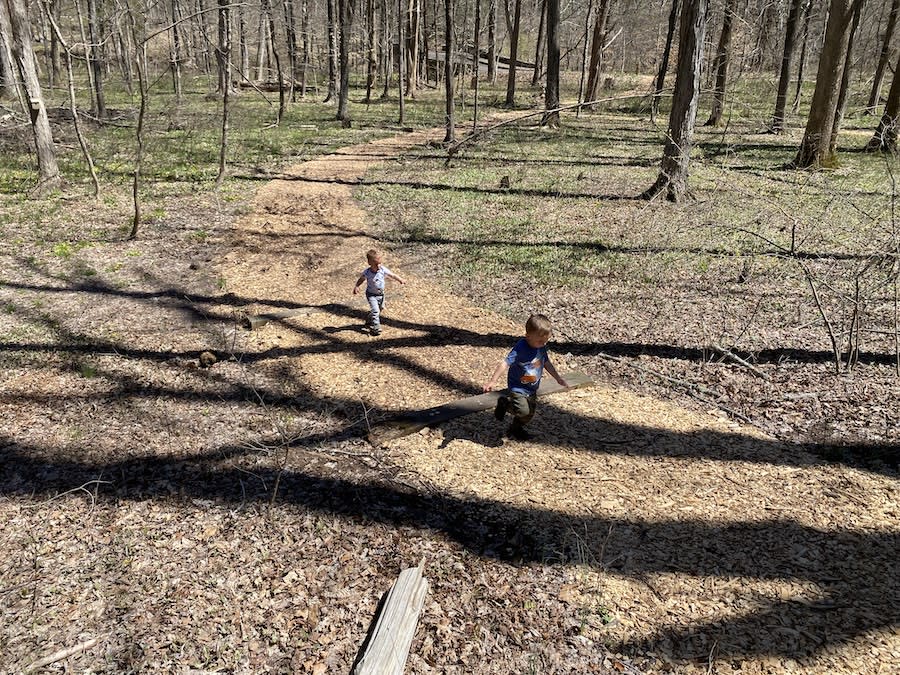 I don't know about your toddlers, but mine LOVE flowers. The last time we visited with my 2 and 3 and a half year old sons, they had to smell every flower and point out all the different colors of each one. It was hard to get them moving on the hiking trails with all the distractions!
Connected by trails is an awesome outdoor nature playground. This playground is made from tree stumps, sticks, logs and leaves. Your toddler will love jumping across the tree stumps and hanging out in the teepee so much that it might be hard to pull them away to other parts of the Preserve.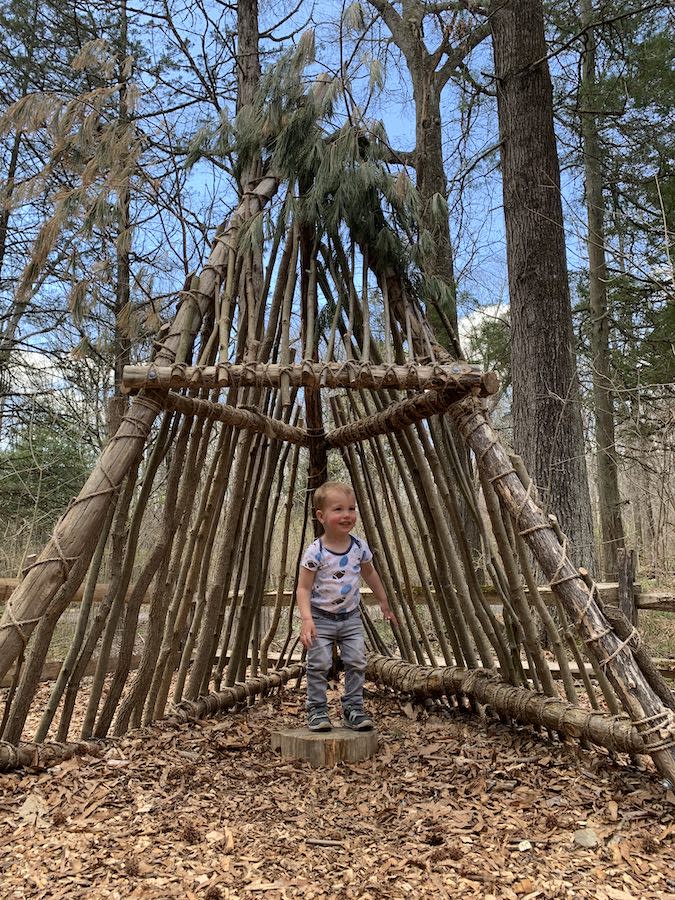 Another thing toddlers love (at least mine do) is water. The hiking trails cross over streams and wind their way next to them as well. The trails range from wide to single and all are easy enough for toddlers. 
Once done hiking you can check out the gift shop on the way out. There are plenty of items that will grab your toddler's attention that are both educational and fun. There are plenty of books on outdoor play, stuffed animals and other gadgets.
The next activity on the agenda is the Children's Museum of Bucks County, just a short distance from the Wildlife Preserve. This great spot opens at 10 a.m. and is guaranteed to not just entertain your toddler, but you as well. The museum offers daily tickets as well as an annual pass, however you need to book your slot ahead of time for weekends.
You will need to pay to park at the museum parking lot. It costs $4 for up to 3 hours. That should be plenty of time; I tend to spend 2 hours there with my kids.
The museum is split into 5 main rooms for exploration and play. The main area you walk into features a build-your-own track for cars to race down and a wall for softballs to fall down.  Beyond this section is an archaeology themed section where you can make designs using pins and other discoveries.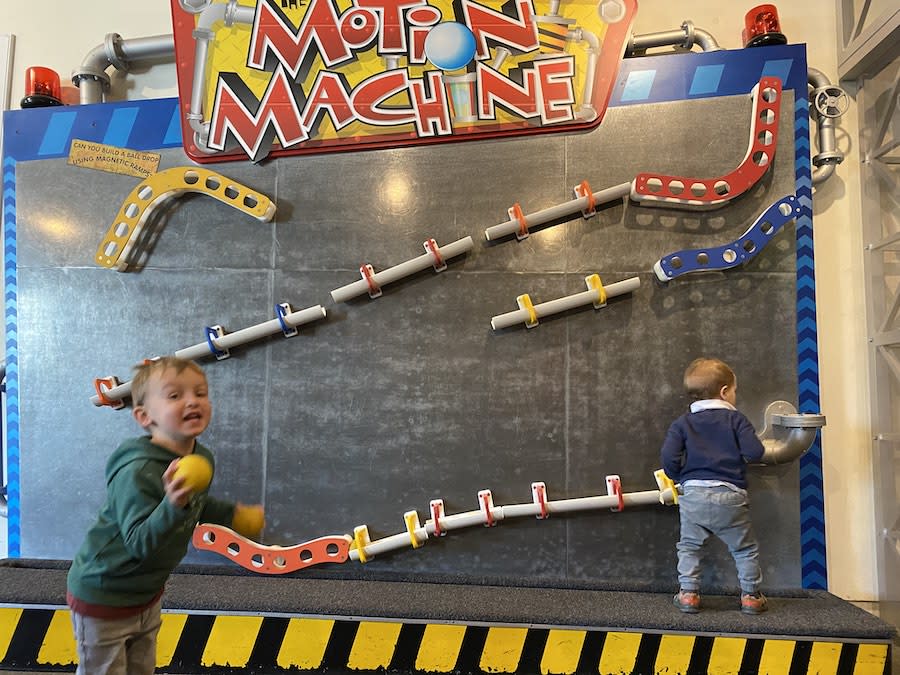 Off to the left of the main area are two rooms. One features outdoor play and has a recycling center playhouse with a slide and  a rock climbing wall on the other side.  Below the playhouse is a large light bright that is at child's height and will bring you back to your childhood!
The other room is for imagination play with a general store, farm, train and medical room set-up. Here your toddler can explore the different themes and pretend to be transported there. All themes are interactive and you will be pulled into play with them. Shop in the "general store" and have your toddler ring up your purchase or be a patient at the doctor's office and have your toddler take your vital signs. My 2-year-old gets a kick out of feeding carrots to the horses.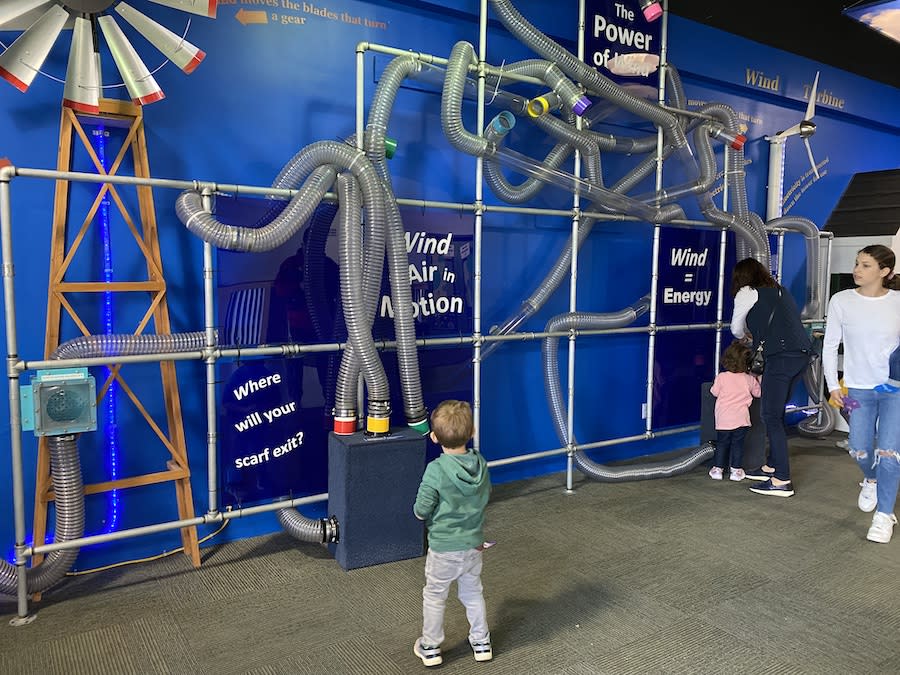 My toddlers' favorite area is to the right of the main area. Here is a space dedicated to wind and weather; a unique tube wall into which toddlers can place scarves to see where they will be blown out. Your toddler can change the tube the scarves flow through which results in different exit locations for the scarves. 
Beyond the wind display is the water play; there is a huge water table. You start by pressing a button to let the rain come down which pours water down a fall to the water table. The table has two locks on each side, a middle track and obstacles for toddlers to float boats through. Along with boats the water table provides animals for the toddlers to play with and place in the boats. Bring a change of clothes as most toddlers end up getting soaked, even though the museum offers smocks.
The museum also has a cafeteria room. Here you can bring your home made lunches and sit down to eat. When I'm out with my toddlers for the day I find it easier to bring our own lunch rather than going out for all our meals. Toddlers are distracted easily and, although I eat well at restaurants, my toddlers do not. Therefore, by eating at the museum you do not have to feel like you wasted money buying them a lunch they will not eat. Also you can pack them food you know they will eat.
However, if you prefer going out to lunch, the Triumph Brewery Company is in the same complex as the Museum and is open for lunch. You can sit outside with your toddlers and have a great view of the New Hope Railroad. Most likely they will want to go for a ride on that someday!
After a hike at Bowman's Hill Wildlife Preserve and exploring the museum while stopping to eat lunch, your toddlers should be exhausted. A nice way to end before finding your way back home is to stop at Moo Hope Ice Cream. 
Moo Hope Ice Cream opens at 1 p.m. during the weekdays and 12 p.m. on the weekends in summer. The ice cream shop features daily special ice cream specials and it will be hard to find a flavor that doesn't sound good. I recommend a cup for a toddler instead of a cone, unless you like sticky toddlers for your drive home!
After ice cream your toddler and you will have had a great day out in New Hope. My toddlers always ask when they can go back!