Whether enjoying soft tunes over dinner or rocking out to a sold-out show on Friday night, Bucks County's music scene has something for every evening. From big-name performers to local jazz artists, you can find entertainment in Bucks County every night of the week! Here are some of the top places to catch a live show this summer.
Heritage Conservancy's popular "Concerts in the Garden" is an outdoor summer concert series at the historic Aldie Mansion. The free concerts features musical acts on the fourth Tuesday of every month from May through September from 6-8 p.m. A few of the acts this summer include Zeke Sky Duo (June 25), Laurie Vosburg Band (July 23) and Faye Adinda (August 27).
This local restaurant features music seven nights a week! Order one of their delicious dishes for dinner while a piano solo, jazz act or lively trio sets the mood. Be serenaded by one of their many entertainers, including Andy Prescott (June 10), Dave Dales Trio (June 15), Bob Egan (June 21) and Patrick & Debra (June 29).
Piano and guitar performances every Thursday and Friday night complement a relaxed, country dinner at this historic building. 
This professional, regional theater in the historic district of Bristol Borough is hosting must-see events all summer, including The Lettermen (June 1), The Kingston Trio (July 7) and Woodstock at 50: A Celebration (July 18-28).
Del Val's annual Summer Concert Series brings live entertainment to their front lawn every Friday. Sip on locally-made wines from Rose Bank Winery and grab a sandwich from their deli for a picnic while listening to the tunes by Joe Rebl (June 7), Cara Cartney (July 12) Kim & Chuck (July 26), Ryan Shubert (August 30) and more.
Listen up! The 5th season of Music on Main kicks off on June 1st in downtown Yardley at Buttonwood Plaza. From 6-8 p.m. on select dates this summer swing on by to see bands like Ryan Tennis (6/15), Raised by Wolves (7/20), and Tie Dye Hillbilly Dance Party (8/10)! 
Drink a glass of wine and see a live show at this winery and event venue. Some hot shows this summer include Eaglemania (June 14), New York State of Mind: The Music of Billy Joel (June 22), The Drifters featuring Rich Sheppard (July 26) and Starman: The Bowie Tribute (August 17).
Adjacent to the municipal complex and in Bensalem's Central Park, the Penn Community Bank Amphitheater venue provides outdoor entertainment for more than 3,000 people in open lawn seating. From June through August, enjoy a summer concert under the stars with tribute bands like Killer Queen Experience, a Queen tribute band (July 24), Forever Ray, a Ray Charles tribute band (July 31) and Unforgettable Fire, a U2 tribute band (August 21).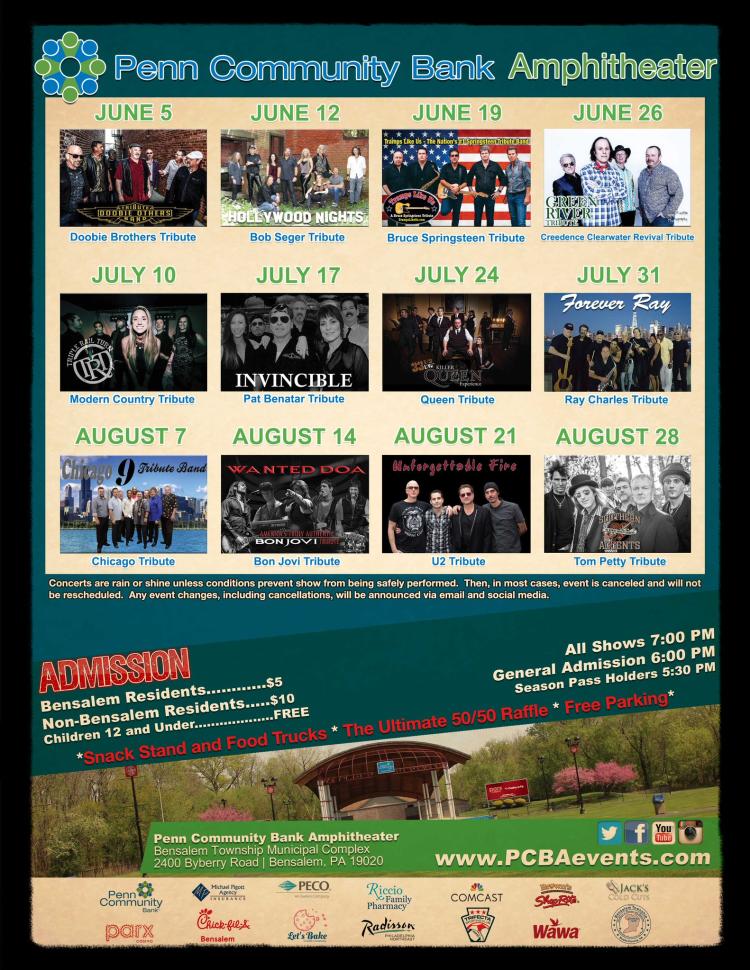 Sellersville Theater features live music and comedy acts year-round in their historic venue. Combine your show with dinner and an overnight stay at the Washington House next door. This summer, catch Dana Fuchs (June 14), The Quebe Sisters (July 16) and The Gatlin Brothers: Larry, Steve and Rudy (August 25).
Enjoy local wines, cocktails, craft beer and food at Shady Brook Farm's Summer unWINEd Concerts, a weekly series occurring every Thursday and Friday nights until August 30. Admission is just $7.50 and doors open at 5:30 p.m. Don't miss their special concerts featuring fireworks (a $12.50 admission fee) featuring the Tom Petty tribute band, Radio Petty (July 6) and the Bon Jovi tribute band, Slippery When Wet (August 31).
Offering an atmosphere comparable to the speakeasies of Philadelphia, Vault Brewing is not your average brewery. Try one of their unique gastro-pub dishes and craft beers (brewed on-site) while listening to live jazz performances every Friday night.
Some of the top acts in show business will be headed to the Xcite Center this summer. Reserve your tickets now for acts including Hotel California (June 21), Patti LaBelle (July 12) and Cheech & Chong (July 24).