Live entertainment is making a comeback and you can catch musical acts, including local jazz trios, big-name performers, and tribute bands at venues throughout Bucks County this summer. From tableside dinner music to amphitheater concerts, this is your guide to the best places to see a live show!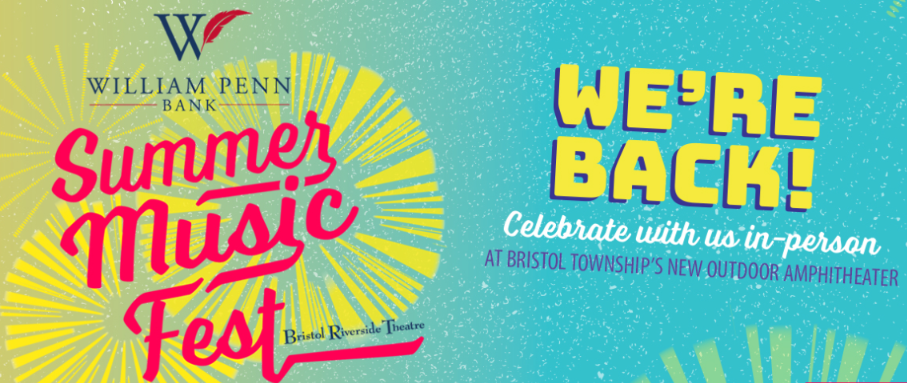 This professional, regional theater in the historic district of Bristol Borough is hosting the first-ever William Penn Bank Summer Music Fest 2021 in their new outdoor amphitheater. The event will have acts from June through August including Broadway Memories (June 18-20), Totally Awesome 80s (July 16-18), and The Doo Wop Project (August 27-28).
Drink a glass of wine and see a live show at this winery and event venue. Some hot shows this summer include Not Fade Away: The Buddy Holly Tribute (June 12) Classic Stones: A Tribute to The Rolling Stones (July 9), Laurel Canyon: The Music of Crosby, Stills, Nash & Young (Aug 7).
Adjacent to the municipal complex and in Bensalem's Central Park, the Penn Community Bank Amphitheater venue provides outdoor entertainment for more than 3,000 people in open lawn seating. From June through August, enjoy a summer concert under the stars with tribute bands like Sail On, The Beach Boys Tribute (June 23), Real Diamond, The Premier Neil Diamond Experience (July 14) and Idlewild South, The Allman Brothers Band Tribute (August 25).
Sellersville Theater features live music and comedy acts year-round in their historic venue. Combine your show with dinner and an overnight stay at the Washington House next door. This summer, catch Amy Helm (June 13), James Maddock (July 8), The 5th Dimension (August 7), and many more.
This local restaurant currently has live music every Wednesday and Thursday! Enjoy dinner and a creative cocktail while being serenaded by one of their many entertainers, including jazz trios, piano acts, and live singers.
This family owned and operated winery not only hosts fantastic wine pairing events and food trucks, but they also feature live music Fridays, Saturdays, and Sundays. Sip a glass of local wine while enjoying tunes in their farm-style event field.
Live theater and entertainment venue the Bucks County Playhouse is hosting musical acts throughout the summer including Karen Mason (May 20 & 21), Costantine Maroulis (May 22 & 23), Andrew Polec (June 5 & 6), and Billy Stritch (June 12 & 13) so far!
Every night enjoy live entertainment from 6:00 – 9:00 p.m. at this hotel bar. It's a trek through New Hope history and cabaret, stylishly evoking the vibrant personality of Odette Myrtil. Today, her spirit lives on through live performances from local musicians. Catch Michael Andrew, 70's Classics guitarist and the Jazz Brunch Duo on Sundays, Piano Mondays, Lorenzo on the guitar & flute on Tuesdays, Wayne Johnson, Latin guitarist on Wednesdays & Sunday brunch, Gina Corson, electric violinist on Thursdays, Bob Egan on the piano on Fridays and Saturday nights.
Enjoy local wines, cocktails, craft beer and food at Shady Brook Farm's Summer unWINEd Concerts, a weekly series occurring every Thursday and Friday nights until September 4. Admission is just $10-$18 and music starts at 6:30 p.m. Don't miss their special concerts featuring fireworks on July 3 and September 4!
Offering an atmosphere comparable to the speakeasies of Philadelphia, Vault Brewing is not your average brewery. Try one of their unique gastro-pub dishes and craft beers (brewed on-site) while listening to live music.
Heritage Conservancy's popular "Concerts in the Garden" is a virtual and in-person outdoor summer concert series at the historic Aldie Mansion. The free concerts feature musical acts on the fourth Tuesday of every month from June through September from 6:30-8:30 p.m. Events are livestreamed on Aldie Mansion's Facebook page and members can attend in-person. More information can be found here.
Crossing Vineyards and Winery, may be known for their outstanding wines, but they also have an impressive summer wine and music series lined up. Catch performances on Fridays at 7 p.m. rain or shine from June 18 through September 10. Acts include The Chiclettes Band (July 30), The Beat Tells, a Beatles Tribute Band (Aug 27), and The Fabulous Grease Band (Sept 10). Advanced ticket purchases are suggested.