Our friendly neighborhood monsters over at Sesame Place® Philadelphia are keeping their fall tradition alive – plus, doing something brand new this year to accommodate the strange times we're living in – to celebrate the spirit of Halloween.
The Count's Halloween Spooktacular, running through November 1st, brings just the right amount of spook to the park to make it a fun holiday "must see" for guests of all ages. New this year is the park's Not-Too-Spooky Halloween Drive-Thru!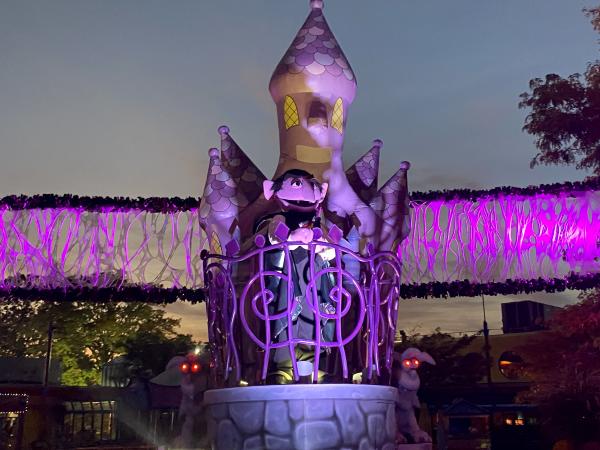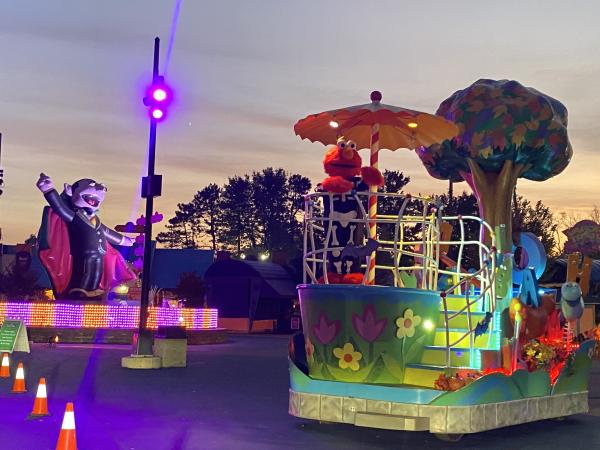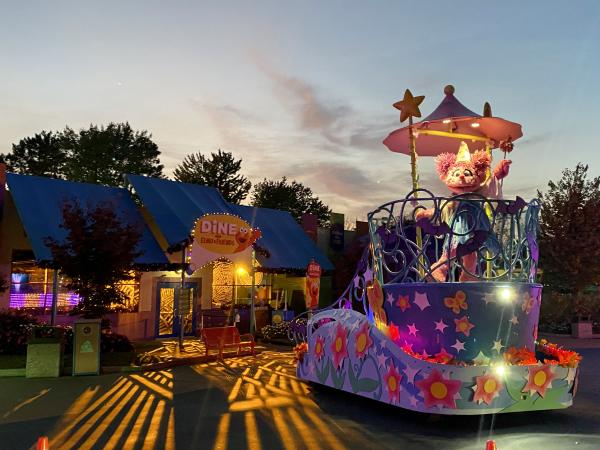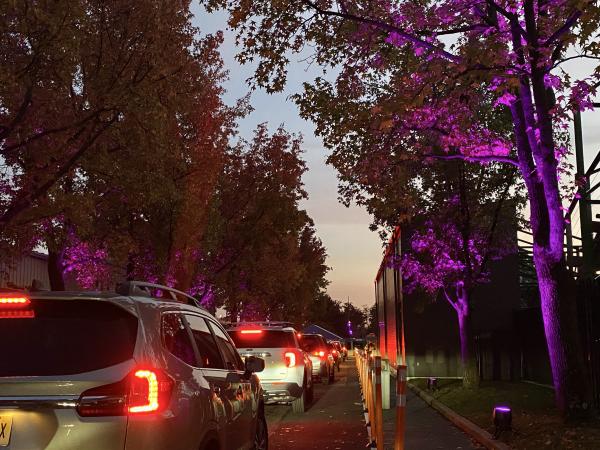 Load up your family and friends into the car for a chance to drive through Sesame Place for the first time ever. When you enter the park for the evening event, you are greeted by Sesame Street's furry characters as they wave to you from their parade floats! Drive past multiple Trick-or-Treat locations where team members are waiting to present you with treats. You also have the option to drive through a snack and merchandise area, which is also where you can pick up your pre-purchased gift bundle if you chose to add one onto your reservation. The drive-thru is a separately ticked event, although a discount is offered to season pass holders.
Heading in to the park during the daytime? The Count welcomes you into the park surrounded by pumpkins in the shape of his fellow Sesame Street friends. Halloween decorations are displayed all around the park and provide the perfect backdrop for many fun and festive photo opportunities.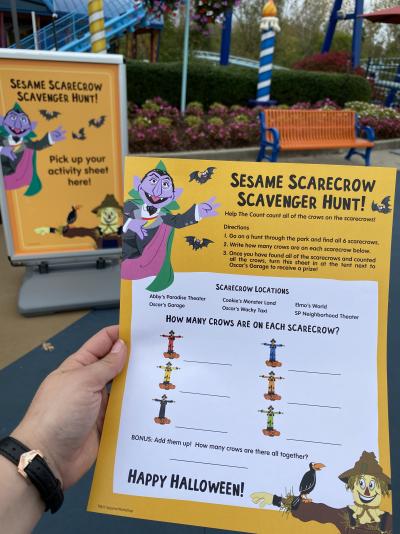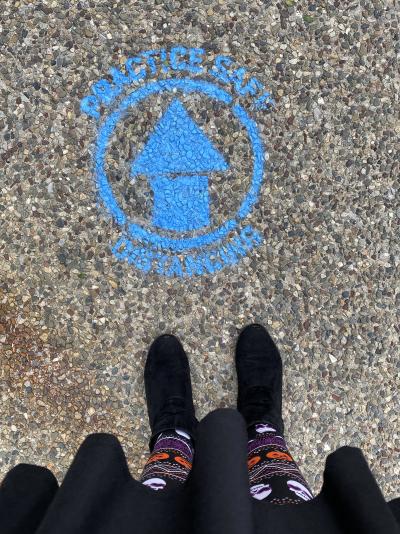 All of your favorite characters are dressed up in their favorite Halloween costumes and are eagerly awaiting the chance to meet you. Character meets for the Halloween Spooktacular take place at the Sesame Place Neighborhood Theater, Abby's Paradise Theater, by the entrance to Oscar's Wacky Taxi and a special pass holder character meet where you get to grab a photo with the characters in their parade floats.
Upon entering the park, be sure to grab a Sesame Scarecrow Scavenger Hunt sheet. During your visit, keep an eye out for 6 scarecrows and count how many crows are on each one. After you have found them all, turn in your completed sheet to receive a prize.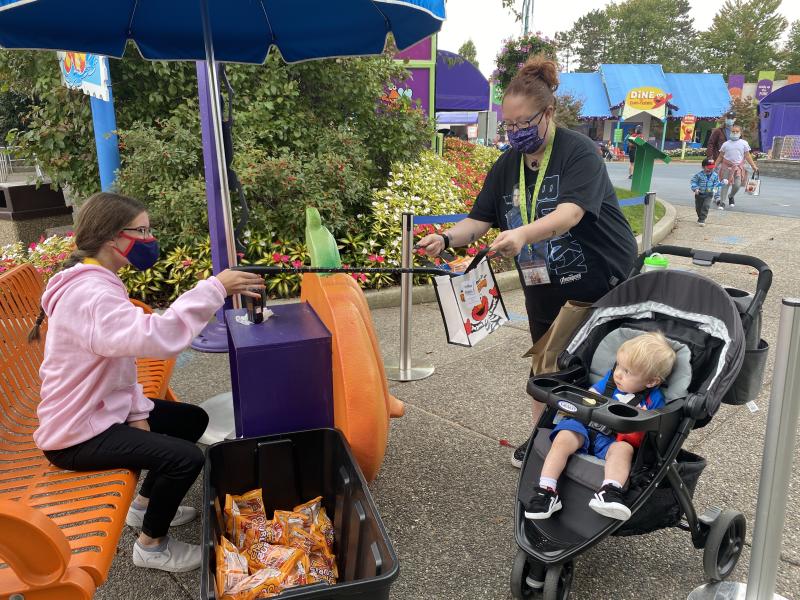 Located behind Mr. Hooper's Emporium is a pumpkin decorating station where you can design and decorate your very own pumpkin that you can take home!
Make a reservation for the Halloween Dine with Elmo and Friends. Here you get to watch the monsters perform Halloween themed numbers on stage while you enjoy a delicious buffet style meal. Each table will also have the opportunity to come up for a special photo with the gang.
Sit back and relax and watch your favorite characters put on two special Halloween shows. During a performance at Abby's Paradise Theater, watch along as Tully and Abby are read a story called "Countdown to Halloween" where you will learn all about Count Von Count's love for Halloween.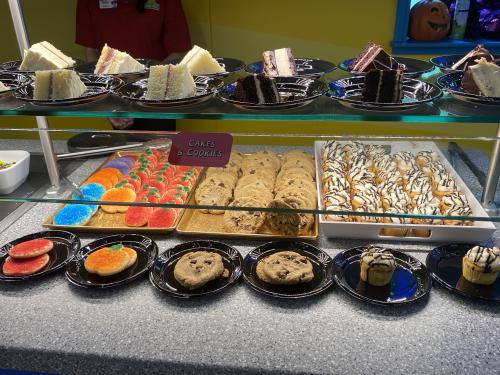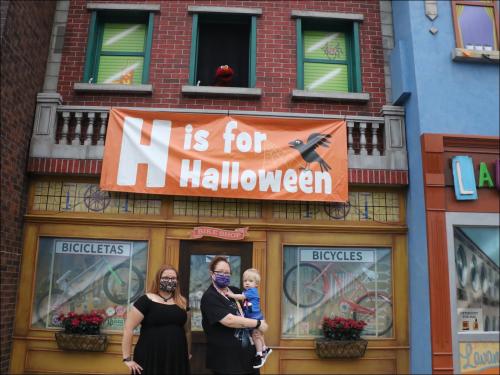 Over at Sesame Place Neighborhood Theater, you can view the "Who Said Boo?!" stage show. Join along as our monster friends arrive at The Count's castle for a Halloween Party, only to be spooked by a mysterious "Boo!". Unsure of the source of the startling sound, the friends search for answers as to who said "Boo!".
What's a Halloween celebration without some Trick-or-Treating? Visit contact-less stations around the park to receive individually wrapped treats. Special re-useable Trick-or-Treat bags are available to purchase at select merchandise locations.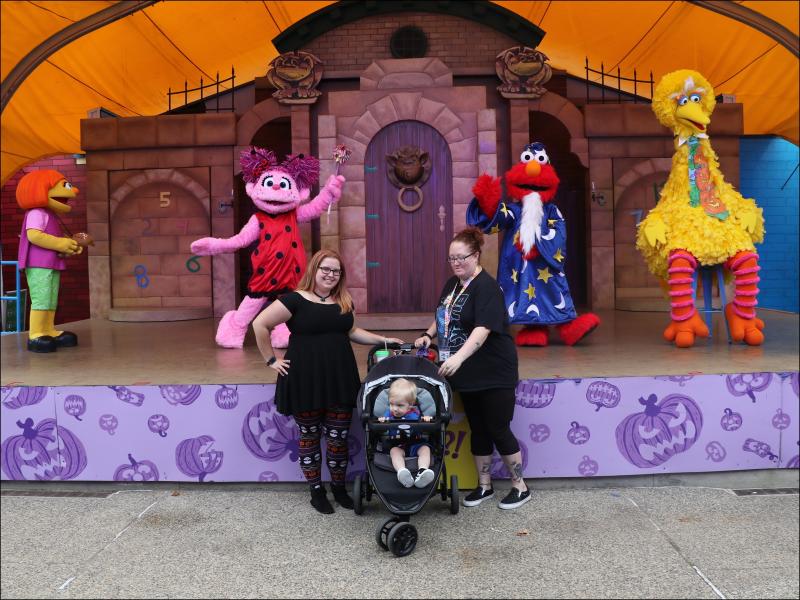 Looking for special plans on Halloween day? Visit Sesame Place on Saturday, October 31, 2020 to participate in their Costume Contest. Sign up at 10 a.m. to participate in the child or family costume contest. Space is limited, so make sure you get their early to register.
Don't let your Halloween go by without a stop at Sesame Place. It's a frightfully good time that you won't want to miss this year!