Established back in 1682, Bucks County has gathered its share of ghostly residents and haunting stories over the last few centuries. The County is home to roaming spirits, haunted roads and unexplained phenomenon. Join me as I embark on a driving tour of more than 20 haunted locations throughout Bucks County!
Follow along - if you dare! While driving the entire length of stops will take you a good day to complete, we've broken it down into three parts to make it easier to complete based on where you are starting!
PART I: LOWER BUCKS
(30.1 miles; ~1 hour 11 minutes)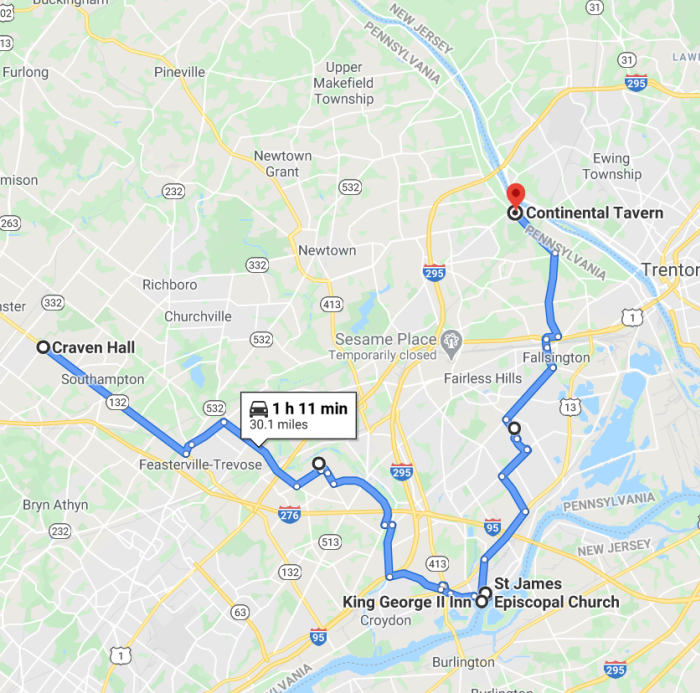 CRAVEN HALL
599 Newtown Rd, Warminster, PA 18974
A young soldier from the 1700s is believed to have been buried on the grounds of Craven Hall. He can be seen through the windows of the first floor and frequently bangs on the windows at night as if trying to escape.
GROWDEN MANSION
5408 Neshaminy Valley Dr, Bensalem, PA 19020
Growden Mansion, also known as Trevose Manor, in Bensalem was once the home of Benjamin Franklin's cousin. Apparently, Ben Franklin had tested his kite experiment here and his ghost is sometimes still seen still flying his kite.
KING GEORGE II INN
102 Radcliffe St, Bristol, PA 19007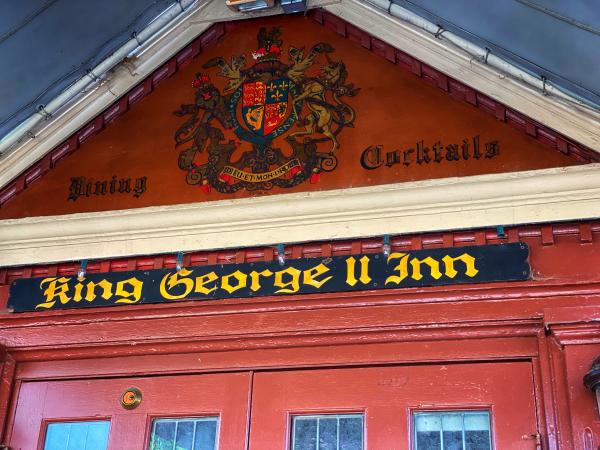 The King George II Inn has been the setting of several paranormal activities including the slamming of doors and the unexplained moving of chairs, silverware, and lamps. An apparition of an unknown man with a top hat dressed in 1800s clothing can also be seen and the sounds of babies crying can be heard.
ST. JAMES EPISCOPAL CHURCH
225 Walnut St, Bristol, 19007
St. James Episcopal Church is home to numerous spirits and is also the burial ground of Gertrude Louise, the young woman in Bucks County's "Midnight Mary" legend. The cemetery is also where you can find "The Witch's Chair" near the grave of Merritt P. Wright. Although little is known about her, Merritt was thought to be a local witch and legend says that if you go to the graveyard and sit in the chair at midnight during the month of October, you will feel the hands of the witch encircling you.
BOLTON MANSION
85 Holly Dr, Levittown, PA 19055
Bolton Mansion in the Holly Hill section of Levittown has been explored by the Garden State Ghost Hunters. This Pemberton estate originally built in 1683 is frequently visited by ghosts from the Civil War era. The most frequently spotted spirits are that of a young girl seen peering from the upstairs windows, as well as one of a woman who wanders the grounds crying to herself as she searches for someone. It is believed that these two spirits may be of a mother and daughter who have been separated and are looking for each other. Another spirit is assumed to have committed suicide after losing her loved one. Note: Please be courteous of the no trespassing signs while exploring Bolton Mansion.
CONTINENTAL TAVERN
2 N Main St, Yardley, PA 19067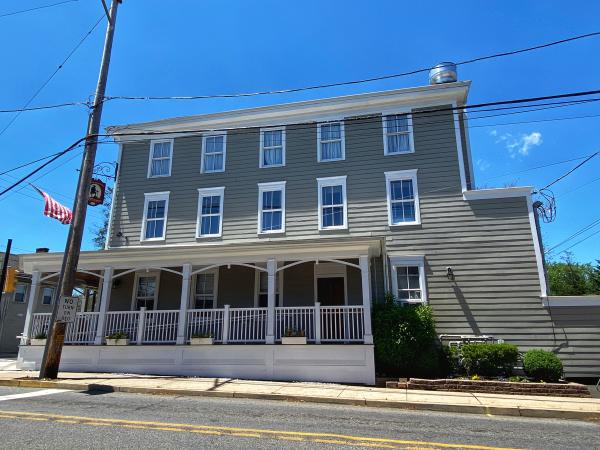 In its history, Continental Tavern has been a home, a tavern, a hotel, a restaurant, a speakeasy and even a concealed stop along the Underground Railroad. The pub has even been the scene of two murders! During its recent renovations, many historical items were found from the Prohibition era, including a pistol and a corset covered in bloody bullet holes. Numerous spirits have been seen on property, including the spirit of a young boy trying to find his mother. Objects are often also seen to move or shake on their own.
PART II: NEWTOWN TO NEW HOPE
(20.5 miles; ~45 minutes)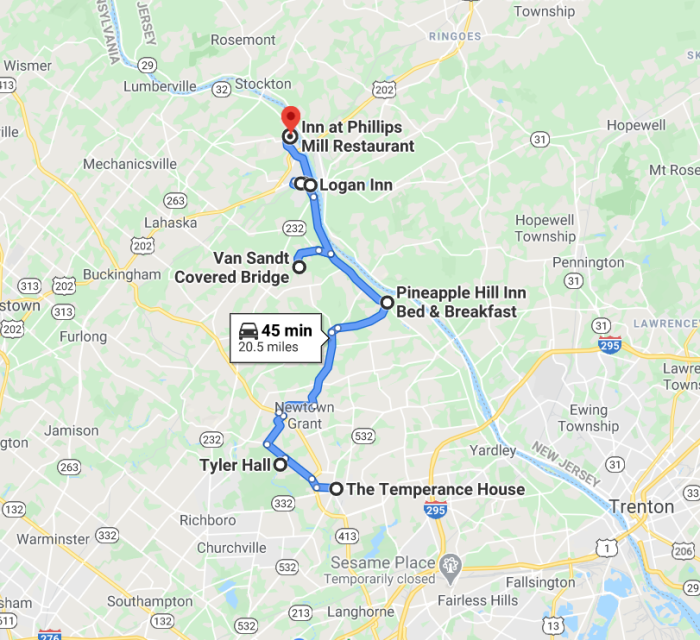 TEMPERANCE HOUSE
5 South State St, Newtown, PA 18940
Three children are said to have lived in the building during the Revolutionary era and their ghosts are said to still roam the halls to this day. Objects move around on their own and a child's ball has been seen to roll around by itself!
BUCKS COUNTY COMMUNITY COLLEGE (TYLER HALL)
275 Swamp Rd, Newtown, PA 18940
Former administrator Stella Tyler is said to still wander around the building setting off alarms, turning on various appliances and baking in the kitchen. Stella is mostly seen at night and is believed to take residence in Tyler Hall because it was the place she was the happiest during her lifetime.
PINEAPPLE HILL INN B&B
1324 River Rd, New Hope, PA 18938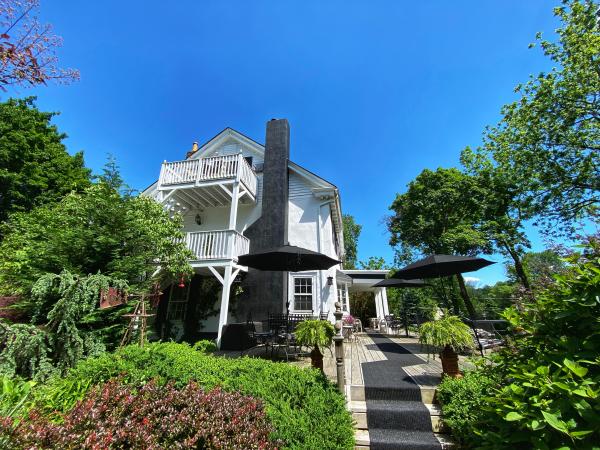 Pineapple Hill is home to three known spirits who are frequently seen in the two oldest bedrooms and sitting area. First, an elderly woman who had passed away in the attic suite. The sounds of her on a spinning wheel can be heard in the guestrooms in that area. The second spirit is that of a young boy who has been seen playing in the inn. Third, the original owner of the home, John Scott, has been seen waking up women who spend the night in the original bedrooms with a kiss on the cheek in the morning.
VAN SANT COVERED BRIDGE
Covered Bridge Road, Solebury Township, New Hope, PA 18938
Van Sant Bridge in New Hope is also known to locals as "Cry Baby Bridge." Legend has it that a new, young mother who was shunned by family and friends threw her baby off the bridge before hanging herself from the rafters. If you approach the bridge at night, you may hear the sounds of a baby crying or the sounds of the young woman's feet sweeping across the roof of the car.
LOGAN INN
10 West Ferry St, New Hope, PA 18938
One of the most notable hauntings of the Logan Inn is in room 6, which is known as "Emily's Room." Emily, a previous owner, frequently makes an appearance as guests are sleeping there. A male ghost has also been seen in the bathroom mirror. Numerous children, as well as soldiers from the Revolutionary and Civil Wars, can also be seen throughout the inn. It is rumored that if you smell the scent of lavender while in the building, one of the ghosts is nearby.
AARON BURR HOUSE INN
80 W Bridge St, Rt. 179, New Hope, PA 18938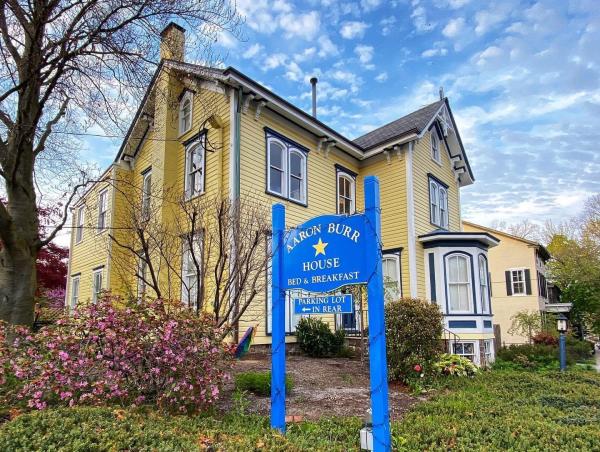 Close friends of Vice President Aaron Burr were said to have once been the owners of the building. Apparently, they housed Burr while he was on the run after killing Alexander Hamilton in a duel in 1804. The ghost of Aaron Burr can sometimes still be seen peering around corners and wandering throughout the house. The ghost prefers to wander the second floor and the staircase. Guests have claimed to feel tugging on their clothes as an attempt to stop them from leaving and guests have begun to say "Mr. Burr, please let me leave" when venturing out of the building.
1870 WEDGWOOD INN OF NEW HOPE
111 W Bridge St, Rt. 179, New Hope, PA 18938
The Wedgewood Inn was once a stop along the Underground Railroad in the 19th century and provided shelter for many runaway slaves. The ghost of a 12-year-old ex-slave named Sara can still be seen on the property searching for her parents and telling her story of escape from slavery story to young guests visiting the inn.
THE INN AT PHILLIPS MILL
2590 River Rd, New Hope, PA 18938
The ghost of a woman has been seen wearing a long high-collared dress throughout the inn. She has been reported to be seen in the second-floor hallways sitting in a rocking chair and has been felt brushing past guests on the stairs.
PART III: UPPER BUCKS
(26.7 miles; ~50 minutes)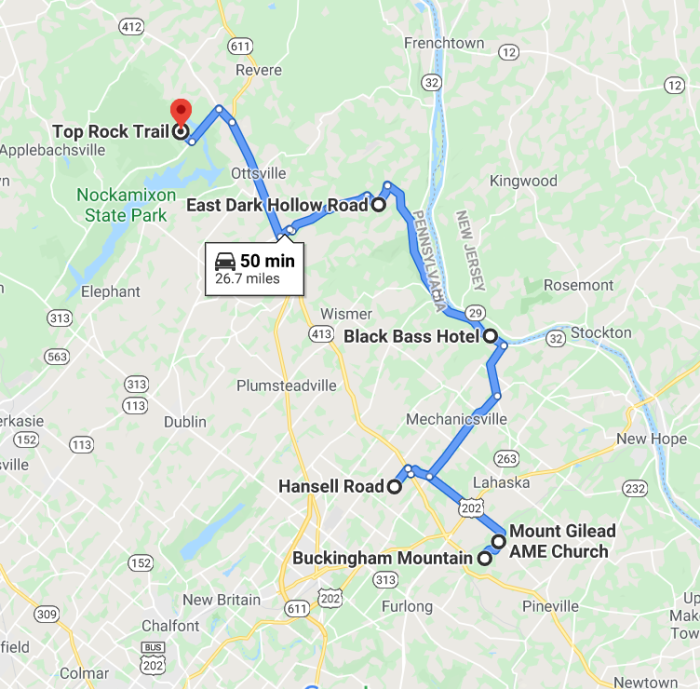 GRAVITY HILL
(Holicong Road. Type in Buckingham Mountain into Google Maps to find the road)
Over on Holicong Road in Buckingham is Bucks County's famous "Gravity Hill." Legend has it that if you stop your car at a specific spot on the road and put it in neutral, your car will work its way uphill on its own. There are two supernatural theories about the cause to this. One story states that it is witches or dark magic, while another says that it is the ghosts of soldiers who once grouped together to push something up the hill.
MOUNT GILEAD AFRICAN METHODIST EPISCOPAL CHURCH
1940 Holicong Rd, New Hope, PA 18938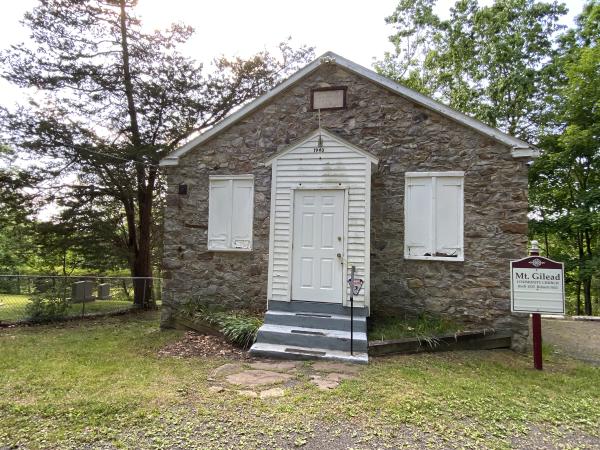 Additionally, along Holicong Road is a small church that has its own haunted tales. This church is rumored to have once been associated with devil worship. It was also a stop along the Underground Railroad. There is a legend of a cursed tombstone in the graveyard next to the church where you can challenge the devil to a footrace. If you feel a gust of wind after completing the sprint, it's said to be the devil catching up to you, but if you feel a gust of wind before completion, it's the devil brushing past you and you've lost. Winning is supposed to bring you good luck for a year and losing is said to bring you terrible misfortune, even death.
HANSELL ROAD
Doylestown
There have been many reports of glowing orbs resembling eyes or lanterns appearing along Hansell Road and the whole road is said to be haunted. Some have called these lights "The Red Eyes of Hansell Road." Others have also described the lights as green orbs floating smoothly out of the woods and onto the road as if they are being carried. Legends say the lights may be the spirits of youths who were murdered by a landowner after they were caught trespassing on his property, as they are sometimes accompanied by a mist and a dark shadowy entity.
BLACK BASS HOTEL & RESTAURANT
3774 River Rd, Lumberville, PA 18933
Located along the Delaware River in Lumberville is the Black Bass Hotel where many haunts reside. One of its residents is "Old Hans" who was the original innkeeper and was stabbed to death by a canal worker during a tavern brawl. The pool of blood where he passed away has reappeared on several occasions. Another is the "Woman in White" who according to legend caught her husband and his mistress in a guest room and killed them before turning the gun on herself. She can be seen walking the halls as well as sitting in a guestroom with a pearl-handled revolver in her lap.
DARK HOLLOW ROAD
Pipersville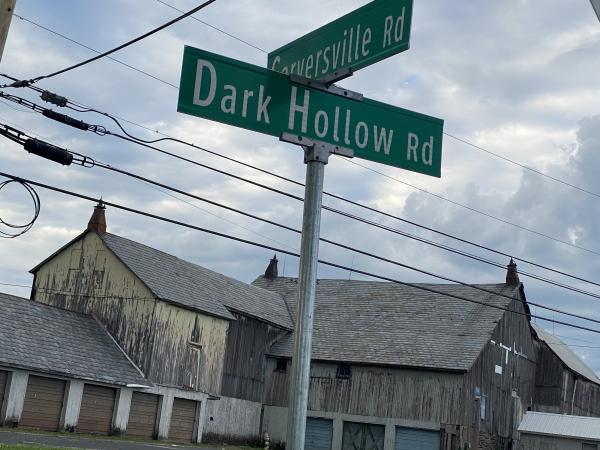 The entirety of Dark Hollow Road in Pipersville is said to be haunted and if you walk around the street after dark, strange flickering lights will appear to follow you. Additionally, it is rumored that there was a schoolhouse along the road where the remains of a physically abusive school teacher was found a hundred years after his death. Her appearances are also accompanied by the smell of Lavender. Other spirits are thought to be from canal builders that passed away of disease and exhaustion.
HAYCOCK MOUNTAIN/TOP ROCK TRAIL
(Haycock Township. Type in Top Rock Trail on Google Maps)
Haycock Mountain, off of Rt. 563 near Nockamixon State Park, is also known to locals as "Ghost Mountain." At night, glowing eyes and orbs of light can be seen in the woods. Near the top of the mountain is Top Rock Trail and when you follow the trail up to the top of the hill you will find a massive rock formation that is said to have been used by both Indians and cults for rituals revolving around the torture of animals. Listen closely and you may hear the whelping of animals within the woods. There is also a gigantic "table top" looking rock to the left of the rock formation that gives off an overwhelming feeling of dread and despair.