Pecan French Toast
Recipe from the Pineapple Hill Inn B&B
Ingredients:
1 tbsp softened butter, or cooking spray
1 16 oz loaf Italian bread, sliced 1 inch thick
10 eggs
2 cups heavy cream
1 cup milk
½ cup white sugar
2 tsp vanilla extract
1 stick cold butter
1 cup brown sugar, packed
1 cup pecan halves
½ cup all-purpose flour
Pinch salt
Maple syrup, optional as well as chopped apples
Directions: 
Grease a 9x13" baking dish. Arrange the slices of bread in the baking dish making 2 rows with the bread overlapping. In a large bowl, lightly beat the eggs then whisk in the cream, milk, white sugar and vanilla extract. Pour the mixture over the bread, cover and let sit overnight. 
The next day, preheat the oven to 350 degrees and take the pan out of the fridge, letting it come to room temperature (takes about 30 minutes). In a medium bowl, grate the cold butter and add the brown sugar, pecans, flour and salt. Mix until blended and crumbly. Put this pecan mixture over the breads.
Put the French Toast in the oven and bake uncovered for about 50 minutes until it is puffed up and browned and the inside is set but soft. Cool slightly and serve warm with powdered sugar, maple syrup and chopped apples if you wish. Serves 12.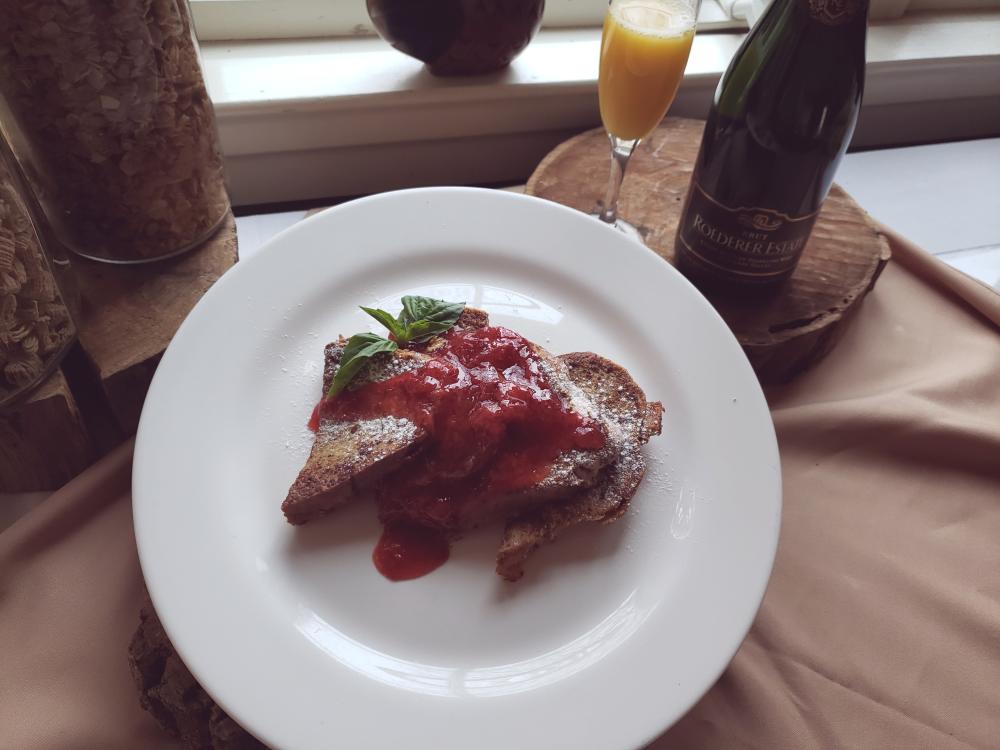 Challah Almond French Toast with Strawberry Basil Compote
Recipe from HollyHedge Estate
French Toast Ingredients:
4 eggs
1 cup half-and-half or heavy cream
1 tsp cinnamon
2 tsp almond extract
1 loaf medium challah bread
Strawberry Basil Compote Ingredients:
1 qt of strawberries (local, seasonal berries are best!)
1/2 cup water
1/2 cup sugar
1 tbsp cornstarch
4 large, fresh basil leaves
½ lemon, juiced and zested
Directions:
For the French Toast, slice the challah bread into ¾" thick slices and set to the side. In a bowl, combine eggs, half-and-half, cinnamon and almond extract. Whisk together. Heat a cast iron griddle to medium heat. When hot, spray with canola oil. Dip bread in egg mixture and allow to soak through. Allow excess egg mixture to drip off and place the bread on the hot griddle. Cook until golden brown, then flip to cook the other side. Allow both sides to get to golden brown on the outside. Repeat for all the slices.
For the Strawberry Basil Compote, stem and half the strawberries and place in a heavy bottom pot. Add ¼ cup of water and the ½ cup of sugar to the strawberry mixture. Cook over medium heat until the strawberries begin to breakdown. When berries are cooked down to mush, add the basil leaves and allow to steep for 2 minutes. Then remove the leaves. Mix together cornstarch and remaining ¼ cup of water, then add it to the strawberries and allow to cook for 2 minutes while stirring. Finish with the lemon juice and zest. Serve warm compote over the French Toast and garnish with a basil sprig.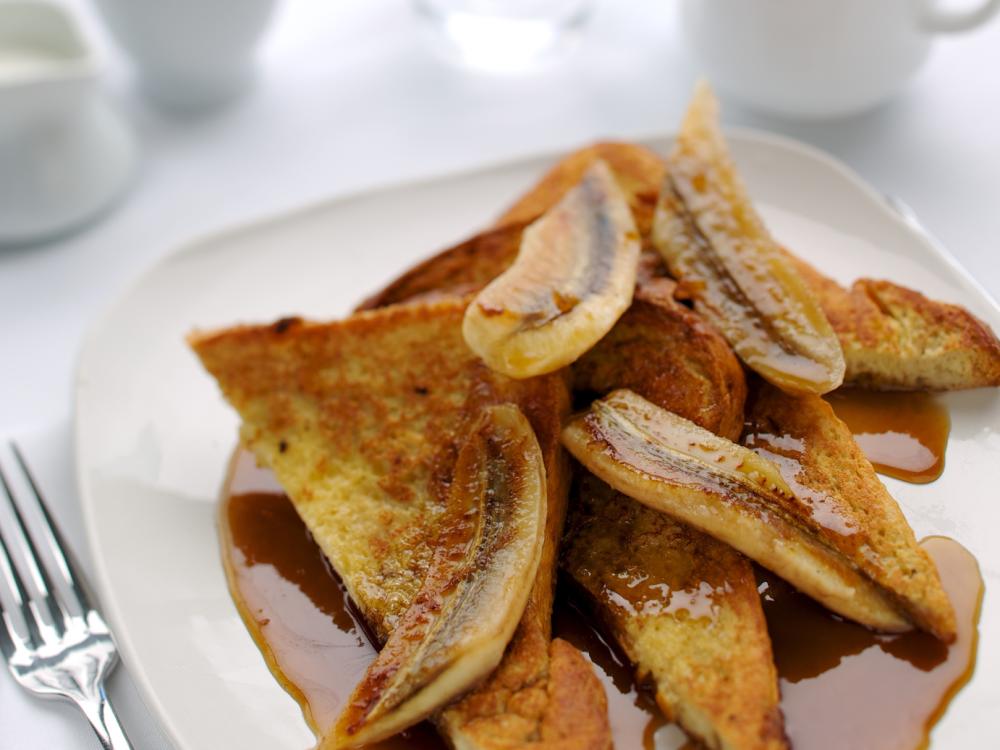 Cinnamon French Toast
Recipe from The Inn at Barley Sheaf Farm
Ingredients:
1 cup milk
6 tbsp butter
2 ½ tsp active dry yeast
2 whole eggs
1/3 cup sugar
3 ½ cups all-purpose flour
1 tsp salt
1/3 cup sugar
2 tsp cinnamon
Canola oil
1 egg and a splash of milk (mixed together, for brushing)
Softened butter (for smearing and greasing)
Directions:

Melt butter with milk. Heat until very warm, but don't boil. Allow to cool until still warm to the touch. Sprinkle yeast over the top, stir gently and allow to sit for 10 minutes. Combine flour and salt. Use an electric mixer to mix the sugar and eggs. Pour in the milk/butter/yeast mixture and stir to combine. Add half the flour and beat on medium speed until combined. Add the other half and beat until combined. Beat/knead dough on medium speed for ten minutes. If dough is overly sticky, add 1/4 cup flour and beat again for 5 minutes.
Heat a metal or glass mixing bowl until warm. Drizzle in a little canola oil, then toss the dough in the oil to coat. Cover bowl in plastic wrap and set it in a warm place for at least 2 hours. Turn dough out onto the work surface. Roll into a neat rectangle no wider than the loaf pan you're going to use, and about 18 to 24 inches long. Smear with 2 tablespoons melted butter. Mix sugar and cinnamon together, then sprinkle evenly over the butter-smeared dough. Starting at the far end, roll dough toward you, keeping it tight and contained. Pinch seam to seal. Smear loaf pan with softened butter. Place dough, seam down, in the pan. Cover with plastic wrap and allow to rise for 2 hours.
Preheat oven to 350 degrees. Mix a little egg with milk and smear over the top. Bake for 40 minutes on a middle/lower rack in the oven. After bread is baked, let it cool before garnishing with assorted fresh fruit, confectionary sugar and maple syrup. Serves 12.