Looking for a way to enjoy Bucks County from the comfort of your living room? How about a movie marathon? Over the years, Directors have turned to Bucks County as the perfect setting to bring their films to life. If dinner and a movie sounds like the perfect night in, here are some suggestions of notable movies filmed in Bucks County.
The Upside (PG-13)
Released in 2019, directed by Neil Burger and starring Kevin Hart, Bryan Cranston and Nicole Kidman. This comedy-drama tells the story of an unlikely friendship between a quadriplegic (Cranston) and the parolee he hires to become his caretaker. As their friendship forms, they help each other learn valuable life lessons that will change both of their lives for the better. The final scenes were filmed in Lumberville, PA at The Black Bass Hotel.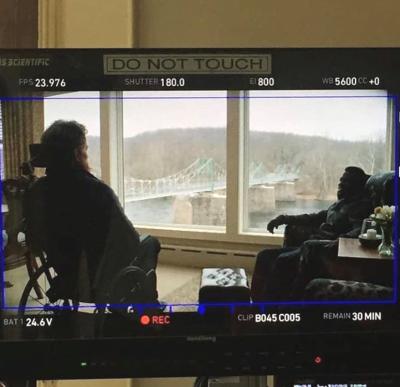 Safe (R)
In 2012, Parx Casino in Bensalem, PA served as the setting for a casino raid scene in the movie Safe, starring Jason Statham. Statham plays Luke, an ex-cop who is looking for a sense of purpose. He encounters a young girl named Mei. She is running away from men who try to use her skills to eliminate their digital footprint. Having information desired by the Chinese, the Russians and a group of crooked cops, Mei depends on Luke for protection.
Lady in the Water (PG-13)
This 2006 film was written, produced and directed by M. Night Shyamalan. It was filmed at an old 3M manufacturing plant in Levittown, PA. This psychological thriller involves a young woman named Story. She was found in an apartment swimming pool and is discovered to be a water nymph (aka. Narf). The movie revolves around a group of tenants that attempt to keep Story safe from mythological creatures and a harmful villain.
The Last Airbender (PG)
M. Night Shyamalan also chose to film one of the scenes in his 2010 film, The Last Airbender, at a quarry in West Rockhill Township in Upper Bucks County. This live action film is based on a popular Nickelodeon television show called, Avatar: The Last Airbender.
Signs (PG-13)
The year 2002 brought us a beloved horror film, Signs, once again directed by M. Night Shyamalan. After discovering a mysterious crop circle in their farm in Bucks County, brothers Graham Hess (Mel Gibson), Merrill Hess (Joaquin Phoenix), and Graham's two young children are forced to investigate the strange happenings taking place. The family soon finds themselves to fall victim to a worldwide extraterrestrial invasion. Numerous locations around Bucks County were utilized during production:
Delaware Valley University, the location of the family's farm.
Morrisville, the location of the pharmacy scene.
Newtown, the location of the bookstore and pizza shop scenes. *Look carefully at the badge on the police officer's shoulder and you will see the words "Buck's County Police Dept" displayed.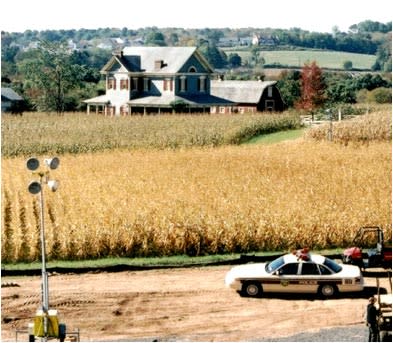 Other movies that credit Bucks County, PA as a filming location include:
Hooking Up (2009) – Rated R
Charlotte's Web (2006) – Rated G
The Station Agent (2003) – Rated R
Perils of Pauline (1914)