You know what's one of the best things about Bucks County? You can live here all of your life and still find hidden gems to stumble across, and by stumble, I literally mean there is something you walk or drive past every day that you didn't even know existed. From cute, trendy shops and comforting cafes, to historic sites and new craft breweries, there's always something new for you to experience. Despite there being over a half million people that call Bucks County "home," there are so many places locals haven't visited – or even heard of. Case in point, Craven Hall. Sitting on one of the busiest roads in the area, Craven Hall, located at Street and Newtown Roads in Warminster, was built in stages approximately 230 years ago. Even though many drive past the historic home every day, only a fraction of those actually know of its existence. Sad, right? As a board member for the Craven Hall Historical Society, I know first-hand how hard it can be to get people interested in local history. In my complete unbiased opinion, Craven Hall transports you back to a simpler time, with everything from open-hearth cooking demonstrations to docents in period costumes. It's a beautiful building and with a wonderful organization full of dedicated volunteers – so come say hi!
Just a few short miles from Craven Hall is a fantastic new craft brewery -- Moss Mill Brewing Company. With five miles between the historic homestead and the brewery, there are plenty of reasons to make plans on an upcoming second Sunday of the month. I know, oddly specific, but that's because Craven Hall offers free (yes, free, but donations gladly accepted!) public tours on these days. Moss Mill only just opened in February of this year, but they have been in the industry for over eight years. Nick and Evann Rodgers operate the "collaboration-centric" brewery, even offering opportunities to partner with local homebrewers and other businesses in the community to create unique beers. Moss Mill's beers are brewed in a 1 BBL system combined with 3 BBL tanks, allowing the duo to rotate through a variety of pints for every palate.
With the weather warming up, what better way to spend your Sunday afternoon than to venture over to Craven Hall, tour the 18th century homestead, and cap off the day with a refreshing pint or two? Moss Mill has a variety of fun, outdoor games to play with the family. Sometimes the brewery will even bring in a food truck. If there's no food truck, order a pizza and have it delivered! Beer was a major staple in Colonial America, so pairing history with pints has never been so easy -- or fun!
About The Brewery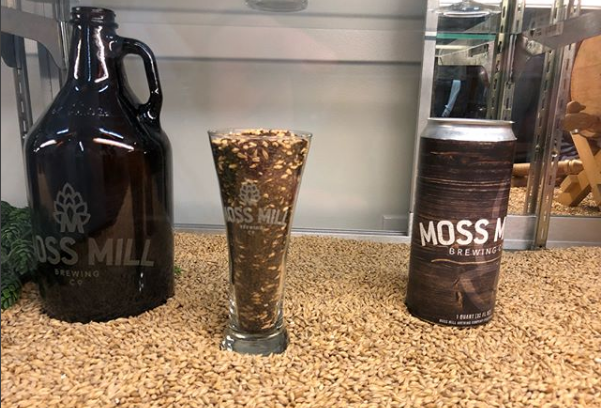 Moss Mill Brewing Company, located in an industrial park on Buck Road in Feasterville, offers a variety of freshly-brewed beers, from IPAs and brown ales, to lagers and stouts, all ranging from 3.2% to 9% ABV. Plus, for those who are looking for something other than beer, the brewery also carries a selection of local wines and liquor -- basically your one-stop shop. Though it is certainly hard to choose just one, my personal favorite is their namesake brew, the MossMill Lager. But hey, every Friday they tap something new for "Fresh Beer Friday", so I could have a new favorite come next week.
Opening just three months ago by Nick and Evann Rodgers (and we can't forget their adorable baby, Chase, who helps keep the place tidy), Moss Mill Brewing Company, or MMBC, already has quite the following! The brewery welcomes live music, games and food trucks several times a week, so you can expect to have some serious fun here. MMBC sells pints in the tasting room, crowlers (can growlers) and growlers to go.
Like many homebrewers, Nick and Evann started in their home kitchen. After moving up from kitchen, to basement, to brewing garage over the course of nine years, the team was able to open up their own brewery, welcoming new faces every week. Between Nick's passion for brewing beer, and Evann's background in the marketing and science industries, I have no doubt that MMBC will soon be a local favorite.
Before heading there, be sure to check out their Facebook page to find out about upcoming events, new beers (remember, these are always rotating!), and food trucks. Pop on over to Moss Mill and dedicate that thirst-quenching Belgian Triple or American IPA to James Craven (more on him below)!
About Craven Hall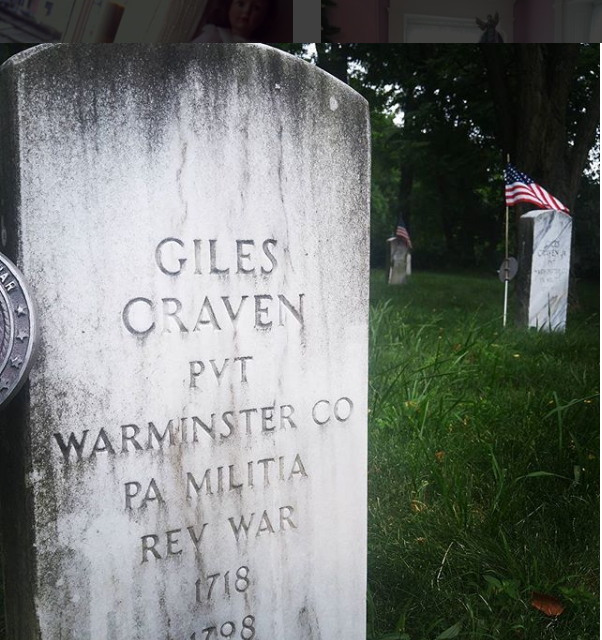 Craven Hall, located at the intersection of Street and Newtown Roads in Warminster, is a stately historic home built in stages between 1790 and 1845. The house sits on a plot of land that was originally part of an over 550 acre land grant from William Penn to William Bingley in 1681. By the mid-1700's, William Stockdale acquired the land and sold 151 acres to James Craven. This same land remained in his family until 1798 and was then sold to kin of Giles Craven, Harman Vansant, upon his death. The homestead remained in the Vansant family for over seventy years and would welcome several other families, including the Bennett's and Lojeske's, prior to being used as a junior high school by Centennial School District. During the Revolutionary War, another nearby property owned by James Craven, though no longer standing, was used to treat wounded soldiers following the historic Battle of Crooked Billet. 
Unfortunately, the structure that is now Craven Hall deteriorated in the 1970s and was subsequently abandoned, but luckily, not for long. In 1979, retired teacher Ella Rhodes formed a non-profit group called the Citizens for the Preservation of Craven Hall, allowing them to lease the property as long as they were able to return the home to a habitable condition. Restoration efforts began almost immediately and continued for nearly thirty years. Today, the Craven Hall Historical Society maintains the house and its vast historic collections while also providing tours to the public and local school students.
The 501c3 non-profit organization owns both Craven Hall and the John Fitch Steamboat Museum, and, just a short walk from the property is the Craven/Vansant Burial Grounds located near the Fox Run Apartments on Newtown Road. Maintaining all three properties while also educating the public is not an easy feat, so the organization is always on the lookout for new volunteers, both young and old. If you or someone you know would be interested in assisting with any of the volunteer programs, including tours, archival work, or educational programs, please email contact@craven-hall.org.
Craven Hall is open for free house tours every second Sunday of the month from 12pm-3pm. Donations are appreciated and help fund the ongoing effort to maintain the historic property and artifact collections, and continue educational programs.